Live Review
All Killers, no filler: Brandon and co bring relentless hits, guest stars and Jimmy Carr with a broom to Glastonbury
Liam Gallagher, Slowthai, Lizzo and more triumphed in the heatwave on Saturday.
There's a lot to be thankful for come Saturday night at Glastonbury. Firstly the fact that, after the hottest day in Glastonbury history, it's finally – praise be! - a manageable temperature, and secondly the big-hitting double whammy of Liam's Oasis-heavy set (more on that later) into returning heroes The Killers.
First headlining back in 2007, Brandon Flowers and co are the kind of festival staple headliner that could easily veer into predictable territory; having topped the bill at basically every big weekender in the world, how special can another set from the Vegas bunch be? Turns out, very. "At the end of the set, I don't want you to look up to the stage and say, 'They got away with it'. At the end of the set, I want everybody to look up to the stage and say, 'Those are the sons of bitches that did it'," declares the singer near the top end of their two-hour hit marathon. And from the first ripping guitar riffs of 'Jenny Was a Friend of Mine', there's not a moment in the set where they dip below iconic.
15 years since they released debut 'Hot Fuss', the band have so many enormous hits, it's almost exhausting. From 'Smile Like You Mean It', to 'The Man' – Brandon donning a cowboy hat for its intro before a huge pink confetti explosion announces the track's glorious strut – to a huge, field-wide sing-along to 'Glamorous Indie Rock & Roll', it's a set that needs no help. But this is The Killers, and so they find a way to top it, firstly by bringing out Pet Shop Boys singer Neil Tennant for a run through of 'Always On My Mind', and then, straight after, Johnny Marr for 'This Charming Man'. There's even a bizarre cameo from Jimmy Carr, who strolls out before the encore to sweep the stage. It's celebratory, playful and absolutely masterful. Those sons of bitches did it, and then some.

There are few people who could match the vibes of tonight's headliners but, taking to the Pyramid directly before, Liam Gallagher succeeds without even breaking a sweat. It's a huge crowd that turn up for the legendary frontman and he knows exactly how to keep them happy – ie, by playing fuck loads of Oasis songs. 'Columbia' comes dedicated to "anyone from Manchester", a festival-wide sing-along of 'Champagne Supernova' to "the one and only Keith Flint"; "This one's called 'Roll With It' and apparently it's really shit," he declares before the swaggering track. When it finishes, he decides "it's not shit – next time you see the little fart, tell him".

But if that ticks the 'customary jab at Noel' box, then as the set nears its end there's an intriguing twist. "Thanks to Michael and Emily Eavis for letting me continue my Glastonbury legacy," he begins. "Next year will be the hat trick". With 2020 marking the festival's 50th anniversary, it'd be a damn good time for another rather big reunion-shaped event. Here's hoping.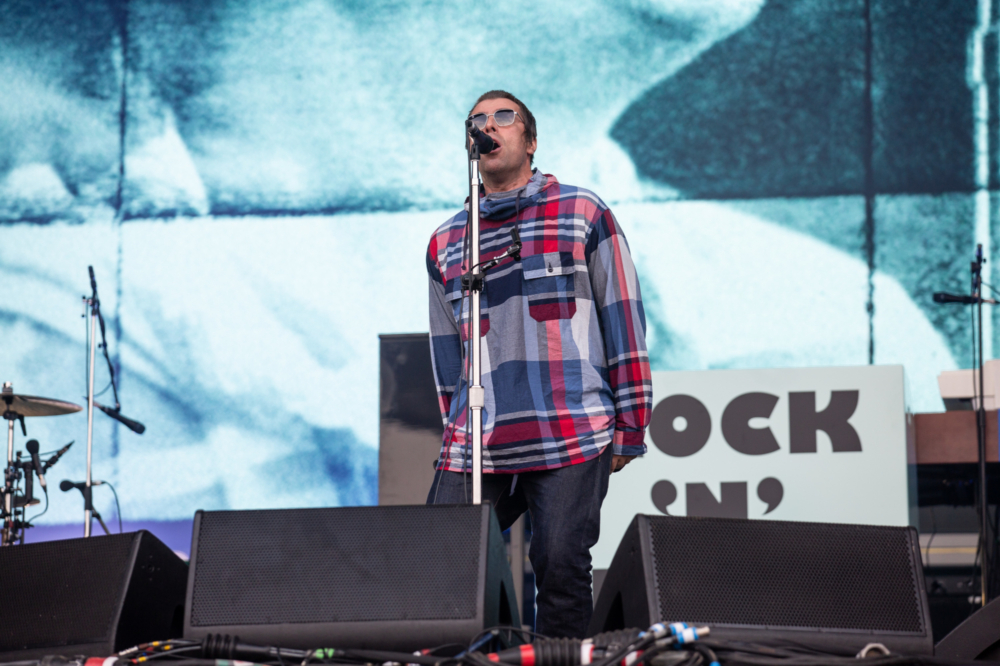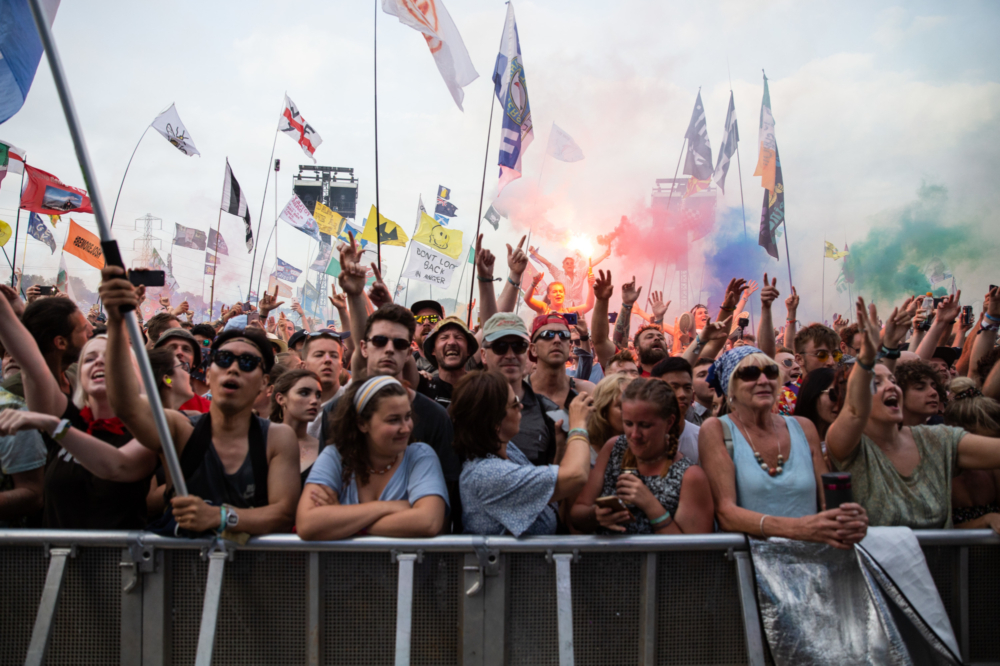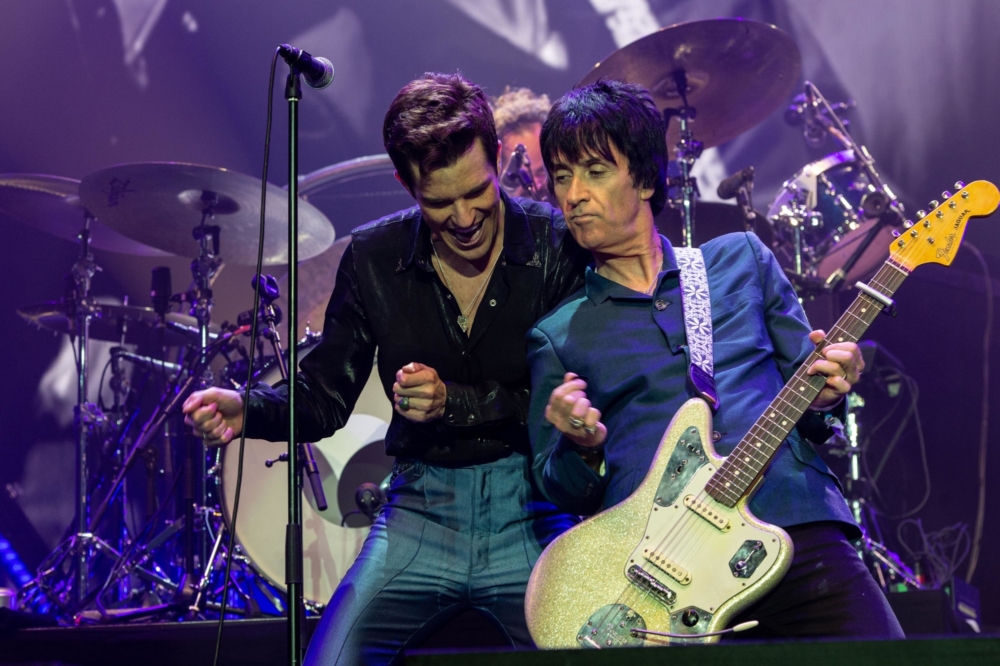 Earlier in the day, off the back of a sold-out tour of Australia and New Zealand, and with her debut album 'Heard It In A Past Life' well bedded in, Maggie Rogers is in a confident mood. The vast Other stage could feel like overkill for the young star, but she's growing more and more adept at commanding such big arenas, and adds to her breathy, passionate alt-pop with a commanding stage presence and infectious enthusiasm. 'On + Off' and 'Light On' deserve to be mingling with the airwaves more than they have done, and 'Alaska' remains a delightful calling card.
slowthai's always had a large element of the cheeky chappy about him, and today - at his huge set on the West Holts stage - he comes out to play in a massive way. It only takes seconds of 'Polaroid Picture' for the front 50 rows or so to become a jumping, sweaty mess, and even though they need no nudging in order to incite delirium, Tyron Frampton conducts the crazed masses like a cackling madman. The Northampton rapper looks every bit the star today. Before basically every song, he asks the crowd to split down the middle, before crashing together like waves. At one point, a certain Loyle Carner hops down from the stage into the middle of the parted sea, to be instructed by slowthai to start a circle pit.

When he's not inciting chaos, it's belly laughs he's bringing. It's stonking hot today, something slowthai realises when he steps onto the boiling monitors in front of the stage, only to demand that a pair of socks are sent his way from backstage. He then dons a number of items thrown at him from the crowd, namely a hideous pair of skiing sunglasses and a helicopter hat. When this much charm, cheekiness and charisma is evident in a set, it's easy to forget about the music itself, but it more than holds up too. 'Doorman' is a grubby punk anthem, while 'Tea'n'Biscuits' is another chaotic rabble-rouser in a set full of moments that cement slowthai's status as a rising star. "Glastonbury, I'll see you next time on the Pyramid stage love you all x," he tweeted shortly after the set. You'd be a fool to bet against it coming true.

If slowthai brought a huge crowd to the West Holts stage, it's blown out of the water by Lizzo, who attracts the biggest throng the stage will surely see all weekend. From the moment she yells "Hi bitch!" before letting out a signature cackle, it's clear today's set is gonna be sassy, full of love, and absurd amounts of fun. Her pipes get a good workout with stunning opener 'Cuz I Love You', and the set is packed full of mantras on radical self-love and learning to love yourself before you can love others. Sure, it's probably rehearsed and thrown out every night, but Lizzo is a compelling narrator, and you can't help but feel every word she says in your chest. The next hour is a mixture of welled-up eyes and animated dancing, more often than not at the same time. To manage to achieve both and with such confidence, Lizzo is surely on her way to becoming a megastar.

It's been a day of massive stars popping up in tiny places – from Vampire Weekend's surprise morning set, to Foals' enormous turn on The Park later in the day – and, as the evening turns towards morning, Mark Ronson has queues out the door for his Club Heartbreak at Stonebridge. Playing all his own bangers (of which there are, of course, many), plus cuts he's worked on ('Back To Black' at 3am in Worthy Farm sounds transcendent) and some personal faves before bringing out The Black Madonna to take over from him, it's the perfect party, conducted by a master.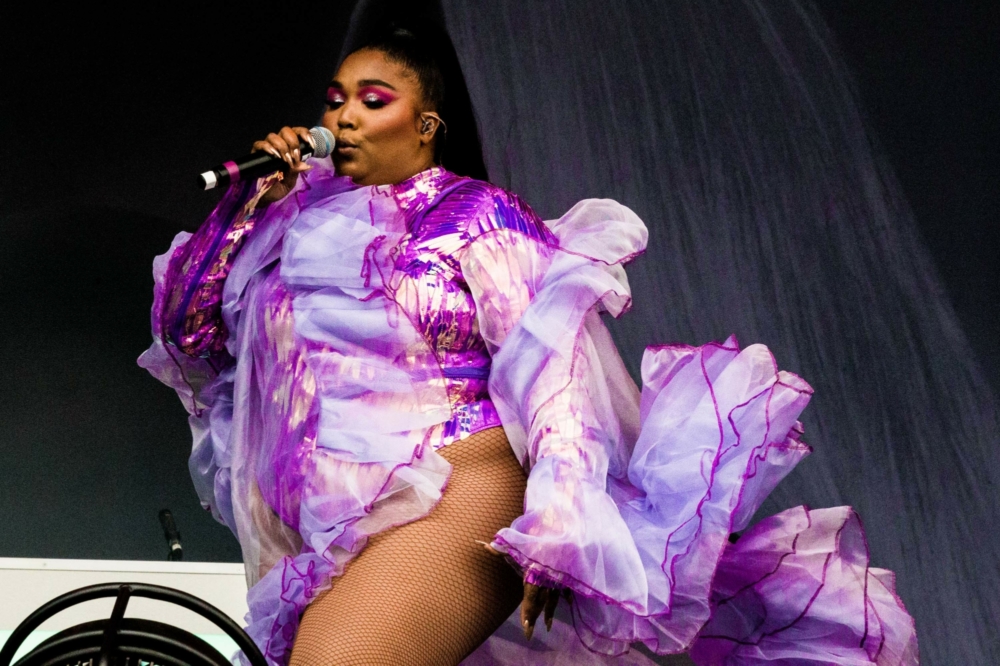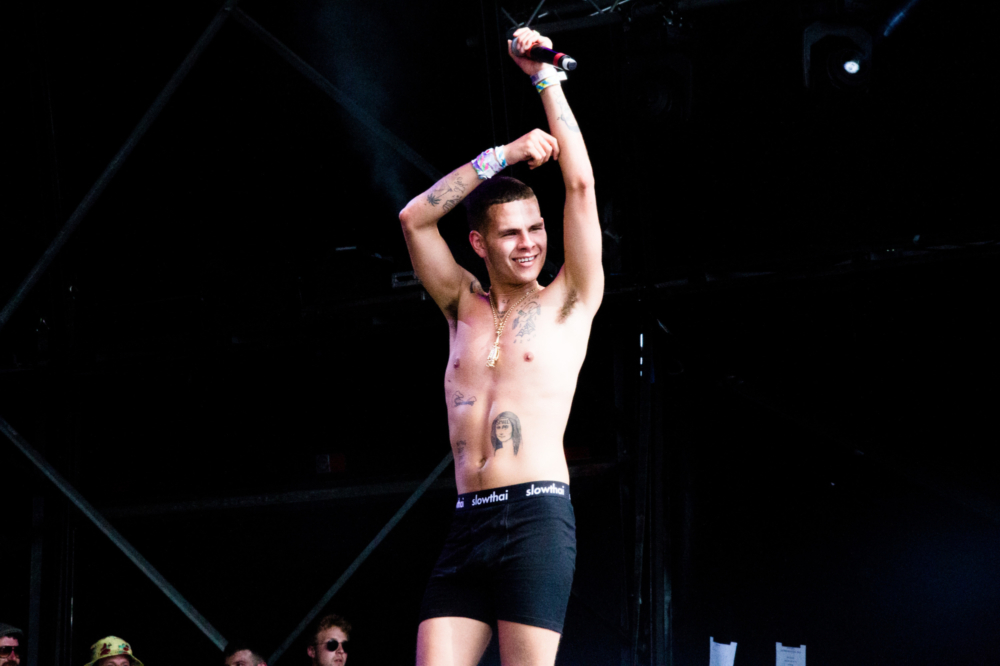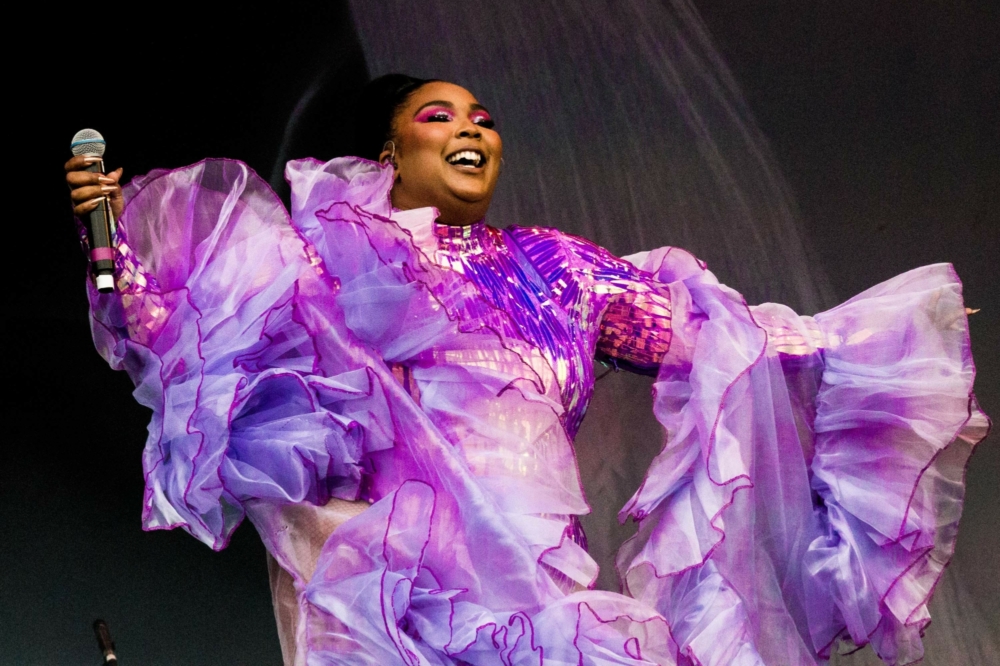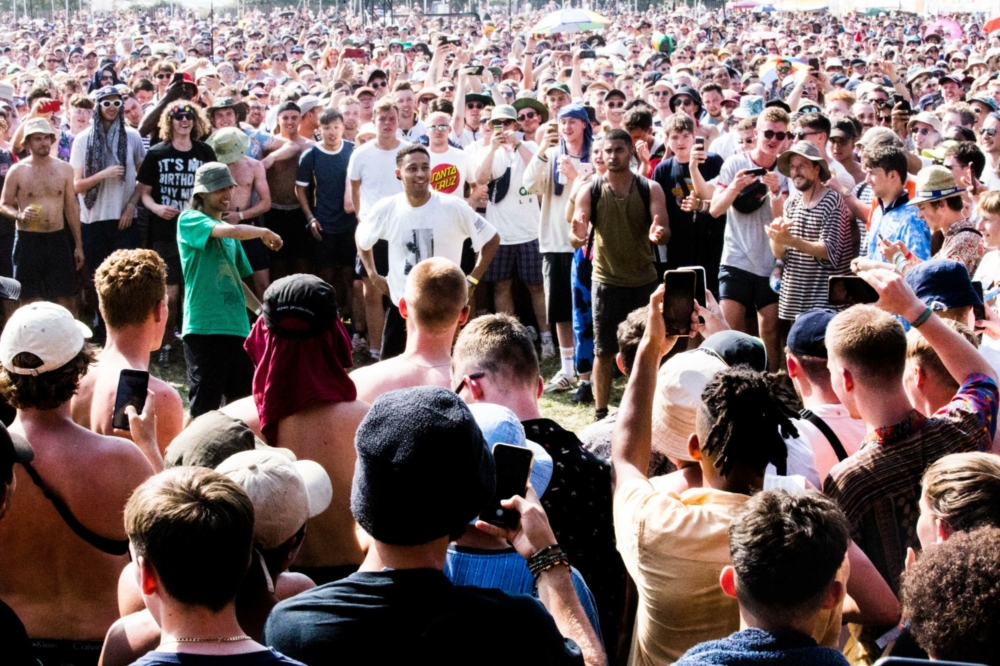 Get your copy of the latest issue