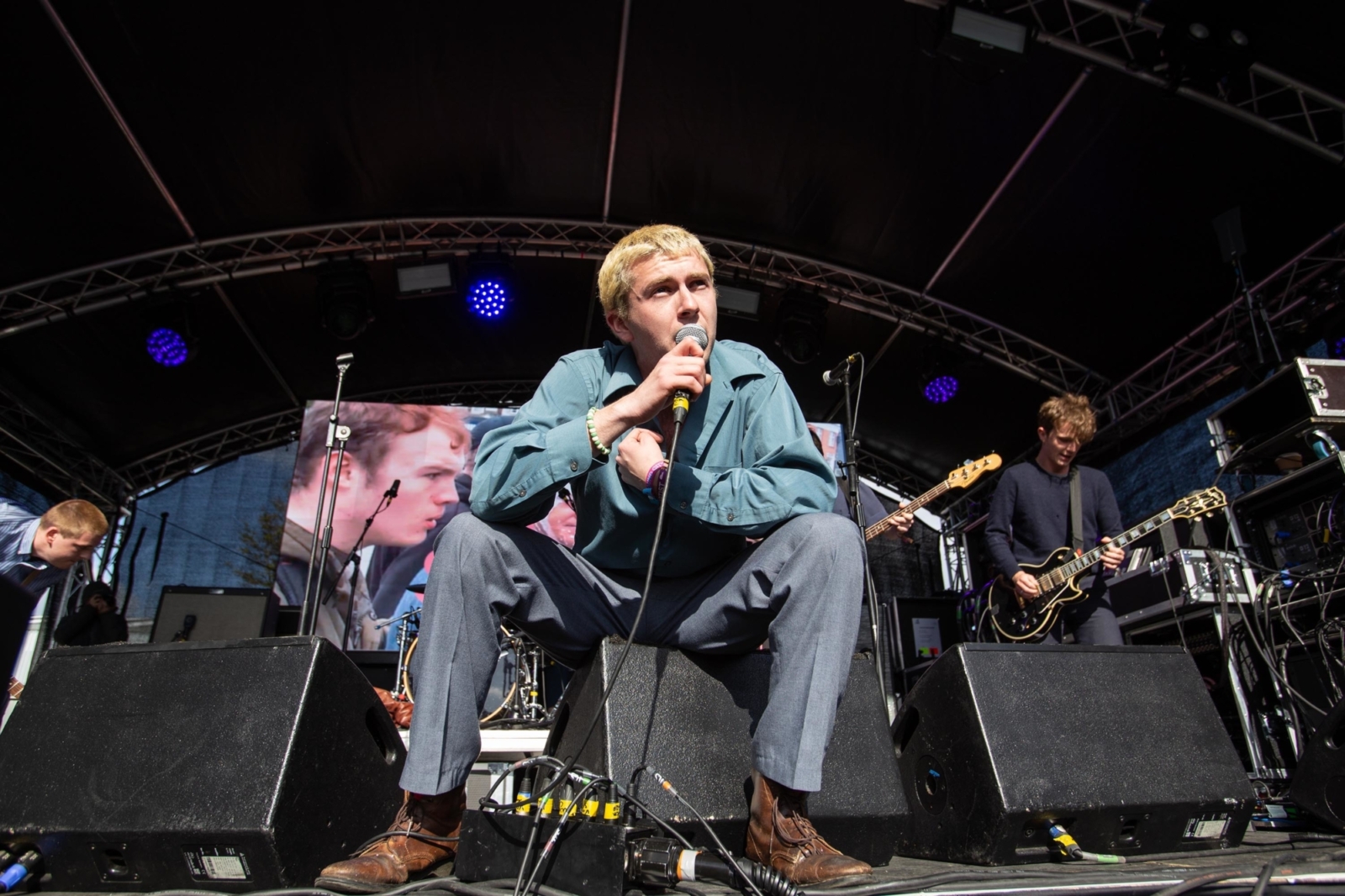 Photo: Emma Swann
Interview
Progress Report: Shame
We catch-up with Charlie Steen and Eddie Green ahead of their show at Goose Island's Hop Party to find out how album two is coming along.
It's been over a year since South London quintet Shame released their jaw-dropping debut 'Songs Of Praise' back in January 2018 and, tbh, we're ready for some new songs to scream along to.
When we caught up with them in November last year, they'd already debuted one newbie 'Human, For A Minute' at their recent shows and were setting aside time to fully start work on album two. "We're still very much figuring out, not what we wanna do, but we're playing around with things," explained Sean at the time. "We're batch cooking songs," joined Forbes. "Slow-roasting different ideas," added Josh, "and then when we get time off they're just gonna… Pew! Pew! Pew!"
The "Pew! Pew! Pew!" seems to have fast approached, with the group debuting six new songs at last week's End Of The Road festival ('Another', 'Alphabet', 'Cowboy', 'Human', 'Exhaler' and 'March Day'). With a homecoming performance taking place at this Saturday's Goose Island Hop Party, we hopped on the phone with Charlie and Eddie to find out more.
Hey guys, how are you?
Charlie: Very good!

You just performed a huge set at End Of The Road, how was it?

Charlie: It was really nice to go back to End Of The Road, we've done it a few times. It was sick. It was a good show, we got to play five or six new songs as well so it was good to be able to test them out.

How was the reaction to the new tracks?

Charlie: It was good! I guess when you're playing new songs it's always going to be interesting because nobody's heard it before so you're not sure what to expect but they had a really good reaction. We've played some in Japan at Fuji Rocks and we played some when we did Coachella.

Eddie: It's nice to play to a home crowd though. There was lots of whooping and hollering.

Are you guys looking forward to the Goose Island show tomorrow?

Charlie: Yeah! It's gonna be weird playing in London again. We've never played Oval Space before, we saw Preoccupations play there quite a long time ago. Seems like a good space and should be good fun. It sold out in like seven minutes so hopefully it'll be a good show!

Have you got any more ones you're going to reveal at Goose Island?

Eddie: I think we'll probably do a similar set as what we did at End Of The Road, time permitting. We'll still be showcasing a few new ones and it'll be fun to do that in London.

Obviously you've been touring loads this year, when did you start working on new material?

Eddie: Basically whenever we had a spare day or two we would just go and start writing again. Because of the touring schedule, we didn't have a lot of time where we had enough time to start writing, so we basically did it whenever we had a spare day or a spare few hours at the hotel. A fair amount of it has been written on the road, but also since we've been in London more stably we've also just been at it every single day more or less.

How's it been writing on the road?

Eddie: Bit stressful, not gonna lie. We usually just had it that someone would come up with an idea and we'd try it out at soundcheck!
"Still to this day I'll be in the pub and my friends will be like 'You're never gonna write another "One Rizla" though are you?'"
— Eddie Green
So what's the status with the new material at the moment? Is there a second album ready?
Eddie: I'd say it's largely completed at this stage. There's still a few little i's to dot and t's to cross. We're continuing to write even if we feel like it might be finished just because we want to have as much content as possible. I hate the word "content", but we want to have as much as possible to potentially put on this record. We're not going to stop trying to create until we're actually recording it, which hopefully will be very soon.
Is there a schedule or dates in place to do that?
Charlie: We're just going to get it to a stage when we're all more than satisfied with the album, exactly how we want it to be and then take it from there. We have ideas about what we'd like to do next year but realistically we don't want to rush anything. We just want to take it, more or less, one step at a time.
Obviously your debut was so successful, has there been any pressure with writing the new stuff to continue that trajectory?
Charlie: I think there's definitely a pressure and I think there will always be pressure put on yourself as well as exterior pressure you feel from others. I guess the difference is is that we wrote that first album when we were so young, like 16/17 years old, and never really dreamed of it turning into what it turned into, and so now it's more of a reality you know? This is our full job, we're no longer waiters on the sideline anymore. There's definitely a pressure, but it's probably a good thing, it'd be bad if there wasn't.
What are you exploring on the new album?
Charlie: Lyrically, it's about self-identity and sleep and dreams. I had a period after two years of touring where I found it really hard to get to sleep and then when I was sleeping I had real vivid dreams for long periods of time. Musically, what we just want to achieve is a maturer sound, something that shows we've grown. We're not 17 anymore, we're 22. But we still want to keep an element of the humour.
Would you say growing up is the main difference between this record and your first?
Charlie: Yeah, we're writing it from a completely different place. We've written it in a different way to the first one. With the first one, we were at The Queens Head in Brixton, we didn't have a studio, we didn't have a microphone, we didn't have amps. It was kind of going to a pub and thrashing it out.
Eddie: With this one we actually have stuff!
Charlie: We bought more or less a home studio for Josh in his bedroom and then we've also been practising in loads of spaces around London. Some of the songs have been worked out in a bedroom and just on a computer and then other ones have felt more natural to be worked out in a live environment. It's kind of a difference in that way but that just came after actually recording an album and seeing how it's done. In modern day times you do have the capability to take it into your own hands.
People are so excited to hear the new stuff. When you started out did you ever think that would be the reaction?
Charlie: No! People hated us. All of our friends don't like our music. They're good friends and they're supportive but when we used to put on nights at The Windmill, there'd be like 200 people at The Windmill but everyone would be in the smoking area when we were playing.
Eddie: People did kind of hate us. Definitely around 2015/2016 the word "brat" was thrown around quite a lot in our direction. It's kind of funny how that's changed a bit now.
Charlie: Yeah, it's really nice. It's also quite funny.
Eddie: People definitely thought we were a bunch of dickheads like four years ago who are now fans.
Charlie: It only took playing 500 shows!
Eddie: Still to this day I'll be in the pub and my friends will be like "You're never gonna write another 'One Rizla' though are you?"
Do you think you've managed to write another yet?
Charlie: It's not really our place to say, but we have the skeleton of the majority of the songs, still working about the choruses and different parts of them, but it'll be different to 'One Rizla'. Hopefully it will be better!
What are you wanting people to take away from this next record?
Charlie: That there's still a link to 'Songs Of Praise' but that there's a change. Change is good. We haven't changed that drastically, we still have guitars and stuff, but yeah! It'll definitely be out next year. I don't want to say a particular month, or even a particular season, because we may come to regret that.
Eddie: There's nothing worse than being over zealous when estimating the release of something, but it'll be out next year without a doubt.
What else have you got planned for this year?
Charlie: We're pretty much hunkered down, planning to record as soon as we can. We're doing a few festivals, we're going to Lithuania in September and Brazil in October, we're going to Iceland to do Iceland Airwaves, and we're curating a festival with Cate Le Bon in November. We've got Fontaines and The Murder Capital playing. I reckon that's going to be a lot of fun.
Shame play Goose Island's Hop Party at Oval Space on Saturday 7th September with Blossoms.

Get your copy of the latest issue