Album Review
Shame - Songs Of Praise
5 Stars
A vicious, sarcastic barrage, Shame's outstanding debut makes their claim to be Britain's best new band.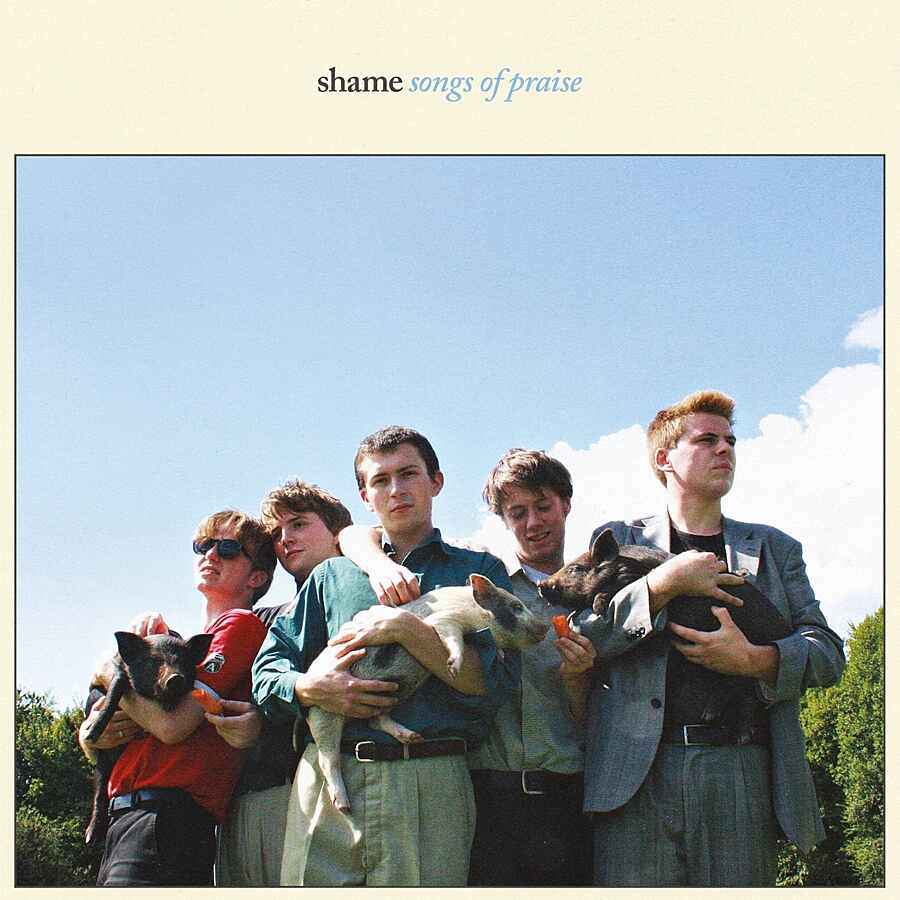 Emerging from a South London scene full of scrappy, drawling punk bands and sharing a rehearsal space with the notorious Fat White Family, Shame could be forgiven for opting for style over substance. With debut singles 'Gold Hole' and 'The Lick', though, they began to rally against this assumption. The pair of tracks presented a band that couldn't care more.
Their follow-up, 'Tasteless', was even more hair-raising: propulsive, confrontational punk provides a towering base upon which vocalist Charlie Steen puts the world to rights with generous helpings of wit on top.
Debut album 'Songs Of Praise' sees all of this gritty early promise channeled into something special. From the moment opener 'Dust On Trial' lurches into life, the album sees the band's chaotic live show transferred onto tape, and then some. Its first verse sees Charlie presenting a booming vocal, singing almost under his breath and holding back a landslide. It's unleashed in the second verse, a guttural scream that, while unhinged, makes sure every word is perfectly pronounced: the chaos Shame unleash across 'Songs Of Praise' won't hide the message they're trying to hand over.
Despite energy and creativity in bundles, one thing the band's early output did see lacking was hooks. As becomes a trend across 'Songs Of Praise', album highlight 'One Rizla' scratches that itch wonderfully. "You can choose to hate my words, but do I give a fuck?" Charlie offers. An earworm that's the lasting memory of the album on first listen, 'One Rizla' sees Shame embracing melody without sanitising one drop of feeling.
'The Lick', 'Tasteless' and 'Gold Hole' end up slotting perfectly into the record, forming a familiar yet still vibrant mid-section, only broken up by the wild, untamed thrash of 'Donk'. 'Friction' is another highlight, with verse upon verse of Charlie probing for answers, as if he can spot insecurities (and/or bullshit) from a mile off, before proceeding to slowly pick at the scabs. It's all done over the catchiest riff of the album, and the finest example of how juxtapositions thrive throughout 'Songs Of Praise'.
First impressions and preconceptions do few bands many favours, but Shame seem to have had to work hard to shelve such opinions on 'Songs Of Praise'. The power and ferocity with which they do so across the album - as well as its rollocking instrumentation and clear social conscience - makes it a triumph.
"In a time of such injustice, how can you not want to be heard?" Charlie offers in 'Friction', before he launches himself into a roaring chorus, and on 'Songs Of Praise', Shame shout louder than anyone else at the moment, and make a claim to become Britain's best new band.