Interview
The Well Of Souls: Girl Band
Two years ago, Girl Band cancelled their touring schedule and all but disappeared. Now, Dublin's surrealist noiseniks are back with apocalyptic second record 'The Talkies'.
The sound that opens Girl Band's second album 'The Talkies' is a disconcerting one. Over a drone-like synth, a voice starts breathing erratically, spinning further out of control with every next inhalation. By the time the track comes to an abrupt end, the panic is visceral.
The voice is that of the band's vocalist Dara Kiely, and the recording comes from a day during the recording of demos for the album where he felt particularly panicked. To try and keep himself on a level, he started practising breathing exercises into the microphone.
The intro, titled 'Prolix', is as intense and knife-edged a sound as we've come to expect from the Dublin four-piece. It gathers a far greater meaning, though, when set against the backdrop of the band's last known movements, years before the announcement of 'The Talkies', when they disappeared with no promise of a return.
Back in May of 2017, Girl Band announced that, due to health issues, they were cancelling the rest of their tour dates for the year. The same issues had forced them to shelve a host of European dates the previous year, and the final announcement called an abrupt close to the band's touring plans for debut album 'Holding Hands With Jamie'. Following a resultant period of complete silence, many fans believed it to be the end of the band itself as well.
"I think if people thought that we'd disbanded then that's pretty fair enough," guitarist Alan Duggan says today. He recounts memories of fans approaching them mid-way through nights out in Dublin in the following months, desperately asking if Girl Band still existed, and if a second album was on the way. A simple, slightly shy "yes" was the consistent response. It was never in the quartet's mind, they say, that they would disband, even though the cancellation of that tour was followed by twelve months of not playing in the same room together.
For the next two years, the band slowly carved out what would become 'The Talkies' behind closed doors. Those cancelled dates felt like the closing of a chapter for Girl Band, one that then allowed them to write and record a second album away from prying eyes. It's a chapter they'd rather remains closed, too. Before today's interview, DIY receives a polite note from the band. "It's well known that we had to take time off for health reasons before making this new album," they write. "However we don't want the focus surrounding the new album to be defined by this." It's a difficult thing for a band to overcome such an intense period of their history, however if any album was going to allow Girl Band to move beyond their storied recent past, kicking on defiantly into a new era, it's the apocalyptic, surging, stunningly strange next step of 'The Talkies'.
"I think if people thought we'd disbanded then that's pretty fair enough."
— Alan Duggan
Girl Band's second album takes the wonderfully odd foundations that 'Holding Hands With Jamie' set and pushes them even further into an esoteric league of their own. 'The Talkies' revolves around repeated motifs all set in the key of A, with songs interlinking endlessly. The record's most self-referential moment, sitting at its heart, is 'Aibohphobia', a song named after a fear of palindromes that's also recorded and sung entirely in palindromes. Not weird and meta enough? Dara suffers from the phobia himself.
Referencing the famous dream sequence from David Lynch's Twin Peaks, in which the dialogue is played out front to back, the track was recorded, then the audio was reversed into a new version, which the band learned to play, before being reversed again. Stuck together and layered on top of each other, it makes some kind of fucked up sense. Above it, Dara sings wonderful palindromic nonsense: "Do geese see God?" "Top spot to idiot."
Across 'The Talkies', the lyricist's words are nothing less than bonkers, adding a whole new layer of surrealism to an album already dripping in it. "Gonna Barbie a Ken on a barbwire fence" is the most twisted threat we've maybe ever heard in song, while elsewhere he ponders, "what happened to Teletext?" and references cult Dutch footballer Jaap Stam. Comeback single 'Shoulderblades', meanwhile, revolves around the hook "It's like a hat for Ed Mordake", referencing the subject of an urban legend who was believed to have an extra face on the back of his head.
As lyric-writing started for the album, Dara decided that he wanted to set himself another challenge: to include no pronouns. "[It's] something I always wanted to do, because I've never heard an album that does that," he says. He and his band - consciously or otherwise - seem to thrive on doing things that no other band are managing or even trying. "It was really hard, but I got there," the frontman chuckles. "There's a lot of 'it's in there. I really can't stand 'forever and a day', 'catch you when you fall' kinda lyrics, and I love the idea of making up fake cliches," he continues, the song title 'Salmon Of Knowledge' immediately springing to mind. "There's a lot of them in there. I try not to be lazy with that. I'm very lazy when doing it, but the actual words aren't lazy!"
In order to put this surreal vision to tape, the band once again opted for the untraditional. For two weeks in late 2018, the group decamped to Ballintubbert House in County Laois, tucked away in a quiet part of the Irish midlands. A grand old manor house usually reserved for weddings, the band turned it into a studio after being invited down by a friend of bassist Daniel Fox, and the grandeur of its walls is written all over 'The Talkies'.
"Everyone had an en suite bathroom," Daniel remembers gleefully of their time in the house, surrounded by gardens that hosted a lake, a maze, an orchard and countless other stately quirks. "There was a lot of waking up in the morning and thinking, 'What the fuck am I doing here?!'"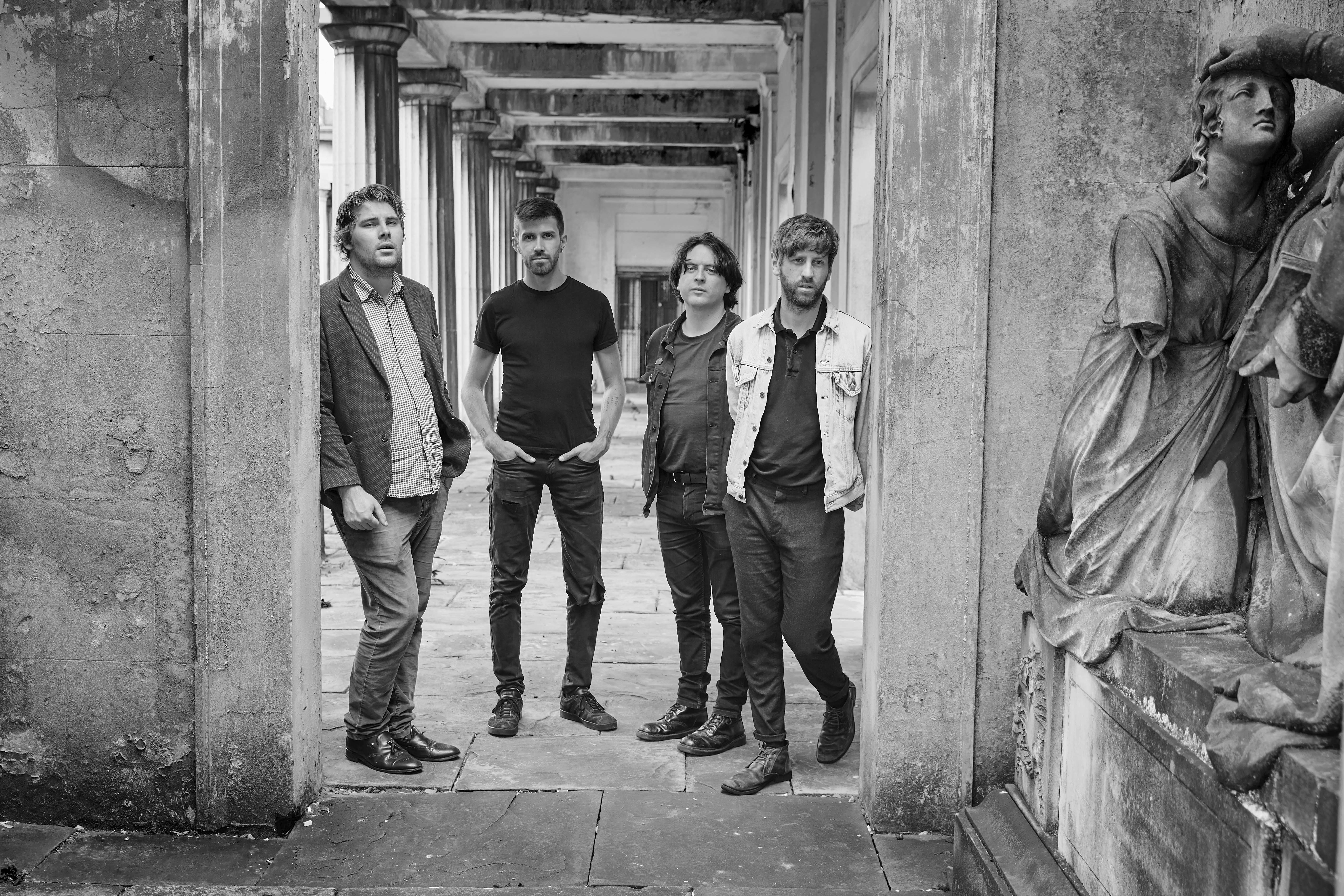 "I love the idea of making up fake clichés."
— Dara Kiely
Made In The Manor
So, Girl Band, tell us a bit more about this fancy house of yours…
Alan: "It's normally a wedding venue. The grounds are insane."
Daniel: "There were lots of acoustic possibilities. That's kind of the main reason we picked it in the end. Well Of Souls, always good. Fancy gaff, always good."
Adam: "Everyone had their own space to retreat to. If someone's laying down a load of guitars, not everyone has to be sitting there watching. I'm gonna go have a nap instead. Dara had a whole flat to himself, didn't you?"
Dara: "I had a little granny flat. There was one day where I woke up, had breakfast, went back to bed, woke up again, had dinner, then went back to bed. I was not needed."
As well as the distance from the bustle of Dublin and the time alone that their new surroundings brought, Girl Band - predictably - used their grand new home in weird and wonderful ways to enhance the scope of the record.
"There's a cellar," drummer Adam Faulkner begins. "The back door to the house is the main entrance, and the rooms went down and then up as well. We had drums recording up one level, and we recorded them for the whole record up there, and then we moved them all down into the basement and did a different drum set-up and recorded it all again. On your way down to the cellar, there's a circular stairwell with a high roof, kind of like a tower underground. It got nicknamed The Well Of Souls, and it had this amazing reverb sound. It's pretty much on most of the album."
Their strange and singular approach shows, too. When 'Shoulderblades' fully kicks in with a torrent of visceral energy, the drums sound like they're from another dimension, hitting with sharp blows from every angle, while manipulated guitars and bass are pushed to their shrieking limits. In every way, 'The Talkies' sees Girl Band stretching the possibilities of guitar music, using the very fabric of their surroundings to their advantage, diving deep and without shame into the pretentiousness of palindromes while also throwing out the couplet "feel like a chicken, act like a cock", and remaining one of the best experimental bands around.
Building their songs from the ground up with no traditional structures or chord progressions - "very slowly," Daniel winces when asked how on earth a Girl Band song comes together - theirs are tracks that don't make sense when stripped down to the bare bones. "On the first record, we took a [recording] of the guitar with no effects on it and it's so, so funny," Alan laughs, making dissonant noises imitating the limp plucking of a single guitar string.
"You hear it and think 'Oh god, are we fucking shit?!'" Daniel exclaims. "If there's ever a power cut, we'll be exposed..."
But it's this lack of conformity that sets them apart, and on 'The Talkies' they test it to the nth degree. And somehow, when the supposedly competing elements of their sound come together - the mix of bashing on drums in a cellar, guitars that don't sound like guitars and lyrics about Weetabix - they do so in some kind of twisted, perfect bliss.
As crazed final song 'Prefab Castle' screeches to a close, an outro slides its way in, and over a tinny instrumental sits Dara's breathing once again. This time, however, he's calm and collected, equilibrium finally achieved.
'The Talkies' is out now via Rough Trade.