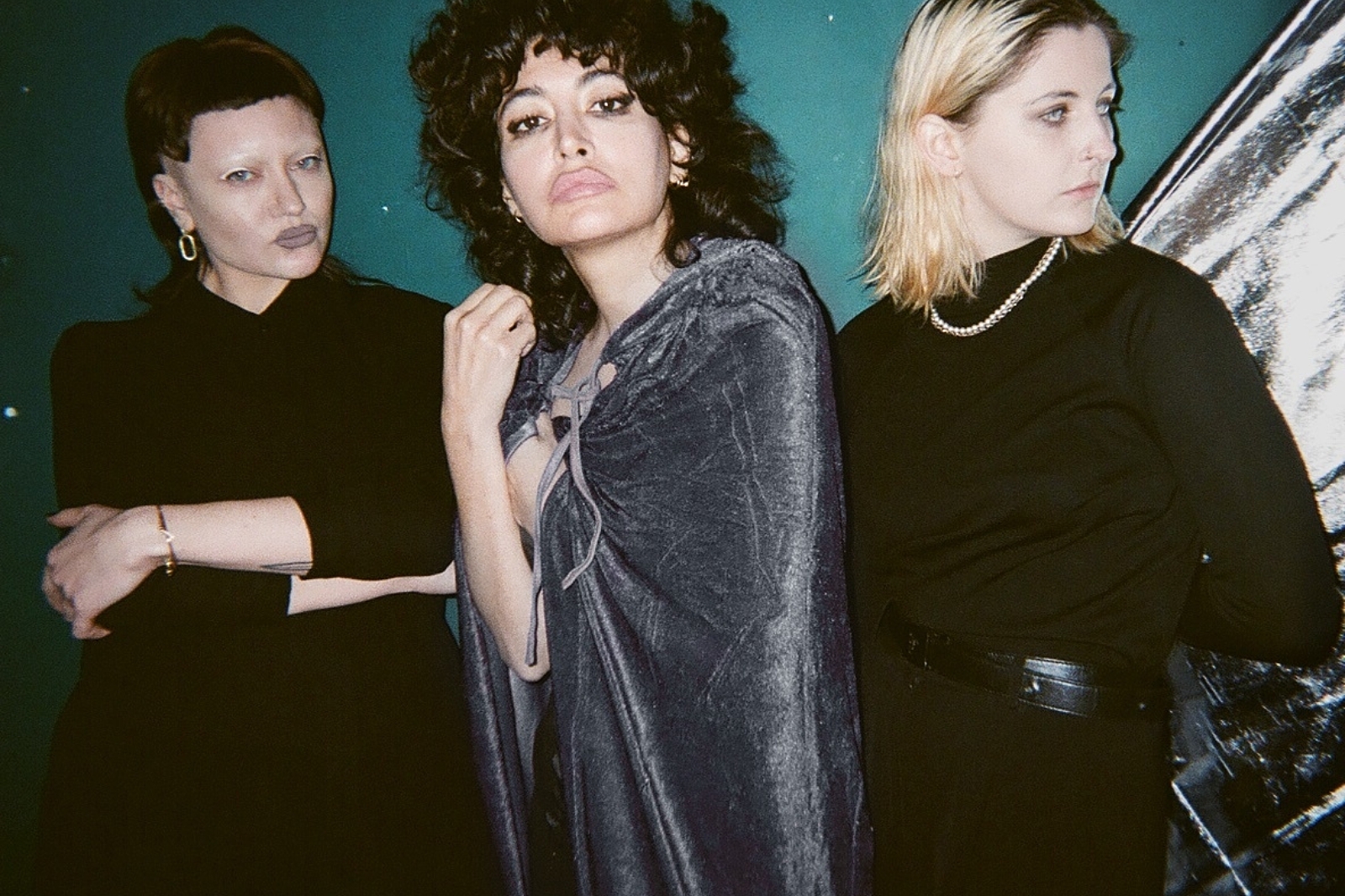 Photo: Chino Moya
Introducing
Get To Know… deep tan
The East London trio have just announced their debut EP!
Hello and welcome to DIY's introducing feature, Get To Know… getting you a little bit closer to the buzziest new acts that have been catching our eye as of late, and working out what makes them tick.
Recently we've met pop-punk fast-riser LILHUDDY, Dirty Hit's latest shining star beaux, Canada's Softcult, pop newbie CMAT, and now we're introducing you to post-punk trio deep tan.
After wowing with their set for our Hello 2021 shows earlier this year, the trio have now announced that their debut EP 'creeping speedwells' will be arriving on 4th June via Practise Music.
Sharing sizzling new song 'camelot' to get us excited for what's to come, they say of the track, "'camelot' is an unashamed tribute to 'the sesh'. a group of people have just been evicted with only 48hrs notice, leading them to have one last rager in order to forget about the stress of not finding a new home with such short notice. coming in at less than two minutes, the frenetic energy of the track sets the scene for total obliteration.
We sent them over some qs to get to know them a lil' better
Describe your music in the form of a Tinder bio.
(she/they)
better than your ex.

What's your earliest music memory?
Celeste: My dad playing Bowie in the car on the way to school and thinking that 'Moonage Daydream' sounded great if we were driving fast (which would happen if we were late).
Wafah: When I was three apparently I was really into Tchaikovsky.
Who were some artists that inspired you when you were just starting out (and why)?
Lucy: Even though we don't really sound like them, Scissor Sisters! I saw them live in 2006 and it was definitely a formative experience.
Wafah: The Cure, definitely. I always was drawn to English new wave and postpunk.
Celeste: Primus's basslines. Les Claypool forever.
You're from East London! What do you think of the music scene there at the moment?
Wafah: It's great to be around other musicians. I live with Declan, who's in the band Sleepeaters, and being close to where a lot of gigs happen (when we're able to have them) is very handy.
Lucy: I live in South-East which is really good for live music. 'Queer Off' at The Amersham Arms is definitely a highlight, covid-permitting.
Are there any other artists breaking through at the same time that you take inspiration from?
Wafah: I really like what Folly Group and The Cool Greenhouse are doing at the moment.
Lucy: Kamikaze Palm Tree! The singer also plays drums in Cate Le Bon's band and their album 'Good Boy's amazing.
Celeste: Alex Loveless has the best tattoos (and demos) around, get to know.
Who would be your dream collaborator?
Wafah: Robert Smith or Dave Sitek!
Lucy: Working with Big Thief or Adrianne Lenker on some more introspective songs could be really interesting.
Celeste: A Helena Hauff or Autechre remix would be wild.
Musically or otherwise, what are you most looking forward to this year?
Lucy: Being able to play again! I broke my elbow last year so had to take a bit of time out for it to heal.
Celeste: Being able to go on tour (fingers crossed).
Wafah: Gigs coming back, no question.
If people could take away one thing from your music, what would it be?
Celeste: We're interested in contrasts. We'll push a sound or lyric to, say, the darkest element that feels right for the song and will then pull back and explore what feels right on the other side, and feel out what else is happening in between. The contrasts are different every time though, like new rules in a game we're playing as we're writing. Or a puzzle. A song's finished when we feel like we've worked out something specific as part of the process.

Get your copy of the latest issue