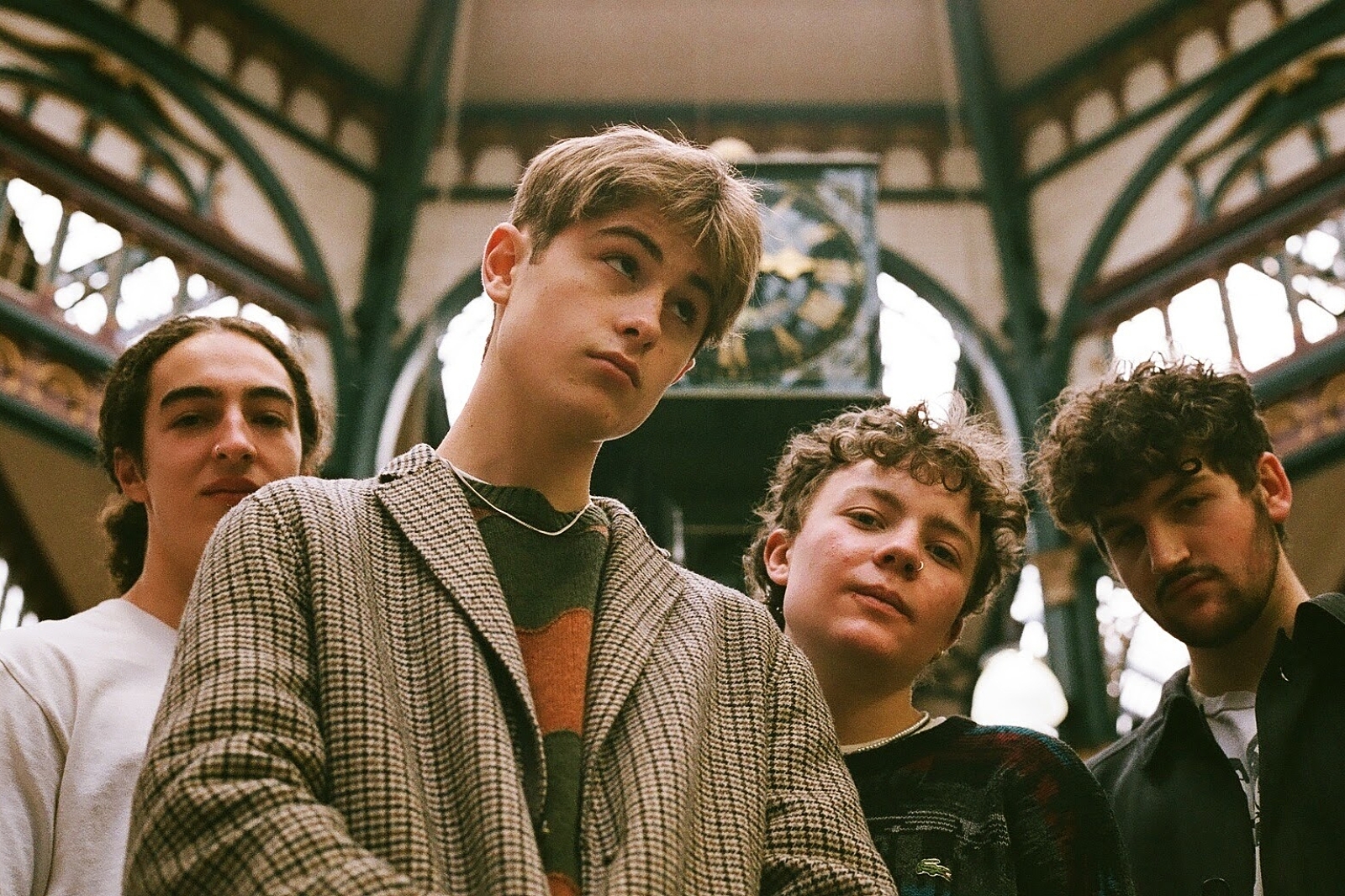 Photo: Holly Whitaker
Introducing
Get To Know… L'objectif
The Leeds group's debut EP arrives next month!
Hello and welcome to DIY's introducing feature, Get To Know… getting you a little bit closer to the buzziest new acts that have been catching our eye as of late, and working out what makes them tick.
Recently we've met NYC's Sarah Kinsley, psych-collective Mandrake Handshake, bedroom-pop star Sukie, The Lounge Society, and now we're introducing you to Leeds quartet L'objectif.
Made up of school pals, the group have released their brand new track 'Do It Again' today. Self-produced entirely by frontman Saul Kane, he notes, "'Do it Again' is a song from the perspective of, essentially, a bad guy. A master of deception and lies. The song is an insight into this character and his attitudes towards life and other people."
Lifted from their eagerly awaited debut EP 'Have It Your Way', due 20th July on Chess Club Records, we sent Saul over some qs to get to know them a lil' better.
Describe your music to us in the form of a Tinder bio.
Swipe left and I'll write a song about you, swipe right and I'll write a song about you.
What's your earliest musical memory?
When I was younger I remember my parents took me to Leeds fest for one day and the Red Hot Chili Peppers were playing, so probably that, definitely one of the first live shows I went to.
Who were some artists that inspired you when you were just starting out (and why)?
Whilst just starting out, at the time I admired Morrissey, not anymore for obvious reasons. Alex Turner maybe, he is cool and the Arctic Monkeys were especially huge at that time, it was the first time I properly got into a band. I loved The Stone Roses and still do but a lot of my idols have completely changed since then, bearing in mind we started the band at age 12 so my music taste is very different now.
You're from Leeds! What do you think of the music scene there at the moment?
I've heard some great bands and artists coming out of Leeds recently, mainly over lockdown. We were too young to get involved with the music scene so I've not seen many Leeds bands live but hopefully that will change soon.
Are there any other artists breaking through at the same time that you take inspiration from?
Not particularly. I really love Drug Store Romeos, I think they are great, but I wouldn't say we take inspiration from breaking bands right now at least not consciously. I like a lot of them though.
Who would be your dream collaborator?
I cant really imagine collaborating with anyone in particular, I like writing alone a lot of the time. However I reckon working on a song with Kanye West but would be surreal and quite funny, he's a creative powerhouse and a great producer so id probably like to just watch him work and take notes.
Musically or otherwise, what are you most looking forward to this year?
Gigs, gigs, gigs. Hopefully life returns to normality and people are safe, but once we can, I can't wait to play.
If people could take away one thing from your music, what would it be?
People can take away anything they want from it, good or bad, that's the point of it in my opinion If I had it my way though it would probably be that everyone could take away a bit of feeling and emotion from listening to the music.


Get your copy of the latest issue