Listen
Yard Act share new single 'Pour Another'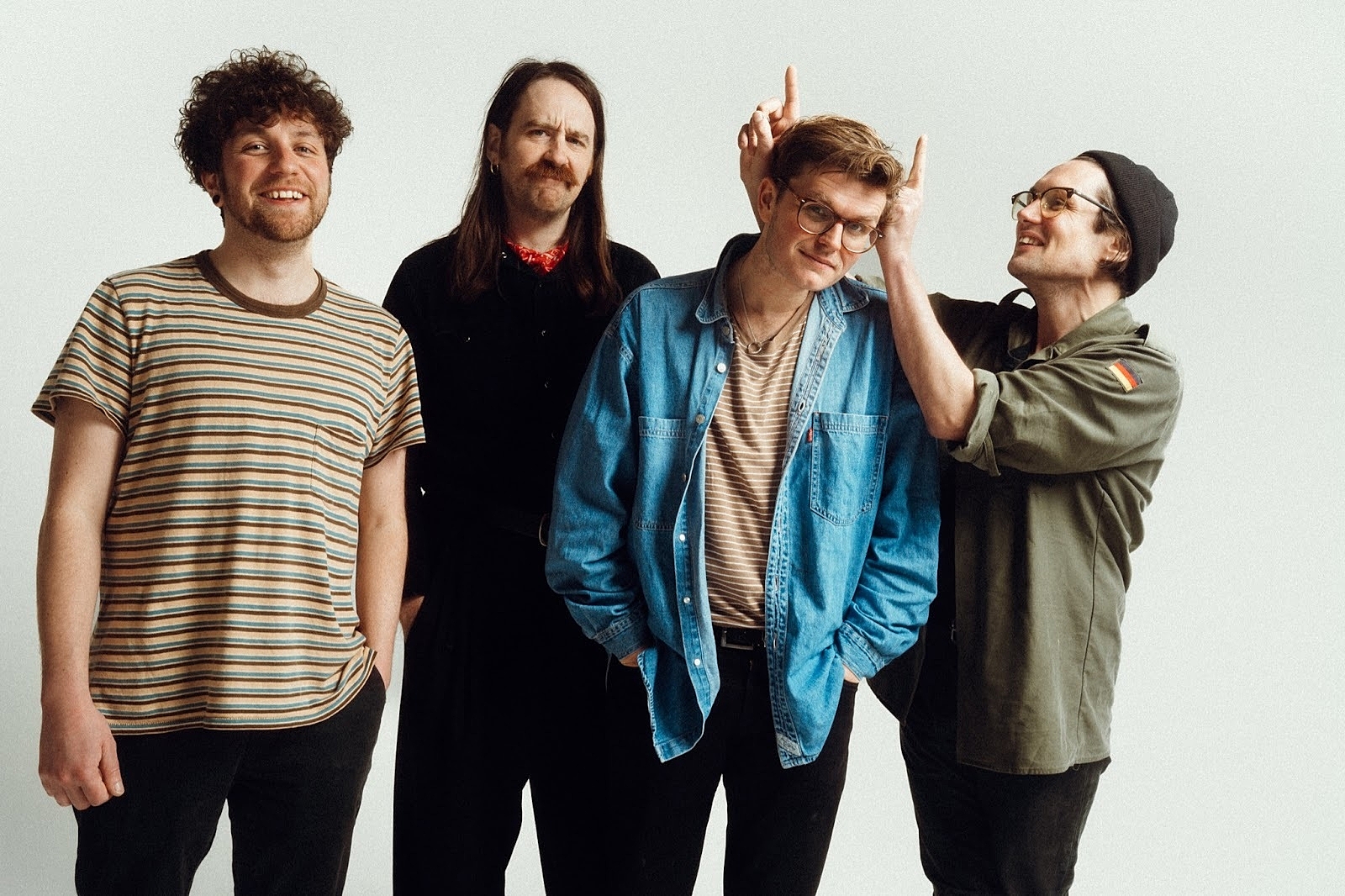 Photo: Phoebe Fox
And they've also covered Elton John's 'Tiny Dancer'!
Ahead of the release of their hotly-anticipated debut album 'The Overload' later this week, Yard Act have shared new single 'Pour Another', as well as revealing a cover of Elton John's 'Tiny Dancer'.
"'Pour Another' zooms in on the post-party conversations many hedonists will be all too familiar with," the band's James Smith says. "It leaves the impending doom of daily life in a world on fire at the door, at that point in the night when you don't want to let go of the moment you're in, when everything is perfect and everyone is your new best friend. Those moments fade, because nothing stays as it was. You're woken with a bang and you have to face the truth."
"We did 'Tiny Dancer' 'cause our new best pal Elton has been so kind about us in the press recently," James adds. "A song like Tiny Dancer seems so far removed from what people assume Yard Act is, we thought it would be a really interesting way of showing not only our own versatility, but also the versatility of a song as good as 'Tiny Dancer'."
Check them both out below.
'The Overload' Tracklisting:
1. The Overload
2. Dead Horse
3. Payday
4. Rich
5. The Incident
6. Witness
7. Land Of The Blind
8. Quarantine The Sticks
9. Tall Poppies
10. Pour Another
11. 100% Endurance
See Yard Act live at the following dates:
JANUARY
20 | Actions records, Preston, UK 6pm
21 | Rough Trade East, London, UK 12pm
21 | Rough Trade East, London, UK 6pm – SOLD OUT
22 | Sister Ray / 100 Club Outstore 12pm
22 | Pryzm, Kingston-Upon-Thames, UK 8pm
23 | Pie and Vinyl Instore, Southsea, UK 1pm
23 | Resident Music Instore, Brighton, UK 6pm – SOLD OUT
24 | Truck Music Store, Oxford, UK 1pm
24 | Rough Trade, Bristol, UK, 6:30PM – SOLD OUT
27 | Rough Trade, Nottingham, UK – SOLD OUT
FEBRUARY
02 | L'Aéronef, Lille, FR
03 | Trix, Borgorhaut, BE
04 | Paradiso Kleine Zaal, Amsterdam, NL – SOLD OUT
05 | Molotow, Hamburg, DE
06 | Stengade, Copenhagen, DK
07 | Plan B, Malmö, SE
09 | Badehaus, Berlin, DE
10 | Blue Shell, Cologne, DE
11 | Rotondes, Luxembourg, LU
12 | La Boule Noire, Paris, FR
17 | Village Underground, London, UK – SOLD OUT
18 | Patterns, Brighton, UK – SOLD OUT
19 | The Joiners, Southampton, UK – SOLD OUT
21 | Exchange, Bristol, UK – SOLD OUT
22 | Clwb Ifor Bach, UK Cardiff – SOLD OUT
23 | Bodega Social, Nottingham, UK – SOLD OUT
24 | The White Hotel, Salford, UK – SOLD OUT
25 | The Trades Club, Hebden Bridge, UK – SOLD OUT
26 | Brudenell Social Club, Leeds, UK – SOLD OUT
MARCH
01 | The Cluny, Newcastle, UK – SOLD OUT
02 | The Caves, Edinburgh – SOLD OUT
03 | Mono, Glasgow, UK – SOLD OUT
04 | Whelans, Dublin, IE – SOLD OUT
14 – 20 | SXSW, Austin, US
22 | Union Pool, Brooklyn, US – SOLD OUT
23 | Johnny Brenda's, Philadelphia, US
24 | TV Eye, Queens, US
25 | The Sinclair, Boston, US
27 | The Garrison, Toronto, CA
29 | Sleeping Village, Chicago, US
APRIL
05 | Earth, London, UK
15 | The Casbah, San Diego, US
18 | The Crocodile, Seattle, US
19 | Doug Fir Lounge, Portland, US
21 | Rickshaw Stop, San Francisco, US
30 | Liverpool Sound City, UK
MAY
11 | Trinity, Bristol, UK – SOLD OUT
18 | Rescue Rooms, Nottingham, UK – SOLD OUT
19 | Zanzibar, Liverpool – SOLD OUT
20 | Irish Centre, Leeds, UK – SOLD OUT
21 | Band on the Wall, Manchester, UK – SOLD OUT
22 | The Foundry, Sheffield, UK – SOLD OUT
26 | O2 Academy, Leicester, UK
27 | Arts Centre, Norwich – SOLD OUT
28 | Wide Awake Festival, London
JULY
22 | Truck Festival, Oxford, UK
24 | Tramlines, Sheffield, UK
29 | Deer Shed, Thirsk UK
30 | Ynot Festival, Derbyshire, UK
AUGUST
05 - 07 | Off Festival, Katowice, PL
09 - 13 | Oya Festival, Oslo, NO
NOVEMBER
24 | O2 Academy, Leeds
25 | O2 Ritz, Manchester