Album Review
Jack White - Fear Of The Dawn
4-5 Stars
Ferociously heavy, wonderfully weird.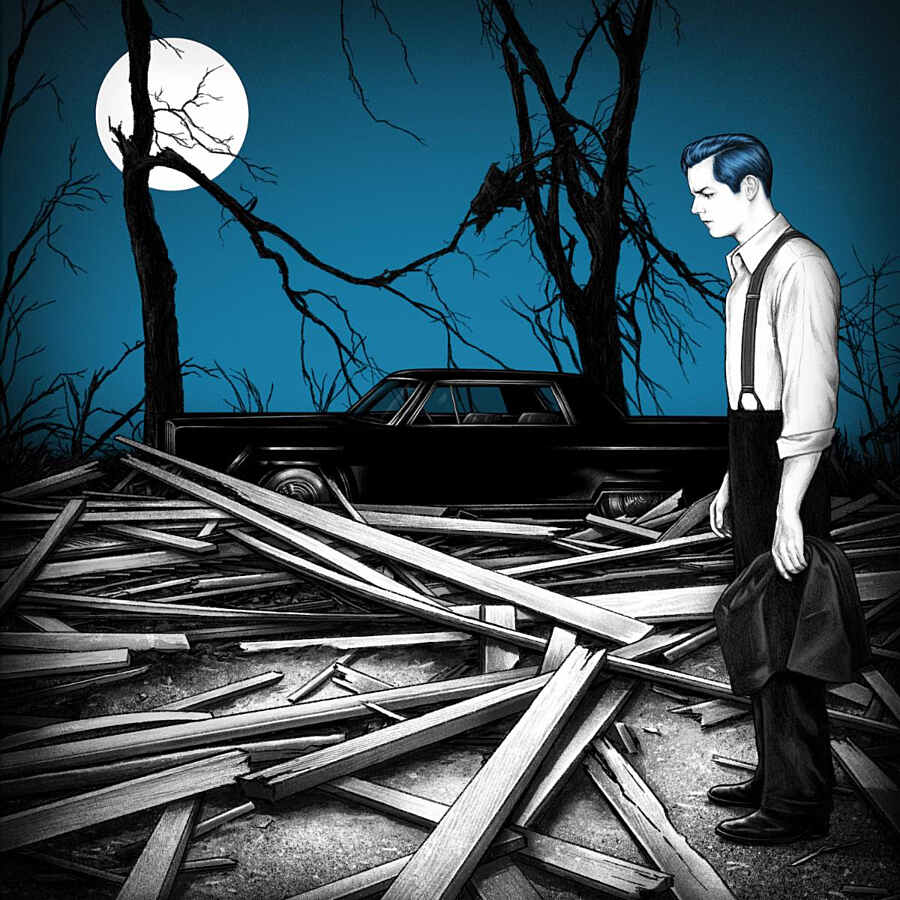 Jack White's decision to release two albums in 2022 is not, as one might imagine at first glance, a late hop on the 'double album' trend of a few years back. Nor is it an attempt to carve an 'era' for himself (yes, an odd thought for an artist for whose public persona the word 'cantankerous' may well have begun applying a few decades too early, but then again this is also an album cycle which began with a Call of Duty trailer, so…). Instead, it seems a way for the guitarist to be able to show both sides of his solo self simultaneously. For while The White Stripes had its infamously self-imposed limitations of various rules of three, and both The Raconteurs and The Dead Weather are, thanks to their respective co-conspirators, distinct in sound, solo Jack White has somehow come to mean different things for different people; a Jack of a few trades, if you will.
There's the rip-roaring rocker Jack, which threads through solo tracks like 'Sixteen Saltines' from solo debut 'Blunderbuss', both the title track of 2014 follow-up 'Lazaretto' and its 'That Black Bat Licorice', and of course, the fact he still tours much of The White Stripes' back catalogue. The 2016 release of his 'Acoustic Recordings' compilation seemed to cement another side to the musician, echoed through 'Blunderbuss'' title track, soft-but-deadly single 'Love Interruption' and 'Lazaretto''s swooning 'Temporary Ground'. And while 2018's 'Boarding House Reach' showcased a more experimental vein - opting for synths and jazzy rhythms in place of, well, much in the way of conventional song structure and immediacy - most of his work can pretty much sit in one of those two camps.
Which brings us to 'Fear of the Dawn'. In both eschewing his softer side for July's follow-up 'Entering Heaven Alive' and having well and truly flexed his more eccentric muscles with 'Boarding House Reach', Jack has given himself space to make something ferociously heavy, wonderfully weird - and gloriously immediate. There's a sense - perhaps best typified by the jubilant "woo" that begins 'That Was Then (This Is Now)' - that in not intending to tick every expected box here, he's freed up to simply have a lot of fun. 'What's The Trick' takes a grin-inducing riff, repeats it over an immaculately-paced hip hop beat and climaxes with a perfectly-placed scream. 'The White Raven' has him on fierce vocal form, fervently spitting his lyrics backed by trademark sonic motifs. 'Esophobia' (literally, fear of the dawn) smashes its way along, echoing its thematic tension in both tempo and note. Singles 'Taking Me Back' and 'Love Is Selfish' only scratched the surface.
And, much like on the Q-Tip-featuring 'Hi De Ho', the fun continues when things get a little more strange. Where 'Boarding House Reach' perhaps took experimentation to pleasing - but often not particularly structurally coherent - places, here similar textures are used to augment what are throughout essentially pop songs. 'Into The Twilight' begins with a curious, haunting jazzy vocal and makes use of an eerie spoken-word sample, while 'Morning, Noon, And Night' is based around a jaunty loop that sits just on the correct precipice of irritating, and 'Dusk' - echoing the not-quite title track - meanders spookily like its namesake hour.
Lyrically, yes, the record might be a not-so-veiled muse on getting older ("When I was a child / I could take my time / I thought I would live forever", says one choice lyric of 'Morning, Noon, and Night'), but 'Fear of The Dawn' is very much like the kind of party where you're hoping daylight stays away for some time yet.