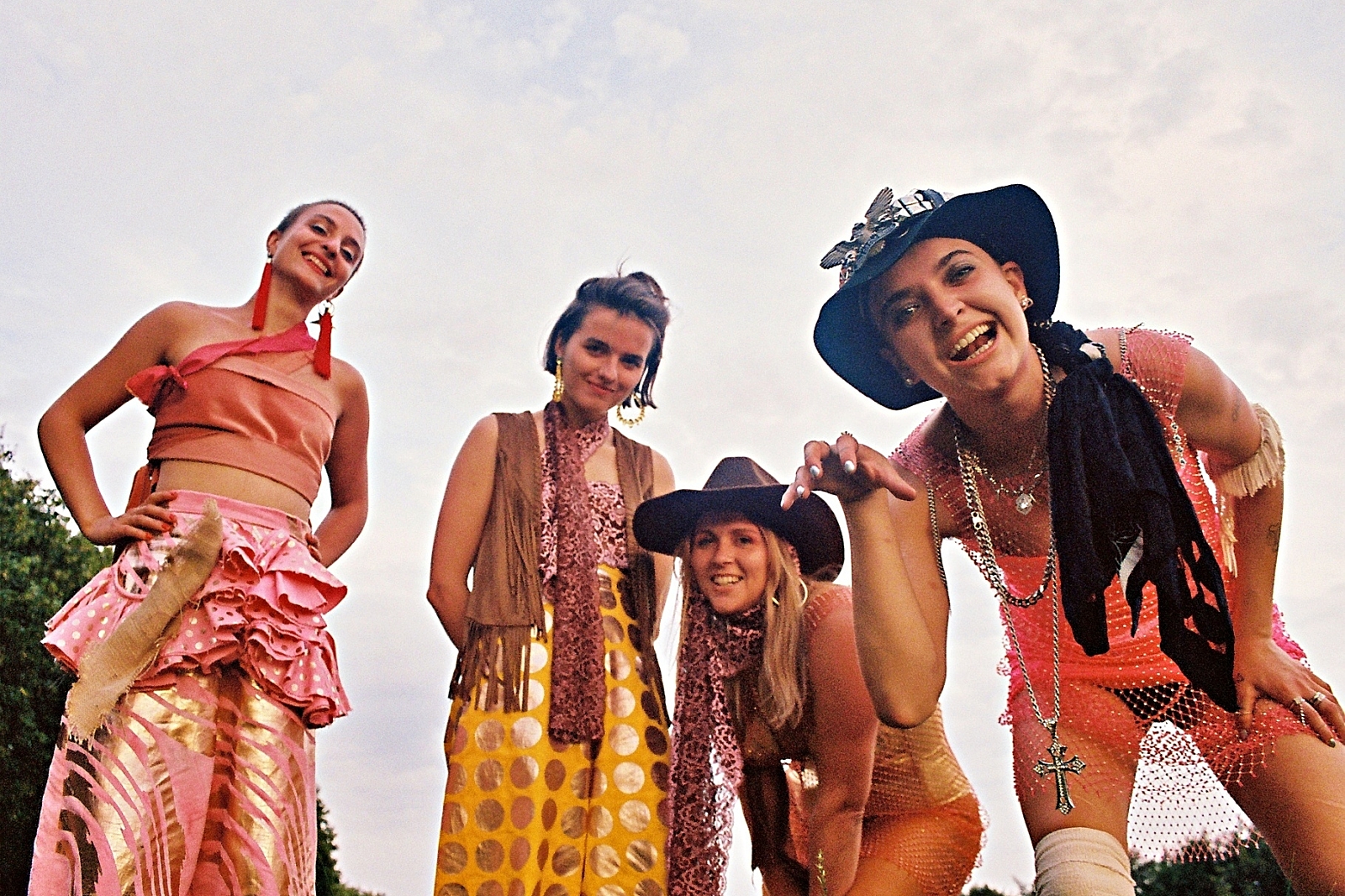 Gang of Four: Goat Girl
Celebrating a second album that cements their special sonic alchemy, against the backdrop of a world on the brink of implosion Goat Girl are holding on to each other more than ever.
When Goat Girl signed to Rough Trade back in July 2016, they ticked off a career milestone just as the UK was sealing its fate with the Brexit referendum. Two years later, their self-titled debut landed against the backdrop of #metoo and a seemingly never-ending slew of crimes enacted against women. Now, the four-piece have just released follow-up 'On All Fours'. In terms of global events, it's a choose your own adventure of chaos as to how the history books will remember the start of 2021.
It's perhaps inevitable then that the band - vocalist Lottie 'Clottie Cream', guitarist Ellie 'L.E.D', drummer Rosy Bones and bassist Holly Hole, who joined ahead of the writing of their second - have always leant in to addressing the injustices around them. Growing up, both as people and as artists, during one of the most consistently turbulent periods of modern history, the shadow of a world out of balance, destroying itself from the inside out, hangs over their entire outlook - from the seething lyrics that populated their debut to the protest signs that fill the window of Lottie and Rosy's London house. "Build a bonfire, build a bonfire / Put the Tories on the top / Put the DUP in the middle / And we'll burn the fucking lot," sung Lottie on 2018 track 'Burn The Stake'.
"This lockdown's shit," begins Ellie bluntly today, as the usual Zoom introductory niceties disperse. "They should have just kept it locked down for longer the first time. It's so fucking tactical, opening it up a little bit before Christmas so everyone will go into town and spend fuck loads of money." "With the schools going back for one day as well; I swear that's just so people went to go and buy new school uniforms and pencil cases and things," agrees Holly. "Otherwise why would anyone in their right mind make all the teachers and everyone go through that? Make people arrange for childcare and then go in for one day and cancel. It's all to get the money in, it's just mad."
The four, Lottie explains while attempting to slyly eat a bowl of baked beans (the singer is nursing a slight post-birthday sore head, but claims to perversely "function best when hungover"), have been turning to comedian and all-round legend Daisy May Cooper's piss-taking Instagram clips - "What if I'm a cat trainer but the cat lives in Berkshire but I need to train this cat?!" - for lockdown relief. But while the farcical decisions being made by BoJo and co are ripe for the mocking, the main conversational mood today still lands between disbelief and rage.
"There's a sense of helplessness and hopelessness, but there's also people holding the government and these outsourcing companies accountable, like with this latest scandal with free school meals, which is fucking disgraceful. The only way you can make change now is by making people feel embarrassed and outed, which is so fucked up that they can't do it just because it's evil not to," Lottie asserts. "Then you look at someone like Elon Musk. He's now the richest man on the planet and he's trying to use that money to create a society on Mars that you fly to and you work off your debt by working on Mars for the rest of your life. This man is fucking delusional, he needs help, and yet he can have so much impact."
"These people that have so much wealth and power - there's no test to make sure they're decent people," continues Holly. "When Donald Trump was suggesting that people inject themselves with bleach [to stop Coronavirus]… That someone with such little knowledge can be the most powerful person in the world is just beyond fucked."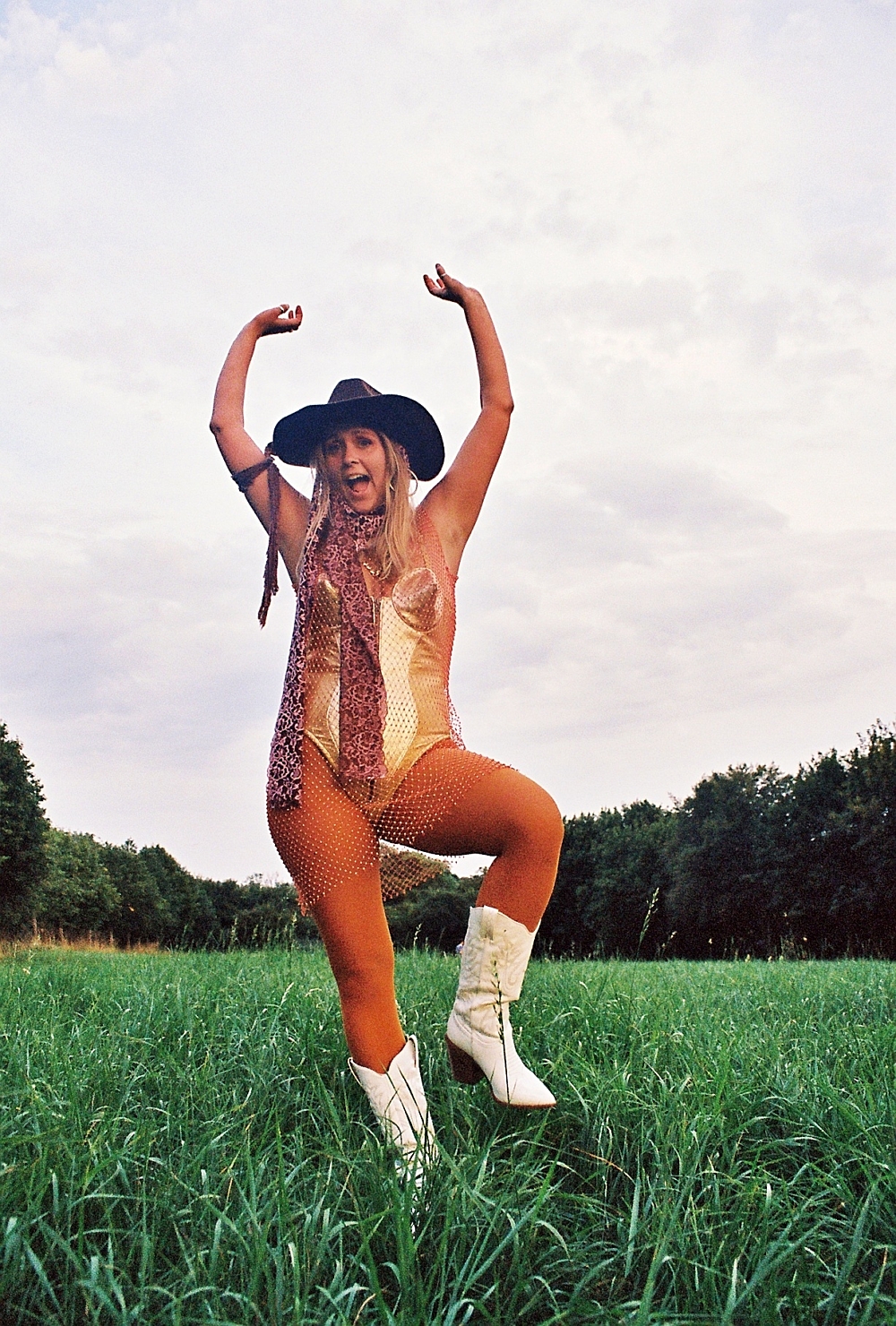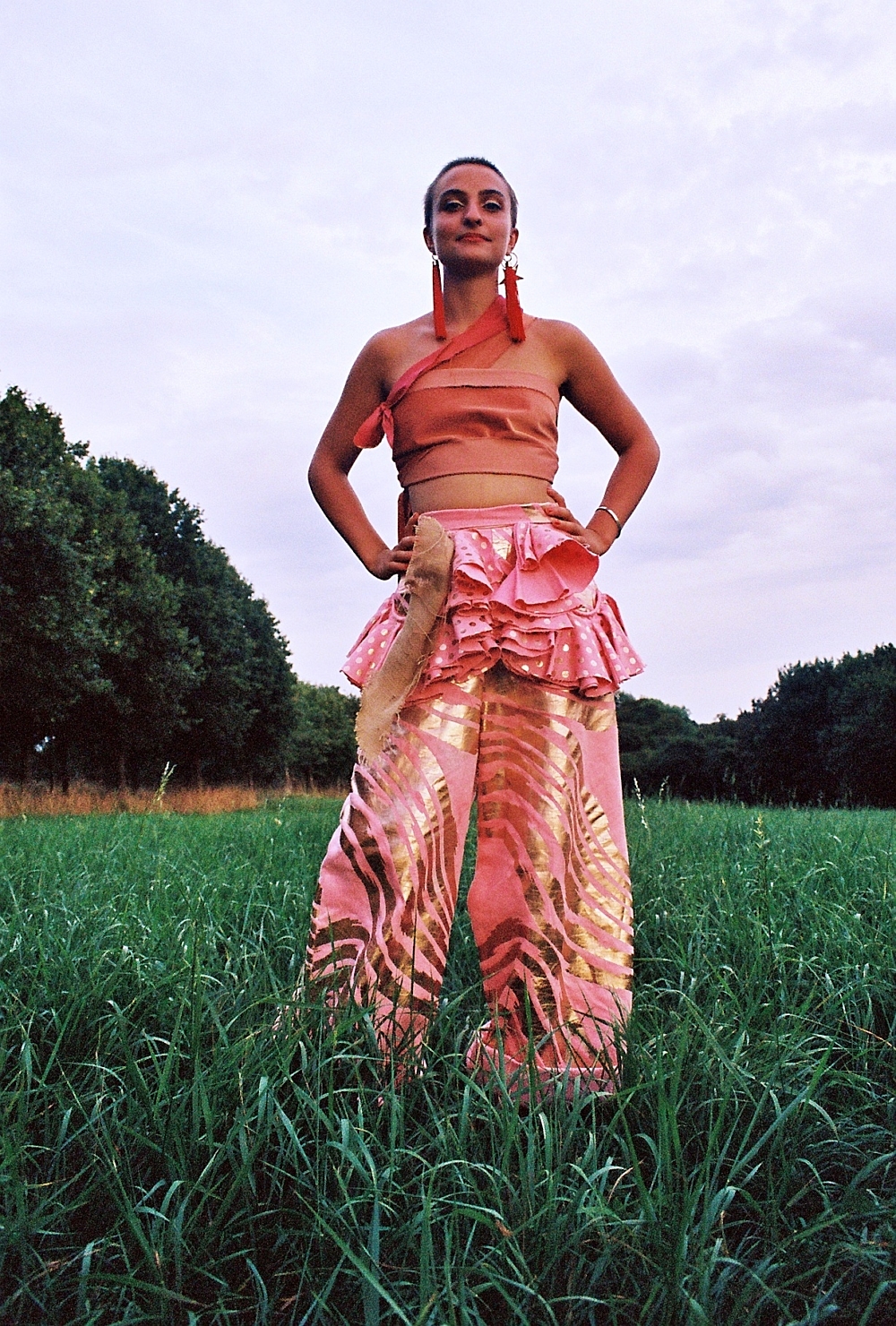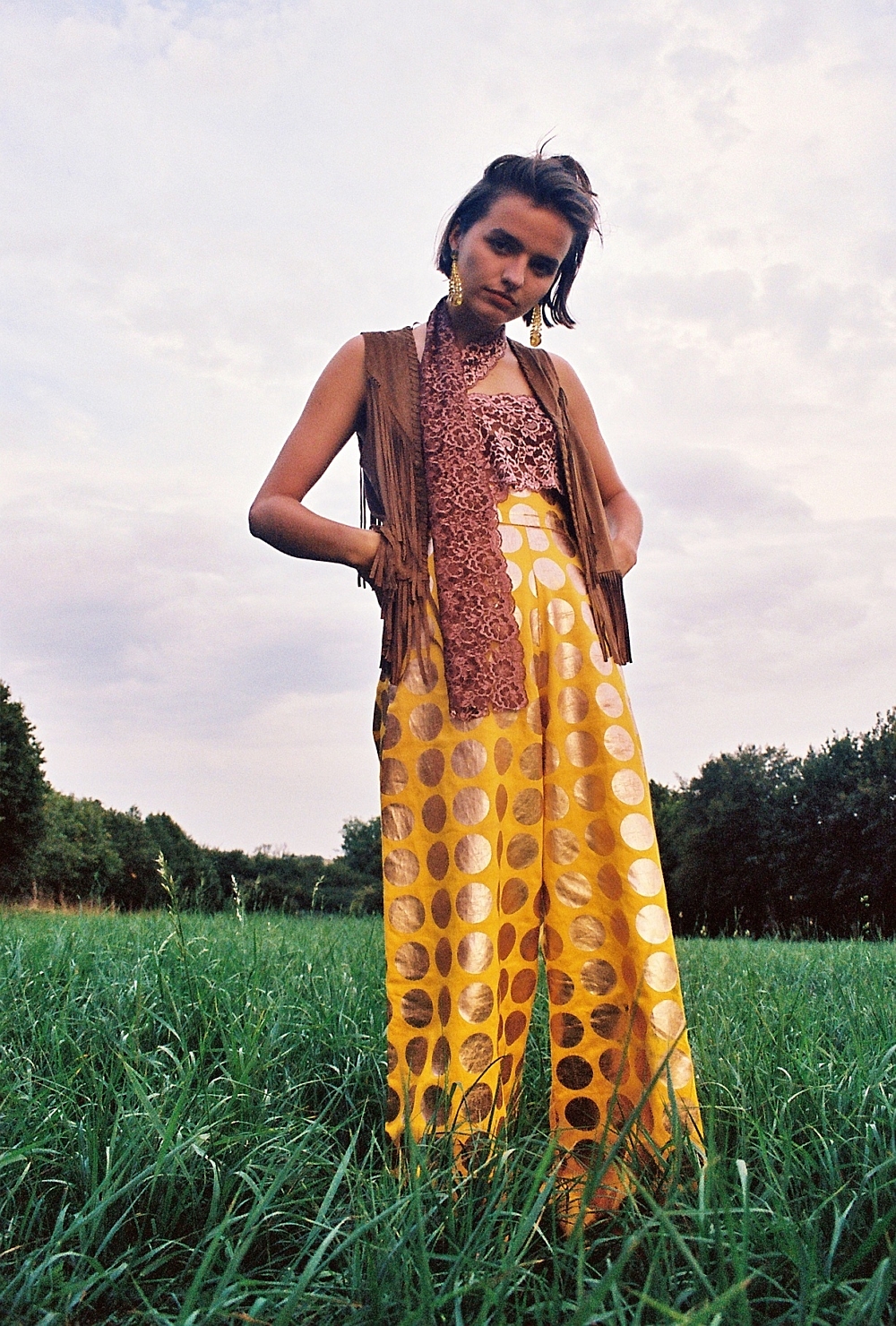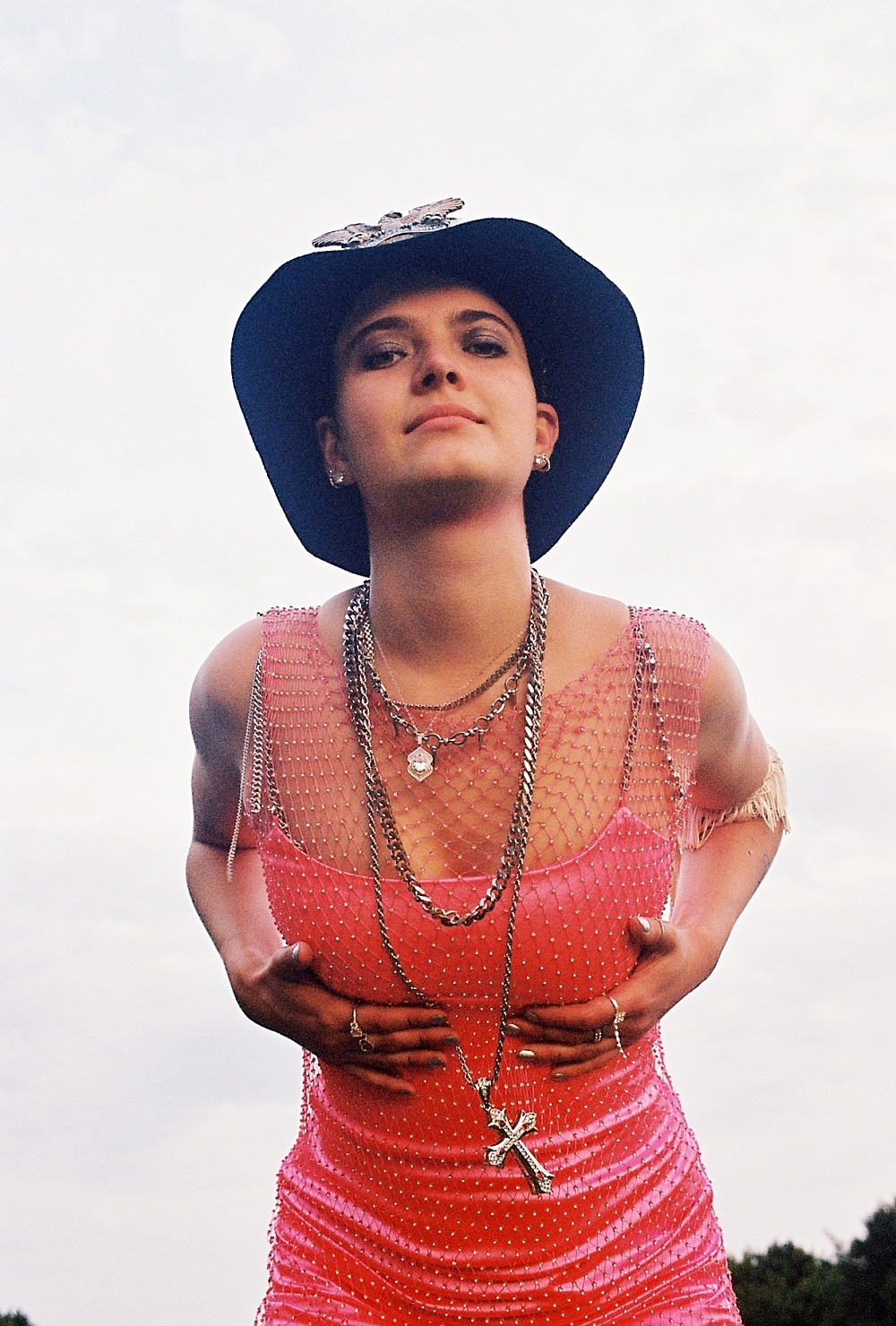 "
There's a sense of helplessness and hopelessness, but there are also people holding the government accountable.
— Clottie Cream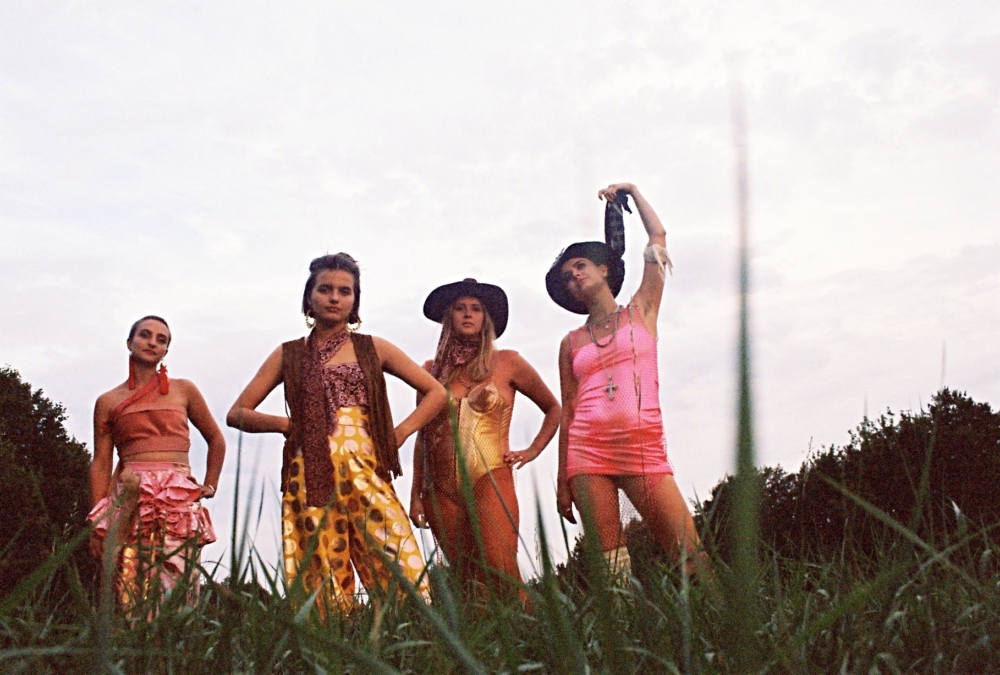 Given their passionate opinions and willingness to wear them on their sleeves - or, in the case of the 'Fuck Tory Scum' T-shirt Lottie was sporting when DIY last checked in with the band, on their chests - you could easily expect Goat Girl's second to unleash an even more direct blast of lyrical fury. And yet, explains Ellie, 'On All Fours' arrives as a more "internal reflection" on it all. "The first album was very centred in social commentary but almost quite factual and quite reactive of what's going on, whereas with this album it's like, 'This is happening - how is it making me feel? How can we change how we feel?' Knowing what's happening in the world and seeing how that affects us internally."

Written across 2018 and 2019, in various hyper-collaborative stints that would find the four members swapping instruments and experimenting with things they didn't technically know how to play, the record is undeniably still rooted in the turbulent modern world, but comes cloaked with a more meditative, inward-looking focus. Lottie explains that, during much of the writing, she was going through a period of poor mental health. "I remember suffering from depression and anxiety quite a lot and not being able to get out of my head space. I felt like I wasn't being creative enough and just putting loads of different pressures on myself," she recalls. "[The album] ended up being really reflective because I was going through the process of getting counselling and exposing a lot about my emotions and why I was feeling these things. So there was an internal dialogue that reflects in the lyrics; it's a snapshot of quite a dark period of time."

Today, Rosy is absent from our interview due to their own personal health reasons, and the band acknowledge that these are issues they're all prone to dealing with. "We're all quite anxious people, and so we have a mutual understanding about a lot of things," Holly says. Indeed, there's a noticeable symbiosis between the band on record, in the four-part harmonies that run throughout and the unexpected melodic left turns they've become known for, that you suspect comes from this high level of interpersonal awareness and empathy.

"I think it's important to mention that obviously we're a band and it's a kind of working relationship, but we're friends and we care about each other and we really get on as people," Holly continues. "In a way it's quite an intense relationship because it's more than a friendship and more than a work relationship - it's the two combined so you need to be completely up to scratch with how people are feeling," Ellie picks up. "We're all our own individual people but we're also a collective and a unit, so in order to make decisions you have to be super compassionate and understanding all of the time. It can be hard at times, but on the whole I think that's why we make the music that we do and why we're able to create not only the music but everything that surrounds it to a degree where we're all so happy with it. Because of how understanding we are with each other."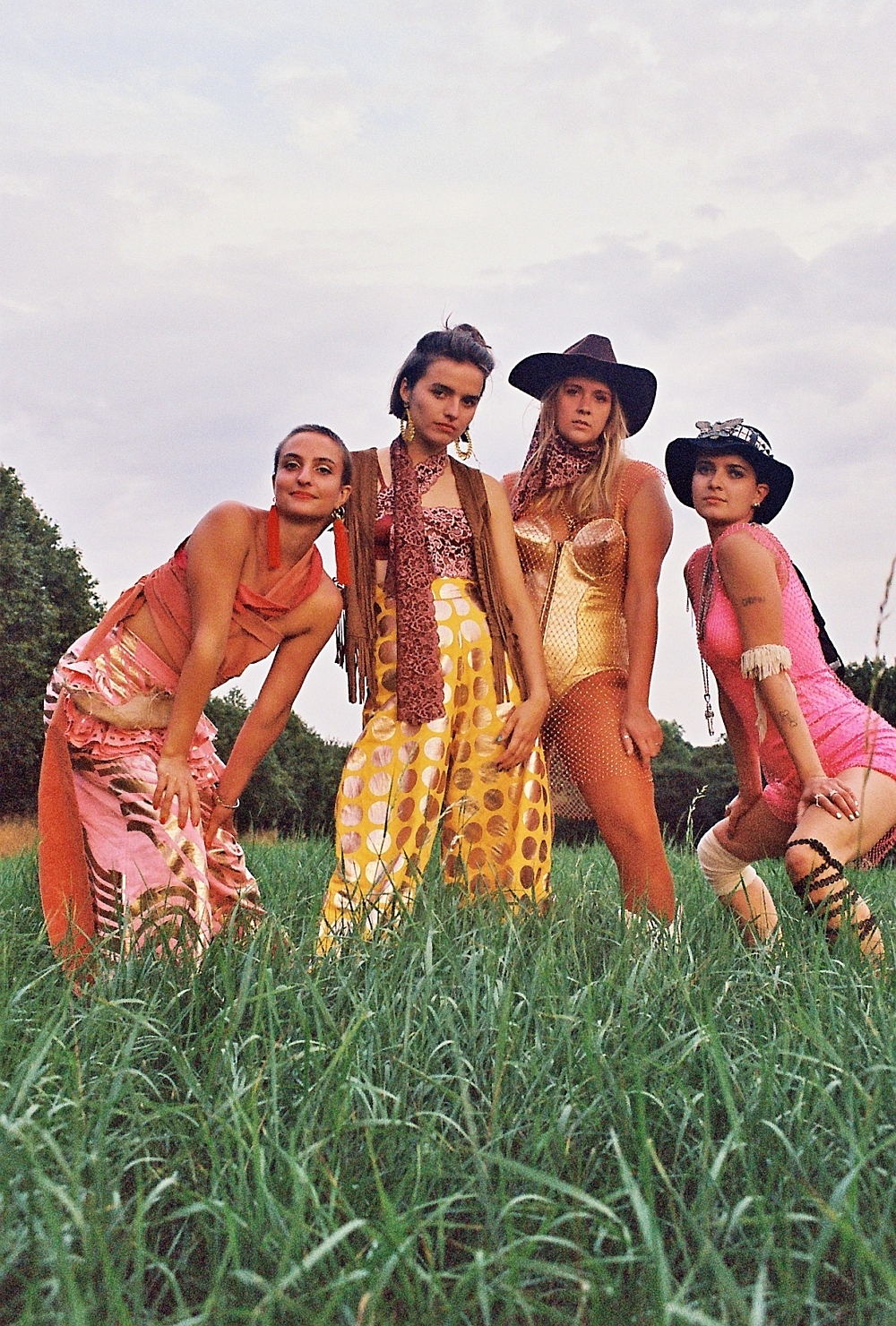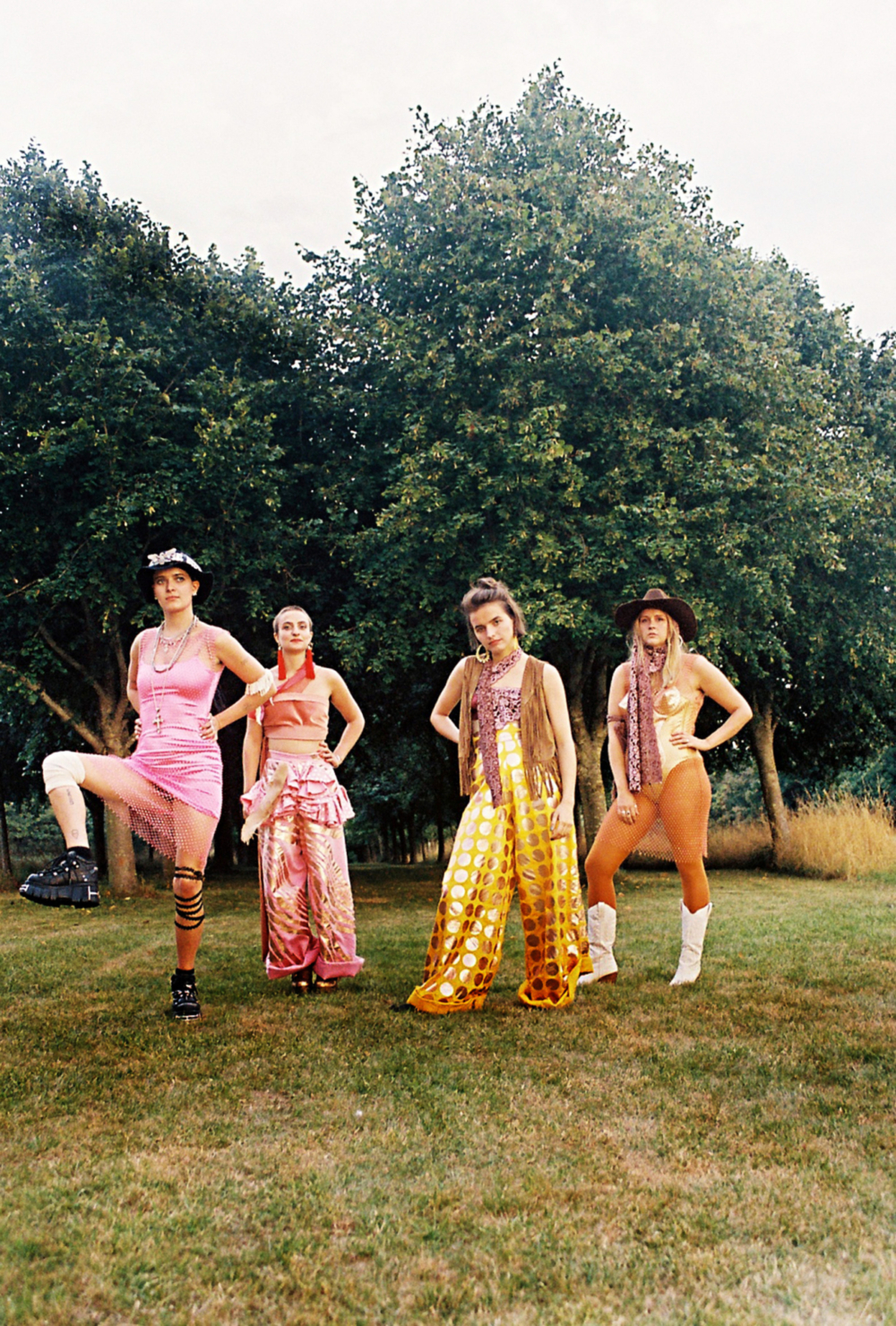 "
It's a special thing to be able to make music with people that you care about and that's not to be undervalued.
— Holly Hole
When Will We See EU Again?
The recent revelation that UK musicians will have to pay for visas to tour Europe has left the music community up in arms. How will it actually affect bands on the ground, we asked?
Holly: I think it's still a bit too early to say, because we still don't know what the rules are. Maybe we'll be in a position where we're getting fees that cover it, but before, any band could hop on the Eurotunnel and play a gig in France. It'll be a lot more expensive than it was, and it's too early to say about the ins and outs of it yet but it'll have an impact for sure.
Lottie: In this moment that we're living in, there's a lack of care for the arts and a lack of nurturing it. But it's always gonna exist, whether the government wants to fund it and nurture it or not. And that drive creates the momentum to set up great spaces, great venues like the Windmill or DIY Space where musicians are thriving. There's always gonna be that, and I think we just need to work with our times rather than feeling lost within them.
Moving from brutish imagery set against soft, hypnotic swirls on opener 'Pest', through wonky Metronomy synths ('P.T.S.Tea'), cantering basslines and ravey outros (previous single 'Sad Cowboy') to the meditative self-analysis of 'Anxiety Feels', 'On All Fours' is a record that somehow manages to be both sensitive yet ambitious, gentle yet experimental. It's a record undoubtedly centred around Goat Girl's relationship as a unit, but buoyed by the different flavours each member brings to the table.

"I think we're quite different musically. We literally don't have the same music tastes at all, but we can agree on things," Ellie chuckles. "It's a very complicated Venn diagram with a few things that overlap, but when we're all in a room together, that seems to dissipate but also shine through." "Our characteristics come together to create that little bit in the middle of the diagram, and between the four of us it morphs into something quite beautiful and crazy," Holly agrees.

"I'm most proud of how we've managed to let all four of our personalities shine through. We come from different backgrounds of music and loves for different things, and we've combined that together. Our personalities are all quite different but we all get along, and I think that's kind of what the album's about as well," Lottie nods. "I'm really proud that we were able to do that because I think it's a really tricky thing to collaborate but this was so collaborative. It felt like we managed to get rid of our egos and really think about what was gonna make the song as good as it possibly could be."

Having written their debut as teenagers, and released it having just broached their twenties ("It's weird when you feel like you've changed as a person quite a lot and you're still living in the [mindset] of a 15 year old," Lottie explains of touring its wares for so long), the jump from the charming, rickety naivety of 'Goat Girl' to 'On All Four''s fleshed out, bright and brilliant palette perhaps shouldn't be a complete surprise. "I realised that in the four years since we wrote the first album, I've learnt a lot as a guitarist and I should utilise that. I think all of our personal playing styles have developed loads and solidified," Ellie notes.

And yet the true skill of Goat Girl's second album is in the humanity of it. It's a record that's just as angry with the world around it, but that's learnt to take a beat and work out how to process it all - one that understands you can only start to make waves in the wider world if you tend to and nurture what directly surrounds you first.

"The other day when we were all together, we never do this but we sat down after practice and shared a bottle of wine and I was thinking how mental it is the amount of interviews that we're doing for this album and how many people are genuinely into our band," Ellie smiles. "That was the moment for me where I was like, 'Oh shit - people actually like us'. Before I didn't really think we were anything, I thought we were just a small band on Rough Trade that no one knew, whereas it turns out maybe more people know and like us than I thought."

"It's quite a special thing, to be able to make music with people where you really enjoy it. I was in a band before that didn't work out and I left and it was awful and I've not spoken to her since, and I just don't think that would ever happen with us," Holly continues. "It's a special thing to be able to make music with people that you care about and that's not to be undervalued. It's hard to find that creative connection." "We were discussing one of the songs being played when we were all 70, these ancient people, our silver hair blowing in the wind…" Lottie grins.

They may be a long way off that milestone, and lord only knows what world we'll be living in by the time we get there, but you can imagine Goat Girl still jamming in the old folk's home. Still making some weird and wonderful sounds. Still friends.


'On All Fours' is out now via Rough Trade.