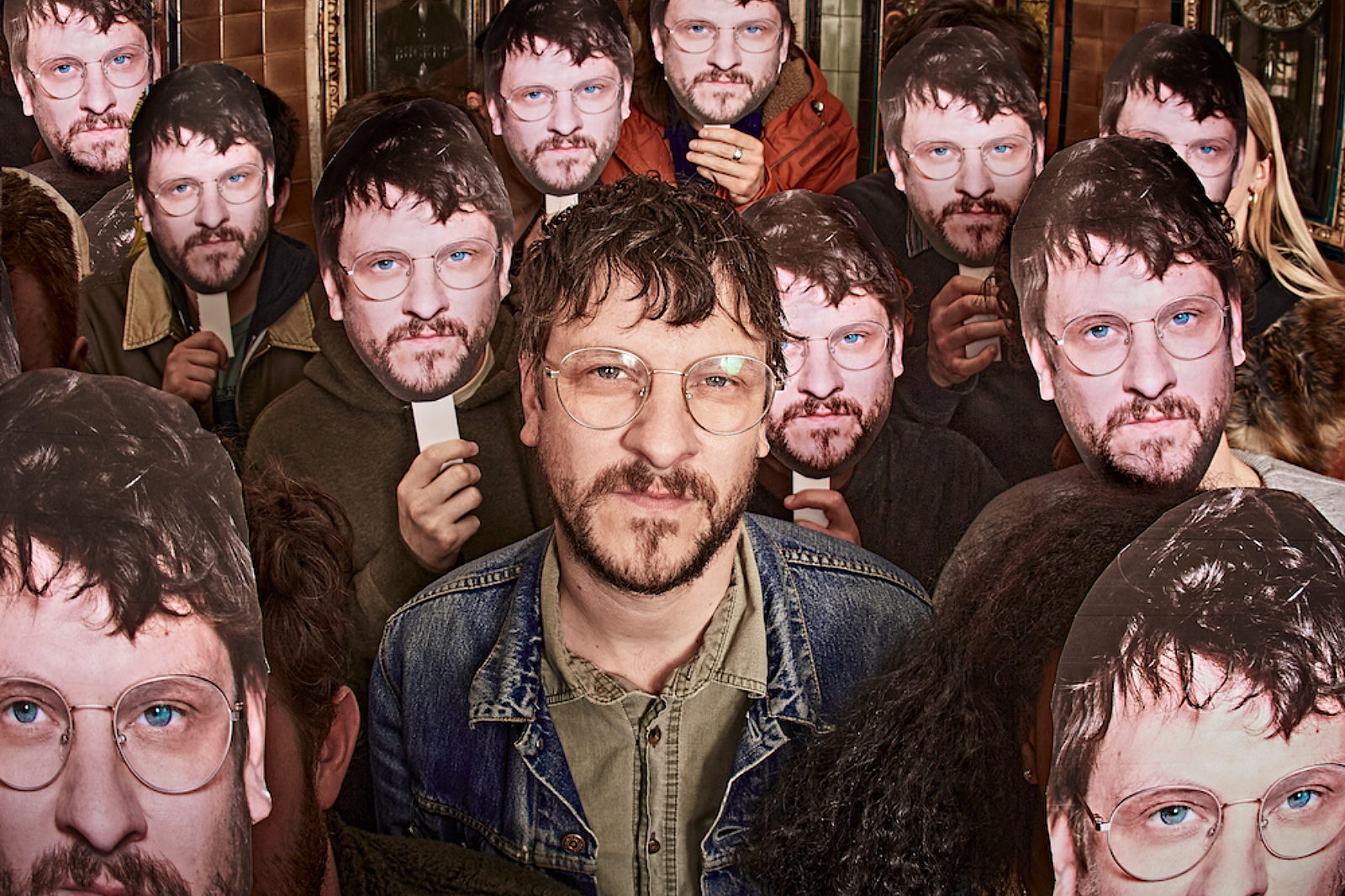 All In Good Time: Jamie T
Jamie T's career has been far from normal; long pauses, minimal social media presence, selective interviews. On the eve of 'The Theory Of Whatever', he's hoping the music will do the talking for him.
"Where Is Jamie T?" Long before noughties indie nostalgia became a
fully-fledged revival, a small Twitter campaign was bubbling, pondering where one of London's most beloved songsmiths had got to. The forensic billboard of evidence mapped various sightings; his 2014 album 'Carry On The Grudge', a low-key campaign for 2016's 'Trick', the odd tagged appearance on Carl Barat or Miles Kane's Instagram page. But since a B-sides and rarities album in 2018, the trail had gone cold, the break even longer than the one he took in 2009. Fans wanted new music, but they also wanted to know that he was alright - to hear word from a musician whose work made them feel as if they were checking in on a mate.
It's now 2022 and, having seen him with our own eyes, DIY are happy to clear the matter up: Jamie T is doing just fine, and Jamie T is about to release one of the best indie records of the year. What kept him so long?
"Well, I never stopped writing," he begins of July's 'The Theory of Whatever'. "It takes me years to write a record; it's well documented how many tracks I make for an album, and obviously we've been through a pandemic too. It's not like I'm faffing around doing nonsense, but I don't feel the need to keep a diary of things. Really what people want, hopefully, is songs. I work hard, and I release albums as soon as they're ready." He smiles. "It's time, you know?"
Meeting Jamie Treays is a much more comfortable experience than you might expect. Much has been made in the past of how 'elusive' he is with the press, how deeply he dislikes talking about himself. Sat in an East London pub with a pint in hand, discomfort is probably a more accurate term than dislike - a thoughtful tentativeness rather than a full-on fear. The last few years appear to have been kind to him; his trademark double-denim and battered Nikes are now topped off with grown-up glasses, and he fidgets a lot less than the nervy teenager of the early noughties, much more at ease with being centre of attention. He takes to DIY's deeply meta photoshoot like a champ, rolling up a newspaper in his back pocket to take home to his partner as a souvenir of "a particularly weird day at the office". As it turns out, he's no stranger to a novelty costume.
"During the pandemic, I bought a lot of fancy dress stuff online. And drank a lot. You know how it goes! Wake up in the morning, put your Harry Potter outfit on, get drunk again, play ping pong without a ping pong table. A bit like a student theme night."
One thing he didn't fill his time with was social media. Dipping in and out only when strictly necessary, he completely missed any campaigns for his return, only breaking cover in January to announce a 15th anniversary re-pressing of his debut album, 'Panic Prevention'. It was, of course, an instant sell-out; the sound of scrappy adolescence, it's become a classic of the genre, uniting enthusiasts of both indie and grime.
"That whole album, I have really fond memories of," he says. "I wrote a song the other day actually with a mate of mine, and I was sitting there thinking that it sounded like 'Panic Prevention'. He said to me, 'Nah, it sounds like someone who doesn't know what they're doing'. But that's exactly what that album is! It's someone who doesn't know but is trying their damnedest to figure it out. It's charming in that regard, I think."

"
"We all make mistakes, we all fuck up, but I wanted [the record] to have a lot of hope."
Charm is most certainly the word. Though a recent Twitter Listening Party gave Jamie the opportunity to reconcile with some of its less flattering moments ("That line at the end of 'Alicia Quays' ["She's a fat bitch but I'd still give her one"] - not a lyric I would write now, but I was like, fucking 19 years old…"), the wider context of the record still feels deeply resonant. The 'urban poet' label might make him cringe, but with his resolutely Saaf London accent and attention to detail, it positioned him as a master of the mundane, elevating everyday observations into something life affirming. Delivered with a certain romance, he sat alongside Alex Turner as a cultural commentator, crafting beer-soaked love letters to their cities.

"Me and my friends have this joke that London is like being in publand," he says. "And I'm publand as fuck! This is our culture; it's what we do, where we live, and everything we talk about comes from that kind of mentality."


Amongst all the praise of his bolshiest, most youth-orientated work, it's easy to overlook Jamie T's versatility. A great deal of his best music is heavy, even melancholy; for every indie disco-slaying 'Sheila' or 'Stick 'N' Stones' there's an 'Emily's Heart' or a 'Love Is Only A Heartbeat Away', more in keeping with the art of a traditional balladeer. The cheeky-chappy label thrust upon him in the mid-2000s always seemed like a bit of an ill fit.

He sighs. "I don't really think about it too much, but I never felt like I was the 'lad lad lad' kind of thing at all. 'Panic Prevention' is all about not being able to be a lad, I suppose - being quite sensitive. A lot of it is quite literally about anxiety, but it's been cloaked in so many things. Ultimately, people have to realise that when you're talking in songs, you're allowed to not come off well. I always understood that it's alright if you look like a bit of an asshole or whatever, if it's good for the song. So how do I look back at it now? If I was what people portrayed me as back then, I don't think I would have had the career I've had." With 'Panic Prevention', Jamie was certainly able to push for something more. Opening up conversations about mental health long before it was considered common to do so, he seems like something of a groundbreaker, particularly among young men. Does he think the record made it easier for other people to talk about anxiety in their work? "Oh, I don't know about that," he squirms. "I wouldn't want to be like, 'Yeah, I set the bar'. It didn't feel brave at the time; it just felt like I was writing the songs I wanted to write, and I'm sure that's how everyone feels. Um, yeah. I dunno…"

He pauses. "I don't think I can answer that question. Can I get another half pint?"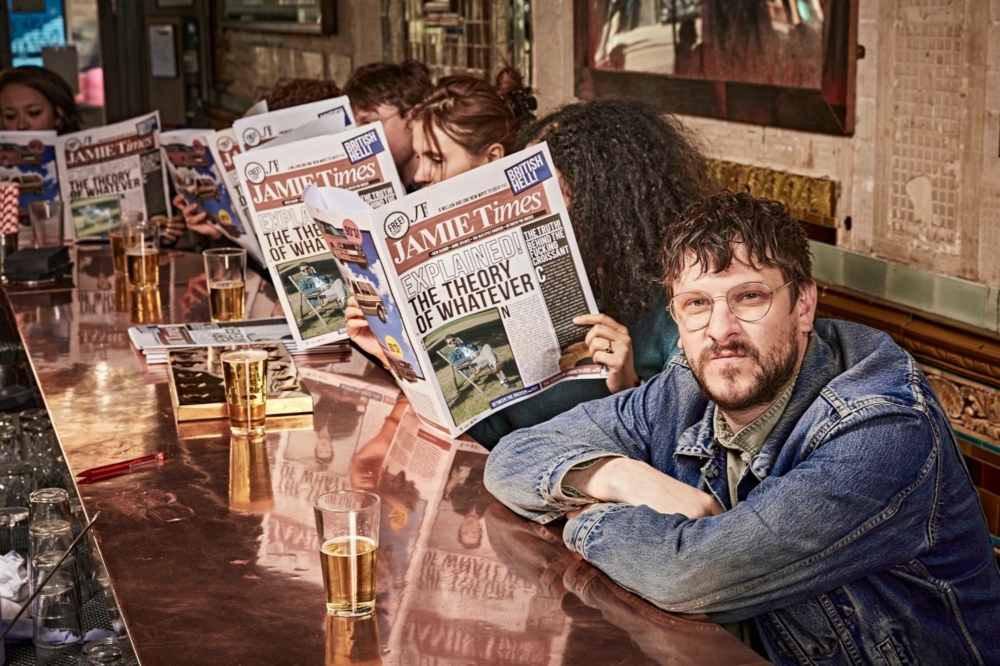 "
"Me and my friends have this joke that London is like being in publand - and I'm publand as fuck!"
In Jamie T's mind, music is a process of action, not overthinking. For 'Carry On The Grudge', he estimates that he wrote approximately 180 songs; this time around for 'The Theory of Whatever', he was well into the 200s, struggling to recall the moment when the process began and ended. "To me, that's what art is. It's not about sitting down and going, 'Here we go, album five'. For me, I really enjoy it when you end up creating things you didn't know you had in you. There were six or seven tracks that I had a real feeling in, and then I wrote the rest around that, just flipping things in and out of playlists, trying to work out what I was trying to say."



Working from home, that freewheeling often took on a near-obsessive quality. "I was working like a dog," he laughs. "People would come round the studio and I'd be there in my pants, just staring at the screen." Living night for day, he would sleep three hours at a time, jolted back awake when a new idea pinged in his brain. "That's the wonder of working at home; I really caught my breath again like I did years ago. It was great to be old enough to be in the present with it and realise wow, this is a real moment."

To DIY's ears, 'The Theory Of Whatever' strongly reflects this sense of freedom. It cements all of the things that Jamie T fans have come to love, and adds an array of interesting new flourishes to the mix; bold song structures, old-school indie samples and song interpolations. "It was tough at first, looking back at a few of the demos that just didn't sound like me, but I got over that in about a year and from there it was just fun," he says. "I think everyone loses their way sometimes, especially with this obsession people have with artists 'moving on', which I think is fucking rubbish. If you just write songs like you, it should naturally follow that course - you don't have to force it."



Sounding like 'you' is perhaps easier when you've always been a fearless genre amalgamator. Jamie T surely wouldn't be caught dead describing himself as influential, but there's no getting around the fact that his long-term scene-melding will have shown a great many others that they can do it too, confidently mixing indie-punk with rap and grime. Seemingly, there's nothing he cannot turn his hand to. "Well, maybe," he says. "You've got to be careful. I can't suddenly start doing, you know… I was about to say that I can't just start doing disco tunes, but I wrote one yesterday and was pretty chuffed with it. Ha!"

A host of friendly cameos also informed the process of the singer's fifth studio release. Matt Maltese can be heard on 'Thank You', while Hugo White from The Maccabees produced across several tracks. "Orlando [Weeks] was very involved in it too, as was Willie J Healey. Tom from Audio Bullys helped with '90's Cars' and 'Keying Lamborghinis'," he says. "There was one song that my friend Yannis [Foals] helped me with, and lots of other very very good people besides. I'm not precious about that stuff; at one point I was waking up every morning, sending out a track and, that night, getting three back from three different people of their own music, everyone just vibing. You always help each other. It's a nice thing."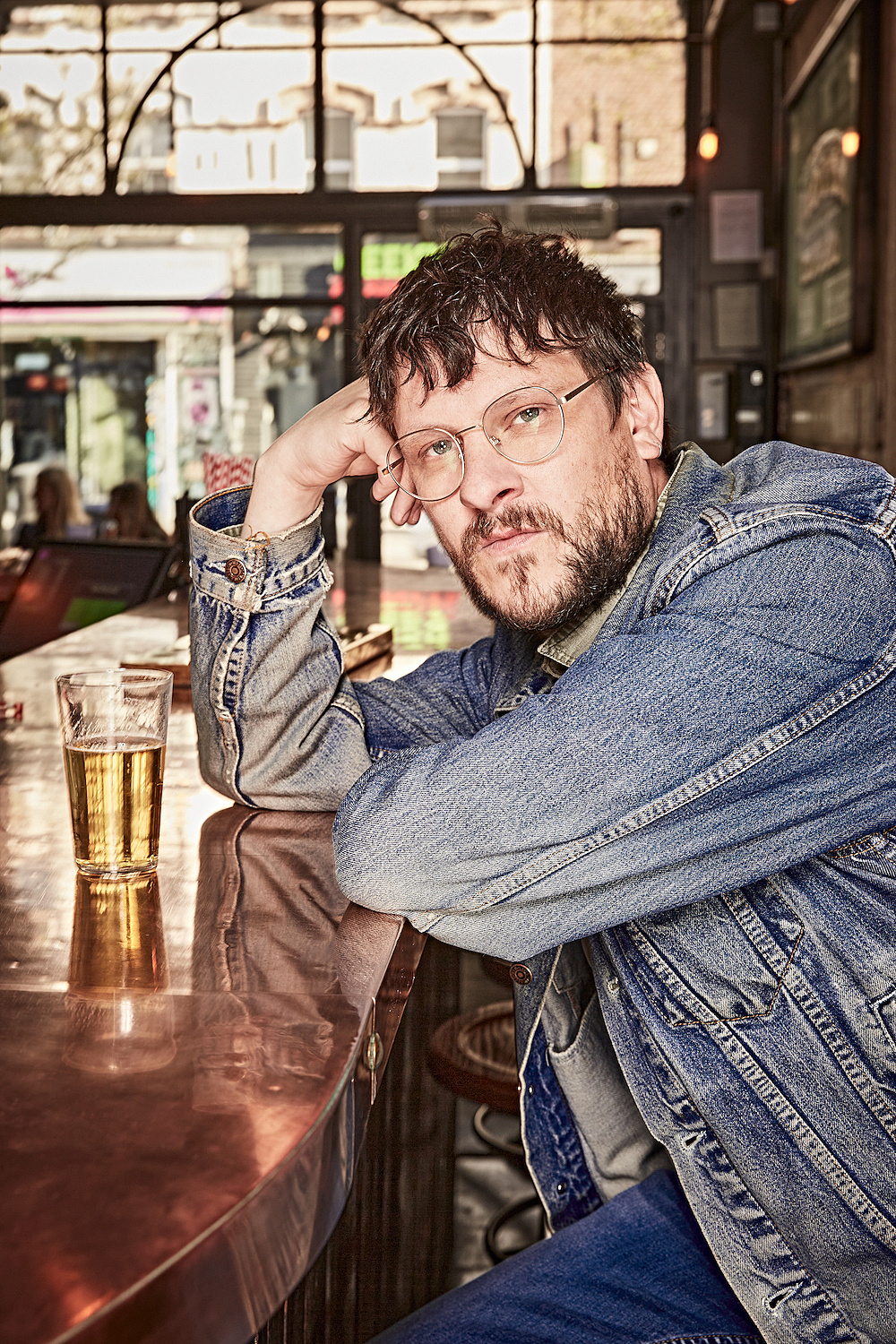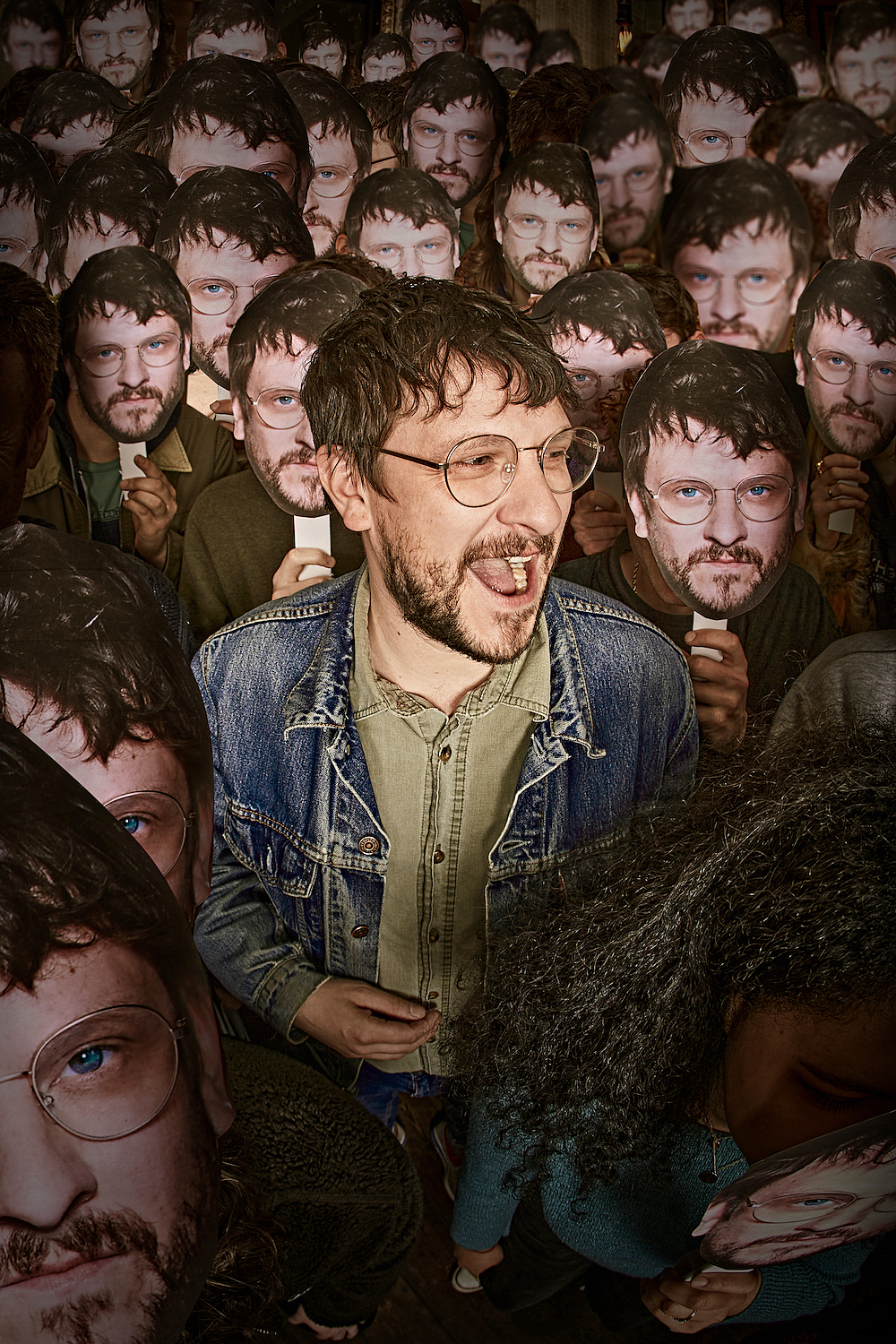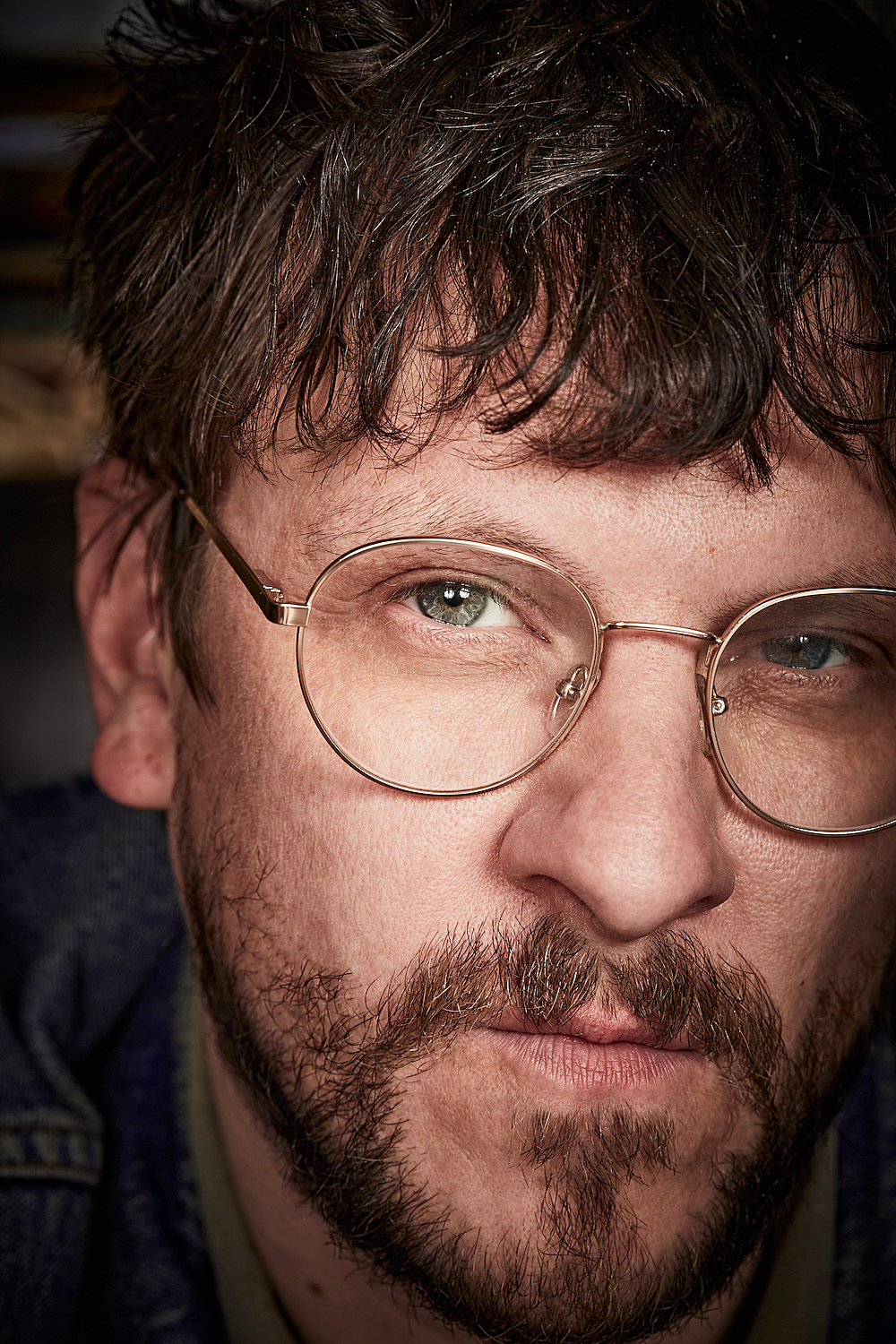 "
"People have to realise that when you're talking in songs, you're allowed to not come off well. I always understood that it's alright if you look like a bit of an asshole."
In more ways than just an open attitude to collaboration, 'The Theory Of Whatever' feels like the work of an artist holding nothing back. Highlights are bountiful and diverse; '90s Cars' twinkles with 'Kings And Queens'-era nostalgia, while 'Thank You' pushes things forward, depicting the taxi cab rides that facilitate a long-distance relationship with fond humour ("Her rating's confidently a four-point-five"). 'A Million Ways To Die' is classic power-punk, while 'Talk Is Cheap' is arguably one of the best ballads he's ever written, a strung-out love song that centres around plain-stated despair: "A bag of white / I fade black… I am rudderless."



Jamie T famously hates explaining his lyrics, but we have come to the part of the interview where DIY inevitably wants him to do just that, unpicking the knotty web of characters and stories from which he pulls. He smile-sighs as we raise the subject, knowing what's coming. There are a lot of drugs on this record, we put to him, and seemingly lots of reflections on the impact that certain behaviours might be having on the health of a romantic relationship, one that appears to mean a great deal to him. Is that a fair reading? Maybe, but also maybe not.



"To me, it's a record about disillusionment," he says. "It's about trying to be what you can be, trying to reach goals and maybe not getting there, being let down by other people. But I think when I listen to a song like 'The Old Style Raiders', there's still a lot of hope in it. We all make mistakes, we all fuck up, but I wanted it to have a lot of hope. And that's all I want to say on that."



How come?



"Well if I wanted to unpick lyrics, it would just be a wormhole, you know?" His apologetic smile creeps in again. "I try my best to be a politician about it. You're not wrong, I'll give you that. But you're not right. You know what I mean?"



Would he say there's a specific lyric on the record that he's particularly proud of?

"No. Because I don't want to say 'em! There's a couple I've got in mind, but I don't want to say 'em, cos I know you're going to ask me to pick them apart. So nope!"



The banter is playful but firm, and the matter moves on. Maybe Jamie T has a point; if the success of recent bands like Wet Leg and Yard Act has taught us anything, it's that truly great indie is as satisfying to dance to as it is to dissect. There is great power in a sign of the times opus, but it's also possible for a song to mean a great deal without claiming to be the sum knowledge of the topic.



Talking about the other music that Jamie loves seems like much safer ground. He describes Sam Fender as "great", and loves Los Campesinos! ("They're a fucking amazing band. One of their tunes, 'Glue Me', is one of my favourite tunes of all time"). Indeed, he's long had a keen eye; back in 2007, his record label imprint Pacemaker released a 500-copy run of the debut single by Adele, a little-known singer-songwriter just starting out. To this day, he enjoys keeping tabs on the next generation, feeding back into his valued sense of indie camaraderie.



"I've been out of the game a little bit recently, but Matt Maltese and Willie J Healey are my favourite young acts," he says. "Matt Maltese is the best fucking ballad songwriter I've heard since The Beautiful South; Willie J Healey is just his own entity. I speak to him like twice a week and get constant inspiration. I don't have a band around to vibe off, so I like to find community in other artists, and it's great; it makes me feel part of something."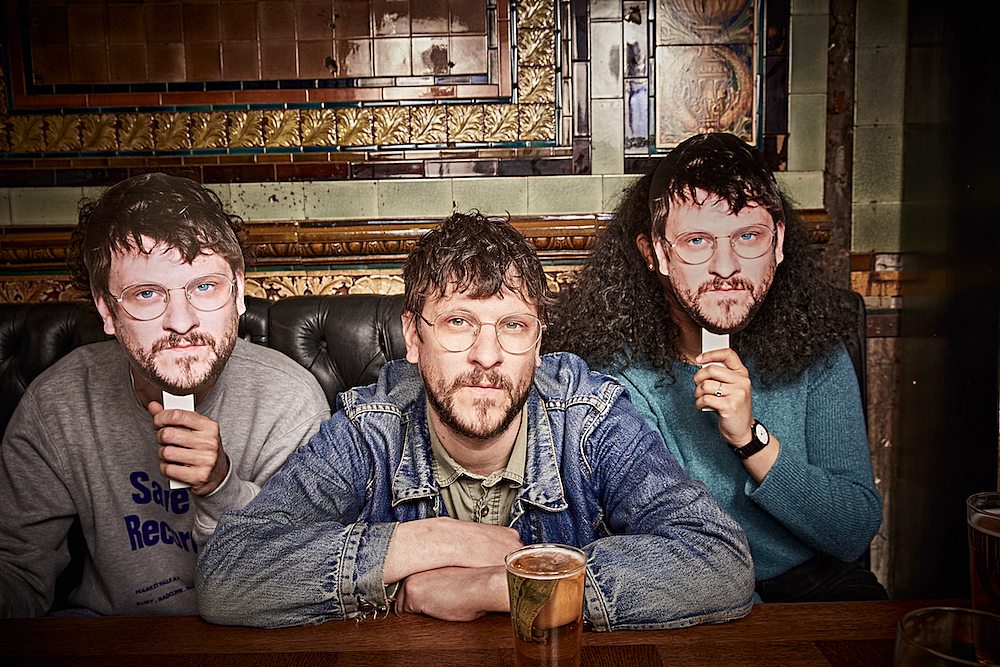 "
"I don't have a band around to vibe off, so I like to find community in other artists. It makes me feel part of something."
Never forgetting to be a fan, this cultivation of friendships will surely come in handy when tour time rolls around. Jamie has a few gigs lined up, but in typical fashion, he's happy for the business details to be handled by those who have his best interests at heart. "The singles and things, they decide all of that," he says, gesturing to his managers who sit close by. "There are a few things in the works which I'm not sure I can say, but I'd love to play it live. I just want to keep going for the minute; I'd like to just be in the fold, be a bit more present in the moment. If I can fucking work out how to play the guitar again, I'm all for playing shows."

While he figures out his instrument, fans will get to figure out the album. It begins with the seemingly-random cover art of a golfer, a joke about settling down into inoffensive retirement. "It's sort of funny how it leads into critics' hands - 'A hole-in-one for Jamie T?' NOT!!! I just liked the idea of critics finding punny ways to be like, 'Oh, he's a bit old', but I'm a bit long in the tooth to give a fuck."

The same goes for the album's title, an invitation for you to make meaning for yourself. There's a strong inclination to leave these things open-ended, but how might 'The Theory Of Whatever' end up fitting into the Jamie T discography? "I don't think about things like that, it's far too dangerous!" He pauses, pondering whether to elaborate. "I hope it does well, but I stopped thinking about the Jamie T discography a while ago. I've been doing this since I was 16; it's what I know how to do, you know? It keeps me sane, and I enjoy it. I hope other people get some enjoyment from it too, but it's out of my hands. Time will tell."

It's a mysterious point to leave on, but at this point, to know too much about Jamie T would almost destroy the magic. As is good journalistic practice, we ask him if there is anything else he wishes to discuss - in many cases, an artist's last thought in a conversation like this will elicit something new, a bee in the bonnet that they've been dying to unleash. For Jamie T, it is a thankful sign that the interrogation is almost over. "I'm schtum now mate. Schtum!".

Did DIY give him a horrible time? "No, it was much easier than I thought," he grins. "I hope I did alright! But I'm bullshitting, you know? It's all bullshit. I try my hardest, but we're all just bumbling our way through."

If Jamie T's latest opus is the sum result of 15 years of bullshitting and bumbling, things haven't worked out too bad, we'd say. Self-deprecating to the last, it's good to have him back.


'The Theory of Whatever' is out 29th July via Polydor.