What's The Story (Baxter Dury)?
The musical raconteur waxes lyrical about his wonderfully wild new autobiography 'Chaise Longue'.
Judging by 2021's incoming selection of memoirs, it seems that many of music's great and good spent their lockdowns doing more than just completing Netflix. As he releases madcap autobiography Chaise Longue into the world, we check in with Baxter Dury to find out all about it…
Hi Baxter! We've read Chaise Longue and it's wonderfully insane but also a bit sadder than perhaps expected?
Everyone's said that. I think it just came out in quite a primitive way, and I went with its primitiveness as opposed to trying to control it and make it literary. I hate bad writing - you know, 'I am a man with a quill' - so I tried to not make it like that. It feels like it was written on the side of a prison wall.
Are you the kind of person that keeps diaries to refer back to?
My life is a diary - Baxter Diary - and also when you've got a famous father, there's a lot of information around that you're reminded of anecdotally because there's a film, a documentary, a play… When it's my memory vs folklore vs truth, if I thought the story was good but it couldn't be absolutely verified, I still put it down. The fact that I was born to dad playing 'Johnny B Goode' in a band has been told a million times to me, and some people said it was just dad bullshitting, but fuck that, it's staying - it's great. My sister got pissed off because some of the details aren't quite accountable. She's not even sure there was a chaise longue in our house.
You were living back at your childhood flat while writing it, how was that?
Well I'd talked about writing a book but hadn't, and had basically just manipulated myself a book deal and was bullshitting. And then under the harsh conditions of having nothing else to do [during lockdown] and living in the house, I thought I absolutely just have to do this. I was so desperate, and I was going to get any form of helicopter assistance - one of those dudes that come in and write your book for you, Captain Ghostwriter - but they didn't even answer my phone calls, which in hindsight worked. I was left to make my own fire and kill my own rabbit.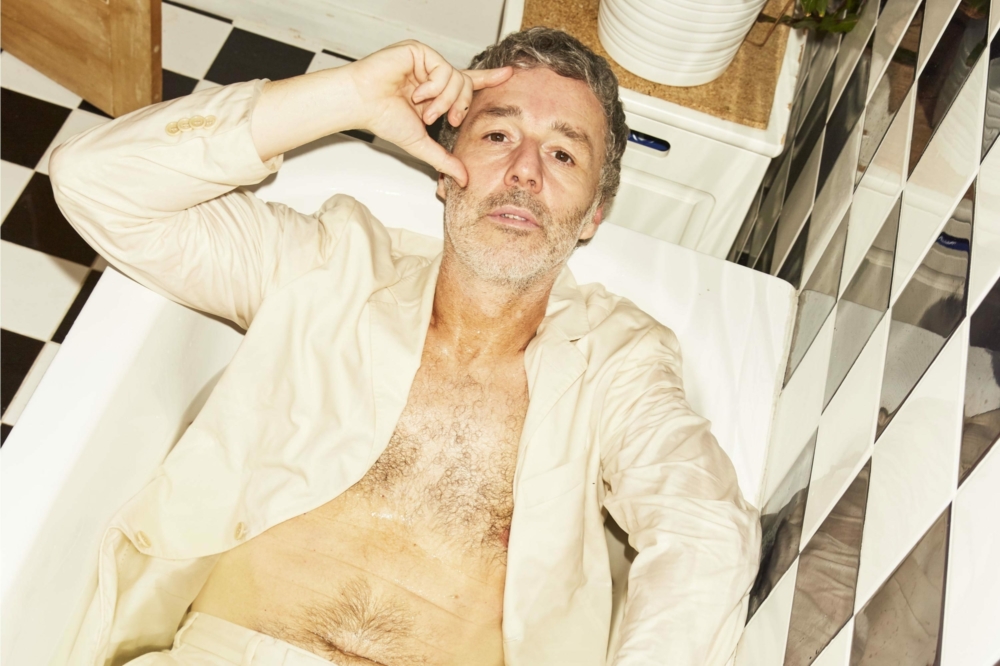 "[Chaise Longue] feels like it was written on the side of a prison wall."
Your childhood comes across like a balance between craving chaos and normality…
I definitely bounced off the chaos for a while, and that's in me, there's a bit of me that's 'Come on then, let's go' and [wants] conflict. But maybe because of living with someone so colossally mad as the Sulphate Strangler [Ian Dury's friend and Baxter's sometime-childminder], who was doomed in a way, I never went into any form of extreme drugs or anything. But there's a bit of me that still wants to nick exhaust pipes. The book doesn't really answer anything or pose any questions, and I don't know what it means, but I came out of it with a lot of respect for my parents because they really tried.
There's a great story about bursting in on a man in the bathroom with his balls out, playing the didgeridoo.
That sort of stuff happened every other day, really. So many things happened like that, that it was quite normal. It was very cheerful a lot of the time, really - very jolly.
Do you think the book will be shocking to people?
I wrote it because I knew it must be, and I sort of wanted to qualify my bullshit, and test if the tales I've generated for years and years were true or not. And I probably just created a whole new manifesto of bullshit but there we are! Now I can really go to town!
Chaise Longue is out now via Corsair Books.