The DIY List 2017: the 'I was there' live moments of the year
All this week, we're travelling through our favourite moments of the year that's been 2017 - here are the top 'pinch me' moments from the stage that we saw this year.
It's bloody Christmas time again. A time, we agree, for unholy amounts of mince pies and wine, and more repeats of Love Actually than you can shake a red and white sugary stick at, but it's also a time to reflect on the musical year that has been 2017.
From Oh My God debut albums making new British bands massive, to the year's most anticipated returns being everything we wanted and more, to incredible acts of defiance against hatred, and, as always, healthy servings of bands doing things that simply made us say: 'Errr, Say That Again Mate?'.
There's been some pretty amazing moments this year. So many, in fact, that we've collated a hundred of them. We're going to be sharing them across this week, highlighting some of our favourite festival moments, absolute bangers of singles, political moments that gave us hope, legends of the year and more, before ending up with our ten Big Ones of 2017: the bands and acts that made us laugh, cry, smile and dance the most this year.
Follow everything in The DIY List 2017 here.
Here at DIY, we're out at gigs most nights of the week (and no, our livers don't thank us), and we know you are too. There's been certain nights in 2017 that have gone above and beyond, though; true 'I was there' to treasure and remember, bound to retelling on drunken night after drunken night for years into the future. From The Maccabees' extremely fond and even more tearful final shows, to Interpol taking things back to 2002, and alt-J remaining their oddball selves in front of 20,000 at the O2 Arena, these are the moments from 2017 that we'll, in all honesty, probably never forget. Let's dive in…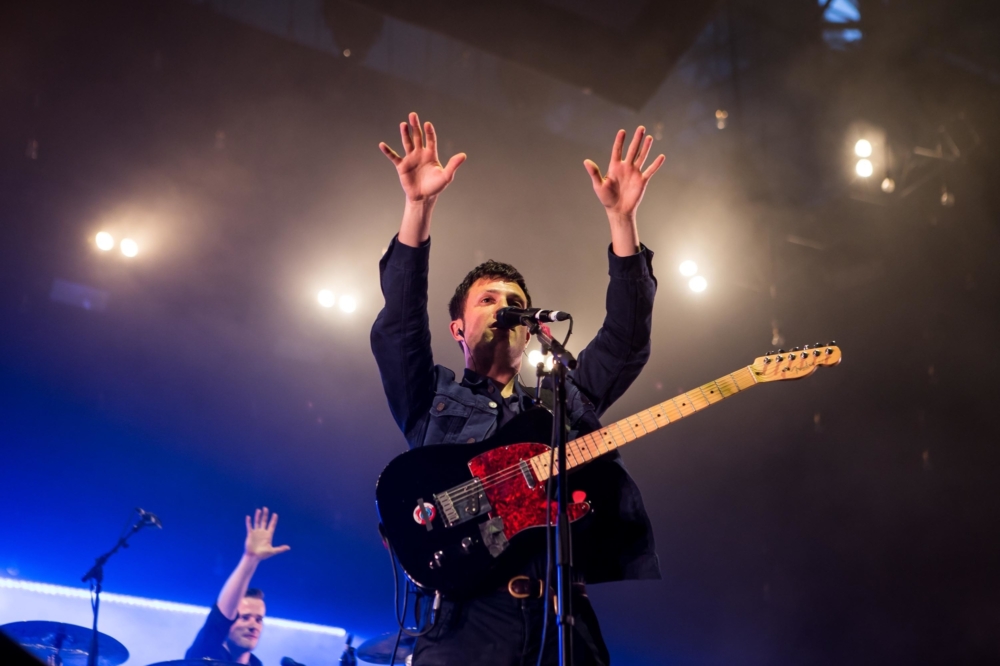 If they had to go, then what a way to do it.
Photo: Tim Easton / DIY
On 1st July, the music world wept a collective tear, nay, basically bawled their eyes out, as The Maccabees played their final ever notes – ending a stupidly poignant farewell tour with the Most Emotional Indie Moment of 2017 at London's Alexandra Palace.
From the opening walk-on to the prolonged cheers and claps that lasted for at least 10 minutes after the final strains of 'Grew Up At Midnight' were through, the whole evening was supercharged with a level of love and good feeling usually reserved for a close family wedding. If they had to go, then what a way to do it.
Bringing a barrage of musical friends including Jamie T, Mystery Jets and old pal Jack Peñate on stage and imbuing every track with the kind of nihilistic energy that only comes in these rare and strange situations, the quintet gave themselves and the distraught crowd the send off they deserved. And then, a simple message flashing up on a screen - "Thank You" - and 10,000 people crumbled into a wailing mass of lovelorn sobs. Sniff. Lisa Wright
Read: First love, last love: DIY's farewell to The Maccabees.

Beck's little London residency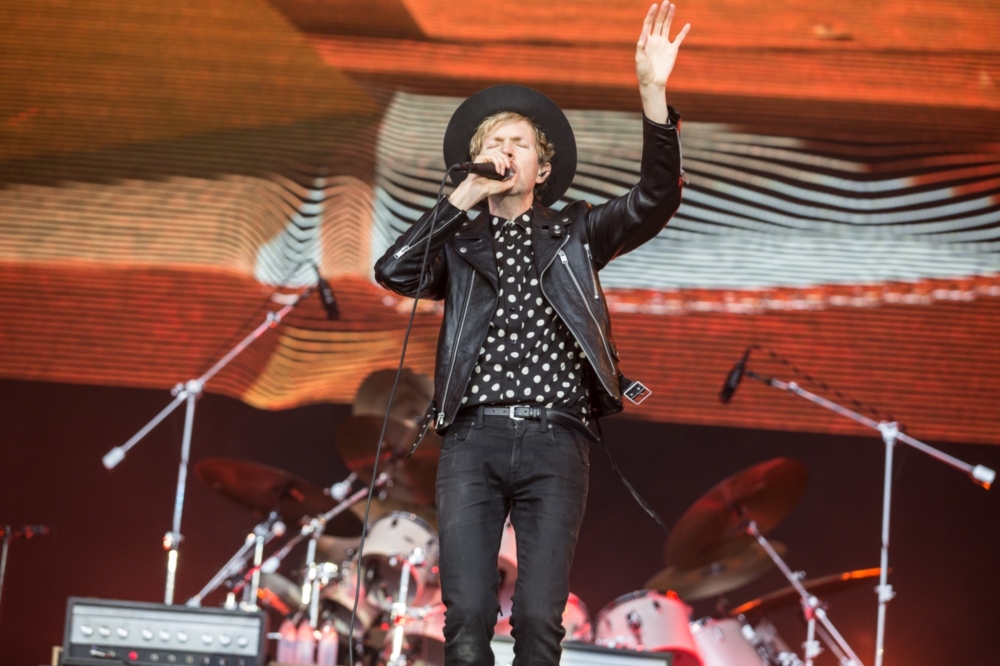 It felt, well, let's go for the obvious again: pretty special.
Photo: Emma Swann / DIY
The word 'intimate' is so far beyond overused, at some point we're gonna find it employed as an adjective for the 20,000-capacity O2 Arena with nary a flicker of irony. Still, if you're spending the night showing off your new record in a 350-capacity room when you'd usually be headlining the 5,000-strong Brixton Academy, it can probably be allowed.
If we engage with another trope here, October's 'Colors' was the definition of an eagerly-anticipated album. Teased all the way back in summer 2013 as the funky companion to what was to become the largely acoustic 'Morning Phase', 2014 came and went with no second release. One-off singles 'Dreams' (2015) and 'Wow' (2016) followed. But alongside no full-length. Then there was a killer Pyramid Stage set amid a summer of festival spots. Still nada.
So by the time Omeara - and the relatively roomier thousand-or-so people up the road at the Electric Ballroom a few days later - got to hear more of the record alongside some well-loved oldies, it felt, well, let's go for the obvious again: pretty special. Emma Swann
Mystery Jets' 'Jetrospective'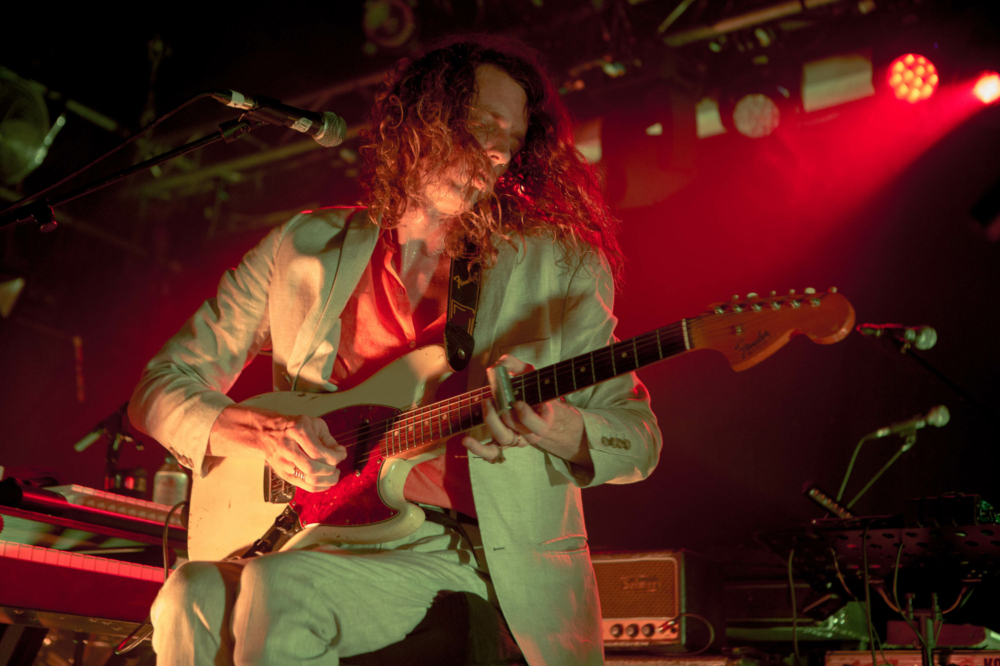 Blaine, Will and co. used the shows as a doff of the cap to a stellar career to date.
Photo: Robin Pope / DIY
If the recent retirement of some of this generation's indie faves (see: The Maccabees, Wild Beasts) has taught us anything, it's that the survivors should be celebrated. It's no easy feat keeping a band going for over a decade as the whole world – musical and otherwise – shifts and heaves around you. To keep growing in ambition and popularity through it all is a nigh on miracle.
So when Mystery Jets – Eel Pie Island's finest ragamuffins turned 80s pop lords turned psych explorers – announced their Jetrospective, we rejoiced in tandem. Five nights playing their five albums to date with a host of friendly faces in tow for the ride (hello Laura Marling! Bonjour Blaenavon!), Blaine, Will and co. used the shows as a doff of the cap to a stellar career to date before they head off to work on a sure-to-be-glorious LP6. Kudos to you, sirs. Lisa Wright
Read: The DIY review of Mystery Jets' 'Twenty One' show as part of Jetrospective.

Interpol turning on the bright lights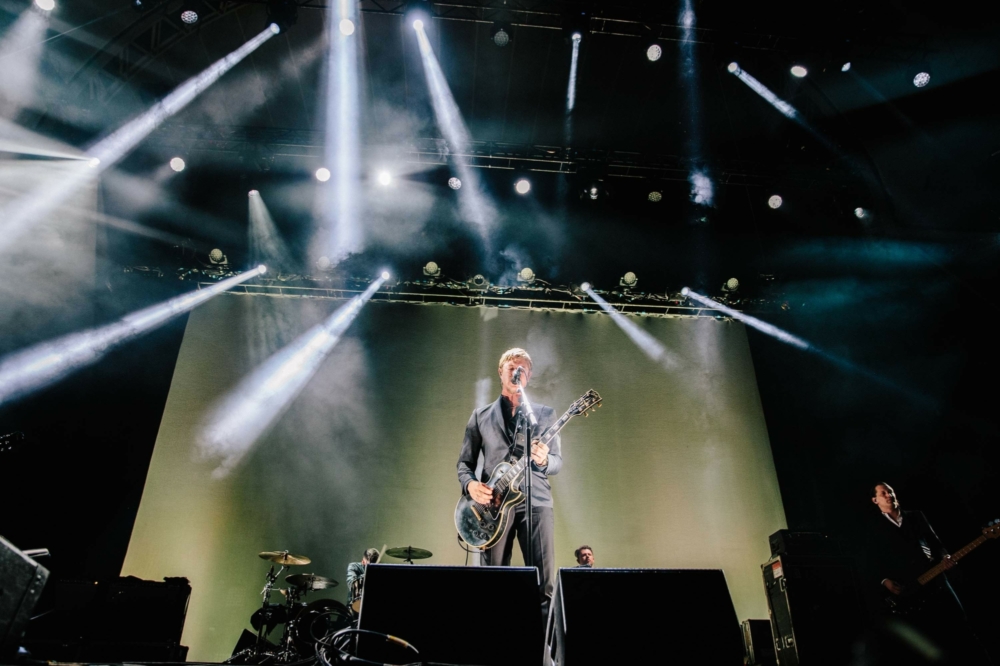 Hearing 'Turn On The Bright Lights' in full was simply unforgettable.
Photo: Luke Hannaford / DIY
15 years on from its release, Interpol's 2002 debut 'Turn On The Bright Lights' still sounds as iconic and era-defining as ever. The news, then, that the band would be taking the album on a world tour this year was met with significant glee. The tour came to London's Alexandra Palace on the first night of September and provided one of the most memorable evenings of 2017.
"Sure, 'Is This It?' by The Strokes is remembered as 'the sound of '00s New York', but 'Turn On The Bright Lights is an album with a vision so strong that it's impossible to not be transported across the Atlantic to its birthplace when cruising through its fifty minutes," we wrote in our review at the time. "From the moment those iconic opening chords of 'Untitled' ring out across a packed Alexandra Palace tonight - mid-way through an extensive tour playing the album in full for its 15th anniversary - this becomes a show like few others."
With an encore of certified hits from 'Slow Hands' to 'Evil' and 'The Heinrich Maneuver' reminding the 10,000-strong crowd of Interpol's continued prowess, as well as taking them back to the heady, gloomy days of 2002, hearing 'Turn On The Bright Lights' in full was simply unforgettable. Will Richards
Read: The DIY review of Interpol's 'Turn On The Bright Lights' show at Alexandra Palace.

alt-J are no less weird on the world's biggest stages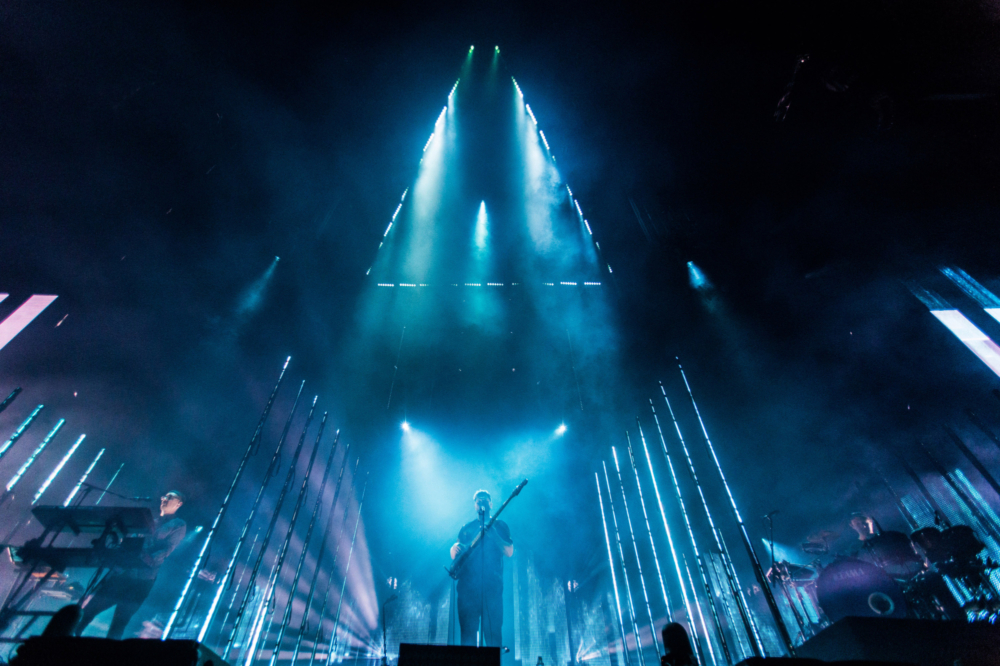 There we were, watching the trio cast their strange spell over one of the biggest venues in the entire country.
Photo: Emma Swann / DIY
This probably goes without saying, but it's not the usual thing to open a 20,000-capacity arena show with a sort of Olde English pagan folk chant. Sung by your keyboardist.
alt-J, however, have never cared for such trivialities as convention and when they graduated to headline The O2 this summer, they continued this merry dance along their own weird and wonderful road with a show that could be the work of no-one else.
Whether uniting a sea of people to sing the still-ridiculous "turn you inside out and lick you like a crisp packet" line in 'Every Other Freckle' or serving up the most unlikely Miley sample around in 'Hunger of the Pine', alt-J manage to flip a series of tricks that have elevated them to the most successful geometry-loving nerds on the block. Their intricate wordplay and bizarre sexual metaphors should render them niche concerns and yet there we were, watching the trio cast their strange spell over one of the biggest venues in the entire country.
A victory for geeks everywhere. Now pass us a packet of Walkers. Lisa Wright
Dream Wife say Hello 2017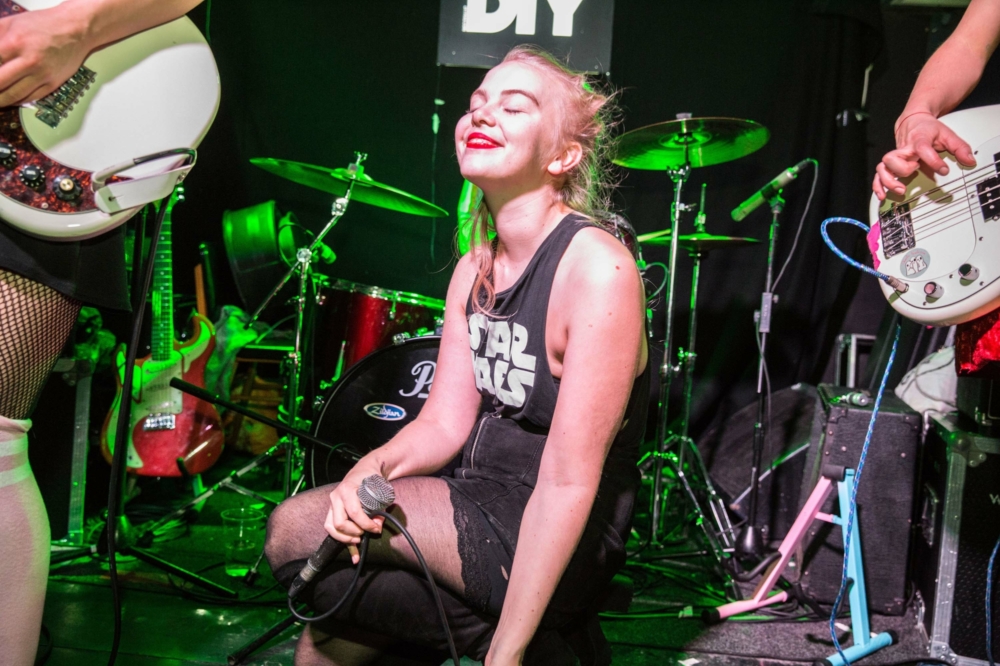 Photo: Emma Swann / DIY
If you've ever had the unparalleled experience of witnessing Dream Wife live, you'll know they don't hold anything back. At one London show in particular they brought along an entire graveyard to furnish the stage and, at this year's SXSW, we all but lost count of the times these three popped up around Austin; each show as biting and visceral as the last.
With that in mind, we're well chuffed to have Dream Wife hopping aboard DIY's first ever Stateside edition of our Hello 2018 tour. Taking place in New York, at Elsewhere (Zone One), they'll be sharing a bill with Dirty Hit darlings QTY, who also played SXSW earlier this year. Ahead of Dream Wife releasing their debut album, this one's unmissable if you're due to be New York way on 22nd January. El Hunt
Read: the DIY report from Dream Wife's Hello 2017 gig at London's Old Blue Last.

Nick Cave: holy preacher man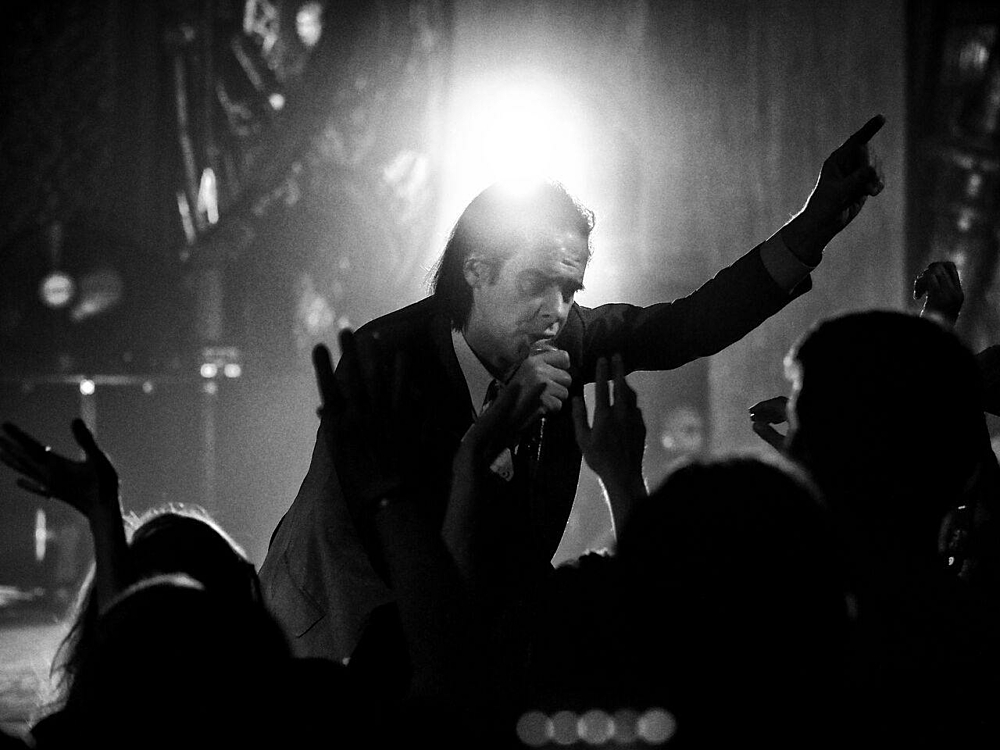 A triumph of mutual catharsis and soul-bearing that the venue's unlikely to see again anytime soon.
Photo: Steve Parke
If you've ever seen the famous footage of Nick Cave essentially hypnotising a woman in the front rows of his 2013 Glastonbury Pyramid Stage slot, you'll know that the iconic dark spirit is capable of eliciting a reaction in his congregation that few can match.
When the singer headed to the O2 in September for an enormous show in support of last year's weighty 'Skeleton Tree' LP – an album written in the wake of the tragic death of Cave's son – this messianic power was even more evident than ever. A rapturous, quasi-religious experience that also saw Nick hand the mic over to pal Bobby Gillespie after spotting him in the seats, it was a triumph of mutual catharsis and soul-bearing that the venue's unlikely to see again anytime soon. Lisa Wright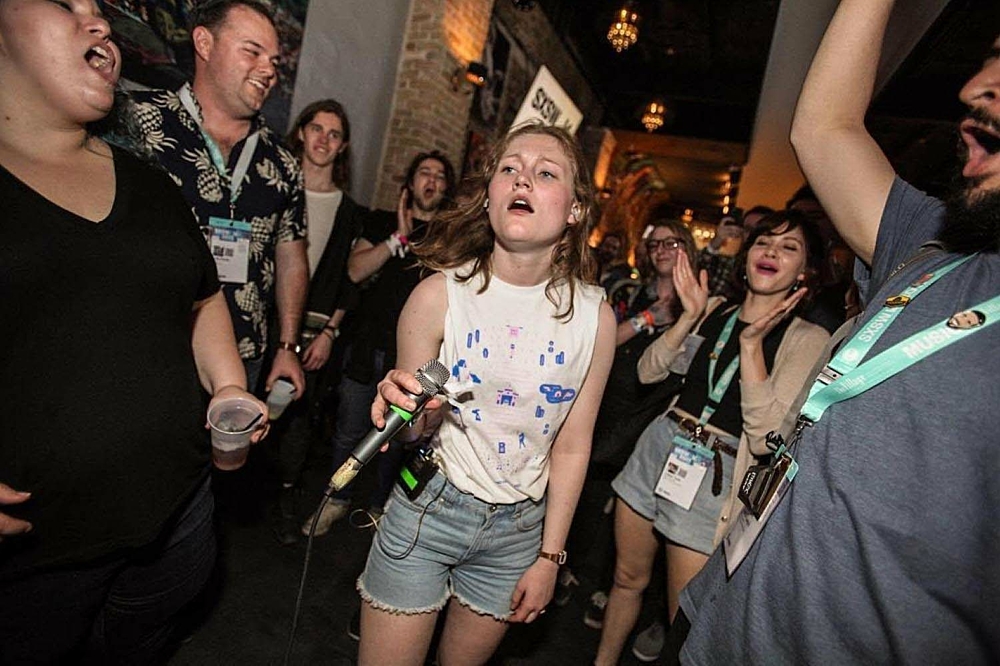 As destinations for finding future faves go, it's miles ahead.
Photo: Emma Swann / DIY
SXSW is easily one of the most exciting weeks of the musical calendar - even if you're stuck with serious FOMO back in the UK. Austin, Texas becomes a whirlwind of live music, the world's new, nearly-new and not-so-new artists clamouring for attention while approximately ten awesome gigs are underway at any given moment. As destinations for finding future faves go, it's miles ahead.
And, obviously, we were there. First, we hosted Monday night at the British Music Embassy at Latitude 30, where Muncie Girls, Doe, Jamie Isaac, SuperGlu and token Americans Forth Wanderers wowed the assorted crowds. On Friday it was down the road at Maggie Mae's - an Irish bar on St Patrick's Day no less - with Dream Wife, Sløtface, Partybaby, Weaves, Her's and QTY. If all that doesn't sound like a rollicking good time - and let's be honest, it really was - there was even more in the intervening days.
We invaded a housing co-op to witness Marika Hackman with The Big Moon while students drank from red cups around a swimming pool as Sundara Karma looked on, traipsed up a giant hill for a daytime Noname set, caught sets from acts including Stef Chura, Snail Mail, Vagabon and Tei Shi, and danced to Rihanna with Alex from Diet Cig's mum. Oh, and don't forget the man carrying a kangaroo around the city non-stop. Roll on 2018! Emma Swann
The National's fiery live show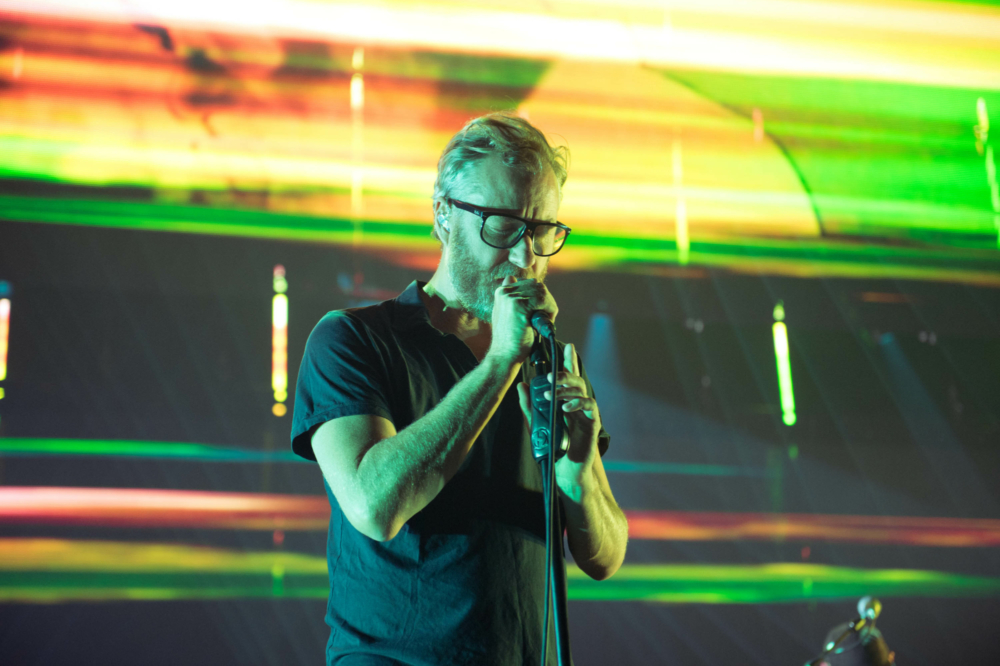 The unlikely yet hugely deserved rise of The National to becoming world-beaters took another gigantic step in 2017 and it's a joy to watch.
Photo: Lindsay Melbourne / DIY
Slightly against the regular form of the band, The National's comeback earlier this year was striking and even a bit over the top. The album's title 'Sleep Well Beast' emblazoned across billboards and buildings, and the huge first single that followed (complete with the band's first ever recorded solo, let it be known), it was clear that the live firepower of the band was filtering into their records more clearly than ever.
'Sleep Well Beast' dials down this chaos a little - bar the furious, frenetic 'Turtleneck' - but the band's live shows this year did no such thing. From making their step up to the Pyramid Stage at Glastonbury and, outrageously, closing with the then-unreleased 'Turtleneck', to bringing rarities and plenty of wine-chucking to four nights at Hammersmith Apollo, their rise to becoming one of the most consistent, exciting live bands in the world continued without a hitch.
Already announced to headline next year's All Points East in London's Victoria Park, the unlikely yet hugely deserved rise of The National to becoming world-beaters took another gigantic step in 2017 and it's a joy to watch. Will Richards

Get your copy of the latest issue