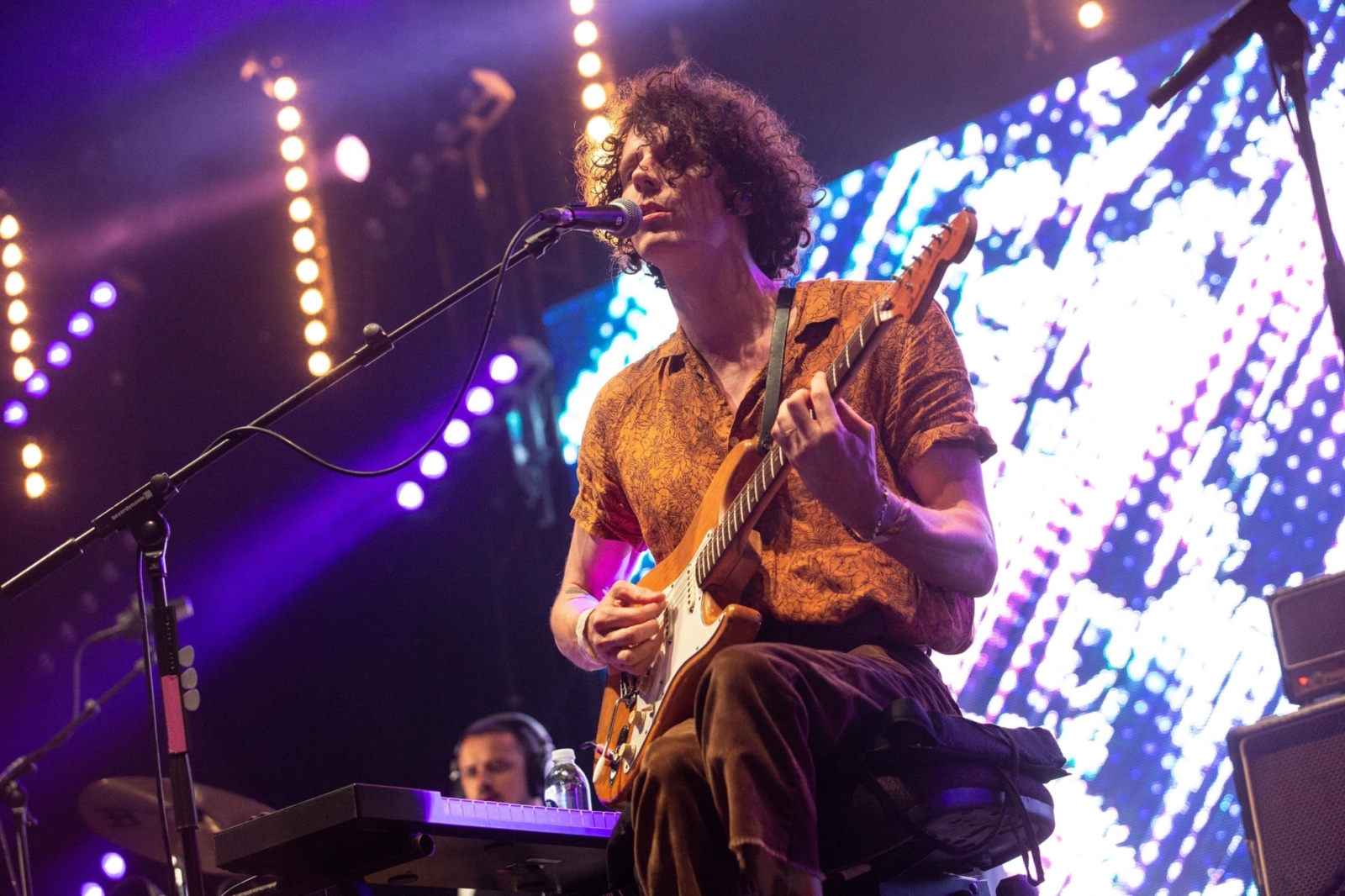 Photo: Emma Swann
What do you mean, you've never heard… The Waterboys?
Mystery Jets' mainman Blaine Harrison kicks off our new series, digging back into the classic artists of yore.
New bands are great. We love them; you love them; the music world quite literally would not continue to turn without them. But behind every brilliant modern day artist lies a series of influences and inspirations past - some of whom are likely ingrained into the cultural fabric of our time, others who you might not be so familiar with.
So, in our new series, we're letting some DIY faves wax lyrical about the musicians that changed their lives, and that they hope will change yours too. Alex Turner might have been incredulous that you've never seen Blade Runner, but we just want to shine a light on what might be your new old favourite band.
First up, Mystery Jets' Blaine Harrison on The Waterboys.
How did you first get into The Waterboys?
Half my family are from County Dublin in Ireland, a place The Waterboys' music is synonymous with. I can half recall their name being passed around over pints of Guinness at a family funeral when I was about 10, but I think I had them confused with The Proclaimers at the time which, in retrospect, is an unforgivable offence. I dare say the first time I heard 'Whole of the Moon' may have been on one of those dreadful 'Best of the '80s' compilations, which is probably why it stood out to me. It possessed a sense of real, lived truth and a depth of emotion absent from much of the music of its time. That's always been what I'm drawn to in music.
How do they fit into the music that was coming out back in their day?

When they first appeared at the start of the '80s, they were very much marketed to the world as being Ireland's next big export, a rival to the likes of U2. They were labeled by the press at the time as purveyors of a new genre, 'The Big Music', and if you listen to their first couple of albums, you can see why: huge drum sounds, heavenly soaring melodies, all of which evoked the kind of widescreen, stadium rock that U2 went on to embody.

But The Waterboys chose a different path, relocating to a farmhouse on the west coast of Ireland to make their fourth album 'Fisherman's Blues', and embracing traditional Scottish and Irish folk song. It was a path less traveled, but the best ones always are.
What one track or album would you say is their greatest work?

As an album, I think 'Fisherman's Blues' is undoubtably their masterpiece. But if I had to chose a song, it would be 'This is the Sea', the title track from their previous record. It's a song I wish I could have written above any other. To this day, they refuse to play it live for fear of butchering it. Listen to it with your eyes closed and you'll likely see why. It's too perfect.
What influence did they have on you as a musician?
When I was writing songs for our album 'Twenty One' I stayed out in New York for a while after an American tour with Klaxons. I had read that [frontman] Mike Scott was living out there so would listen to 'Whole Of The Moon' on repeat and take long walks around the East Village hoping that I'd happen across him. According to myth, he'd written the song whilst walking a girl home from a late night on the whiskies, as a way of impressing her. Whether or not the story was true, I wanted to believe it. Well, I didn't meet a pretty girl out there that time, but did I find a dog park that I would go and sit in at the end of each day and play my ukelele on the bench. It was a nice bench, it gave me 'Two Doors Down'.
Fast forward to 2018, we covered 'Whole of the Moon' for a limited vinyl release. I had a copy sent to Mike Scott in Dublin, and when he heard it he invited me to come on the radio and sing it with them for Chris Evans' breakfast show. It was one of those pinch-yourself moments that you get every now and then in music. I find the video too emotional to watch because I was physically shaking with excitement all the way through.

What influence do you think they've had on music as a whole?
I don't hear their influence so much in artists around today right now, but that's just fashion and draws me to them even more. Dylan called 'Whole of the Moon' the finest song he'd ever heard, and Prince covered it. You can't really fuck with guys like that.
Why should people give a fuck about the band in 2020?
We're living in weird times, which to me is the result of society slowly coming apart at the seams after a downward spiral over the past 6 or 7 years. Politics is fuelled by capitalising on our differences, whereas music reminds us of all we have in common. It has the power to comfort us in our loneliness, or empower us in our anger. Your leaders are lying to you, but the heart can't lie. And the Waterboys is music of the heart.

Sum up The Waterboys in 5 words.
A high you can't buy.

Get your copy of the latest issue