Alabama Shakes: "I'm not sure what kinda band we are anymore"
Think you know Alabama Shakes? Think again.
"What to expect from 'Sound & Color'?" says Steve Johnson, rolling the question around his mouth before breaking into a beaming grin that's half playful, half pride. "A different record."
In the backroom of a central London bar, Heath Fogg and Zac Cockerell are sat on a weathered sofa. Flanking them on either side are Steve Johnson and Brittany Howard, both perched on mismatched chairs. They're the same four people who started Alabama Shakes in 2009 and released their debut, 'Boys & Girls', in the spring of 2012. The four-piece have been nominated for a Grammy, had to worry about playing a cover of Led Zeppelin's 'How Many More Times' in front of Robert Plant and are currently in London to promote their imminent second album, the glorious 'Sound & Color'. It's an album still seeped in their trademark honesty, yet as the band readily admit, it's a departure.
"We didn't set out to make a diverse record," admits Heath. "But I do think it ended up that way." The band describe it as "black" compared to their "white as hell" debut and, written in brief moments of downtime and snatched days at home during the two years the band were touring their debut 'Sound & Color' is the product of very different circumstances; change is to be expected. "I'm inspired by the smallest things," explains Steve. "It could be interacting with somebody new, travelling to new places or seeing a tree that's about to die."
Prior to the release of 'Boys & Girls', Alabama Shakes hadn't toured outside of their home state. Now, three years later, they've seen the world. "I'm not sure what kinda band we are anymore," says Brittany. Described as rock and soul when they first emerged, Alabama Shakes were always something more. Grimacing through interviews when the label was raised and never explicitly defining themselves, they're a band at ease with their sound.
That feeling can be felt throughout 'Sound & Color', though it isn't a knee-jerk reaction to any annoyance. "When we started writing this record, we didn't think about 'Boys & Girls' that much because it happened three years ago. It occasionally hit me that 'this song is not 'Hold On'', but that was it," Brittany clarifies.
"That's the thing, we're just being natural. The first record was not all 60s R&B, there were some odd quirky songs on there which were always my favourites. It's just what we get along with, all of us together, because we're all really diverse people with different tastes and interests. When we get together it's a melting pot," she continues.
"I don't want to just say, 'Yeah I'm good.' I'm not. I can get better, trust me."
— Brittany Howard
Three years on the boil, Alabama Shakes are closer than ever and that variation has intensified. "I don't think we push ourselves to the limits," claims Brittany. "I think we challenged ourselves and within that, is being tasteful. It's giving it space and letting it breathe so you have time, as a listener, to get in there and think why you're listening instead of being bombarded with everything at once."
"I'm inspired by someone like Nina Simone," starts Brittany before quickly adding "not her voice, but her playing. She spent her entire life trying to get better and better at the classical piano. That inspires me because I want to get better, to play better and understand music better," she explains before moving on to another influence.
"I like going to see live shows. We went to see Blake Mills, who co-produced the record with us, it was my first time seeing him and I was really inspired by that. Just where he puts the monitors and things like that inspire me because it's a different perspective. I think I've got it all figured out but then realise there's another way to do things," she admits, keen to carry on growing. "I don't want to just say 'Yeah I'm good,' I'm not. I can get better, trust me."
That keen, experimental attitude is mirrored by every member of Alabama Shakes. "The fact we had more time and resources to afford more time in the studio let us explore a lot of different aspects and avenues," says Heath. "Every time we went in for a session we'd just bring something in that was like 'what the hell?'" Brittany reflects, "It's a very different record. I don't know how people are going to react when it's released really," before shaking off that moment of uncertainty. "That doesn't matter to me hugely because I think the best thing we could have done to respect our fans is to respect our own integrity and do what we like, because that's what makes us, instead of creating another 'Boys & Girls'."
"I didn't have really have a plan going into 'Sound & Color' but if I heard this record when we started, I would be shocked," adds Heath. "It took a couple of different turns that I really like but wouldn't have expected us to do," ahead of Brittany summarising, "I didn't set out to do anything but make ourselves proud."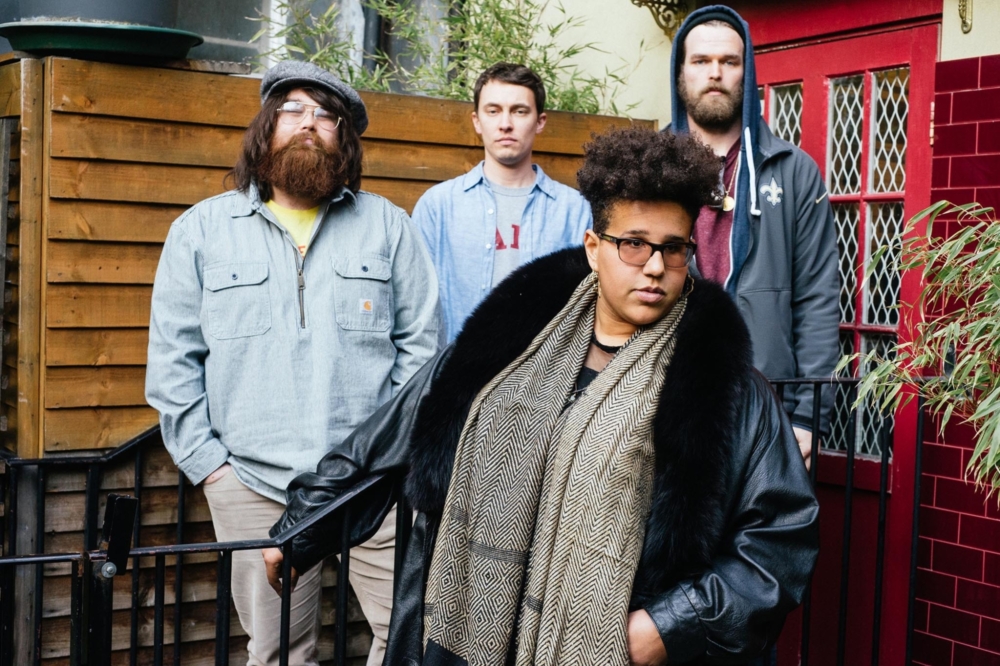 "I don't know how people are going to react."
— Brittany Howard
It's a simple yet open-ended wish for a band whose fears still revolve around being under-rehearsed for television appearances and (metaphorically) peeing themselves on stage. They still find their situation crazy but are thankful to be in this position. They venture, tongue firmly in cheek, that the reason people are drawn to their music is the fact they're "all just real cute," and the concept behind the band can be succinctly described as "railroad fashion." Their goals amount to "having good experiences and seeing the world while we're young people."
With 2015 already looking like a hectic one for Alabama Shakes as they bounce between Europe, America and Australia for headline shows and festival appearances via "lots of planes trains and automobiles," it's a goal they're set to achieve almost daily. The ever-expanding schedule seems daunting but Alabama Shakes are just "really excited for the record to come out and for people to hear it," and the tour offers the opportunity to put newly acquired knowledge into practice, "I learnt an important lesson recently," starts Brittany. "Not everything can or should be reproduced like the record and I've been thinking about it, this is a performance."
With the twelve tracks of 'Sound & Color' whittled down from twenty, and three in particular only just missing the cut, there's every chance their second record won't be the only new material on offer from Alabama Shakes this year. "We're musicians, we're a band and we like creating things together," concludes Brittany. "I knew naturally we'd write another record. It's the same as any craft. You grow, evolve and here we are with this record. We're really proud of it, it's my favourite record I've ever made."
Beautiful, eclectic yet cohesive, 'Sound & Color' is a self-professed grab bag of influences and inspiration. Each member of the band has their own personal favourite and as the record flows with considered sequence, taking in a range of direction and lyrical focus, it's perhaps the only unsurprising thing about it.
And what do Alabama Shakes want people to take from 'Sound & Color'? Zach doesn't miss a beat and answers with deliberate care: "Great pleasure." The four members of Alabama Shakes break into knowing smiles as Brittany agrees, "That's it."
Taken from the May issue of DIY, out now. Alabama Shakes' new album 'Sound & Color' is out now via Rough Trade.
Alabama Shakes will play The Great Escape (14th - 16th May), where DIY is an official media partner. Tickets are on sale now. Visit diymag.com/presents for more information.

Get your copy of the latest issue
Read More