Interview
Islands in the stream: Alvvays
Embracing watery isolation, and getting pecked by a few ducks in the process, Alvvays have succeeded in the tall task of equalling their gobsmackingly brilliant debut album.
"I actually dreamt of Celtic music last night," recounts Molly Rankin cheerfully, in the process of adjusting to the hubbub of New York from the confines of a very beige hotel room. "I was just walking on a bridge, listening to Celtic music," she smiles, "approving of it." The daughter of the late John Morris Rankin - who was part of family folk outfit The Rankin Family - it's no surprise she's a fan, really. "When I hear it, there's just an instant feeling of home and comfort and nostalgia."
"That's a pretty good dream!" bandmate Alec O'Hanley tells her. "Yeah," Molly laughs. 'Usually I have very grotesque, scary, murderous dreams. This was a nice one for me."
Incidentally, darkness and light often find themselves at loggerheads in the world of Alvvays. Contrasting sugary surfaces with impenetrable gloom has become the Canadians' calling card, and their self-titled debut – released in 2014 - was full of such jarring collisions. "How do I grow old with you?" asked Molly on opener 'Adult Diversion', with its chipper pop melody and flippant witticisms belying dangerous levels of infatuation. "Even if you don't notice as I pass by you on the pavement." Water also seeps through Alvvays at every meandering turn too, manifesting as rain, fatal rip-tide, and a glossily inviting surface hiding endless threats beneath. "That may stem partly from our Smiths reverence," comments Alec. "Morrissey was obviously the king of saying the most cutting thing in the most sweetly operatic context. Those songs are so sugary sometimes, and that's the dagger of pop. It's what has always fascinated us."
Though their second album, 'Antisocialites', certainly sees Alvvays beefing up the lo-fi sensibilities of their debut – with a cellist, and, erm, Teenage Fanclub's Norman Blake on glockenspiel among their ranks for recording – it's also a continuation of those very same ideas, with songs being captured to cassette when they're - to paraphrase Alec - right in their infancy, still fresh and developing. "I feel like with our first record we must've done something mildly right…?" Molly wonders aloud, making something of an understatement in the process. "It seems like it resonated with some spectrum of humans, so why leave all that behind to try something completely new and shiny?"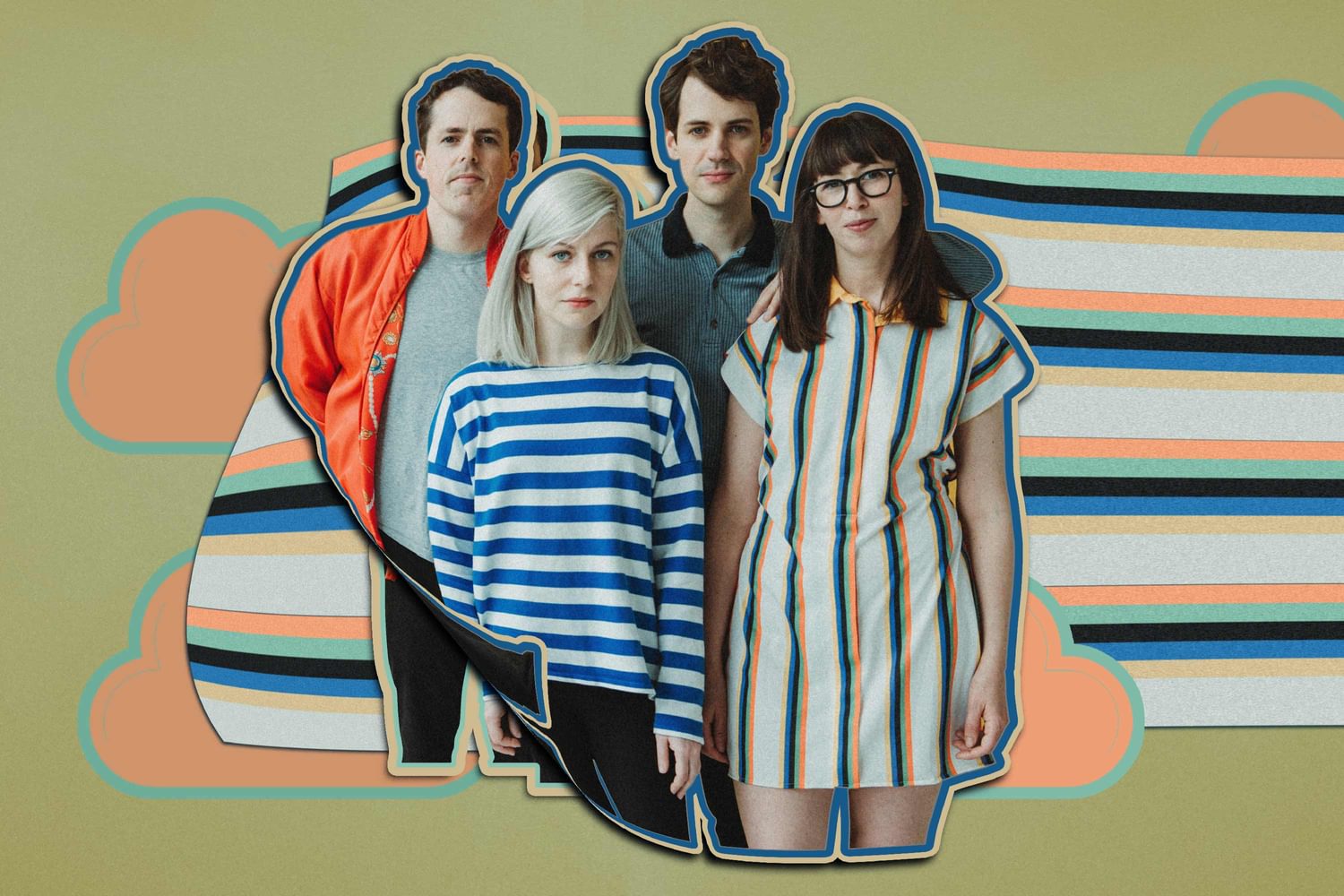 "The dagger of pop is what has always fascinated us."
— Alec O'Hanley
Growing up on various sleepy islands dotted around the frilly East coast of Canada (Molly's from Cape Breton, while Alec and bassist Brian Murphy hail from the not-actually-that-close Prince Edward Island) is the main reason, the pair reckon, behind Alvvays' ongoing obsession with the ol' H2O. This time around it crops up in many forms; the jagged seashells in 'Plimsoll Punks', the washing waves of 'In Undertow', and even the collaged cover – nabbed from National Geographic – which originally depicted a group of islanders waiting for a fleet of dinghies. Though these days Alvvays are all based in Toronto, they find themselves pulled back towards the shore when it comes to their music. "It's the imagery I conjure up when I'm thinking of narratives," Molly reasons. "It seems to be a very beautiful setting for drama, on the shore, on a beach, looking off a cliff…"
"I guess it's the duality of beauty and danger at the same time," Alec picks up. "That was the juxtaposition when we were growing up. We were beach bums. Molly would jump off the pier for swimming lessons, but we were always taught to fear the rip-tide and the undertow, and that sort of thing. When you're a teenager, that's where you go, to goof off with your friends and sneak off late at night. It's inherently very romantic. I guess you're in London, huh?" he remarks. "So not many beaches. The churn of the Thames probably doesn't accomplish the same thing." [yeah alright, cheers Alec – Ed]
"We grew up on outposts, and we're inherently hermitic," he continues. "In a way we did try to get back to that spot. We really tried to dive back into that world of insular beauty."
"I hadn't experienced being alone for quite some time because we were a travelling circus for a few years."
— Molly Rankin
When it came to this particular quest, the band particularly focused on the 'insular' part, packing Molly off to Toronto Island with nothing but a wheelbarrow holding a few essentials; namely a tiny PA and her favourite keyboard. "If you knew the demographic over there, you'd know we fit right in," Alec, who took charge of delivering groceries to the island each week, snorts. Other than receiving the odd shipment of food, Molly was left to her own devices, shaping the beginnings of 'Antisocialites' alone in an abandoned classroom (less creepy than it sounds, she insists), sleeping on the beach, and riding a bike around the island – where cars are banned - listening to the cream of Scot-pop: The Pastels, Motorcycle Boys, and Shop Assistants. "I hadn't experienced being alone for quite some time because we were a travelling circus," Molly laughs, "for a few years. I had forgotten that isolation is what inspires me and enables me to imagine. I was a little tense about the whole thing, and then by the second day I felt like I was in some utopian environment. It was like a little private concert for myself," she observes, "very self indulgent, but, um…"
Alvvays have since tried to return to Molly's new favourite retreat, but in typically unpredictable style, the ever-present water put a soggy spanner in the works. After Canadian and American officials collectively botched an agreement about Lake Ontario's maximum water capacity (whoops) the entire thing flooded and was ruined. "It was a shame going back, seeing that the beach where she got pecked by ducklings is no more," Alec says morosely.
Things then carried on full steam ahead in different hideaways - the band's basement in Toronto, and various studios here and there - but true to 'Antisocialites'' title, the thinking behind Molly's original escape remained, and still remains, key to this band, and this record. "We quickly realised you have to go away to come back," Alec says. "A lot of our work is done in solitude. We're big collaborators, obviously, but to get something out of it you can see, and to bear whatever's inside of you, you have to be alone a little bit. The process can be a little bit… embarrassing." They both laugh knowingly.
"And," Molly adds, swerving tact, "you still very much exist without sharing everything. There's a fear of not existing if you don't tell everyone what's happening in your life at all times." "It's a rabid opening mouth," Alec deadpans.
Alvvays' new album 'Antisocialites' is out now via Transgressive.
Taken from the September 2017 issue of DIY. Subscribe and read online below.
Read More