Ray of Light: Arlo Parks
With her gorgeous debut 'Collapsed in Sunbeams', Arlo Parks is offering up a glimpse of hope in the darkness, just when we need it most.
"It all feels a little bit overwhelming because I've just been sitting at home, playing Scrabble and just vibing," laughs Arlo Parks. On surface level, her January sounds much like any other unassuming 20-year-old getting to grips with the new year. And yet, over the last twelve months, the London singer has managed to tick more off her bucket list than she ever could've imagined.
Take her recent collaboration with fashion powerhouse Gucci, for example - an experience that saw her work with director Gus Van Sant and appear in one of their 'Ouverture Of Something That Never Ended' shorts, starring alongside the likes of Billie Eilish and Florence Welch. Or perhaps her performance with Phoebe Bridgers, in which the pair offered up a haunting piano cover of Radiohead's 'Fake Plastic Trees' for a Radio 1 session. Or even just the small matter of having Harry Styles like her posts on Instagram. "That was a special moment," she almost-whispers giddily, "because I am such a big fan." The list of special moments for Arlo Parks right now seems endless. "It's definitely been strange," she concedes.
Away from her multiple celebrity admirers, meanwhile, some of the singer's other achievements already include winning the Association of Independent Music's One To Watch prize, becoming an ambassador for Independent Venue Week and being one of only three artists alongside Laura Marling and Nubya Garcia to play as part of Glastonbury 2020's downsized edition.
"The beautiful thing about it is that I never expected any of it, so any of the incredible things - like working with Gus Van Sant, or singing with Phoebe - when those things have happened, I'm just kinda like, 'Wow'. It's so exciting," Arlo smiles. "I'm just really grateful because I remember at the beginning when the lockdown was announced and I hadn't really written much of the album yet. It was like, am I gonna be creative? Is this project gonna become stagnant? Are people still going to be interacting with my work? The fact that people have been [doing that] on a greater scale than I ever could've imagined is incredible."
"A lot of it is about stepping away from negative situations and setting up boundaries and prioritising oneself."
Even more remarkably, Arlo has done all this before even releasing her debut album. But pressing play on debut 'Collapsed in Sunbeams', it's hard not to feel an instant sense of peace settle over you. Whether it be the soft crackle that lies underneath the winding guitar line of its first track, like stray flecks of dust on a vinyl, or the gorgeous poem that begins the record - an introduction, of sorts, as to where the album will travel - there's something intensely comforting about being welcomed into its hopeful warmth.
"It was actually the last thing I did," Arlo says of the album's title track, which was written in the same bedroom as she's speaking from today. Unsurprisingly, the literary-minded singer was always keen to weave a poem into her debut, but it was only after the spoken-word track was written that it found its place to open the whole show. "It just felt like a piece that invited people into my private world. Because it is so quiet and spacey and almost ethereal, it felt like quite a soothing way to transition into this world of vulnerability and all of these intimate stories," she explains. Much like one of Shakespeare's infamous prologues, it's this opener that sets out the stall for the rest of the record: "Collapsed in sunbeams, stretched out open to beauty, however brief or violent. I see myself ablaze with joy."
A deft journey that sees Arlo delve back to her younger years and explore some of the darker moments of her life, 'Collapsed in Sunbeams' nonetheless also strives to celebrate the simpler, more beautiful times we live through. Though breakthrough tracks 'Hurt' and 'Black Dog', both of which tackle the debilitating impact of depression, are present, Arlo assures us that they're very much not the whole picture.
"It would be easy to colour the album with this brush of general melancholy and darkness," she admits. "[But] a lot of it is about stepping away from negative situations, setting up boundaries and prioritising oneself - taking care of others, building relationships and learning from losses and negative experiences. It's supposed to be bittersweet and I think part of being a human being - especially as a teenager - is going through those losses and those first big moments. What do you learn from that and how do you move forward, and process traumas and turn them into something positive? Even the fact that I made this album - although I'm talking about painful things, hopefully this a project that people will hold dear and feel comforted by in those dark times."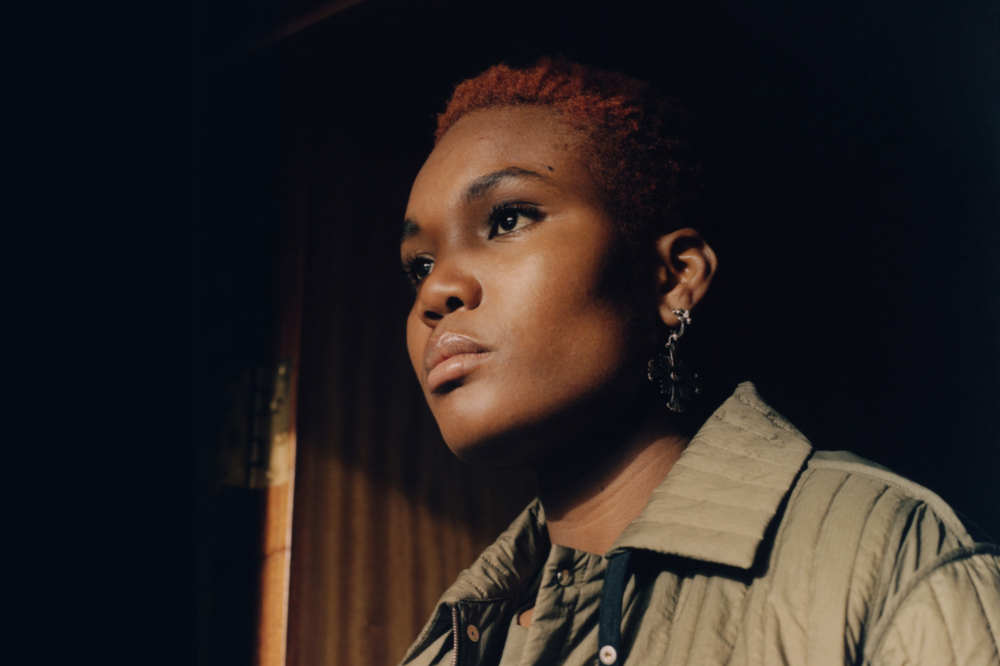 "I want people to feel like it's OK to be vulnerable, it's OK not to feel excellent 100% of the time."
Arlo on…
From working with Paul Epworth to her own writing styles, here are a few insights into the different elements that went into making 'Collapsed in Sunbeams'.
…Her style of writing
I'm somebody that's always gravitated towards more sensory writing. I love talking about food and nature and flowers, or the physicality of someone. I like talking about eyes, I like mentioning music and pop culture references; that's all just part of my tastes and that's just how it comes out.
…Working with Paul Epworth
It was a lot of fun. I've always gravitated towards people who have quite a free way of making music. When I was working with Paul, a lot of the music that we made just came from jamming. I could tell how much he loved music, and that's something I look for in collaborators. There was no sense of ego there. It felt very easy and natural.
…Arctic Monkeys' debut album
I love that album! It felt like a very fluid series of vignettes, but for me, the experience was of playing it in one go and feeling like it was a full picture rather than a series of disjointed moments. That's something that I wanted to do with my record as well.
…Lockdown V3
I've been doing a lot of writing and making beats, just trying to stay productive. I've been feeling quite inspired too, weirdly; I think for me a lot of inspiration comes when I'm still and when my mind is kinda empty. I've been getting this thing where melodies are coming out of the blue to me, when I'm just walking around the house or making coffee, so that's been amazing, just to have that spontaneous creativity is really nice.
Born in the early throes of March 2020's first lockdown, when Arlo and collaborator Gianluca Buccellati began work in a rented Airbnb, the challenging situation at hand allowed for Arlo to truly absorb herself in the process. "The fact that I was in lockdown and had nothing else to do other than sit and ponder what I wanted to say, and just pore over my journals, read and watch movies… I really felt like I was inhabiting the world of the record completely rather than having other external distractions. I think that it's definitely an album that was written in a place of stillness and reflection."
It's this sense of reflection that runs throughout the album; across its 12 tracks, Arlo feels like our observant narrator, colouring in each song's scene with her vivid imagery. No detail is left unmentioned, no character unnamed. "I was, at first, quite daunted by [the question of] what is the thread here? How am I gonna join all these experiences together, which are across different times in my life, different physical places, different people? But honestly, I just wrote the songs one by one," she explains.
"The way that I am, I operate from a very gut-based, instinctive place and I don't really mull over things for a long time, for better or worse. For me, I just try not to get in the way of myself. It's interesting but while I was making this album, it was as though something was writing through me. I know that sounds very kinda hippy-ish, but sometimes I felt like I was almost just a vessel and all these subconscious thoughts were flowing out of me. I didn't want to get in the way of that, and I think there's something quite beautiful about those unfiltered thoughts."
And while some of the more painful moments of life do very much rear their head here - whether it's struggling with overcoming hardship in 'Hope', or the coming to terms with others' views of your sexuality that runs through 'Let Go' - the process also became a liberating one for the singer. "When you're looking at difficult experiences, there's that feeling of, 'Oh do I really wanna dredge this back up again?'" she agrees. "But through the process of writing some of these songs, I gained a sense of closure surrounding certain things. I think that whenever I write a song about something, I move a little way forward in releasing that difficult situation's hold on me in a way. Especially when I can find the words to encapsulate a very complicated set of emotions. I always feel afterwards like yeah, a bit of a weight has been lifted from my shoulders."
Unsurprisingly, there's something apt about such a thoughtful, consoling record as this being released right now. At a time where our worlds feel smaller and more limited than ever, 'Collapsed in Sunbeams' offers both a sense of comfort, and a reminder that good times will soon return.
"I want people to realise that traumatic or difficult experiences are ones that you don't have to inhabit, you can work through them," Arlo says of the message she'd like to leave listeners with. "I want people to feel like it's OK to be vulnerable, it's OK not to feel excellent 100% of the time. And I just want people to enjoy it and feel warmed by it. It doesn't necessarily always have to be accepted with a level of 'This is life-changing'. I just wanted it to make people happy, for people to cook to it, to hang to it, and just feel good whilst listening to it."
"The fact that I have always been - and will always be - completely myself, and that people are accepting my songs and myself as I am, it's just so beautiful."
As for how she's feeling about things in the lead up to the album's release? "I feel differently about it every day," she laughs. "Sometimes there's a sense of nervousness, sometimes there's just unadulterated excitement. Sometimes I forget that it's happening and then I remember in the shower and I get really like, 'Ahhh!'.
"I think that whenever an artist embarks on a journey, you set intentions and you have goals and hopes for what might happen. The thing about art is that you never know how it's gonna be received or what's gonna happen on the other end," she summarises eloquently. "The fact that I have always been - and will always be - completely myself, and that people are accepting my songs and myself as I am, it's just so beautiful. The other day, I was reading my journal from when I was 14 or something, and I was like 'I really want one stranger to say that my music has moved them in a way', and that's happened times a thousand."
Even after a year like the one Arlo Parks has just had, with accolades and acclaim thrown her way from all corners, you can tell this one means the most.
'Collapsed in Sunbeams' is out now via Transgressive.
Read More