Blaenavon come out fighting
The journey to their second record may have been more chequered than anyone could have expected, but Blaenavon are drawing strength from struggle.
The infamously difficult second album can be challenging for a myriad of reasons. From the pressure of pleasing an already-established fanbase, to balancing a steadily expanding touring schedule or wanting to explore sonic pastures new without ditching the beloved traits of old, navigating your way around LP2 can be a minefield. But for Blaenavon, the road to what would become forthcoming album 'Everything That Makes You Happy' proved more difficult than most.
The Hampshire band released their acclaimed debut album 'That's Your Lot' two years ago whilst all barely out of their teens. But, after a hectic and difficult year, things took a turn when, towards the end of 2017, frontman Ben Gregory experienced what he describes as a "stress-related breakdown" before being hospitalised for a month over Christmas.
In a touching letter shared to social media last month, the singer explained how in the lead up to his hospitalisation his behaviour had become "erratic and confused" and how he hadn't slept for days, leading to some friends taking him to A&E at a hospital in Hackney. Ben then spent just over four weeks in the ward, taking part in talking therapies, art classes and group mealtimes.
His experience in hospital, his subsequent recovery and his journey back to writing and playing shows alongside his bandmates - bassist Frank Wright, drummer Harris McMillan and new guitarist Scott Roach - form some of the central themes of the band's forthcoming second record, due out this year.
"It was strange and it was difficult, but I met a lot of really wonderful people and learnt a lot whilst I was there," he says of the experience. "Unfortunately, quite a bit of [the album] is about needing to reach out for help but not really knowing how to do it, which is sad really. Some of it is a bit more light-hearted, which is the good news, and some of it is kind of poking fun at myself a little bit…"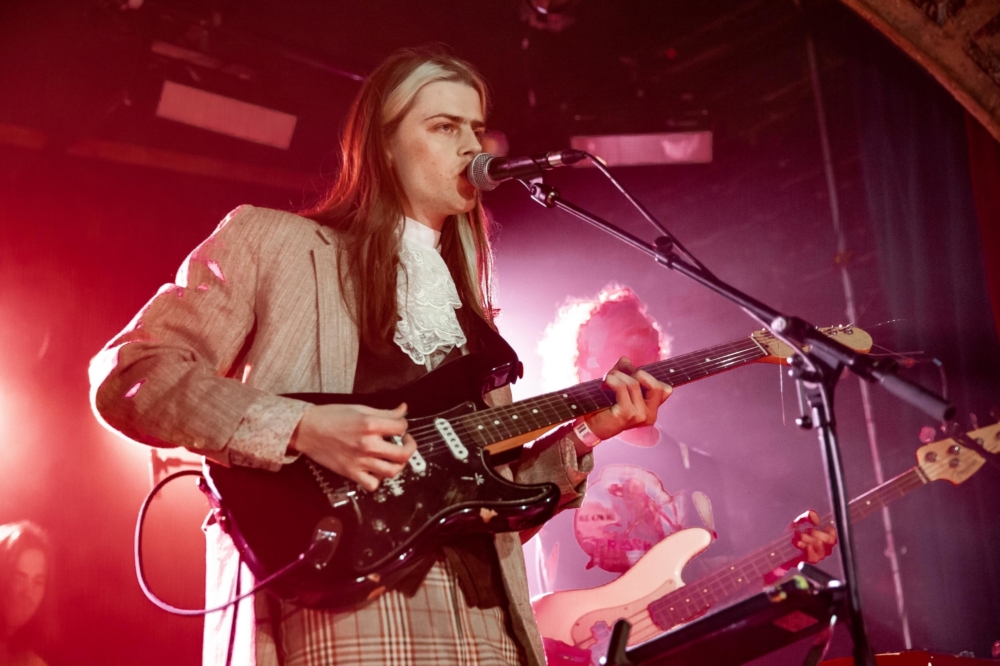 "If I share what happened to me, if it can help even one person, then it's worthwhile."
— Ben Gregory
This duality is laced all over lead single, 'Catatonic Skinbag', which tackles the inertia of "not being able to get out of bed so you don't have to worry about any of your actual problems" over a grungey guitar-line and direct, anthemic chorus. Marking a bold new direction for the trio, it's the first glimpse of an album Ben says he knew he wanted to make throughout his time in hospital.
"I'd had a strong concept and narrative that I wanted to put across in the second one," he explains. "I had my guitar when I was in there and I was thinking about music a lot and [how] I never expected something like that to happen to me."
Later, in the studio, Ben credits producer Catherine Marks (who's previously worked with Wolf Alice, The Big Moon and Foals among others) as being the stabilising force in the recording process. "I found it a lot more difficult than making the first album, as you can probably imagine. But I was lucky enough to be working with Catherine who, aside from being an amazing producer and probably the most hardworking person I know, was such an incredible friend to me during that time," he explains. "I don't really feel like I was ready to be in there and to try and make the album at that point, but at the same time it would have been worse to sit around and wait forever."
The decision to share the reason behind his time away from the band in such a candid and open way wasn't one that came easily, but eventually it became the obvious choice - both as a means of explaining the album's narrative and offering the chance to help others who may be struggling with similar experiences.
"I'd had a strong concept and narrative that I wanted to put across in the second one."
— Ben Gregory
"It's not an exaggeration to say it's something I've thought about every day and every night before I go to sleep [for the past year]," he shares. "It's something that I've really slowly come to terms with and, because of that fact, I think I was maybe kind of expecting everyone else not to think it's such a big deal. I thought if I share what happened to me, if it can help even one person, then it's worthwhile."
Now, a year on from the experience, Ben is doing significantly better and hopes that, despite the album's difficult origins, it's still a record that gives a message of positivity.
"When people struggle with these things, often there are deeper rooted issues that they need to come to terms with, but at the moment I'm kind of just trying to do it by the book. Do all the things that sound boring that are good for you and make you feel good, like eating well and drinking water and doing exercise because it makes your brain happy," he adds.
"I find it difficult to come to terms with the fact that things seemingly that basic have control of my mental state, but they do. I've just been trying to do all that stuff, and just talk to professionals and close friends when things are going wrong instead of bottling it up, because that doesn't end well, unfortunately."
'Everything That Makes You Happy' is out this year via Transgressive.
Blaenavon play Sound City (3rd - 5th May) where DIY is an official media partner. Tickets are on sale now.
Read More