Interview:
Nobody puts Jack in the Box: Bleachers
Bleachers' second album has Jack Antonoff finding joy in life's downsides, and standing on the brink of big things.
Loss has always been a driving force behind Jack Antonoff's music. On Bleachers' debut 'Strange Desire', he wrote gigantic pop songs shot through with the human existence's darkest emotions. Breakthrough track 'I Wanna Get Better', for instance, may sound fun enough, bouncing along on an erratic piano line. Its lyrics, though, detail his life as an 18-year-old struggling with the death of his sister.
Three years later, Jack is still motivated by that same feeling. Except this time he's coming at it from a different angle. Second album 'Gone Now' - an album full of the sort of depth and inventive spirit that should see him quickly outgrow his cult status - is far more universal, and less introspective than his past writing. It still centres around his personal experience, and holds plenty of stories from his life, but this time Jack's striven to invite the rest of the world into the Bleachers bubble, too.
Nowhere is that more obvious than on 'Everybody Lost Somebody'. Described by its creator as "the heart and soul of the album", it's a breezy, expansive piece full of horns and a sense of happiness that's at odds with what the song is really about. "I had a moment early on when I was writing this album," Jack says, fidgeting in his seat backstage at New York's Webster Hall, where in a few hours he'll debut the song live. "I was out on the street in New York and I was thinking that everybody has these massive stories. Everyone has a great loss. Whether you've seen the worst tragedy in your family, or your partner left you - whatever it is - that's the sludge that we all push through in life. It's not what we lost, it's more who we lost."
Instead of dwelling on the bad times, though, his new approach is to turn them into celebrations. His music certainly lends itself to that - big, vibrant, full of life. It's a shift in attitude that has made revisiting the stories that he sings about nightly easier, and will likely have a similar effect on those in his audiences; a catharsis designed to unite everyone in the room. "I was looking back on 'I Wanna Get Better' and it was such a sad song," he admits. "It's so heartbreaking for me, telling all the darkest stories of my life. Then I remembered, at some point, there was a shift when it turned into this big celebration. Maybe record writing and making is a solitary, painful process and touring is to get together with people you have something in common with?" Jack wonders. He adjusts his cap and squints through his glasses with a wry smile. "In some ways, the darker the song, the more thrilling it is when you get to come together and celebrate it."
"The darker the song, the more thrilling it is when you get to come together and celebrate it."
— Jack Antonoff
'Gone Now' isn't all sorrow set to soaring melodies, mind. It opens on 'Dream Of Mickey Mantle', a rose-tinted slow build that fixates around the death of the Yankees baseball star. "That was the first horrible thing I can remember before I'd experienced horrible stuff in my life," Jack says. "Everyone has this thunder moment in their life," he expands today, "this line in the sand" where the innocence of childhood is tainted by tragedy. "It's like a prequel to all this sadness I'm talking about," he adds.
'Good Morning', which follows immediately afterwards, is the hazy, slow awakening from that dream. Vocals and instruments pan abruptly left to right and back again, intended to produce a disjointed feeling that reflects that moment when you wake, but are still suspended between sleep and consciousness. It's all driven by regal piano chords, sounding like something that the Jack Antonoff on Bleachers album's cover, dressed in majestic fineries, would be very familiar with.
What of that artwork, anyway? "I'm dead," Jack replies deadpan, looking ever so slightly scruffier today. "Not in a bad way, not in a morbid way," he adds hurriedly. "You get to a certain age - or maybe it's the time in the world - but you start thinking about everything you want to accomplish before you're out of time. This album was a big part of that."
Don't fear, though - "dead" Jack isn't a sign that this is the death of Bleachers, although he's noncommittal on what the future for the project is. "Everything I do is one thing at a time," he reasons. "I don't have much of a big plan for stuff, I just have big plans for specific moments."
He's well known for his work with other artists. In the past he's written with Taylor Swift, Grimes, Carly Rae Jepsen (who guests on 'Hate That You Know Me') and Sia, to name just a few. While making 'Gone Now', he was working simultaneously on Lorde's 'Melodrama', and ended up getting lead single 'Don't Take The Money' out of those sessions.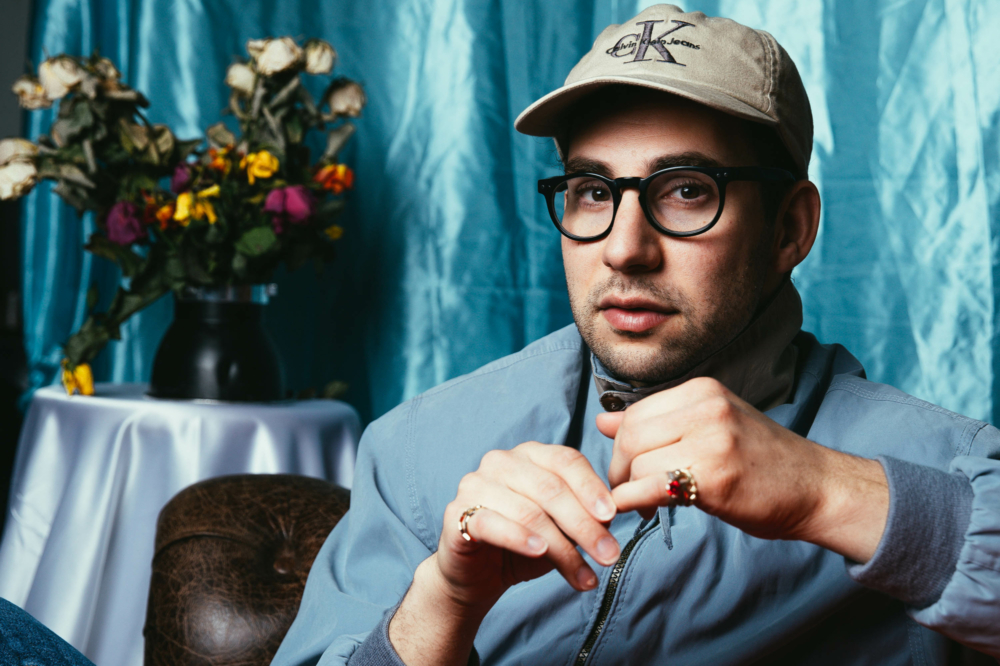 "People can tell if they're getting a version of everything you have versus everything you have."
— Jack Antonoff
Working with other people, he says, can be better than the "torturous, stressful" sessions he spends working alone on his own music. "It's more like one of those games where you're with another person and you have to find a way out of the room," he explains. "It's the same struggles, but you're not alone, which is inherently different and potentially a little safer in a way."
Despite how he describes his creative process, you can't fault Jack's dedication to his craft. Although he says he never questions why he's making music, he often asks himself "is it healthy to do it this way?" Ultimately, though, that thought process is detrimental to what he's trying to do. "If you start to consider your body, your mind and your sanity too much, somewhere you get compromised," he shrugs. "So you really have to give yourself to it and I think that's very fair if you're asking people to buy the record and come to the shows. It's the least you can do. People can tell if they're getting a version of everything you have versus everything you have."
Later that evening, as the East Village's streets get doused with a healthy dose of rain, 400 fans cram into The Studio at Webster Hall to see Bleachers give his all. Jack doesn't disappoint, infusing his songs with the same emotional pull and conviction as they possess on record. As 'Don't Take The Money' closes things out for the night, every word sung back at him, Jack's smile grows into an unstoppable grin. It feels simultaneously simple and like the celebration of the century. Sweat drips down fans' faces, hundreds of arms flail triumphantly in the air, and one man darts to the front of the room to whip free t-shirts out across the crowd. As it turns out, the real life manifestation of the plans in Jack Antonoff's head is infectious and euphoric. It's also something only bound to grow as the world rightly falls in love with Bleachers' next chapter.
Bleachers' new album 'Gone Now' is out now.
Photos: Phil Smithies.
Taken from the June 2017 issue of DIY, subscribe below.

Get your copy of the latest issue
Read More