Christine and The Queens: iT Follows
Héloïse Letissier came into 2016 wielding magic markers and a treasure trove of bangers. Now, she's this year's unparalleled superstar - not that she's resting on any laurels, mind.
As whirlwind years go, Christine and The Queens perhaps takes the proverbial biscuit, or - since she's French – the madeleine. A game-changing, dance-filled appearance on Graham Norton's telly show beamed Héloïse Letissier's tilted, outsider pop music into millions of stunned living rooms, and then, a full two years after its original release, debut album 'Chaleur Humaine' found itself in the UK Top Ten, for a mighty eleven weeks. A standing ovation from Elton John at a sold-out Roundhouse followed, her weekend-stealing performance at Glastonbury rightly lauded as the show that cemented a superstar. These days, Christine and The Queens is papered across tube adverts, billboards, newspapers, and TV screens. Her fearlessness and subversive music has proved contagious, capturing people's attentions in a political age where – let's face it – there's little else to be cheerful about.
"All the great things that happened to me this year, I'm trying not to think about," says Héloïse. "I don't want to sit on it. I want to doubt and feel like shit so I can write songs," she adds, bookending it with a hoot of laughter. "I'm exaggerating, but you see what I mean."
Born on a visit to London following a painful break-up, Christine and The Queens first came about when Héloïse Letissier was learning to exist alone again. With the help of some overzealous drag queens at now-closed institution Madame JoJo's, Héloïse channelled everything that was holding her back into this new, brave figure – Christine.
"It allows me to be bolder," she nods. "Christine is basically an excuse to be more daring. It's a pen name that allows me to say things I wouldn't normally say, but I still feel. It's me being more true, and carefree. If I just kept my state, and my poor little ragged body, I wouldn't do something, but since I'm dreaming, it's a solution."
Pondering a tangible wave of artists this year who challenge norms, and raise their voices about vital issues, Héloïse is surrounded by other such musical solutions in 2016. From Years & Years' Olly Alexander letting rip with rainbow smoke cannons at Glastonbury in the miserable aftermath of the referendum result, to countless other left-field pop characters, Christine and The Queens fights very much the same fight with her "songs, suits, and moves."
"It's new faces, a new way of existing, and being sexualised, and sometimes refusing to be a subject of male gaze," she enthuses, "I'm really happy this scene exists right now. One of the first steps of a fight is visibility. Show them, make it exist. It's the first step, the really important one. This is why people like Lorde, and Grimes, and Perfume Genius, are really great. They're just making people look at different faces."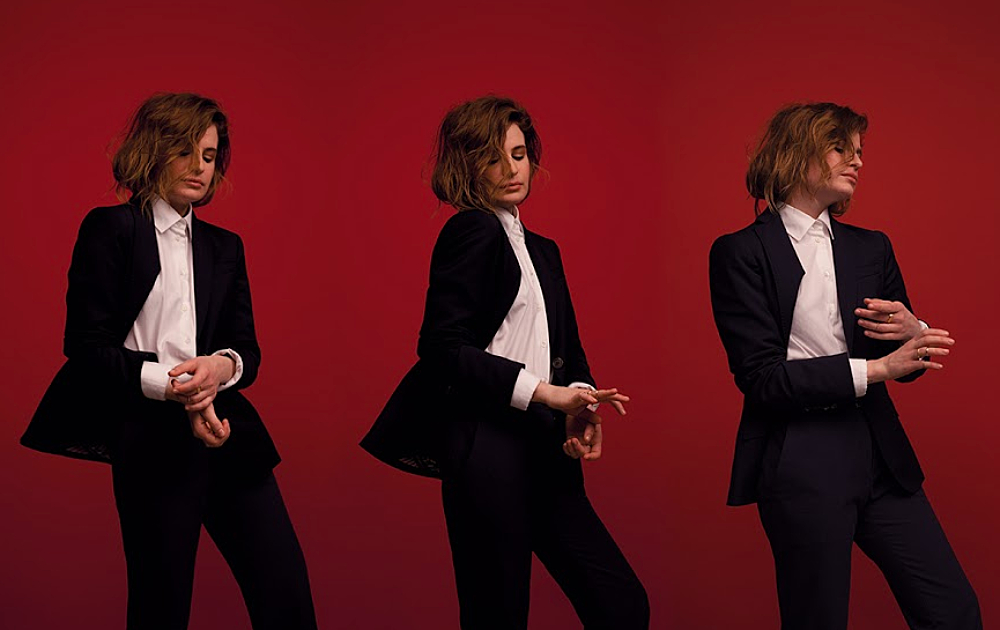 "I'm actually plotting the next album…"
Between states, and battling with how to carve out a fluid, indefinable space in a world that loves to categorise and box in, 'Chaleur Humaine' is something of a coming of age album for Christine and The Queens. "It's still a bit shy, and insecure, and fragile," she says. "What the fuck is happening, why do I want to laugh and cry at the same time?'. And since then," she cackles uproariously, "I actually discovered physical sex."
Two years on from first putting out 'Chaleur Humaine', Christine and The Queens is eager to foot-twitch and dance her way into new possibilities. Pushing the whole thing further still is never far from her mind, and Héloïse has already written tonnes of potential songs for her follow-up.
"['Chaleur Humaine'] was so beautiful to work on," she says, of her debut, "and seeing it blossom. But it is something I'm afraid to dwell on," she admits, "because it is a debut album. It's like, an introduction. 'Hello, it's me.' But then you need a second verse. I'm actually plotting the next album," she glints, "rubbing my hands together alone in my room, laughing creepily."
Taken from the November 2016 issue of DIY, out now. Subscribe below.

Get your copy of the latest issue
Read More