Through The Looking Glass: Chvrches
With their fourth album 'Screen Violence', Chvrches are ushering in a darker and more disturbing new era.
Chvrches are no strangers to a little darkness. Glance through the trio's discography from across the past decade and there's an ominous thread that runs throughout, juxtaposed by the glistening synths and crystalline vocals that they've become renowned for. And yet it's only with their fourth album that the band decided to embrace that side of themselves from the get-go.
"This was the first time we went into writing with an album title," begins vocalist Lauren Mayberry, Zooming in from her home in Los Angeles alongside bandmates Martin Doherty and Iain Cook - based in LA and Chvrches' hometown of Glasgow respectively. Originally a band name suggestion that was shelved, as well as a phrase that's permeated throughout moments during the course of their existence, the trio once again found themselves drawn to the phrase 'Screen Violence'. "In the summer of 2019 we were talking about what we might do next, and that name came back up as an idea for the aesthetic or umbrella that we could write things under."
First intended as a more escapist framework to begin work on their fourth record, soon the album's conceptual beginnings began to shift in the wake of the ensuing pandemic. While originally, the album's title was destined to explore violence "on screen, by screens and through screens", the process of having to drastically switch their whole lives online gave "a kind of duality" to the entire thing. "So yeah," Lauren laughs, "here we are in the scary, dark album era!"
In hindsight, it's little surprise that 'Screen Violence''s narrative theme would hold such an allure. As the touring schedule for 2018's 'Love Is Dead' drew to a close, Lauren found the band's growing popularity to have conflicting consequences. "I think that it's been interesting to have some time off the road, because by the end of 2019 it felt very bizarre to realise that you are an entity to a lot of people," she explains. "You're an abstract concept, and while that means the band is doing well enough that people think about us in a certain abstract way, when you are that person, it feels very bizarre."
Becoming more prominent in the public eye soon meant that - as for many female artists - social media had begun to throw up opinions on both extreme ends of the spectrum, and scrutiny was commonplace. "The internet has been a really amazing thing for our band, and a really negative thing," she confirms. The process had started to take its toll.
"When I watch horror movies, I relate a lot with female characters. I think all women can empathise with feeling watched, or hunted or chased."
— Lauren Mayberry
Heading into LP4, the band found themselves returning to the themes they'd explored early in their formation. While sonically, Iain explains, the trio decided "to go back to the original set up of the three of us writing and producing" after the more traditionally 'pop' production team around 'Love Is Dead', thematically, Chvrches looked to cult cinema, tapping into their collective love of horror and Video Nasty (a collection of typically low-budget horror films from the '80s).
"It's an era of filmmaking that we're always really drawn to," Lauren says of the genre that spawned films such as the Debbie Harry-featuring Videodrome. "We talked about it a bunch when we first started the band, and it formed a lot of the initial ideas that we had for the general band aesthetic and things. So we know it's a space that we're well-versed in the vocabulary of. Then, for me, I was excited about it because I hoped it would be a good space for me to tell some personal stories, and unpack some personal things, but under the guise of this concept."
Attempting to "write a different kind of lyric" inspired by the storytelling of Nick Cave and Jenny Lewis, the stories of 'Screen Violence' feel intense and direct, while still tapping into the creeping sense of fear, isolation and pressure of current life. "I think if I was having to say or write these things on a quote-unquote 'normal' Chvrches record, it would feel a lot more exposing," Lauren admits.
From the unrealistic standards pushed on women within 'He Said She Said' and 'Good Girls' ("He said 'You need to be fed' / 'But keep an eye on your waistline' and / 'Look good but don't be obsessed'') to the existential dread that flows through 'Lullabies' ("Paralysed and spinning backwards / Lullabies don't comfort me / Televise the great disaster / We're better off inside of the screen"), the album tells a fraught tale of modern life through the eyes of Lauren's lead character. "I always think that, when I watch horror movies, I relate a lot with certain female characters. Not [necessarily] because you're experiencing that in reality, but I think all women can empathise with feeling watched, or hunted or chased. I think it was then that I was like, 'OK, how can you play with this as part of your art and the project?'"
With such a vivid thematic backdrop to 'Screen Violence', this time around the band pursued a more fleshed-out vision for the project as a whole, riffing off Lauren's love of mood boards to build the world around it. "I do it with everything, I have so many fucking Pinterest boards, for so many different things," she laughs.
"We knew that we wanted things to feel more coherent than they had on the previous records," Lauren continues. "I feel like we've made good records, had decent videos and some interesting pictures, but none of those things ever felt really connected. I think it's also because we're really thinking about how we use the internet now; for me, I always think my Instagram can be a good mood board. I would rather have it be that - where you can help build out the back story of what you're trying to do - than it be selfies of your own face. We just thought, how can we use these platforms to tell the story of the record better?"
It didn't end with her social media, either. "The whole reason for my blonde dye-job is to try and emulate the Scream Queen from horror movies," she adds. "I like the idea of playing with female tropes in horror, and in general."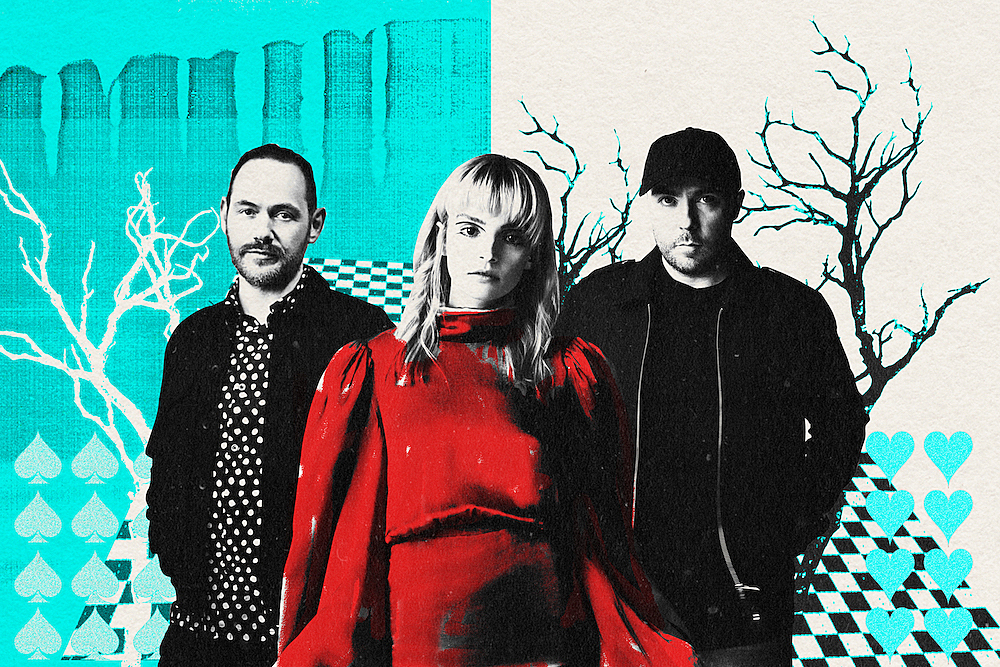 "The internet has been a really amazing thing for our band, and a really negative thing."
— Lauren Mayberry
Dystopian Overture
Would any conversation about the state of the world and our (potentially) dystopian future be complete without a nod to modern anthology series Black Mirror? Err, probably not…
Obviously you guys have called upon quite a few classic horror references for the record, but even over the past year, it does feel quite strange how poignant things like Black Mirror have become in mirroring modern life…
Lauren: Yeah, it's freaky how many of those plot lines have come to pass in real life. That's genuinely disturbing. I just think we need to ask Charlie Brooker, 'What else do you think is gonna happen? Tell us all the fucking terrible things that are gonna happen so we can know!'
Iain: I think the most terrifying kind of sci-hi horror stuff is only really 20 minutes in the future, you know? It's the stuff that we recognise that's around the corner. Like the Black Mirror episode with Bryce Dallas Howard, where everybody's rating each other and all their personal interactions. That was already happening when he wrote it, but he only had to extrapolate [the details] a little bit for it to become absolutely horrifying!
But even with the same creative license as an artist like St Vincent - who most recently channelled Warhol superstar Candy Darling for her latest record 'Daddy's Home' - Lauren has found herself feeling vulnerable about tapping into her visual identity. "I feel like St Vincent is such a pioneer of inventing those kinds of characters and living in chapters with them, but I have definitely felt uncomfortable about certain parts of that, and thought, 'Well, if I dress more like one of the guys then people will take me more seriously' or, 'They already don't take me seriously so if I play into this space, it's just going to give them more license to not'.
"If Robert Smith, or David Bowie, or any of those men dress in a certain way and put on make up, it's incredibly creative, but if a woman does it, people tend to assume it's because she's trying to be attractive. That's something that I've definitely thought about differently over the last few years, because it's part of your performance, and your story, and you shouldn't second guess yourself out of it just because of what people will assign to that."
Though the end product of 'Screen Violence' marks Chvrches' most detailed vision so far, its process was one of their more challenging moments. Written and recorded with the band split across two continents in the middle of the pandemic, the trio were forced to overhaul how they worked as a unit, becoming entirely reliant on the screens that originally haunted the album. "We had to overcome a lot of challenges to continue writing and collaborating," Martin says. "The bulk of the writing was done either before, or very early during the lockdown, but then we'd get together on Zoom and produce the album together, and Lauren was working away on lyrics as we went along. Once we overcame those technical challenges, I don't think the process changed too much, but it wasn't easy to continue making the album during the lockdown. There's not just the technical challenges, there were a lot of emotional things going on - people trying to just be alive when it looks like the whole world's falling apart."
And while the newfound duality of the title's meaning feels bizarrely apt, it's a construct that continues to expand. Even asking the band what they hope listeners will take from the album sees that familiar 's'-word rear its head again.
"Once you put the songs out and you put the album out, it's not really up to you anymore," Lauren contemplates, "but even the few songs that we've put out so far, it feels really incredible that people are connecting with them. That's what I've kind of grown to think about the band: you're something that people project their experiences onto.
"I used to feel shitty about live shows and thought, 'Oh, these people are here to watch me and they're gonna judge me and I'm not good at it', but now I don't really think about it all like that. You being there is almost incidental; they've come to have you play these songs that mean something to them in their life, and you're just a screen that they can project their feelings onto."
'Screen Violence' is out 27th August via EMI / Glassnote.
Read More