Neu Class of 2018: Matt Maltese
The thinking man's crooner, London boy Matt Maltese is honing his world-weary romance and taking his big red heart to the next level.
"My ambition comes from having dreams where people I respect think what I do is shit," winces Matt Maltese, decked out in now-trademark thrift shop suit and Converse, tucked in the corner of a dingy pub around the corner from where DIY has been making real the singer's deepest, sunglasses-toting Elton John fantasies. As in, actual dreams, for real? "Yeah. I don't want to say who it is [in them], because then it might come true…"
It might seem like a paranoid tick, but Matt's not the only muso to fear the nighttime wrath of his peers. In an interview back in 2009, Brandon Flowers confessed that he too had regular nightmares in which legendary sonic pioneer Brian Eno would cross the street to avoid him. Coincidence? Well, yes. But a strange one given Matt's past few months. See, though the South Londoner's been racking up a notable list of musical fans since the release of last year's 'In A New Bed EP' (former Maccabees Felix and Hugo White have both leant their services, while Bill Ryder-Jones and, more recently, Foxgen's Jonathan Rado have both signed up for production duties), it was in September that Matt received an unexpected message telling him that, among an interview proclaiming his lack of interest in modern indie, The Killers' frontman had name-checked the singer as one of the few doing it right. "I like this Matt Maltese kid coming out of England," said one of the most famous men in modern music. "[He's] got some really great songs."
If the tipping of Brandon's particular cap was a surprising one ("I'm just annoyed that they didn't put it in the article title, you know what I mean?" he jokes. "Headline: 'Brandon Flowers Likes Matt'"), then the nod is still representative of the ever-mounting excitement around the singer. From game-changing singles 'Vacant In The 21st Century' and 'As The World Caves In' onwards, Matt's been honing his niche of witty romance - "kitchen sink dramas, in an apocalyptic way", he nods – into an increasingly fully-formed proposition. From the lo-fi love stories that populate his videos, to the giant lightbulb-studded red heart that now stands behind him and his band (also a new addition) on stage, the persona of Matt Maltese – The Playful Crooner is amping up by the day. "It feels like I've been able to bring out the exaggerated parts of me that come out after four pints," he laughs. "The dancing I did [in the video for] 'As The World Caves In' - I definitely had to drink half a bottle of whiskey so I could do that, but I really enjoyed it. I think so much of it is as basic as realising that people are liking that side of things; it makes me feel better about bringing that out more in the lyrics and the dancing and all of it."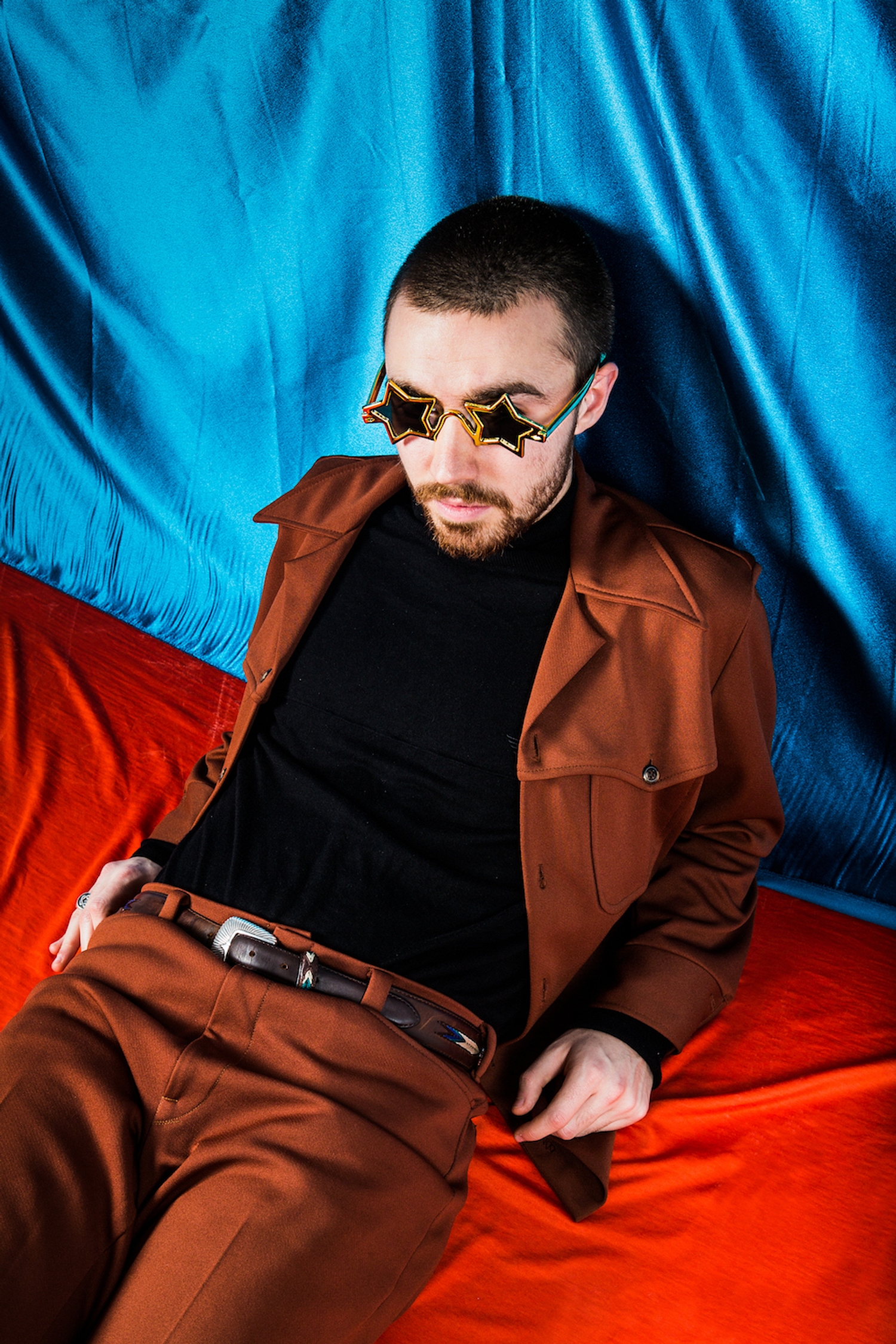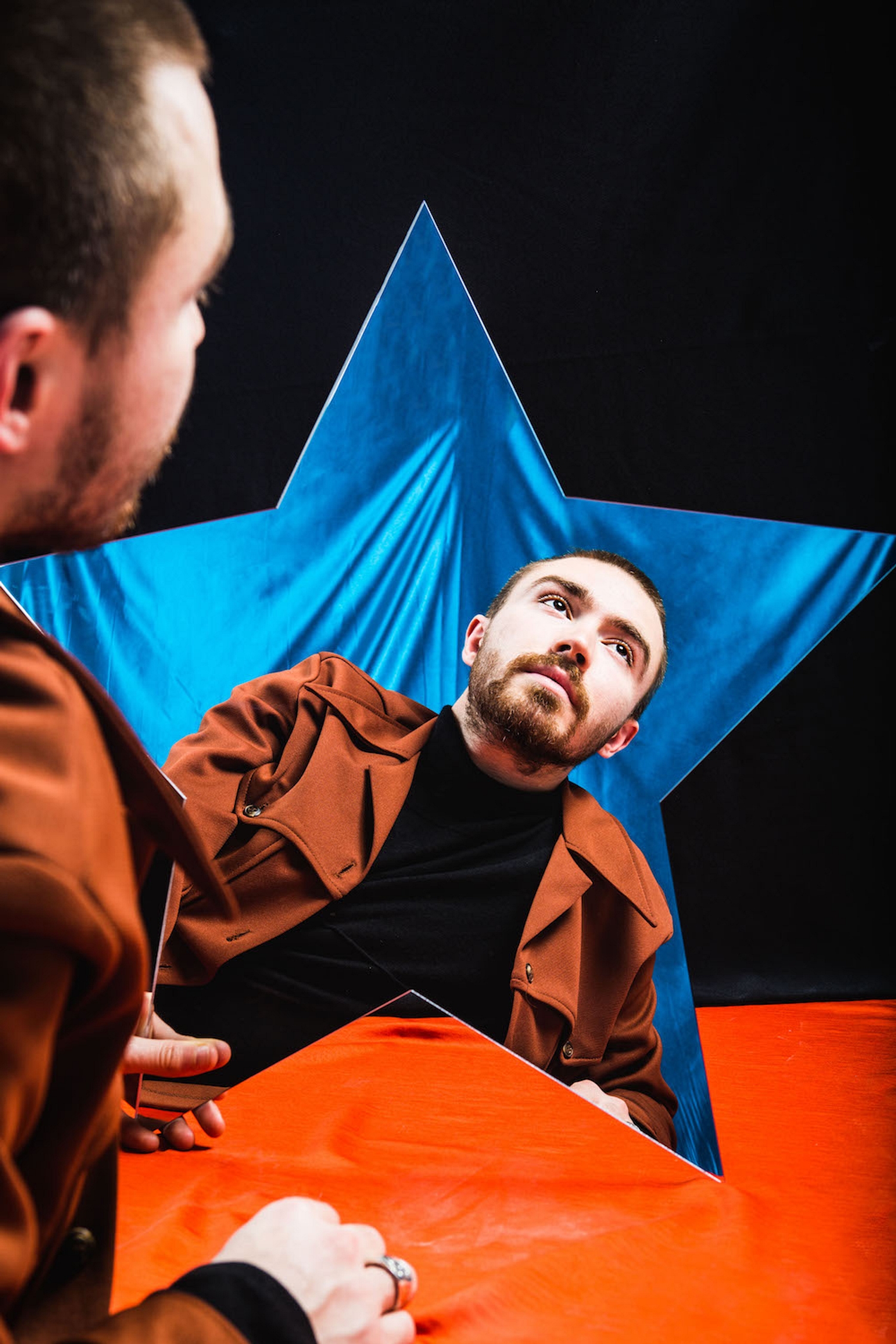 "I haven't worked this hard since my A Levels."
— Matt Maltese
Much like the earlier penny-drop moment that led him to embrace the lighter side of songwriting ("I felt quite hesitant of having humour in my songs [before], but I started to think that was all a bit bullshit," he told us back in September), they're all facets of a gradual evolution into a truly individual artist – one that offers up a cheeky wink as well as a quivering lip with every next move. "I really enjoy doing over the top things when I'm playing, but also trying to find that balance where the pretty full-on sad songs still feel believable," he explains. "We're all multiple people and it's finding a way to feel that I can be like a shitter Jarvis Cocker but also [have genuine emotions]. To not just be one thing, like all of us are. We can be childishly happy but also be incredibly sad, and that's what I wanna do."
From the grand satire of 'As The World Caves In' – an imagined love story of Donald Trump and Theresa May having a tumble before they press the big red button, set to the kind of sweepingly gorgeous pianos that Father John Misty would be proud of – to the more restrained melancholy of recent track 'Comic Life' – a a wry take on wasted days, festering away in the house ("If you don't go out today / How're you meant to write your sad songs?") - Matt's recent canon has been perfecting this balance of sarcastic and sweet with aplomb. Now, South London's own "shit Jarvis Cocker" is gearing up to take the next step and knuckle down to work on his debut LP. Teaming up with Rado for the record – currently still in its early stages - the pair might make wildly different music on the surface, but there's that integral sense of humour that suggests it could just make perfect sense. "What I really like about him is the silliness, and I think [he] brings that side out of me," Matt suggests. "I've started a few songs but it's still early days. I'm neurotic when I have one song, but now having twelve... I haven't worked this hard since my A Levels."
"I've been able to bring out the exaggerated parts of me that come out after four pints."
— Matt Maltese
Of the new tracks, there could already be some sonic curveballs in the mix - "A couple have no piano in them," he states. "I really like the idea of doing half of my set standing up, but that might just be the final nail in the coffin...". But thematically, Matt's tales of doomed romance are what's setting him apart. "I've been watching a few TV shows recently that I feel have the kind of mood that I want to write songs for," he suggests. "'Fleabag' and that show 'Flowers' with Julian Barratt, which is really funny and dark. Stuff like that, where it's really fucking honest, shows you that it's ok to be a weirdo and I think that's what I try and do as well." He pauses. "I mean, I'd be lying if I said that beneath all the cynicism and world weariness I wasn't still a hopeless romantic, but there's something funny about that. I'm still a bit of a 16 year old kid, but [stuck] inside someone that's fucked up a lot."
He might have fucked up in the past, but currently it feels like the singer can do no wrong. Having recently completed his largest headline tour to date after a summer traversing the festivals of Europe, he's gearing up for a 2018 that can only get bigger. A whole slew of male singers from the capital might be vying for the spotlight right now, but there's none doing it with quite the style and wry panache of Matt Maltese. "I'm just riffing on the love thing because it's never been done before, has it? Love," he grins, chuckling. "It's really great that someone's just finally giving that one a whirl."
#AD
Records, etc at
Read More
Featuring King Gizzard & The Lizard Wizard, IDLES, Tkay Maidza, Sleater-Kinney and more.