Interview Class Of 2021: Buzzard Buzzard Buzzard
Cardiff's denim-loving, '70s-channelling new guitar heroes, waging a war against earnestness.
"You listen to an interview with Greta Van Fleet and they're like, 'Yeah we don't even listen to Led Zeppelin'," eye-rolls curly-mopped frontman Tom Rees, "and you just think, stop fucking lying. You have to be a bit self-aware in that regard, because otherwise…" "It's just hairless monkeys," interjects guitarist Zac White. Er… what? "We looked at a photo of a hairless monkey and realised how much it looks like a human," drummer Ethan Hurst nods sagely. "We're just hairless monkeys who've learnt to say dumb shit," Zac affirms.
As a snapshot of conversation, it's not a regular one, but it makes for a weirdly accurate glimpse into the minds of Cardiff's Buzzard Buzzard Buzzard. Vocal detractors of both self-serious musicians and, specifically it seems, the band Greta Van Fleet ("It's important to take something that's already been done and make it more contemporary, because otherwise we'd just be like Greta Van Fleet doing cock rock to a crowd of 60-year-old dudes who want to be back in the good old days," Tom pipes up at another point), the quartet - completed by bassist and brother Ed Rees - are all about embracing fun and flippancy, and making some tasty slices of stomping glam rock along the way.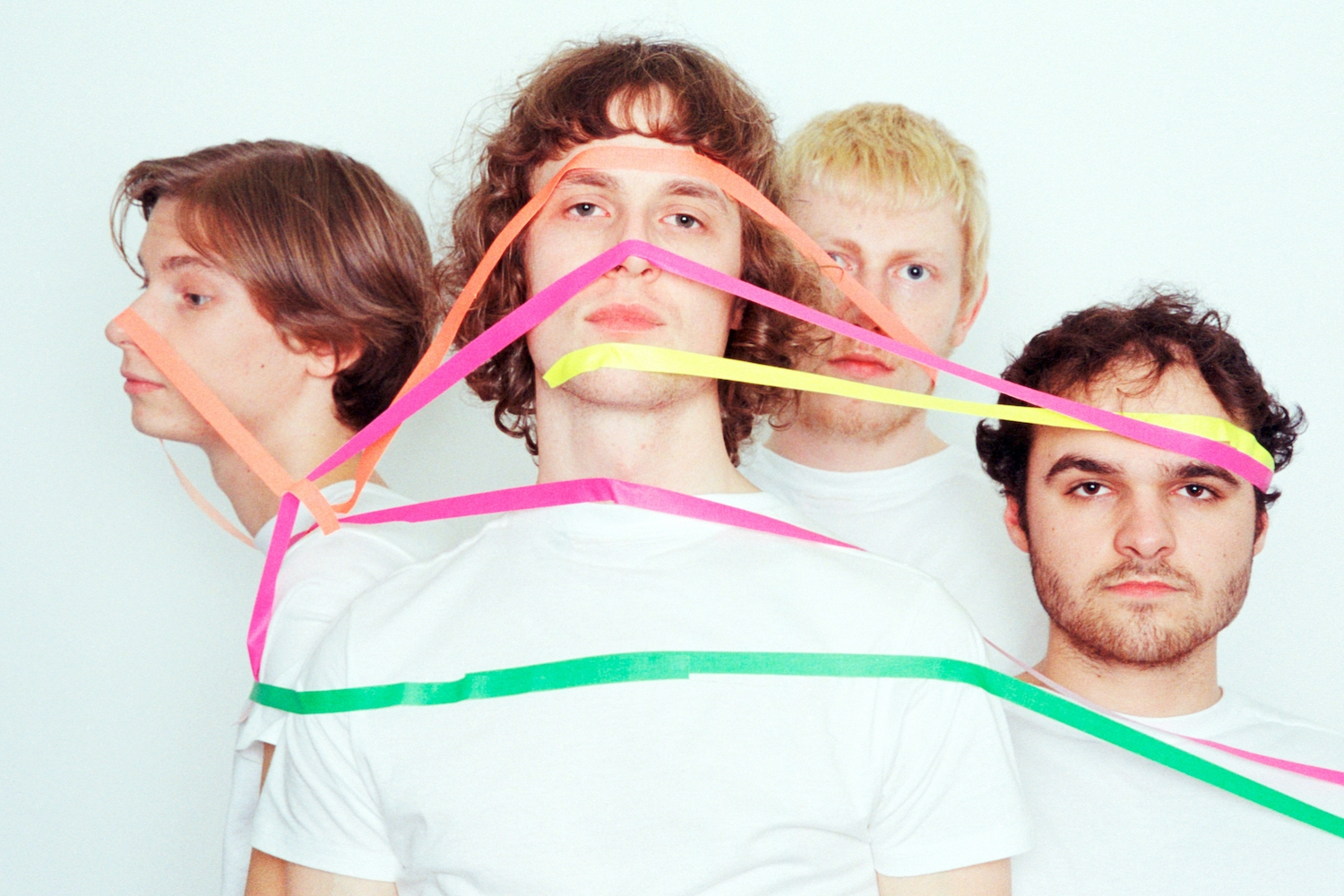 "Art doesn't have to always be this socio-political thing, it can just help people."
— Tom Rees
The lightbulb moment, it seems, came a few years ago when the singer decided to stop "thinking that songwriting has to be a certain way" and instead leant into his true personality. Out came 'Double Denim Hop', a riffy, '70s-indebted ode to the joys of matching your jacket with your jeans, and thus began the road to this year's unapologetically giddy 'Non-Stop EP' - a debut release adorned with a picture of Tom posing stark bollock naked on its cover.
"The ambition should be taken really seriously of course; I think there's a certain level of honour and respect in taking ambitiously seriously. But if I was to sit here talking intensely about what denim means to me then that would just be ridiculous," he chuckles. "I watched Imagine when the [interviewer's] asking what he means by certain lyrics and Lennon's like, 'It's just nonsense'. Loads of Marc Bolan stuff is like that too, but I think it's just as impactful - art doesn't have to always be this socio-political thing, it can just help people."
Lyrically name-checking their cultural cornerstones on the not-so-subtly-titled 'John Lennon Is My Jesus Christ' (Bolan and Bowie also get the nod), Buzzard's lineage is worn audibly and proudly, but there's enough of a playful wink to keep them away from pure pastiche. Going into their debut album proper next year (it's "about 82% done", we're informed), the plan is simply to push it even further. "I think the aspects that are already present in the band, we've been following that road but cranking it," Tom grins. "The pseudo-rock element, and then the romantic end of the EP, just trying to crank those two things so you get a bit of a smiley face," he says, drawing the curve in the air.
"There's no mediocrity, only really lovey-dovey stuff and then hell-or-death rock."
#AD
Records, etc at
Read More
Featuring King Gizzard & The Lizard Wizard, IDLES, Tkay Maidza, Sleater-Kinney and more.