Class of 2022: Porij
Making socially-aware dance music through a fresh lens, this Manchester quartet are crafting tunes for the head and the feet.
One of a handful of videos on Porij's YouTube page has them playing their track '150' in the back garden of their old shared house in Whalley Range, south Manchester. It ends with a neighbour, working from home, telling them off for making too much noise. "Oh, sorry man," chirps their drummer, Tom, before a disclaimer follows: "In his defence, it was 10am so we probably deserved it."
It's a nice summation of this stylistically un-categorisable young band's irrepressibility; when their hectic gigging schedule ground to a halt for obvious reasons in 2020, the four-piece - all music students in Manchester at the time - moved in together and channeled all their energy into fresh material. "It was almost a bit of a blessing in disguise," says Tom over a four-way Zoom call (the band started out in the city, but are now scattered across the country). "It used to be that rehearsals might have [involved] spending a couple of hours learning a new song before a gig. We suddenly had time to hone our live sound, and when we returned, it was such a vibe."
The quartet - comprised of Tom on drums, Jammo on bass, Tommy on guitar and Eggy on vocals - are tricky to pin down musically. There's no question they make dance music; it's just that it shifts shape from track to track, littered as they are with nimble guitar riffery, infectious grooves, and inventive beats from the band's apparently inexhaustible supply. "We're all beat-makers," offers Tommy. "It's a band with, essentially, four producers, who are all instrumentalists as well. It's a clash of different mindsets, and that's why the sound is so eclectic. Every single song starts differently."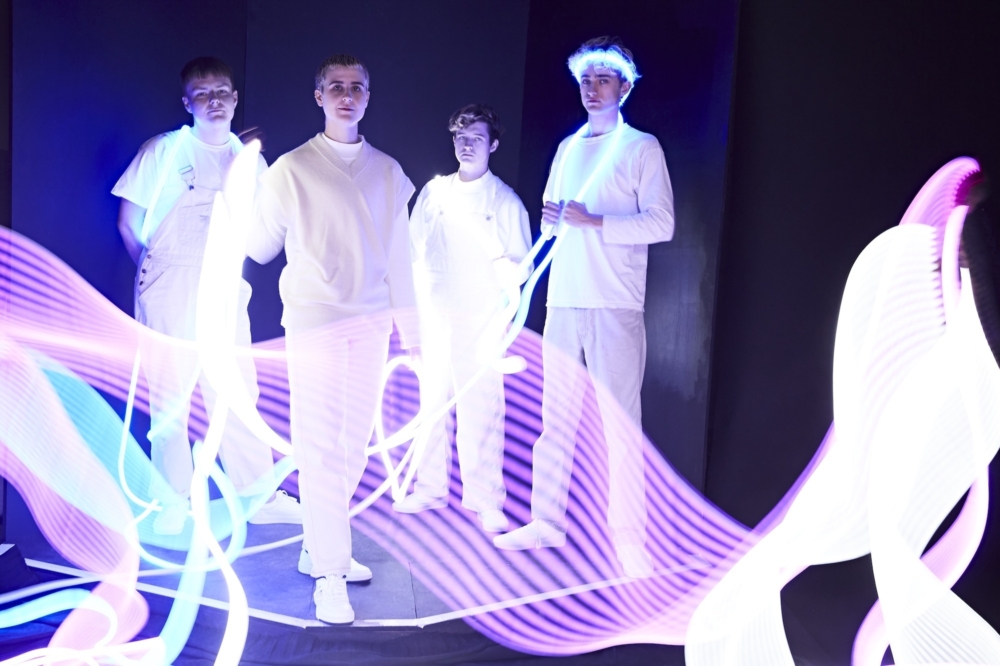 "It's a clash of different mindsets, and that's why the sound is so eclectic."
— Tommy
Making Moves
Who: Manchester four-piece making dreamy beats to escape the grey of their hometown.
In three words: Forget your cares.
Achievements so far: Disclosure were fans of their 'White Noise' cover, and their originals tread the same danceable, exotic line.
Most likely to: Transport you far away from the shit of the everyday.
Beneath the boisterously fun exterior and sharp suits that have become a staple of their image, there's genuine substance, too; recent single 'Nobody Scared' is a socially-conscious track about gender-based violence that's based on Eggy's own experiences. "I don't think I've ever been afraid to tackle issues like that," the vocalist explains. "I write about what moves me in the moment. I definitely won't shy away from anything like this, but I'm not going to shoehorn in issues either. I write about what I'm emotional about, whatever it might be."
Last November's introductory mixtape 'Breakfast', which featured original material as well as covers of fellow dance outfits Disclosure and The Prodigy, was followed up by a first EP proper, 'Baby Face', in September. With everything from the production to the artwork kept in-house on their own Oat Gang label ("Autonomy is a beautiful thing," says Eggy), Porij are in no rush to put out a first full-length in 2022, with their priority instead to take their irresistible live show far and wide.
"We'll be out on the road, international style!" Eggy exclaims. "It would be so wicked to just play all over the UK, every small town, every small venue, just absolutely smash it. Maybe we will. That, and we need to get to Japan!"

Read More