Having spent countless hours honing their wares on stage and their friendship in the van, with debut 'KILLJOY' Coach Party have arrived.
"Once, me and Guy held our breath for so long going through a tunnel. I think I won," says Jess Eastwood, vocalist and bassist of the latest hot Isle of Wight export, Coach Party. She's talking about how the band while away the hours when they're on the road, between sleeping and playing "comically complicated" games of Exploding Kittens. For his part, drummer and production head honcho Guy Page is less sure who came out on top: "All I know is that, afterwards, I had a two-day headache."
The quartet - completed by guitarists Joe Perry and Steph Norris - are used to travelling by this point, having toured relentlessly over the past few years including a recent run of Queens Of The Stone Age support slots and a summer of festivals across the continent. And one route Coach Party know better than most is the Cowes to Southampton ferry crossing: a 12-mile jaunt across the Solent that provided their younger selves with a tangible link to life beyond what they term "the Island".
"Isle of Wight is this very complex place," explains Guy. "We don't have an Old Blue Last or a [Southampton] Joiners." We're sitting in a pub a stone's throw from the aforementioned East London boozer, as the band discuss the intricacies of their regional identity. "At certain times of year, touring bands can't afford to get the ferry over because prices ramp up," Guy continues. "And that's not to say it's not a brilliant place for live music - it is, it just has its quirks. [Living there] is less of a barrier, more just something you accept." "I love living there, I really do," continues Steph. "I wouldn't live anywhere else. But when you miss the midnight ferry and the next one's not until five in the morning…"

We're briefly interrupted by a wasp making its presence felt and Jess - who's allergic - making a swift exit. Returning to the table, she smiles: "To be an Isle of Wight resident, I feel like you have to have spent at least a night in the ferry terminal, shivering."
"Do you remember when we got back from Germany, and it wasn't until we got to the ferry terminal that I realised I left my car keys there?" Guy chips in. They all laugh, before Steph says matter-of-factly: "Me and Jess genuinely cried; there were tears."
Throughout today's conversation, anecdotes like this come easily, bouncing around the table with the air of stories which have been absorbed into Coach Party's lore. "Like all great things, it stemmed from women," Jess begins of the band's origins, shooting a grin at Steph before explaining that they started playing together after watching Guy and Joe's previous band, Polar Maps. Having recruited the boys on the strength of their early demos, the four set about writing, sharing debut single 'Oh Lola' in 2019.
Now, with three EPs under their belts, they're gearing up for the release of 'KILLJOY' - their debut album proper, and the product of the quartet's collective mindset over recent years. "We've always described the record as [exploring] very human emotions that you go through," affirms Steph. "Everything about it is a human experience."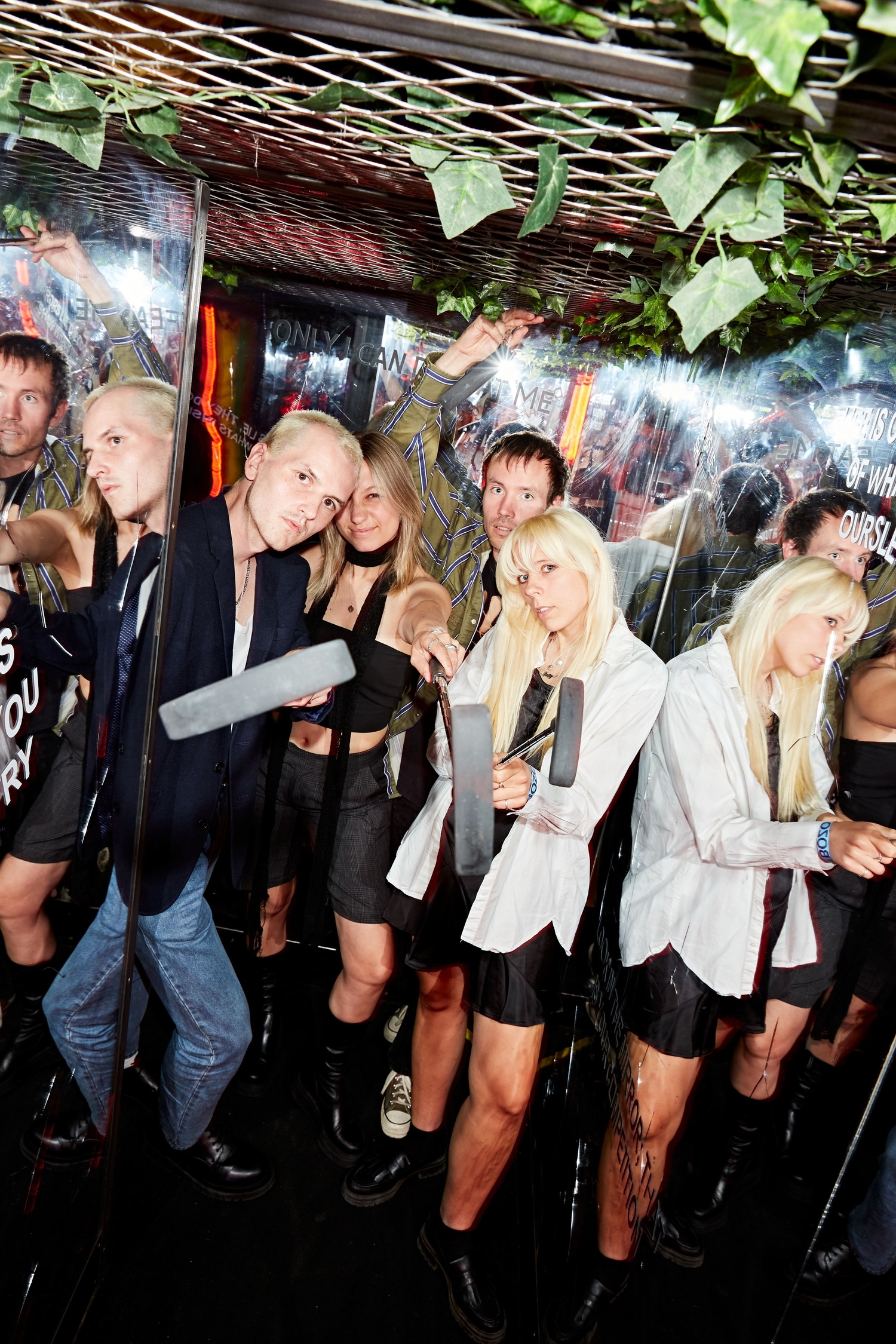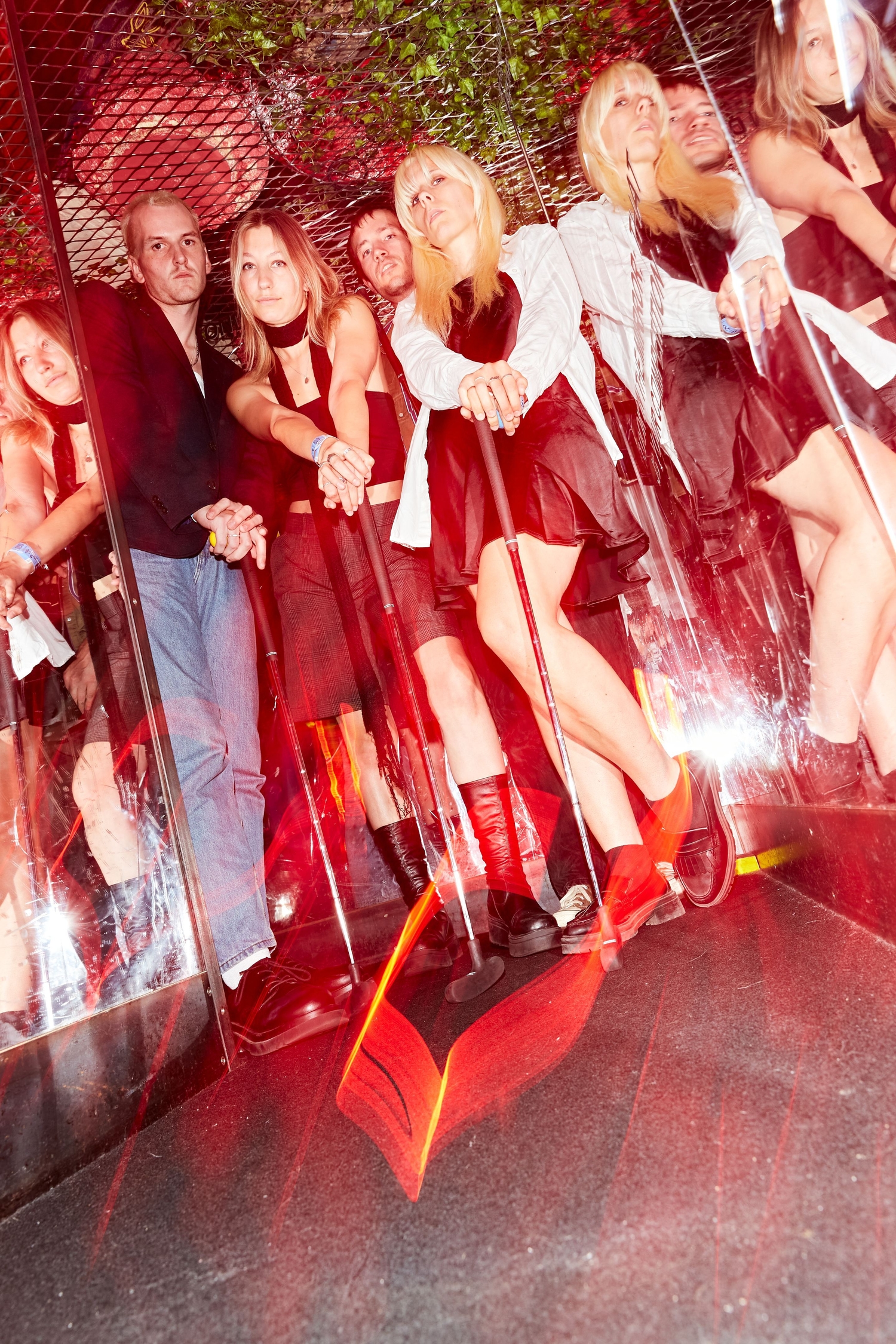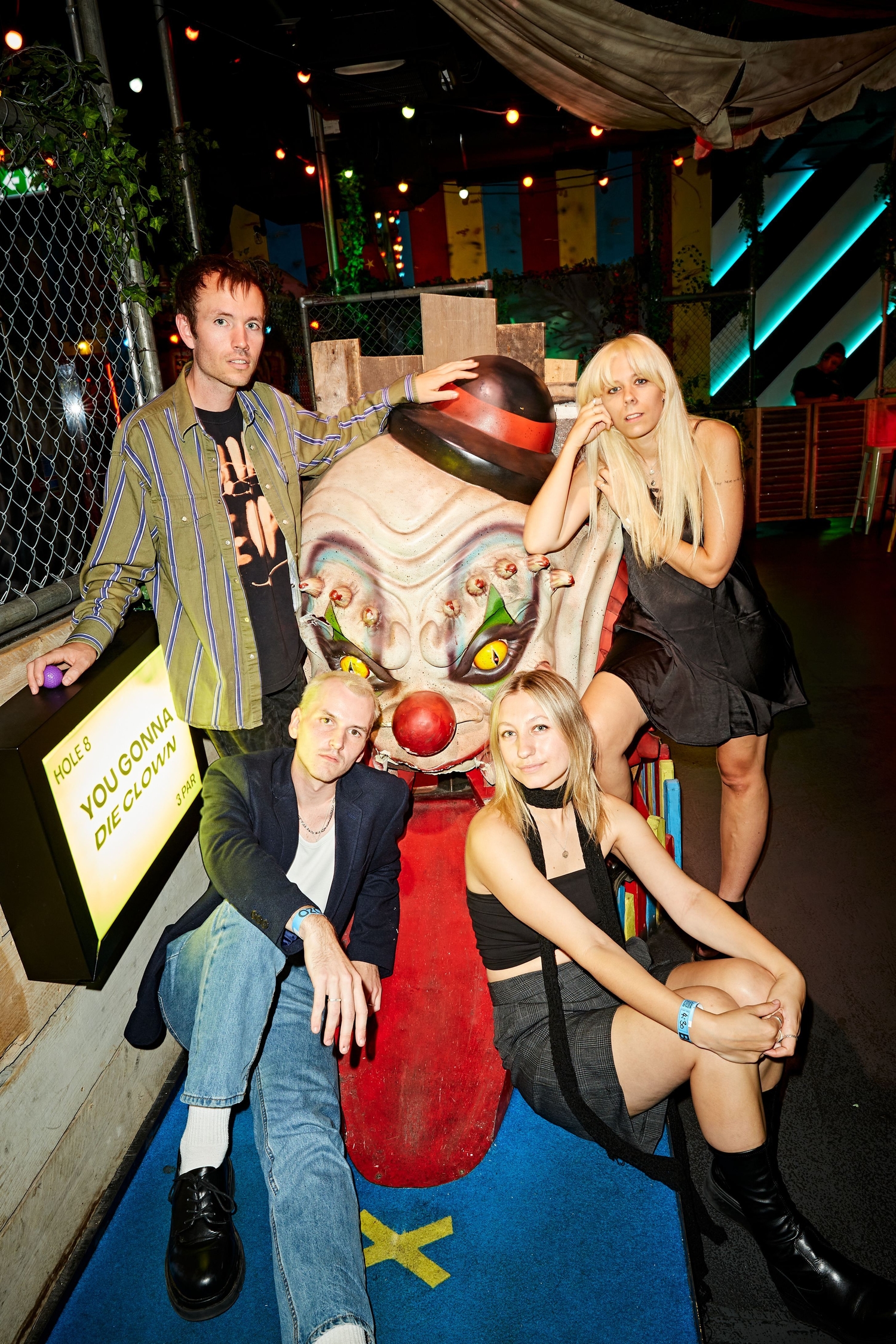 "To be an Isle of Wight resident, you have to have spent at least a night in the ferry terminal, shivering." - Jess Eastwood
Viscerality is something that's evident in all parts of 'KILLJOY', from its skeletal cover art by longtime collaborator Cameron West ("The sleeve of Coach Party," Joe smiles), to the raw frustration of tracks like 'Micro Aggression' and 'Parasite', which respectively rail against sexism and social leeches. For a band who firmly cut their teeth playing live and thus developed a particular affinity with the adrenaline-fuelled, sink-or-swim atmosphere of an in-person gig, committing that same energy to wax was integral.
"Because we did so much touring last year, it just naturally all seeped into the new songs and how they're constructed," says Joe. Guy agrees, commenting that "we want[ed] the excitement of a gig, but on a record. You can't use the same tricks; you don't have lighting on your side, or a big PA, so instead you find other ways of creating moments you can mosh or shout to." 'KILLJOY' is undeniably a record that's scored with discontent, but there are lighter moments, too: the 'fuck it, have fun' mentality of previous single 'What's The Point In Life', or the softer touch of album track 'July'.
The band seem pleased at the mention of the latter. "What metaphor would you use for that? For songs that don't get their spotlight moment?" Guy muses. "Stagehands?" suggests Steph. "Yeah, the roadies! They're just as important as anyone else," he resumes. As Jess chips in with similarly underrated staples - "Ready salted crisps, they're my favourite! And vanilla ice cream!" - she unconsciously proves just how cohesive Coach Party are as a unit.

"Everything about the record is a human experience." - Steph Norris
From literally applauding Guy's production skills to the affectionate nickname 'Geography Joe', there's a real camaraderie between the four - the sort that only comes from years of shared experiences in "unbelievable" (but sadly now defunct) IOW venues and "elusive" European launderettes. "There are no boundaries," Steph confirms. "We tend to all write together and just trust each other's instincts - if someone has a strong feeling, they're probably right."
And really, it's just as well that they're so at ease in each other's company; with an 18-date tour of the UK and Europe on the cards to support the release of 'KILLJOY', the band are set to be playing many more travel games in the foreseeable future. Do they have any particular requests for their rider, anything that helps hype them up after hours in the car or ferry? "Yeah, just a bit of cocaine," Jess deadpans - obviously joking - before everyone bursts into laughter. The notion that Coach Party might need synthetic stimulation is an amusing one; after only a couple of hours in their company, it's obvious that onstage energy is an intrinsic part of their shared DNA. "Yeah, we're a live band first and foremost", Steph grins: "That's the best part, isn't it?"
'KILLJOY' is out now via Chess Club.
Read More
Featuring James Blake, Romy, Marika Hackman, yeule and more.