Deep DIIV
Over the last chequered decade, Cole Smith and his band have weathered all kinds of personal and public storms. With 'Deceiver' they're finally addressing those issues and emerging out the other side.
When DIIV released their second album 'Is The Is Are' in 2016, it was against a backdrop of controversy. Former bassist Devin Ruben Perez was still in the spotlight after making a series of racist and homophobic comments on infamous web forum 4chan. Drummer Colby Hewitt had left the band due to "multiple drug addictions". And the 2013 arrest of frontman Zachary Cole Smith, for possession of "42 decks of heroin" while driving with then-girlfriend Sky Ferreira, was still vivid in the memory of fans and media alike.
'Is The Is Are' was supposed to be an important step in changing the narrative surrounding DIIV. With themes of redemption and recovery, Cole had put out the message that the past was behind them. But in February 2017, the singer returned to rehab for the second time in barely three years, having relapsed once more into heroin addiction.
"There were specific moments where it felt like the band was really going wrong," says multi-instrumentalist Colin Caulfield, sat at a picnic bench in a Shoreditch bar. "We went on a break. We ended. We definitely entertained the idea that the band was over."
Beside him sits Cole, who nods in agreement. He's long since shed his Kurt Cobain-esque bleached blonde locks, and he looks sophisticated, wearing a pair of small-rimmed glasses. "Our last record was all about recovery - but truthfully, I didn't buy in," he admits. "I had been exposed to a lot of the ideas I was singing about, but I was trying to find an easier way, and ultimately I found out that there isn't one."
In August 2017, Cole announced on Instagram that he was six months sober, having undergone an intensive period of self-improvement while living with a community of fellow addicts. Now, meeting him in September 2019, he's hit 30 months clean and looks notably healthier than the thin, pale figure that was once the subject of constant press scrutiny.
"I had to look at myself really deeply and confront a lot of things that were difficult to stomach," he says. "Drug addiction is a symptom of a larger problem. At rehab you examine that, and then you make sure you don't repeat those behaviours that make you act a certain way so that you don't fall back into active addiction. I don't regret that album; it's part of my story now. But I now know that failure and relapse can also be a part of a person's eventual success and recovery."
"I don't think I'd had fun in five years."
— Cole Smith
With a refreshed perspective, Cole uprooted to LA in order to continue his re-assimilation back into society. Aside from the sunnier climes of the West Coast, revisiting past hobbies proved to be an important part of the process. "Once your life is a gigantic shitpile you have more time in your life to focus on what's important, and have fun. I don't think I'd had fun in five years," he begins.
"Things like skateboarding and playing [trading card game] Magic: The Gathering helped me to engage with people again. That was incredibly important for me. Rehab is a very large, extremely inclusive and incredibly important community, and being exposed to that, and the closeness that you can have with people was key to my recovery. We came from a really supportive scene in New York. I needed to find that in LA."
It was this new lease of life that eventually opened the doors for DIIV to come together as a band again. "He was strong for us," says Colin, alluding to some of his own struggles during the years preceding the band's return. "He didn't just come and apologise - he really proved that he was sorry, and that he had made these changes. It was like he set an example for us as well."
The sense of warmth and love that the pair have for each other, and for bandmates Andrew Bailey and Ben Newman, is palpable. "We really do support each other, because we're friends. We always have been," Colin says. "And that's what it really was at first when we moved over to join Cole in LA. We were easing in again as friends, going to shows, listening to music. It was natural for us."
Cole and Colin describe their mutual struggles as a "shared experience", and it's this intrinsic understanding between the group that had a huge effect on what would become the band's third record, 'Deceiver'. For the first time, songs were written communally, rather than by Cole as the primary songwriter. As a result, the themes of the album are ones that are deep and personal to every member of the band.
"There's lightness and darkness in almost every song on the record," says Cole. Tracks like 'The Spark' and 'Blankenship' are a testament to this. They're immediate and bright, and upbeat - they're fun. But they're also compounded with a shoegaze slant that's darker and heavier than anything the band has attempted before.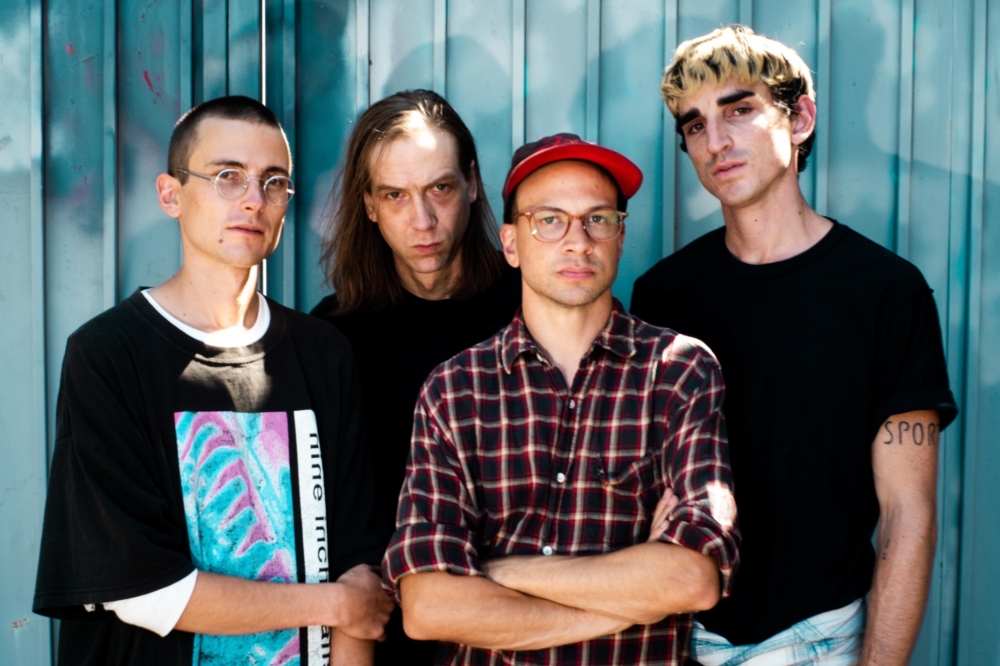 "I had to look at myself really deeply and confront a lot of things that were difficult to stomach."
— Cole Smith
It's a duality most evident on final track 'Acheron'. At over seven minutes, it's the longest offering on the record, moving through distinct phases as it draws towards a deafening, My Bloody Valentine-style conclusion. It's also the only track on the album that is "wholly dark", and, as they describe it, without any notion of hope.
"There's this John Hersey book about Hiroshima that includes the line 'shikata ga nai', which means 'it cannot be helped' or 'nothing can be done'," says Cole. "I think that sums up the metaphor of this song. In recovery there's a lot of surrendering your own self-will. It's often easier to turn something over that you can't control if you know it's in the hands of something bigger - it's like saying it was the will of God. But there really is no resolution to some things. Sometimes you just have to surrender to [that]."
It might sound fatalistic, but Cole's perspective comes from a humble place. He talks about acceptance as an important step towards happiness and, more than anything, this new approach is something he wants to share with others. "A lot of the tools I learned in recovery are universal. It's a guidebook for how to approach life with honesty. Applying those lessons to the band was a huge deal, and the process really worked for us."
In its title and its content, 'Deceiver' is an obvious reply to the most recent and troubled period of DIIV. But beyond the walls of sound and swells of guitar distortion, there's a strong sense of retribution at its heart. It's perhaps displayed no better than on 'Skin Game', a track built around an imaginary dialogue between two addicts: "I can see you've had some struggles lately," Cole sings, "I can't live like this anymore."
DIIV are alive, though, and they are rejuvenated. In itself, it's a fact that seems incredible considering some of the comments Cole made around the release of 'Is The Is Are' - many of which suggested that he felt he might not even live to make another record.
"The future of the band feels really exciting and optimistic. It's fresh for us now," says Colin, finally now a world away from that dark place. "In no way do we feel like we've exhausted our potential," nods Cole. It's hopeful, at last, but also true. Far from exhausted, DIIV's potential seems greater now than ever.
'Deceiver' is out now via Captured Tracks.
Read More