The Great Escape: Drug Store Romeos
Dreaming of a bigger life than their sleepy hometown of Fleet, Drug Store Romeos have crafted 'The world within our bedrooms' - a debut set to push them far further than those walls.
Fleet may only be a 50-minute train ride from the capital but, in attitude, it may as well be 1000 miles. No wonder then that Drug Store Romeos - vocalist Sarah Downie, guitarist Charlie Henderson and drummer Jonny Gilbert - would spend the majority of their teenage years obsessively creating their own reality, one informed by endless digging back into music's past, seeking out artists from The Moldy Peaches to William Burroughs that knew a thing or two about world-building themselves.
"We had a monthly kids club night run by the council which was kind of horrible," recalls Sarah of Fleet's cultural offerings. "It was in that period of BBC Three when everyone would watch Sun, Sex and Suspicious Parents and all these kids would come dressed way older than they actually were and dance to awful music. One of the guests was Harry Styles' cousin's brother's nephew's friend or someone, performing Harry Styles songs, and that was as good as the music scene got."
"There was a real desire to search for something more than a moderately dreary town with two average parks and a McDonalds, so it led me to become obsessed with random music cultures from different periods in time," Charlie nods as Sarah picks up: "I think we were all just trying to escape really, going down big rabbit holes of YouTube and then wincing every time an advert came on because it would send us back into the actual world.
First coming together at college before realising that they all lived within a triangle of houses, five minutes away from each other ("Being in such close proximity, we didn't even have to walk far to cut ourselves off and start painting the world around us," notes the singer), the band's beginnings may have the wide-eyed whimsy of a suburban fairytale, but Drug Store Romeos have put in the graft too.
"There was a real desire for something more than a dreary town with two average parks and a McDonalds."
— Charlie Henderson
For years they recall schlepping their gear on the train twice-weekly to London, attempting to carve out their own niche within the more "hard-angled, cocky" South London scene that they'd begun to be absorbed into. At one show, Sarah remembers the band turning up with a load of pots and pans in lieu of a drummer ("Jonny couldn't play that night, but we knew we had to keep doing gigs because that was the only way it was ever going to happen"); at the end of each gig meanwhile, while the rest of the 'scene' celebrated their successes, the trio would heave their gear back to catch the last train home. "We definitely felt the difference," Sarah nods. "We were from suburbia smoking loads of weed and they're all from London taking loads of coke, so you can see it immediately…"
But it's these differences that make this month's debut 'The world within our bedrooms' such a charming and pleasantly out-of-step thing. Prioritising playfulness, escapism, curiosity and the kind of purposeful naivety that the band wanted to capture before the big, bad city toughened their skins (all three have now moved to London), it's a record imbued with a lightness of touch that feels rare. Anchored around Sarah's feather-lite vocal, and buoyed by pillowy keys and soft, rounded edges, it draws inspiration from the warmth of old Italian film scores and the positivity of modern psych-pop bands such as Mild High Club to make something audibly sweet.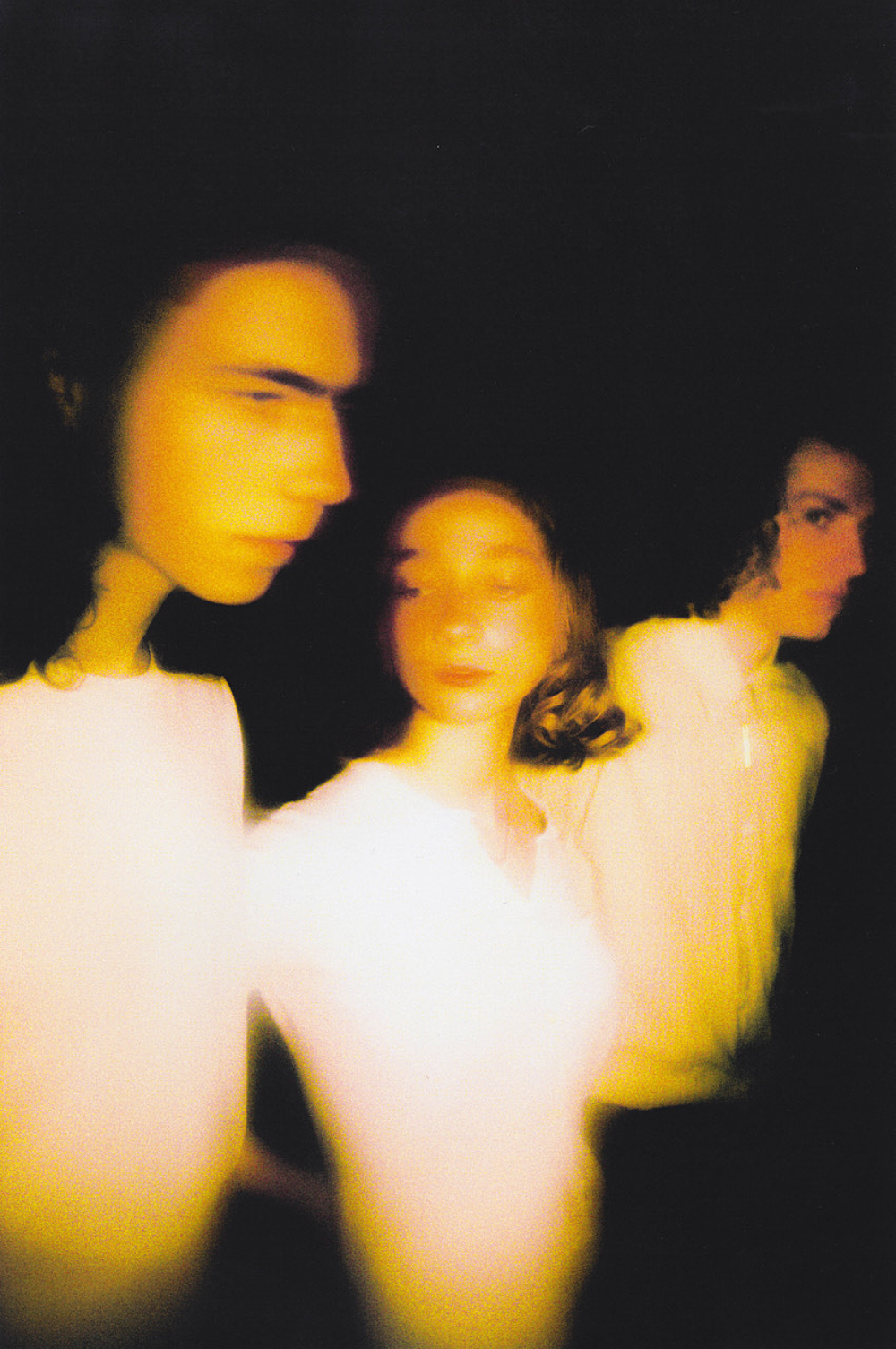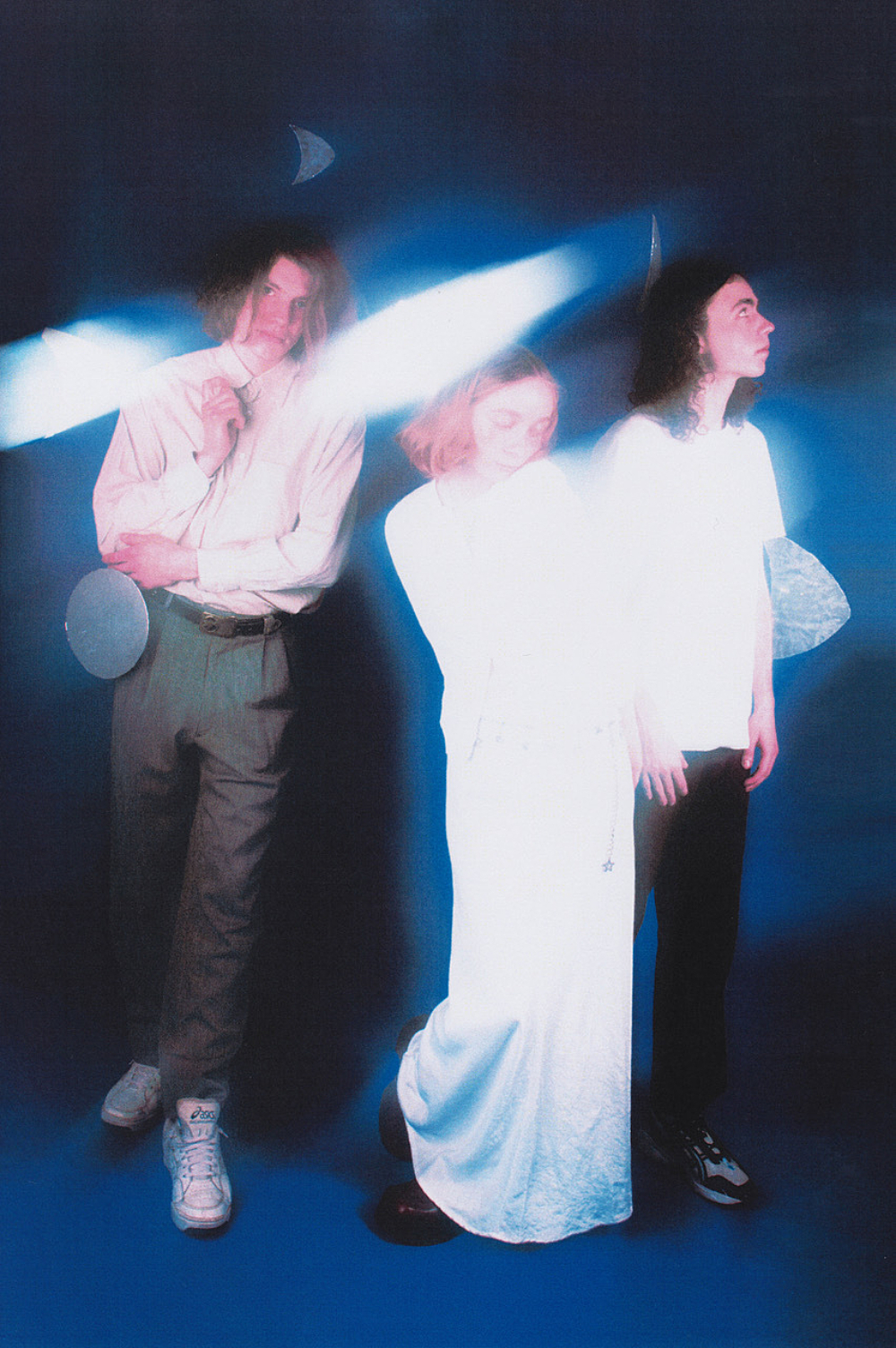 "When you're writing in that state of trying to be unthinking, that's when a lot of the good stuff happens."
— Sarah Downie
There's a surreal, abstract undercurrent to Drug Store Romeos too, however, that stops it all from veering into the saccharine. Utilising Burroughs' cut and paste method of writing, Sarah trawled through old magazines, repurposing words and phrases to reimagine her own thoughts in new ways. "I don't believe it's random," she enthuses, "I believe the brain puts together these patterns because they associate things together from what's going on in your mind. When you're writing in that state of trying to be unthinking, that's when a lot of the good stuff happens. On 'Quotations for Locations', we used that technique a lot and I didn't think anybody could really understand what I was saying, but then someone on YouTube wrote this long essay on exactly what the song was about and took my soul and threw it on the screen! It was amazing!
Burrowing to the root of their souls and embracing their findings with giddy abandon, you sense, is exactly what Drug Store Romeos are about. Prone to mystical musings about the universe, they're pure in the most endearing of ways; if, as Charlie says, "it's a hard state to get to, [being] full of love", then Drug Store Romeos right now are the poster boys and girls for it. You hope that the sledgehammer of boring old reality won't come raining down on them too soon, but if it does then 'The world within our bedrooms' is at least a document of these early days.
"When I was younger, my grandma who was massively into angels and gemstones gave me this pendant, and when I saw it I instantly believed and knew that it was a key to another universe. I would lie on my bed, and have it above my head, and try to rock back and open this portal and be within this world that was frozen in this globular glass mass," Sarah enthuses with an arm sweep, trying to push the image of the pendant that adorns the record's sleeve back into her brain. "So maybe [the idea is] for people to close their eyes, and be taken on an insular journey in their bedroom like that artwork. A world to escape in."
'The world within our bedrooms' is out 25th June via Fiction.
Read More