Taking Flyte: "It's hard to gauge the buzz when you're in the studio"
Headliners of the DIY Presents Tour 2014, Flyte are heading skywards.
Flyte are gathered round a table looking on in mild disbelief as their guitarist and keyboard player Sam Berridge performs a quick rendition of Cher's 'Believe'. It's one with a difference, too, because Sam's picked up a technique from recent tour mates Shy Nature, and he's hitting himself repeatedly in the throat to try and recreate autotune. It's hard not to be a little perturbed. "That was actually quite good," admits frontman Will Taylor, after a moment's silence.
First emerging with 'Over and Out' - a jangly, fully-cooked slice of fidgeting pop with more than a hint of Electronic Light Orchestra colouring the vocal harmonies – it's often remarked that Flyte are a band who already sound complete.
"'Light Me Up' particularly was a statement of intent," agrees Will, "and now we're going to go, take that, and that, and that and how about this. The album will come maybe half way through next year, we're thinking about it as an album of singles. No filler, like Lady Gaga. Does she have album tracks?" "The introverted b-sides of Lady Gaga?," scoffs bassist Nick Hill. "Nah."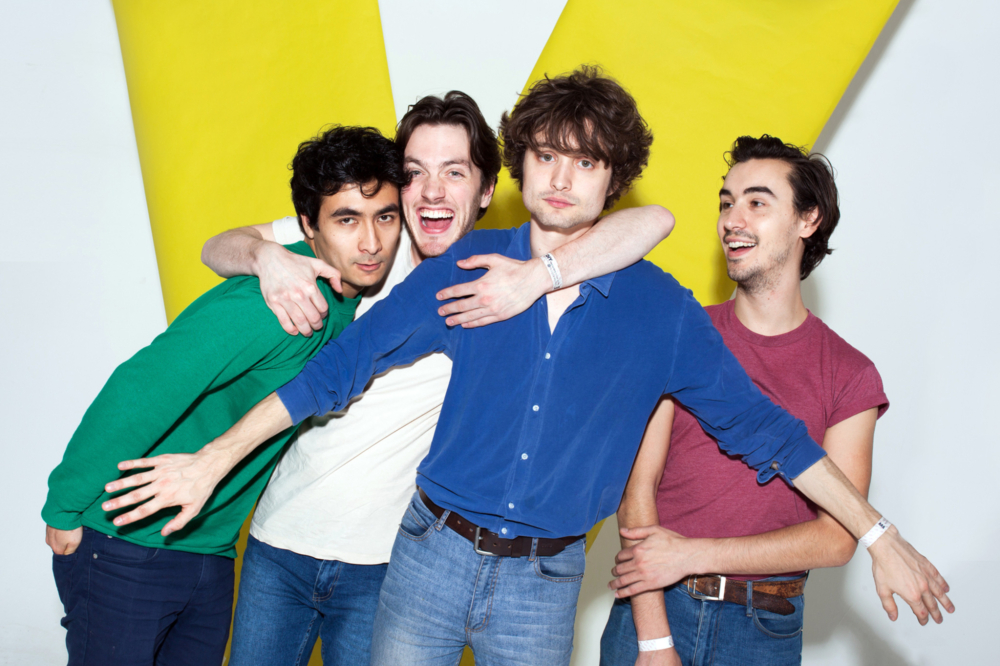 "We're thinking about it as an album of singles. No filler, like Lady Gaga."
— Will Taylor
Out on the road, topping bills and filling out rooms is still a novel and exciting experience for Flyte, though the way things are going, it surely won't be new to them for long. "We've toured with Bombay Bicycle Club before, and we were playing to full rooms of their fans, which is lovely, but you know," says Will. "You're trying to convince people who aren't particularly willing to be convinced. Because this [latest tour was] our first time headlining, we didn't really know what to expect. The first night was Brighton, and there was a holding of the breath moment, but the room was full. It's like, are you guys all ok? Do you know it's our gig, are you supposed to be here?"
"I think it can't be overstated; the chasm of disbelief and self-hatred," Will goes on, being somewhat melodramatic. "There's a loss of perspective when you're in the studio for a long time, and it's easy to slip into the realms of madness." "It's hard to gauge the buzz when you're in the studio, too," Nick adds. "It's something that going on tour and actually being there has shown us. All that work has paid off."
A new-wave sensibility and a touch of kitschy lyricism is clearly Flyte's forte, and they're clearly focused on where they want to go next, too. Songs like 'We Are The Rain' and 'Light Me Up' sound like fully fledged clout-wielders already, and it has set them in good stead for posing their takeover of 2015. Otherwise, their ambitions are set on a rather unlikely collaboration. "I'd like to jam with Bach, says Sam. "He'd be playing the organ, I'd be riffing."
Read More