From the ashes of a less than ideal Eurovision result, Mae Muller has emerged as a likely candidate for the crown of Britain's next big pop girly. On her debut album 'Sorry I'm Late', she's ready to stake her claim.
Relatively speaking, there aren't many people who have represented their country on an international stage, spending months preparing for one brief moment. There are even fewer who have done so and done so unsuccessfully, but nonetheless still won the hearts and minds of their audience. Eddie the Eagle, Bukayo Saka… Mae Muller. The 25-year-old Londoner was the UK's entrant for this year's Eurovision Song Contest, following the surprise success brought by human golden retriever Sam Ryder in 2022. Catchy, confident, and a little bit camp, Mae's number 'I Wrote A Song' had all the ingredients needed for the perfect Eurovision cocktail. But, as it turns out, things didn't quite go to plan.

"Obviously, it didn't feel good," Mae says over a cup of tea in her North London stomping ground a few months later. "I gave myself a day of thinking, 'My life is over' and being really upset, and then after that I just had to take control of the narrative. I don't like being looked at as a victim; I felt like people were pitying me and I was thinking, 'Girl, no! I'm OK, really!'" These sorts of phrases pepper today's conversation, as do mannerisms which are best described as chronically online; the sort that are difficult to explain to, say, your dad, but which instantly ground her chat in humour and shared reference points. "If anything, the fact [the Eurovision results] were so extreme was a talking point. People were like, 'Oh my god, REALLY?!" Mae exclaims, looking faux-scandalised before grinning: "But I got a Top Ten out of it!"
In fact, 'I Wrote A Song' wasn't Mae's first taste of chart success. Having reached the Top 40 in 2021 with single 'Better Days' (a collaboration with NEIKED and Polo G), she had released EPs and toured with Little Mix long before Eurovision came knocking. So when it came to the competition's aftermath, she was able to navigate it with honesty and more than a little self-deprecation - something that speaks to a uniquely British sense of humour. One memorable TikTok features Mae wearing a neon pink top emblazoned with the word 'Eurotrash', which she "saw in a shop in Sweden and thought, 'That needs to be mine'."
Warm, direct, and with a born-and-bred London accent, there's an air of Lily Allen about the singer. It's easy to understand how the Eurovision experience - much as she loved it - was a little constraining. "I just say what's on my mind, and I've always been OK with not everybody agreeing with me. I've never been in a situation where I've had to watch what I say," Mae acknowledges. "You're part of the BBC machine then, so it was odd, having that pressure." For her, this was being in the public eye in a different way, swapping social media and live shows to being broadcast into Middle England's living room via Alison and Dermot on This Morning. Although it may have temporarily been a slight personality straightjacket, Mae explains that the rigorous media training she underwent actually helped equip her for all sorts of scenarios.
"It's like you're putting on all this armour. I was at the [Capital Radio] Summertime Ball recently, and on the red carpet one person asked me, 'So what do you think of the state of the world right now?'" she says, miming holding a mic. "Before, that would have completely thrown me off, but I saw what they were trying to do and thought, 'Not today, Sataaan!'"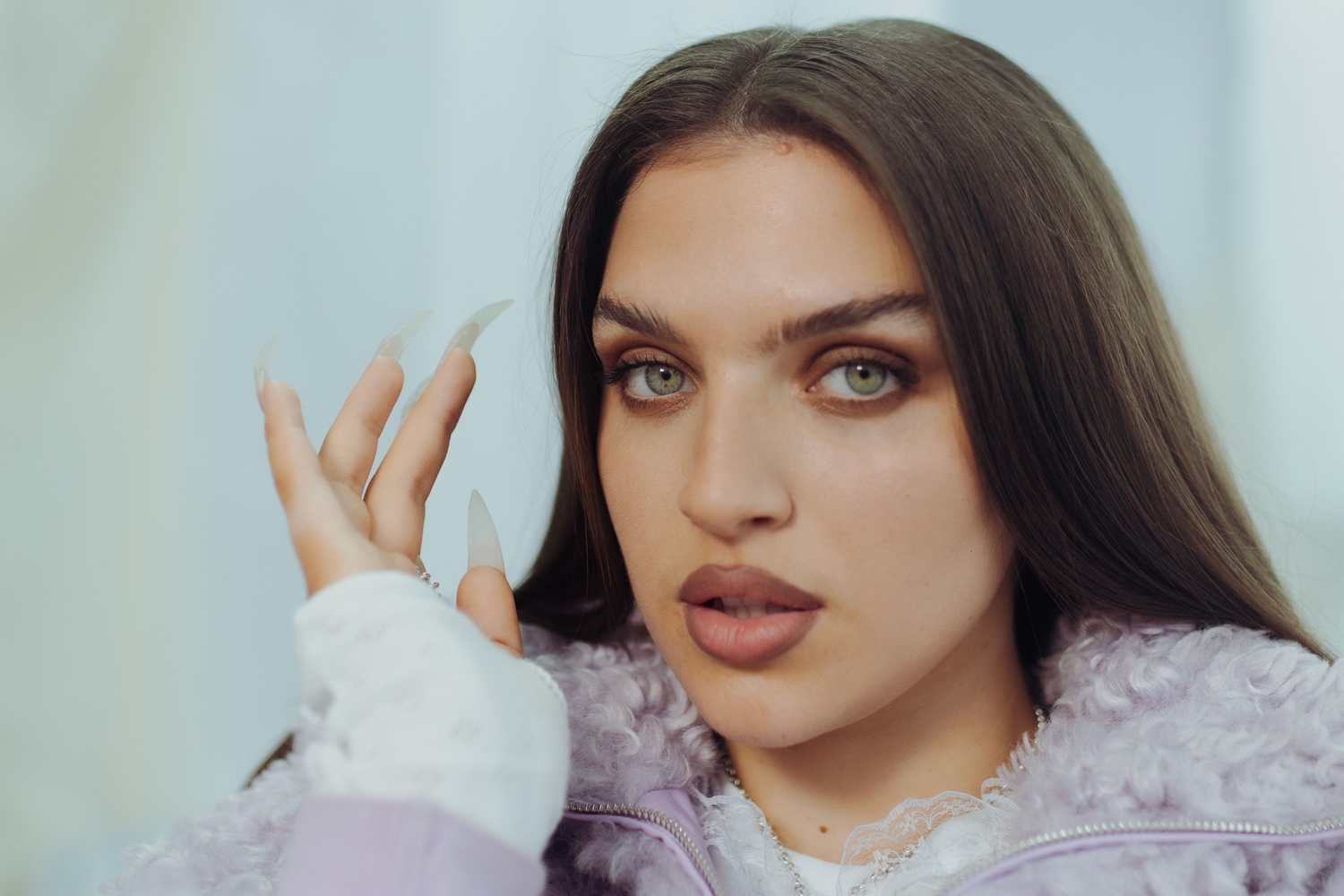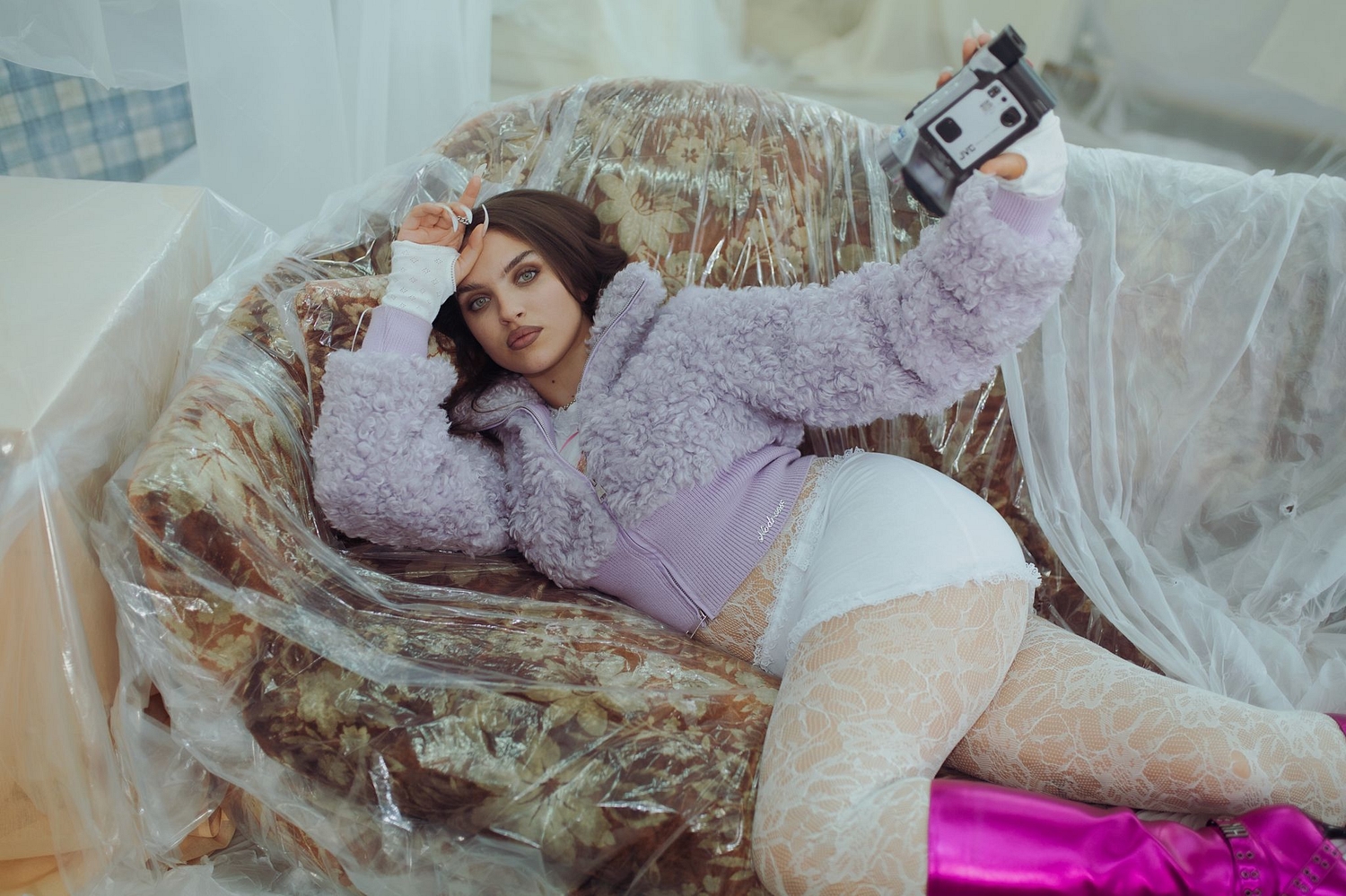 "I gave myself a day of thinking, 'My life is over' [after Eurovision], and then I just had to take control of the narrative."
Far from tight-lipped on worldly affairs - or indeed any other topic of conversation - Mae has instead learnt to share her opinions on her own terms. When right wing commentators dug up years-old tweets of hers criticising Boris Johnson's handling of the pandemic to push the narrative that she 'hates her country' - something Mae ironically notes "wasn't ideal" - she maintained a dignified silence until post-Eurovision. Then, she made a TikTok of herself sipping drinks in Ibiza to a soundbite of someone calling her "a foul-mouthed, radical left-wing activist". Sharp, smart but a little bit silly, she's Dua Lipa for people who don't take themselves too seriously.
And for Mae, one of the biggest pleasures of creating her debut studio album was the opportunity to explore these different facets beyond the limitations of a three-minute single. Clocking in at 17 tracks that run the gamut from cheating to social media and damaging online culture, 'Sorry I'm Late' deftly proves that she can do more than write a club banger (although she's got that nailed too).
There's 'Tatiana', which sees Mae addressing another woman - the song's namesake - about an unnamed man in the vein of a modern day 'Jolene'. Or 'Me, Myself & I', which scans like an inverted 'Mambo No. 5' of reasons why she, in fact, doesn't need to be with various boys. "I'm sure there are loads of people out there who will think [the songs] are about them when they're really not," she laughs. "But a lot of it is my personal experience - if I've had something go on in my life, my way of getting it off my chest is to write."
In addition to these earworm lead tracks, 'Sorry I'm Late' also showcases slower, sensitive cuts like 'Porn Lied To Us' ("There's too much pressure when this was meant to be fun / It ain't a performance / Why do I feel I'm on stage"). It's refreshing to hear a pop star be so candid, discussing sex in a way that acknowledges the insecurity and complexity that comes with being intimate. "I've always been very open about sex," explains Mae, "and I think that element of vulnerability is a really important part of being a role model. To be confident and empowered is great for young girls to see, but it's also important to show that it's not like that everyday."
"I've always been very open about sex, and I think that element of vulnerability is a really important part of being a role model."
How does she find working in an industry that's notorious for marketing sexuality? "I'm really lucky in that I've got a team of women around me that make me feel really comfortable, but I think it's just about [doing] what makes you feel confident," she muses. "Sometimes I wake up and I am feeling myself and want to show some skin; sometimes I feel sexy wearing a turtleneck." In this way, Mae epitomises the shifting landscape of social media celebrity. Ten years ago, to be big online was to be aspirational, whether in terms of beauty, wealth, or status. Now, it seems that audiences crave relatability - something 'Sorry I'm Late' can give them in spades.
Ultimately, Mae seems to thrive off connecting with people, whether that's her fanbase online or the elderly couple having lunch that we exchange pleasantries with (who she pronounces to be "goals"). "Touring is my favourite thing," she smiles. "There's nothing more magical than hearing songs that are personal to you, that you've written, being sung back at you. I've got a few fans who are proper OGs - they've been to every tour, I know their names, and they're like family." Do her stans have an identifying group noun, a la Lady Gaga's Little Monsters? "Well…" Mae says, pulling a face. "During Eurovision, someone came up with the Muller Corners, which is cute. But then my OG fans call themselves the Mullshitters." There's a moment of stunned silence before she explains: "I've tried to gently move away from it a couple of times, but they won't let me. So if that's what they really want…"
Whatever they're called, chances are that there'll be a lot more Mae Muller obsessives once 'Sorry I'm Late' arrives. Already woven into pop culture history, she's an artist who epitomises 2023 like few others; her debut album has arrived right on time.

'Sorry I'm Late' is out 29th September via EMI.
Read More
Featuring King Gizzard & The Lizard Wizard, IDLES, Tkay Maidza, Sleater-Kinney and more.