Interview
Morris, dancing: Rae Morris
A blindingly bright album cover, a comeback single called 'Reborn' and a new palette of shiny, euphoric pop. It's clear from the off that things are quite different for Rae Morris second time round.
"Give up and start from now," Rae Morris' comeback single 'Reborn' states as it lurches into a propulsive chorus. It's a track filled with upfront lyrics not aiming to disguise the Blackpool native's desire to move forward. "These are new beginnings / won't let the past determine where I go from here."
With debut album 'Unguarded', Rae presented herself largely as a traditional singer-songwriter, penning lovelorn ballads from behind the piano. And while it was a suit that fitted well at the time, the touring cycle for the album and subsequent two-year break saw her ambitions grow.
"I didn't think 'I'm going to make a massive change'," she reflects now. "It just happened with the passing of time. I think my taste changed. My way of writing music changed after not doing it for about two years. That gap changed the way I did things. In a way, I became more confident in myself generally, which meant that I now don't make decisions in the same way that I used to. I used to be very confused about what was 'me' and what was the right thing to do, so I stopped thinking that way and just started thinking 'Yes! This feels right, I'm going to do it!'"
This plan of attack is most directly shown off in the album's first single proper, 'Do It'. As well as a show of intent for Rae's new lack of restraint, it's a tracking of her blossoming relationship with producer Fryars, which turned from professional to romantic across the writing of 'Someone Out There', and permeates every aspect of the record.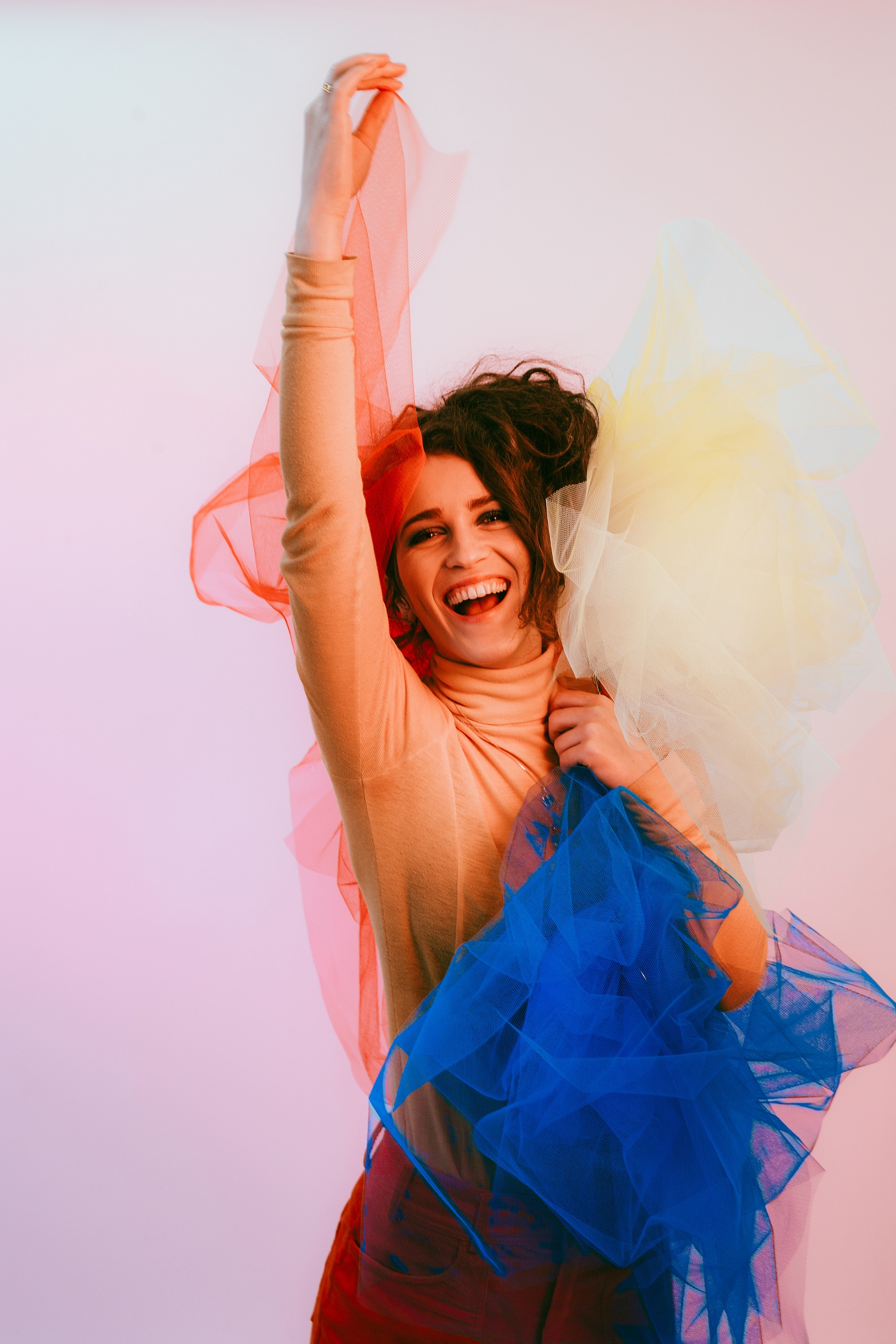 "It felt like anything was possible in that time."
"I really do believe in the positive or negative energies in a room, and there was an atmosphere that was captured and then seeped into the songs," she reflects, and 'Someone Out There' swerves becoming a detached reinvention simply because of how close it is to home; every wide-eyed moment of euphoria chronicled on the record was one lived during its creation.
"I really do care about [the songs] more because they brought us together," Rae continues, "and I guess everybody has a song at the start of a relationship that they listen to constantly and bond with the other person over. It's not normally your own songs though," she chuckles. "Bit narcissistic."
If the singer's commitment to her new self on 'Someone Out There' wasn't already concrete enough, she started taking, er, 'movement' classes in an attempt to embrace her new persona even more fully. Teaming up with choreographer Aaron Sillis, who's previously worked with Rihanna, Katy Perry, FKA twigs and more (no biggie), the change proved to be a whole lot more significant than simply revamping her stage presence.
"I'd met Aaron quite a few times on previous video shoots, and I'd always found his energy to be really amazing. I'd never taken dance classes or anything as a kid, and so when I had a bit of time, I thought it could be really useful to learn how to use my body and my position while standing to convey another layer of creativity.
"Now I have two songs at the piano and the rest is just full-on Britney mic…"
"It really can help. I got in the studio with him every week for a couple of months, and it made a massive difference. Even just in everyday life, standing up straight really helps. You kind of forget, and you think 'why am I sat all hunched, and what does it say about me?'"
Playing one of her first comeback shows at last year's Field Day, just two days after the release of 'Reborn', the first glimpse of the new Rae Morris was sharp, shiny and sublime, emerging from behind the confines of the piano and taking her live show in a whole new direction. "I realised that I'd lost a lot of time over the years not connecting with the audience," she reflects now, seeing the piano as a barrier to that connection, while also previously having served as her safety net, something to hide behind.
"There's a whole other level of connection that you can achieve by just… sweating on each other, and getting really up close," she adds. Despite all the progress, she hasn't quite mastered stage diving yet. That's next on the list.
"So much changes when you're on tour," she continues, the break clearly offering up a few key revelations regarding her next steps. "By doing something over and over you become so much more relaxed, and ease into it, and by the end of the touring cycle for the first record, I was doing three or so songs in the set where I'd be standing up.
"But then it turned out that those moments, when I would come away from the piano, were really tense. Now the balance has completely tipped - I have two songs at the piano and the rest is just full-on Britney mic…" she giggles, still a little bit out of her depth as a new-found pop star. But it's a skin she's fitting into remarkably well. And the pop reinvention could've gone even further, it turns out.

"We wrote some things that were even more pop, and really extreme, but that felt like the wrong thing. When Fryars and I really got going with the writing, we wrote a couple of tunes that were a bit… too far," she laughs, "but it just felt great to be two songwriters and collaborators just using our skills and creating music that Taylor Swift should sing. We pulled it back."
While 'Unguarded' was largely written while the singer still lived in her home town of Blackpool, the sessions for 'Someone Out There' got split between London and LA, lending itself to the new, shiny, wide-eyed Rae. "It felt like I have a few different characters to my personality [in London]. When I go out on a night out, this is how I am - and that's what 'Atletico' is - and then there's the more emotional 'Wait For The Rain' storyline, about putting yourself in someone else's shoes.
"I find myself sitting on the tube and wandering into peoples' storylines, and wondering how they got to where they are."
"I find myself sitting on the tube and wandering into peoples' storylines, and wondering how they got to where they are, while never being able to find out. People find it really claustrophobic but I like the community spirit that it brings," she says, and while the album largely circles around her personal revelations, it's also a firmly empathetic one.
"The album title 'Someone Out There' is along those lines too. There are all these strangers that you sit with every day on the tube and you have no idea that that person next to you there could be a future best friend, or a life partner." If anyone could convincingly say such a thing and make you believe it, it'd be Rae Morris. Reborn as a new, confident pop star in waiting, her dreams are getting bigger by the day.
'Someone Out There' is out now via Atlantic.
Taken from the February 2018 issue of DIY. Read online or subscribe below.
Photos: Phil Smithies / DIY

Read More