Mystery Jets aren't just returning with a new album; they're back as a whole new band.
When Mystery Jets first withdrew from the spotlight to focus their efforts on album number five, they found themselves without a manager, lacking a publisher, and missing one band member. Two and a half years on and the picture couldn't be more different. Laughing and joking in a practice studio as they ready themselves for upcoming tour dates, the group are more alive than they've ever been.
"I think there was less pressure," frontman Blaine Harrison ponders of working with the band over the past couple of years. "We didn't have to adhere to anything." Discovering complete creative freedom, and with the addition of new bassist Jack Flanagan, the quartet set up their own studio in an old, disused button factory, and there they began the writing process anew.
"It's very much a different band," guitarist Will Rees states. "It's like being a gang again, which is something we haven't felt in a while." "Before this became our day job," Blaine continues, "when we did it as a way to have fun with each other's time, that's what it was. That's what being in a band is – that gang mentality."
'Curve Of The Earth' embodies the newfound vitality that runs through Mystery Jets' veins. From the molecular origins of album opener 'Telomere' through to the all-encompassing refrains of closing track 'The End Up', it's a bold venture through everything the band once were and have now become.
"We wanted to do something that was great," Will explains. "Well, initially we wanted to make a space rock concept record. And we did that, actually," he laughs. "We kind of made two albums in the first two and a half year period. There was 'Curve Of The Earth: The Beta Version' before what we have now."
"Initially we wanted to make a space rock concept record."
— Will Rees
"It was 'Curve Of The Earth: Heavy'," Jack groans. "We did eight months of these tunes, and we played it back to our manager and some friends, and just sat there the whole way, like…" Dropping his head into his hands, he continues. "That was really exhausting." "It was 'Curve Of The Earth: Slow And Long'," Will adds. "Every track was about nine minutes."
"What was missing was an entrance to the record," the frontman explains. "I don't think we felt like we had a beginning for the album. And that's why we went away, and we wrote what is now the first side of the record. It wasn't necessarily like 'we need some singles!', but more like, how can we invite people into this new world that we've made?"
"It's contrast, really, I think," Jack contemplates. "With the last batch of songs we did we really wanted to create a contrast throughout the record. So I think when you get to those moments, they are like a breath of fresh air, and you're like 'wow, I could get lost in this.'"
"Anyone can make a record," Blaine exclaims. "You don't have to be a producer in the traditional sense. Maybe five or six years ago, I thought being able to produce a record was knowing the best way to mic up a guitar amp, or how to use a mixing desk. Making a record, what that means to me is getting the best out of the people around you." Taking the helm and producing their own record for the first time may have been a steep learning curve, but there's no doubt that their efforts paid off.
"I think we're very fortunate," Blaine expands. "On the one hand, we're all complaining about how we're sort of living our lives online, and it gets us down a lot of the time, but we're also incredibly fortunate that the technology required to make a record is really affordable. We didn't have the hot pastries being brought in every morning, or the constant stream of soya lattes of yesteryear, but…" "Soya lattes weren't invented yesteryear," Will interrupts with a grin. "But that's a really good point," he continues. "To make an album, you need less than you think you need."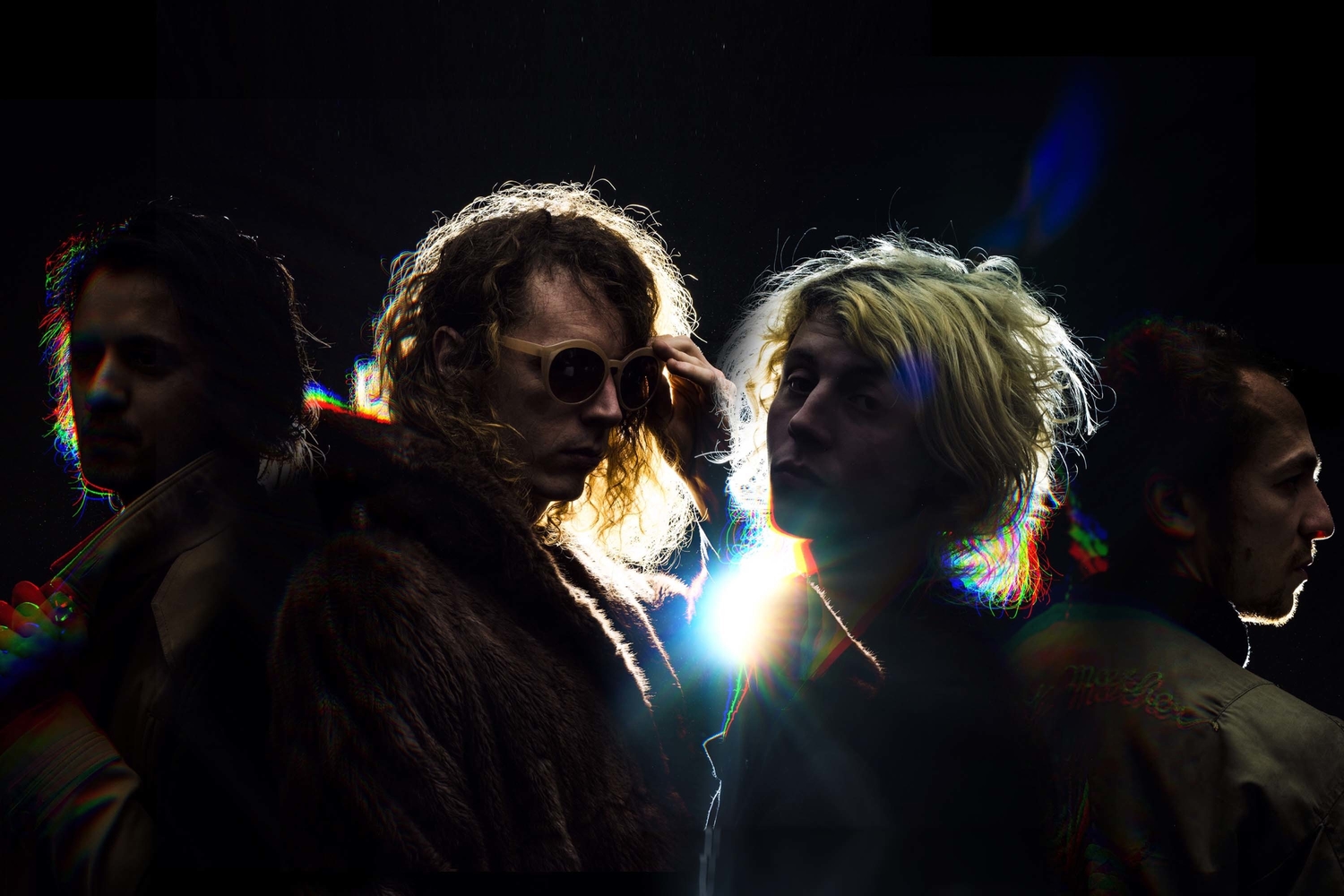 "You've got to be persistent, and don't lose the faith"
— Jack Flanagan
Keeping that wish alive for two and a half years, Mystery Jets have returned victorious. "You've got to be persistent, and don't lose the faith," Jack urges. "Keep clocking your hours in." "We started out working 9-5," Blaine recalls, "and by the end it was 5-9." Out of the topsy turvy studio they built for themselves, inspired by Stewart Brand's counterculture magazine, Whole Earth Catalogue and its enduring motif of 'stay hungry, stay foolish', with 'Curve Of The Earth' the band have created a world for anyone's taking.
"That's very much what we want to do," Blaine enthuses, "to keep that innocence, to keep a wonder about the world." "I'd like people to be able to put themselves in it," Will expresses. "That's how I feel about music I really like. I relate to certain lyrics or lines, and I make memories with certain things I hear in a time or place. If people can do that…"
"I think that's right," Blaine embellishes. "I hope people let it into their lives. I think a lot of the records that we love are the records that you go back to again and again. A 'grower' is a funny way to describe your own record, but I really feel that if people give it a chance, they'll allow it to get under their skin."
"I love it when you come back to a record – maybe you've left it a few years and you're a bit older, or something's changed in your life," Jack describes, "and you suddenly pick out certain points in the lyrics. I think with this record most of the themes are about people being at a certain point in their lives. I think that maybe somebody who – like at my age, is a few years younger than the people who wrote the songs – they can listen now and enjoy it, but maybe in five or six years time they'll really get it."
"I think we did that a lot on this album," Will agrees. "We used the past to write a lot of the songs, because the songs are about personal things that've happened and made an impression. But I think the future's a much more exciting place than the past, and the present is a much more exciting place than the past."
"That said, I think you do need that glance over your shoulder, through the rose-tinted spectacles, perhaps, just to appreciate where you have come," Blaine adds. "It's a very important part of who you are."
Mystery Jets' new album 'Curve Of The Earth' is out now via Caroline.
(Photos: Mike Massaro) Taken from the February 2016 issue of DIY, out now.
Read More
Featuring James Blake, Romy, Marika Hackman, yeule and more.