Speedy Ortiz: "This album is less of a bummer"
Speedy Ortiz are in a good place on their second full-length, 'Foil Deer'.
Two years ago Speedy Ortiz never envisaged music being a feasible day job. Then 'Major Arcana' happened. Recorded in four frantic days, on a shoestring budget, the band's debut - energetic, cathartic, and riddled with tightly strung tension - spiralled into something far greater than they ever imagined. After juggling music with university teaching gigs and studying for her MFA, suddenly Speedy Ortiz became Sadie Dupuis' sole focus.
With second album 'Foil Deer' shrink-wrapped in aluminium and waiting impatiently in the wings for release, it's the first time "in forever" that Sadie's had space to relax. Largely her recreational time has been dedicated to playing potentially the greatest computer game in the universe - The Sims 2. "Oh my god!" she laughs, "I love it so much. All of my Sims are so perfect," she says with a detectable hint of pride. "They're all master artists, and really good at swimming. One of my Sims is a top video game player."
"I haven't made the band on there," she adds, "but I made my own dog, it was peeing all over the floor in the Sims' house. It's pretty cool"
"My songs have always been about whatever issues I'm having."
— Sade Dupuis
Sadie Dupuis' Sims-playing ethic is nothing out of the ordinary, and she applied a similar level of discipline to writing 'Foil Deer'. Holing up in the woods, away from the hubbub of touring, she wrote constantly, day in, day out. "We'd spent ten months on tour - which is, just, like, having to talk to people every single day. That's what came up for someone whose general impulse is to hermit up," she admits.
Sadie's a cathartic songwriter, she agrees, and 'Foil Deer' - an altogether more feisty record - stems from moving towards a more positive place. "A lot of the previous songs were really insecure," she agrees, reflecting on 'Major Arcana' "They're all coming from this cornered place. ['Foil Deer'] is self-assured, but maybe that's just my own headspace when I was writing. My songs have always been about whatever issues I'm having. I use them as a tool to try and figure out what I'm feeling, and make it better."
Lately, she's had less negative lyrical fuel. "I kind of cut out people who were being crappy, so I didn't have them to write about," she laughs. "I think ['Foil Deer'] is less of a bummer than the last one, which is good. It seems weird to me that our first record was this bummery thing. I guess this is still who I am, though, a little neurotic."
This time around, Speedy Ortiz had time and money on their side, and it afforded them more freedom to mess about and play things by ear. While their debut captured the visceral excitement of the band tearing up the live circuit, the follow-up is a playful, more experimental affair that takes on a slightly different shape with every listen. "I love that experience of hearing something a few times and noticing parts I hadn't noticed there before."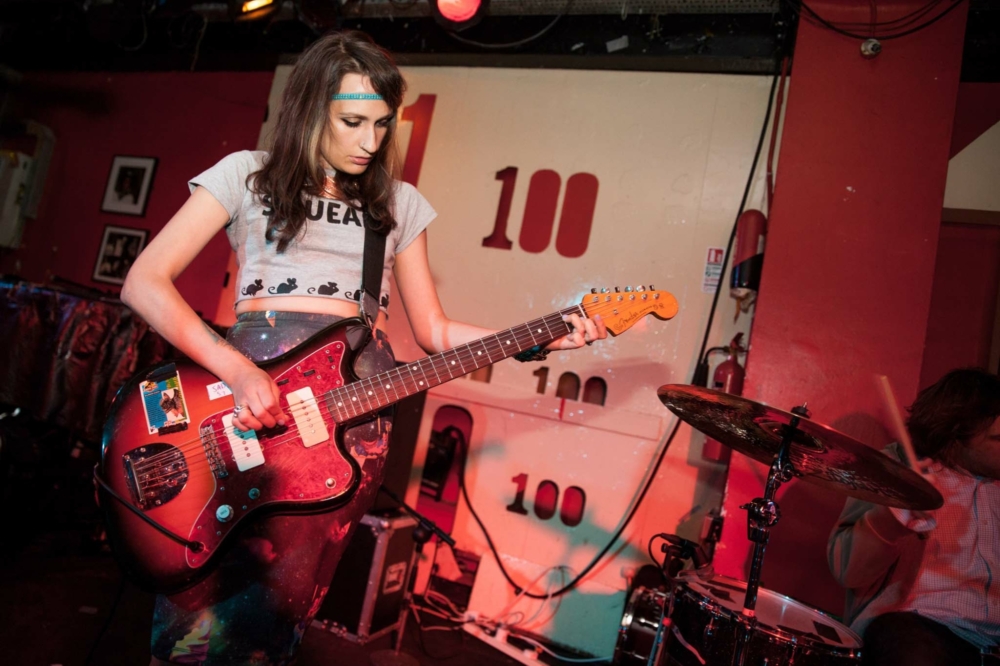 Speedy Ortiz played a DIY Presents gig at the 100 Club, London in August 2014.
Photos: Emma Swann.
Fun, bursting with texture, and a far more brazen affair, first single 'Raising The Skate', Sadie explains, felt like the ideal introduction. "It seemed like a mission statement for the way we're doing things this time around, you know? ['Foil Deer] is about taking charge. I think a lot of this album is about that, and I think ['Raising The Skate'] represented it best. It's a sort of changing of the tide."
'Raising The Skate' takes a swing at the kinds of people who call strong, opinionated women 'bossy', and as far as Sadie Dupis is concerned, they can bog right off. "Women are dominating many areas of music. I mean, they have since forever, but in the past few years especially. It is frustrating to encounter these rare people who cant believe it. I'm at this point now where I have no tolerance for anybody who communicates in that way, that's bigoted and sexist, and I'm shocked when people are forgiving of people like that. I'm not going to be burned twice."
After a well-earned break Speedy Ortiz are raring to cram back into the van and road-test 'Foil Deer', and, Sadie admits, they're also looking forward to indulging their love of on-road snackage. "We love ramen," she says, adding on a more practical note. "We all eat an unhealthy amount of it cos it's easy to travel with. I'm probably the one that's worst about it; as soon as I get to a city, I'll know where I want to eat. That's one of my favourite parts of being on tour," she laughs, "they're culinary tours in a way."
Taken from the April issue of DIY, out now. Speedy Ortiz's new album 'Foil Deer' is out now via Carpark Records.

Get your copy of the latest issue
Read More