The Ninth Wave, Lucia, Walt Disco: Introducing The Glasgow School
There's a group of increasingly buzzy new bands injecting a vibrant, theatrical new lease of life into Glasgow's music scene. We necked a Buckfast and went to see what all the fuss is about.
Head down the hall of a nondescript building in a relatively industrial corner of Glasgow centre and you'll find a door. It's actually No. 3, but that's been daubed out and replaced with '666'; inside the belly of the beast meanwhile, walls are covered in neon yellow tape, the ceiling strung up with rows of grimly tactile red rubber gloves. "That was our backdrop for TRNSMT festival. We literally emptied Screwfix for them - they're chemical disposal gloves," explains Millie Kidd of The Ninth Wave – aka the owners of the gloves. "Or they're good if you're birthing a cow," notes bandmate Haydn Park-Patterson, with a thick, deadpan Glaswegian ring.
Currently sporting red lipstick, a spivvy suit and wide-brimmed hat, Haydn doesn't look like a man who's particularly built for farm labour, but then all manner of surprises have been coming out of Studio 666 of late. It's the space The Ninth Wave share with pals and fellow flamboyantly-attired countrymen Walt Disco; around the corner, Lucia – fronted by the singer of the same name, today dressed like a punk Poison Ivy – have their own practice room, close enough to pop over for a pint. We've nabbed members of the three bands for a whistlestop tour around some of their main haunts to try and get a sense of exactly what's fuelling this new gaggle of theatrical, hyper-visual bands, excitedly emerging arm-in-arm from the Scottish hub.
Having met around four years ago, the three bands originally buddied up in the classic way, from meeting at shows. "I'd seen [some of the other guys] about but never spoken to them because they looked really cool and intimidating," laughs Millie. "Then when I started doing music, I got to know them and they were lovely people." We've arrived at St. Luke's – a beautiful church venue where Smashing Pumpkin Billy Corgan is currently loading in but all three bands have previously graced the stage of, The Ninth Wave recently selling it out for a victorious homecoming. "I don't remember anything apart from the circle pit; it was all a blur," says Haydn, shaking his head. "It was by far the best I've ever seen you play," praises Walt Disco's Dave Morgan. "That felt like a special night."
Over the years, the groups have had more than a few special nights, from formative, ambition-changing early moments ("The Ninth Wave and Lucia both had a year or two on us, so when we started hanging out with them we were like, oh fuck – this is how a band should be done," chuckles Dave) to messy gatherings around the flat several members of the bands share. There's a sense of togetherness that feels genuine and supportive here. "Because Glasgow is such a small place, it's built more like a community and people are really warm," explains Lucia. "Scottish people latch onto things that are from Scotland, so you'll have people come to your gigs who're like, 'Ah Glasgow! I lived there for two weeks once!'," laughs Millie.
You can see why people would want to stake their claim on this lot. As we walk into The Laurieston pub – a favourite haunt – a local spots them; "Aye, look at them '80s lot! Have you seen that?!" he points to his mates before calling over: "You look fantastic!" "You get a lot more of [people pointing appreciatively] than any badness," Dave says, cheerily. "Glasgow, out of everywhere we've ever been, probably has the least assholes in that way. It's the kind of place where you can do what you want."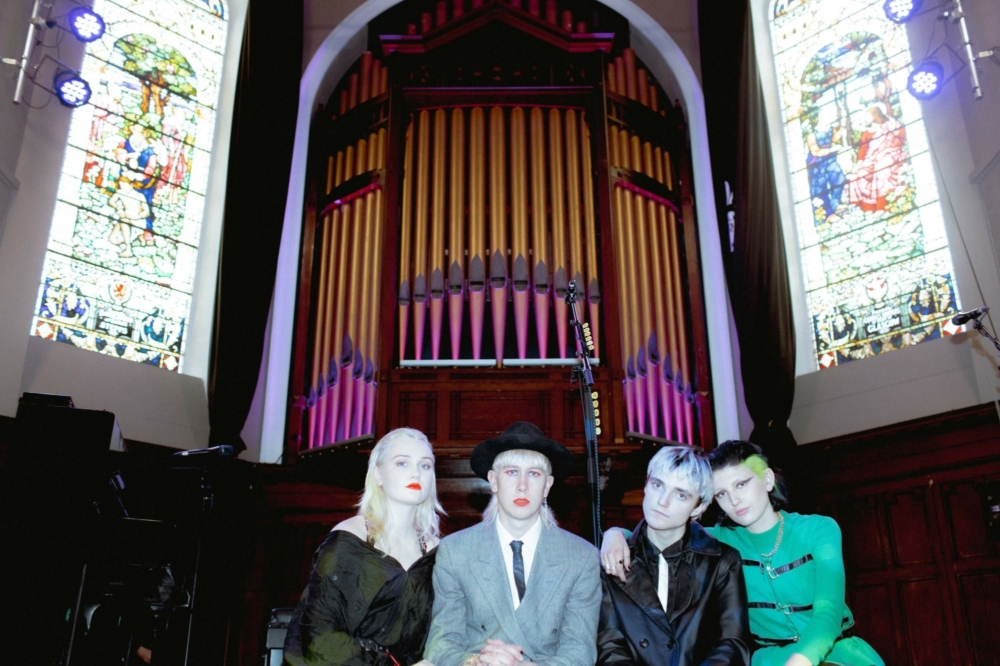 Get To Know… The Ninth Wave
There's an element of the Jack'n'Meg Whites to The Ninth Wave's Haydn and Millie. Not sonically of course – their anthemic, stadium-ready new wave is about as far away from bare-bones garage riffs as you can get – but in the ambiguous interplay and mirrored aesthetic between the two. "It's good to keep people thinking," chuckles Millie. "Maybe we're brothers, maybe we're lovers… Actually the idea of that is like, 'bleurgh!'" she decides, making a gagging sound.
Having met as kids, when the two would perform tracks by Iggy Pop and Neil Young as part of an annual festive showcase put on by their parents' friends, it's no surprise the idea of romance isn't exactly appealing. Back then, Millie was being raised on a strict diet of Nick Cave and The Cocteau Twins by her musical mother ("It's lucky I didn't try and rebel or I could have turned into a wee arsehole," she notes), while a 12-year-old Haydn was already known as 'Haydn from The Ninth Wave' ("I don't remember why it started. I don't even like the name!" he cringes). Several years later, when Haydn wanted to start a band properly, he called up his old mate, coaxed her into learning guitar and The Ninth Wave finally had its second member.
That was back in 2017 and now, with an album half out in the world ('Infancy Part 2' comes later in the year), they've "just mould[ed] into the same person". "What would be such a strange, lovely thing to happen is if there was an interview like this in 10 years time, and people were talking about the Glasgow scene and they were like, 'Oh yeah, Glasgow's had bands like Franz Ferdinand, CHVRCHES, The Ninth Wave…' and we were one of those bands in that list," says Millie of their ambitions. Seems plausible from here.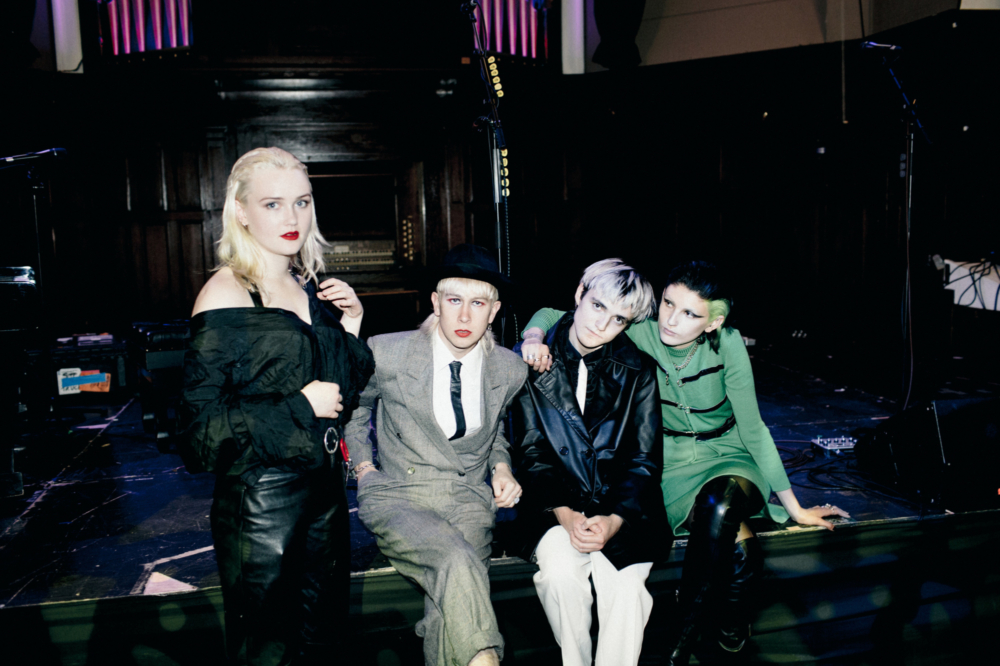 Get To Know… Lucia
Originally starting life as the solo project of frontwoman Lucia Fairfull around five years ago, the singer soon realised that "having constant pals around you, cheering you on" was far more fun and thus was born Lucia, the band. Influenced by the strong women of the '70s (Joan Jett, Debbie Harry et al) and grunge's female protagonists, as well as more pop-leaning stars such as Lana Del Ray and classic girl group The Crystals, it's in the way the group combine these influences with more cutting take downs of life's harsher truths that sets them apart. "When we write together, we end up talking a lot about films and the feeling you get from watching something," explains co-writer Hamish Fingland. "Lucia talks about all these '90s chick flicks and slasher movies like Carrie; we wanted to write something that would soundtrack Cruel Intentions or a film like that."
In early singles 'Melted Ice Cream' and 'Best Boy', this playful strength shines through. It's earned the singer a slightly fearsome rep ("When I'm on stage, I've had people say I'm quite intimidating…" she laughs), but it's also starting to pay off for the people that really matter. "I want to show a sense of power, especially to all the younger girls that go to our gigs," she continues. "I had this real connection with these girls at a gig in Oxford who were right at the front. I was cheering them on, but it was like they were cheering me on too, saying that I should get up and be doing this thing."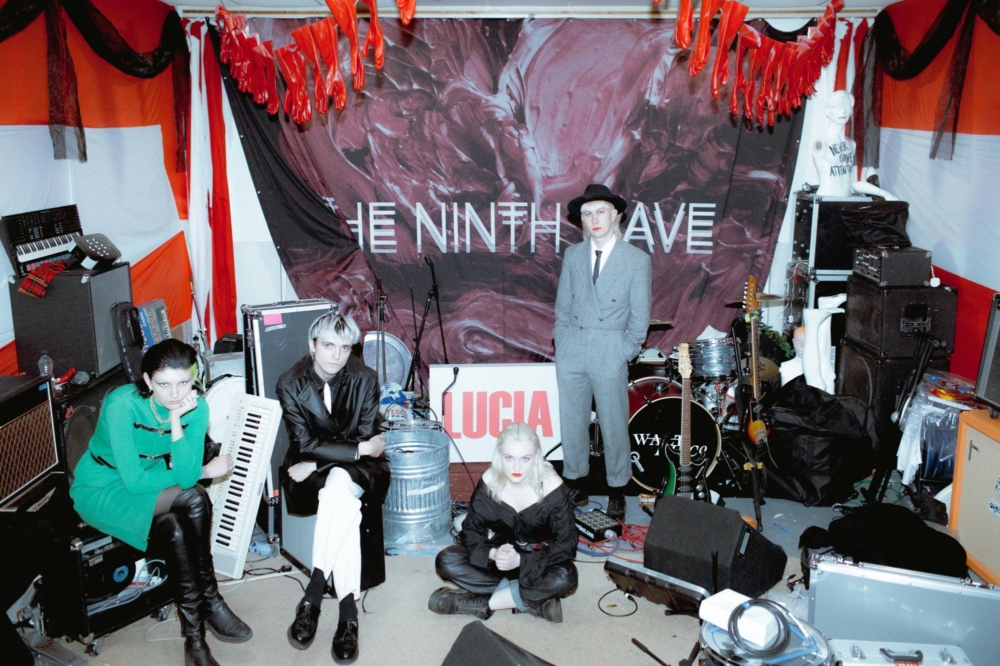 Get To Know… Walt Disco
"I think the word punk gets used too loosely. Going out there and saying something new is a lot more punk than just writing a song saying 'Theresa May is bad!'," begins guitarist Dave Morgan. "There are a lot of bands with five guys making post-punk music, whereas we want to set ourselves apart because we're flamboyant and androgynous and we want to embrace that as well."
Walt Disco's genesis might be fairly standard – friends meet in a small town, head to uni, decide to form a band – but it's what's emerged since those first days of being "five guys stood in a line playing songs" that's truly begun to excite. Helmed by striking frontman James Potter (so striking, in fact, that he's actually off strutting down a catwalk for posh designer Celine and unable to make today's summit), the group channel punk, new wave and pop, landing on a middle ground that's somewhere in the seedy, slinky world of a Glaswegian HMLTD. "James loves musicals and things like that; when we'd started the band he'd probably been in more musicals than he'd played gigs," laughs Dave. "And then Finlay our bassist, his favourite artist is Charli XCX."
Together, it's a fabulously theatrical melting pot that's resulted in the likes of recent single 'Strange To Know Nothing' and a series of increasingly hyped gigs up and down the country. From average beginnings as a standard Joy Division-indebted group of indie boys, now Walt Disco are striding into something so much more. "Everything from the music we write to the way we dress has become more confident," nods Dave. "It's like we're becoming who we want to be."
Read More