Interview
Small Town Boy: The Killers
On eighth album 'Pressure Machine', The Killers are shaking off Las Vegas' seedy glitz and taking us into the heart of Brandon Flowers' former Utah hometown.
Four years ago, Brandon Flowers left the neon lights of Las Vegas behind and moved some 400 miles northwest to Utah. He and The Killers - drummer Ronnie Vannucci Jr, bassist Mark Stoermer and guitarist Dave Keuning - had always been associated with the seedy glitz of Sin City, but leaving it in the desert dust opened up a new chapter for the band. Over the course of 2017's 'Wonderful Wonderful' and last year's 'Imploding The Mirage', their leader began to expand his storytelling into something much more personal.
Their eighth album 'Pressure Machine' delves even further into that new territory, marrying Brandon's recent introspection with his knack for building 3D characters that bring their songs vividly to life. It documents Nephi, the 5,300-person Utah town he lived in between the ages of 10 and 16, and the people and stories that make up some of its layered history. Although he didn't move back to Nephi itself when he and his family left Vegas - they now live 80 minutes up the road - being in a similar environment was enough to get the frontman travelling mentally back in time.
"I was immersed in the seasons again, and in the geography and the mountains and the accent," he explains over the phone, the day before 'Pressure Machine''s release. "It was almost unavoidable - whenever I went to write, I was [in Nephi]. I just decided to go with it, and so we really went all the way."
That they did. The record crafts an in-depth look at life in the town, from its tragedies (a young couple who got hit by a train and killed; the opioid epidemic's grip on locals) to tales of young love (the sad acoustic swoon of 'Runaway Horses') and chasing the American Dream ('The Getting By''s chiming slow-build). The stories are sewn together by soundbites from current Nephi locals, while Flowers' words all have at least a grain of truth to them (though some of their endings are more fictionalised), representing the people he grew up with and around.
He describes Nephi at that time as "[like] the '50s - had it not been for advancements in the automotive industry": a place that had stagnated and where "you wouldn't be surprised if the TVs were black and white". While some might view that as a negative, the musician saw another side. "There's something beautiful about it," he says fondly. "The people hold to their traditions and their values and their way of life, and they stick to it. That localness and that tradition, I think, is beautiful."
"Opioids have affected my family and America at large. It's a tragedy and we have not turned the corner on it yet."
— Brandon Flowers
We might know Brandon now as a stadium, or festival-headlining conductor, lifting our moods with every punch of the air behind his glittery K-adorned synths: a man prone to dazzling outfits, from Dior feather jackets to his more recent head-to-toe gold look. Back then, though, The Man says he was a little different. "There's quite a bit of difference in age between me and my siblings - I'm the youngest - so I was always around adults," he shares. "I never really felt at ease with kids that were my age. My friends tended to be a little bit older, but I kept to myself for the most part."
While, for Brandon, harking back to his small town days might be natural, the frontman is aware of how the rest of the world sees him and his bandmates - boys from the big city, a place that commands your eyes to widen just to take in as much of its sensory overload as possible. "We are ambassadors for Las Vegas," he acknowledges. "We waved the flag and it's very much associated with The Killers - we don't shy away from it." But 'Pressure Machine' is about more than just revisiting the past; it's a chance for the frontman to process part of his youth and make peace with some of the stories he's unknowingly spent the last two decades carrying around.
"There's been so much made about me leaving this place and going to Las Vegas, I had neglected how much of a mark that town had left on me," he explains. "I was really surprised once I started to dig in just how much love I still have for it, and respect. It was an enlightening experience."
He points to that couple who were killed by a train, mentioned on the Springsteen surge of 'Quiet Town', as an example of something he hadn't realised was still affecting him. The pair were seniors at Flowers' high school when he was in eighth grade and, although he didn't really know them well, he had seen them hours before the accident. "When I went to write about that, I was struck by how emotional it made me 25 years later," he says with a slight sigh. The intervening time since, he explains, has given him "more compassion" towards all the locals he used to know. "With more understanding and more years under my belt, I'm able to look at them through different lenses. So writing through these stories and working out these characters with this new wisdom was really powerful for me."
Many of 'Pressure Machine''s stories are pulled from the '90s, but its frequent references to "hillbilly heroin pills" ('West Hills') and "opioid stories" ('Quiet Town') are something that shattered Nephi after Brandon left town. While the record is very specific to the people and happenings of his former home, those instances could sadly be transposed to numerous other places - big and small - in the US.
"Opioids have affected my family and the town and America at large," Brandon says sombrely. "It's basically just a tragedy and we have not turned the corner on it yet. In 2020, we had more opioid overdose deaths than in any other year." According to the CDC, 93,331 fatal overdoses occurred in the States last year, a statistic that points to just how cataclysmic the crisis has become in the country.
It's an epidemic that has affected people from all walks of life, not just the addicts that society demonises. "People are getting these things from their doctors so they feel it's OK," he notes. "It's just so sad. Kids that I went to school with have been victims and it's been a part of our families, so it was an unavoidable part of this record."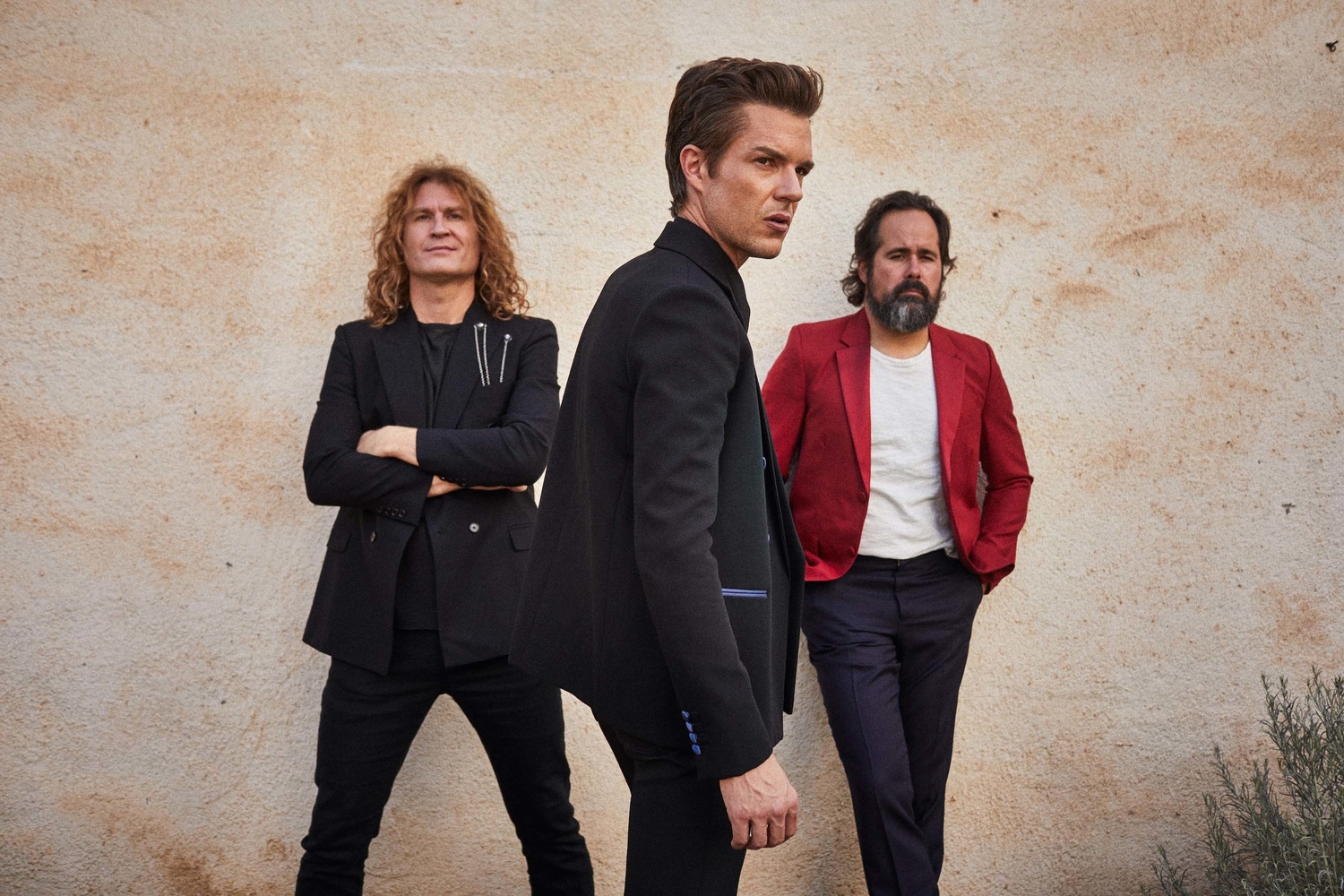 "There's been so much made about me leaving Nephi and going to Las Vegas, I had neglected how much of a mark that town had left on me."
— Brandon Flowers
Telling such stories with The Killers' usual bombast probably would have been jarring, but 'Pressure Machine' is not your typical Killers record. Their jubilant hooks and the familiar buzz of Brandon's synths have been replaced by harmonicas and pedal steel guitars, fiddles and strings. "When I hear them, I think about the fields and the mountains, the canyons and the fairgrounds," Brandon reasons.
Going down such a starkly different path to what the world associates with the band didn't come without its concerns though. "We're in the business of big-time; there's a certain amount of pressure to fill the arenas," he admits. "I don't want to go to a gig and look at empty seats. We have this machine that we've created ourselves where there's a lot expected, so this was quite a risky album. But the payoff is the way I felt when it was complete - I just feel really satisfied."
Getting to the level that The Killers are at is something that the band don't take for granted, but their frontman does concede it can be restricting when it comes to making creative strides. "It can, it can," he says with a chuckle. "When people associate you with this, and they want this and they expect this, it can definitely restrict you. But if you have a little courage and imagination, you can find your way out of that box. That's where people that have inspired us - like U2 and David Bowie, those shapeshifting people - almost give you permission to try different things. I don't know that we would have been able to go this far out on a whim had it not been for some of those trailblazers."
As different as they may be, Brandon doesn't rule out us hearing some of these much quieter, stiller new songs when The Killers return to forge their sparkling path through the world's cavernous venues once again. "'The Getting By' could be played in an arena, and 'In The Car Outside' could actually work, but we'll cross that bridge when we get back into the rehearsal studio," he says. A deluxe edition of 'Pressure Machine', meanwhile, will contain reimagined versions of each track, although he's keeping shtum on what exactly we can expect from them.
In a very rare move for a release in the streaming era, 'Pressure Machine' arrived in August with no singles to preview it. "We didn't want to let one song do all the talking for this record," Brandon reasons. "If you go back to 'Day And Age', we were very happy with 'Human' being the face of that record. If you had chosen 'Sleepwalker' [to represent this album], people might think it may just be a typical Killers record and we really didn't want to risk that. It's a conceptually strong album from front to back and we wanted it to be devoured that way."
While fans are busy digesting the band's beautiful curveball, The Killers themselves have already been hard at work cooking up their next album. "I think it's just trying to get the four of us to do what we do best, find that purity and try to shut out the noise of the outside world," Brandon says. "If we can do that, we could do something great." Whether they return to what we expect from them or continue traversing new ground, 'Pressure Machine' puts that statement in little doubt.
'Pressure Machine' is out now via EMI.
Read More