Unholy Communion: King Nun
First catching our eye as eager teens, King Nun have taken their time and played the long game. The result? Debut album 'MASS': a darker, more mature move than any early adopters could have guessed.
There's a point during any classic coming-of-age film when everything falls into place. A big, definitive moment that harnesses the journey so far and makes it all worthwhile. Judd Nelson's triumphant air punch as Simple Minds' 'Don't You Forget (About Me)' chimes in at the end of The Breakfast Club; John Cusack holding a boombox above his head in the climactic final moments of Say Anything. It doesn't always have to be the grandest of scenes, but it has to be hard-fought and it usually contains a fucking good soundtrack.
It's a well-thumbed narrative that might normally root itself on the big screen but, for Londoners King Nun, it's one that's finally coming into view, too. After nearly three years of rumbling buzz and drip-fed releases, this month the quartet are finally dropping long-awaited full length debut album 'MASS'; having first emerged as eager teenagers, now they're ready to begin the next chapter.
First getting together over six and a half years ago, the group - made up of vocalist Theo Polyzoides, bassist Nathan Gane, guitarist James Upton and drummer Caius Stockley-Young - have done a lot of growing up, both musically and personally, since those early movements. Their first official song, 2016's 'Tulip', was rife with teenage angst and raucous punk - traits that continued through their following singles up to last year's EP 'I Have Love'.
"I think at first we wanted to make really fast, very loud, very aggressive music, and then as things went on, we've learnt to refine that so it's more tangible," Theo explains. "We've learnt a lot about the things we want to express and that's what we've really tried to do with this album. We've tried to get that same punk response, [but] by using different kinds of songs."
Their new slant is evident right from the get-go in the album's lead single, 'Black Tree'. Evolving from the young, inexperienced scamps creating face-melting punk that established them as Dirty Hit's resident gnarly group, the first cut from 'MASS' instead showed a completely different side to the quartet. Delivering a sizzling, cinematic slow-burner, full of dark imagery and a sense of foreboding, it marked not only a sonic change but a starkly heightened maturity from the band.
"We were taking a chance doing a really slow, symphonic song as the first single," discloses Theo. "When we release stuff, people usually want us to do the really fast punky stuff. And that's still represented on the album, but the first single is a bit of a curveball. We led with it to set the mood. That song is really indicative of a lot of what's going on [in the record]."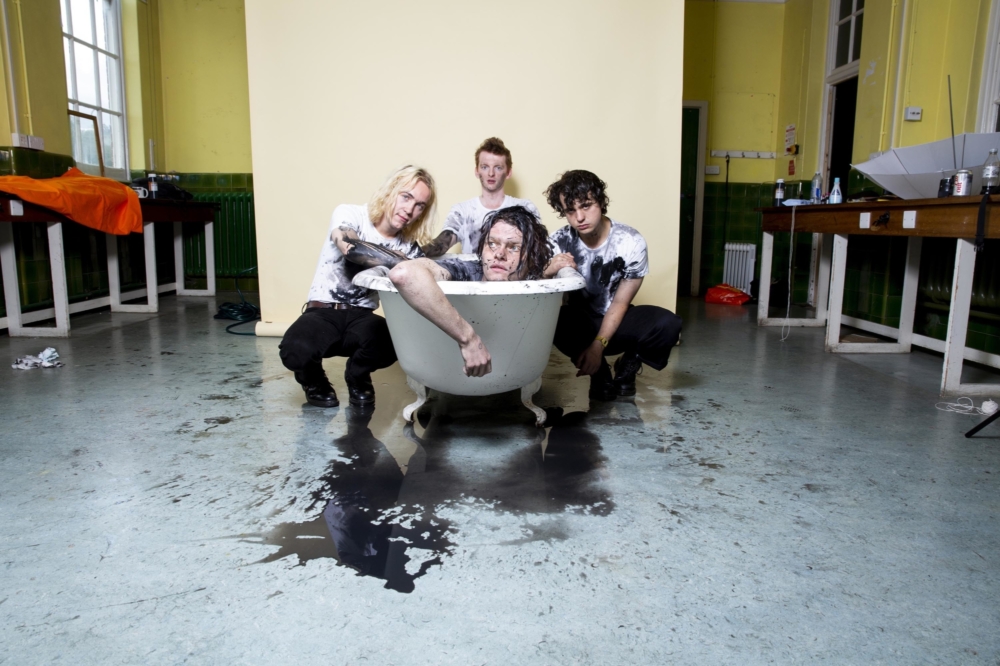 "We're not hiding behind anything on this album."
— Nathan Gane
An introduction to the narrative ideas that run through the album, 'Black Tree' welcomes in a sense of darkness that writes its way across 'MASS''s sermon. Whereas previously, the band had tried to use their material to convey an optimistic message about how punk can be a force for good, this time around, King Nun allowed their thematic scope to widen. With emotions flowing out naturally, they found themselves writing brutally honest, autobiographical stories about the hardships that they were experiencing and the highs and lows of growing up.
"We're not hiding behind anything on this album," Nathan states. Nodding, Theo elaborates: "As we were making it, we were in a really dark place. There were several things that were happening across all of our lives that were really inescapable and, honestly, quite horrific, so we couldn't really hide that."
Exploring a variety of issues faced as you get older, the record as a document is unflinchingly raw and heavily heart-on-sleeve. They may still coat meaningful lyrics in their signature surrealist imagery, but at no point do they let them lose their power. 'Black Tree' explores depression through oppressive metaphors; 'Transformer' - the song that got the group initially signed to Dirty Hit - accelerates and shakes off past demons; 'Cowboy' looks at the pressures placed on young men, whereas 'Sharing A Head With Seth' delves into everyday anxieties through the gaze of its titular character.
"I think if we were doing it a year ago I'd be kind of anxious to open up so much, but thankfully I don't feel like that anymore," confides Nathan. "It feels like the right time, and it feels like it has to be done. This album feels like the album we had to do, and I don't mean that in the sense of outside influences or that we had a deadline - I mean it in a very sentimental way. This is - as people - what we had to do at this time in our lives."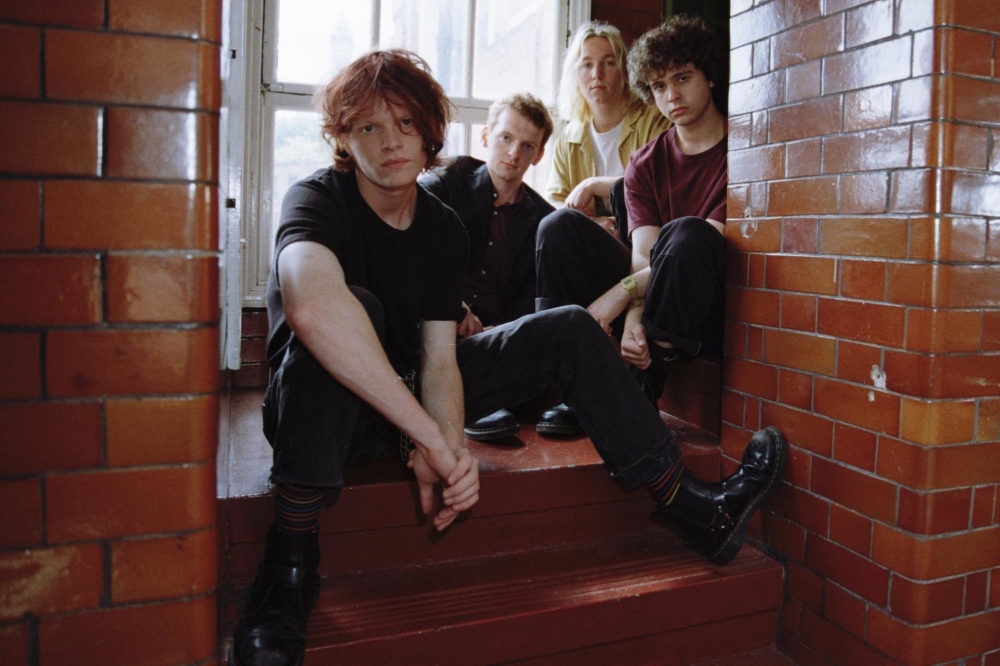 "This album feels like the album we had to do, and I mean that in a very sentimental way."
— Nathan Gane
Yet though the band are emphatic in their assertions of how the record was born from a perfect amalgamation of added time, experience and confidence, from the outside there's still been pressure. A quick Twitter search of the words 'King Nun album' brings up hundreds of tweets dating from the last year and a half of people wondering when they'll finally be able to hear a full length from the quartet. "Our first singles got a really good reception and that does lead to people asking for a follow up, but this is literally everything to us," Nathan reasons. "We didn't go to university; we all worked menial jobs. If we could do anything, we'd do this, so we're going to do it right. And if that means it takes six months longer than it should, we're not going to release something that we don't believe in.
"Some people might think it took a bit too long, but we'll always persevere, whatever we do, to do it to the best quality that we can. In anything creative, there's a balance between trying to master your trade and just doing what feels right to you. If everyone tried to please other people, you'd end up with nothing new or interesting."
Taking their time to craft the debut they wanted, 'MASS' should make people see the four-piece in a whole new light. With some songs penned a few years ago and updated, and others birthed in the studio while recording, it's an album that captures King Nun at an exciting axis: more confident and meticulous than in the past, but with the future wide open.
Though not nearly as cinematically cheesy as those Judd Nelson or John Cusack scenes, throughout its 11-track run, their debut paints an equally compelling portrait of teenage angst, youthful naivety and personality-shaping memories, all caged in something musically ambitious and epic; on the other side, the quartet have emerged older and wiser, their past demons exorcised. "You know when you see a film and you really enjoy it, and it ends on a 'To be continued…' and you're excited because you don't know what's going to happen next?" Nathan asks, excitedly. "This feels like that! It feels like a statement, but we've only just started." "This is some first act shit," Theo agrees. Metaphorical air punch.
'MASS' is out now via Dirty Hit.
Read More