Neu Wesley Gonzalez: "Fuck it - I really like the shit you hated in the seventies"
The former Let's Wrestle man's gone solo - he tells Tom Walters about his desire to embrace some "very nasty music" into his warped pop.
"This is a new music piece? I haven't done one of these in fucking ages!" Wesley Gonzalez rightly says, chuckling at the prospect at sitting down and talking about starting all over again. Speaking in the pub where he's about to play his "probably fifth" headline show, the 25-year-old former Let's Wrestle man is both massively excited and slightly nervous - he's adjusting to a new sound and hanging up guitars after an entire decade of them. His first single, 'Come Through and See Me', couldn't be more far removed from his former world, either.
Instead of fuzzy, staple indie guitars, Gonzalez is channeling Father John Misty by the way of Sly and the Family Stone; amalgamating everything into a distinctly British character via the cheesier side of the '70s and the "very nasty music" taste of his family. But there are also more modern influences, like Micachu and the Shapes and Metronomy, too. "This is like a late rebellion," he says. "I've gone, 'fuck it - I really like the shit you hated in the seventies.' I think it's being very disillusioned with a lot of landfill indie of the last five years. I've sort of become obsessed with all this stuff that it seems wrong to like."
"I was managing a really horrible pub and I was really depressed, so I countered that by buying a bunch of synths and bits and getting into a studio."
— Wesley Gonzalez
He says disillusioned, but later Gonzalez clarifies that he was just "outright bored" with guitar music. Having always worked in record shops for most of his life, he's always consumed everything, but he notes that for the first time in his life, he's feeling more open minded about things. He's surprised he's so much into R&B and Nao, for example, joking that he's decided he only likes Japanese electronic music these days. "People like Father John Misty and Tobias Jesso Jr. have made this weird resurgence, which I wasn't expecting," he says, genuinely surprised.
Live, Gonzalez is on an entirely different level in comparison to his halcyon Let's Wrestle days. He's a performer now, not a frontman - he sings songs about mental health and drug addiction while dancing aggressively at the front of the stage. "It's not quite punk music. But it is bizarre," he clarifies at one point. He certainly seems more lively and energetic than before - he's having way more fun despite his song subjects being way more darker than before. "It's funny talking about it in comparison to Let's Wrestle, because that was all so fucking half arsed and cobbled together," he laughs. "I really only cared if the songs were any good - I didn't give a shit about the rest of it."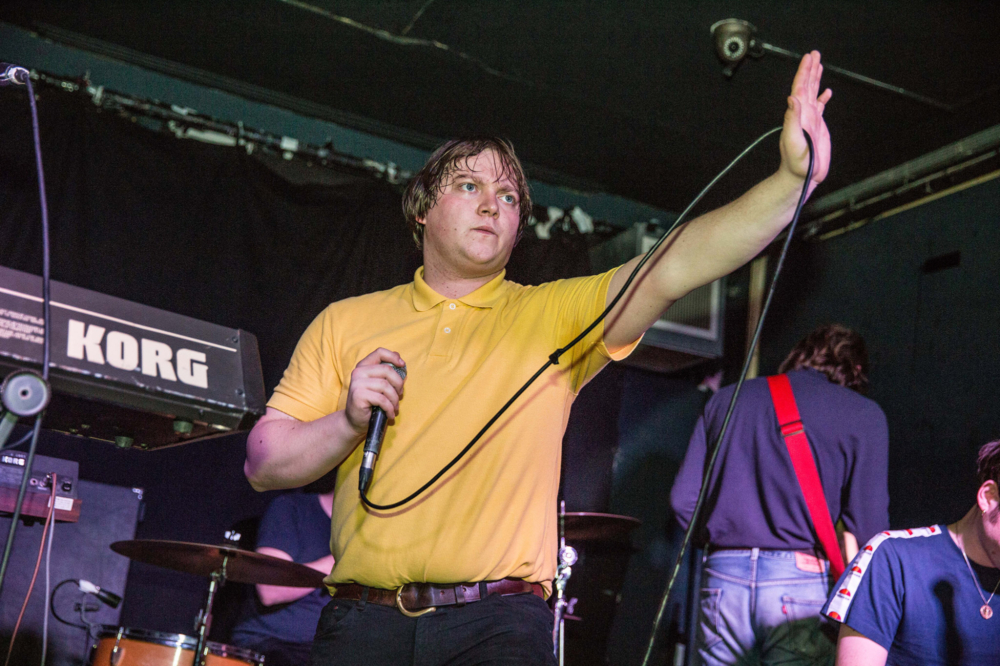 Surprisingly, there's already a full-length record almost entirely wrapped up. Recorded with his friend Rory Atwell at his Lightship 95 studio, it's surprising news because Gonzalez wasn't all that keen to get the songs down in the first place. "Most of the record was written before the band split up," he explains. "When I had just finished the third Let's Wrestle album I'd bought a piano and I taught myself how to play it. I was managing a really horrible pub and I was really depressed, so I countered that by buying a bunch of synths and bits and getting into a studio really quickly. It was all a bit of a surprise. It just all boiled down to 'right, I've got to do something with this or otherwise I'll go mental'."
Read More