Who the fuck are 100 gecs?
Blowing up all over the internet and beyond, Laura Les and Dylan Brady's 100 gecs project is the most exciting shit happening in pop. Now, they're ready for gecmania to take over the world.
It's not every day you hear a track that opens with the abrasive autotuned message "Hey, little piss baby, you think you're so fucking cool, huh?". And yet so begins 'money machine' - the glitchy electronic-pop banger (seven million Spotify streams and counting…) from band of the moment 100 gecs.
Speaking to them over Skype, you would think the duo - Laura Les and Dylan Brady - might have the same confrontational delivery in conversation as over the airwaves. But, sat in their respective Chicago and LA homes, the pair ooze chill, completely at odds with the people accustomed to barking out "Your arms look so fucking cute they look like little cigarettes / I bet I could smoke you, I could roast you, and then you'd love it and text me 'I love you' then I'd fucking ghost you" over hard electro backing.
First meeting at an event in high school - "We met at a rodeo, fun fact!" - Laura and Dylan started making music together five years ago. "We just thought it would be a fun idea," asserts Laura, mid-Juul puff. "I went to Chicago to make the first thing because I thought it would be really cool if we did it somewhere really cold," Dylan adds. "So, I went there and we were just bashing our heads against a wall for half a day, and then kind of figured it out. There wasn't too much of a conceptual idea beforehand." "It was mostly just throwing ideas at the wall," agrees Laura. "At first, we started to do this ambient thing because I was making ambient stuff, and then we were like 'This is really boring!' and made something else. And that was 100 gecs."
"Boring" would be the last word to describe anything that the pair have created since that lightbulb moment. Releasing debut album '1000 gecs' last year, their music fully transports you into the pair's own world - an aural internet wormhole, complete with memes, subreddits and songs fated to get a noise complaint when played at full volume. Best comparable to electronic pop, although largely undefinable, the duo fuse elements of bubblegum pop, nightcore, industrial, experimentalism, screamo and pretty much every other sound to create bitingly sharp pop that hits hard at every level.

"We wanna be big like Bieber! Massive"
— Laura Les
Ever since the debut's release, 100 gecs have been - rightfully - hailed as the genre's boldest and bizarrest new offering. Did they ever expect that they'd have this impact? "Definitely not," Dylan laughs. "That would be insane if we did." "Yeah," Laura agrees, "we definitely weren't one of those people like, 'Guys, check out my new track, you will NOT regret it.' I was like, 'Well, you might regret it…'". And, as with any extreme (and extremely new) sound, the pair haven't always had everyone on board. After gecs supported rapper Pop Smoke in New York last winter, they were approached afterwards by an onlooker: "They held Dylan down and were like, 'Come here, come here. You fucking SUCK!'"
The majority of people, however, can't stop raving about how gecs are changing pop - and rightly so. With their balls-to-the-wall nature, connectivity to everything current in music and desire to completely push ahead of all of it, the pair have already developed a hugely adoring fanbase - one that's even turned the tree on '1000 gecs'' album cover into a fan tourist hot-spot. "It's so sick," Laura beams. "People leave gifts under the tree now. If you go to the tree, people have posted update pictures of what's underneath it. It's on the property of a business and they don't clean it up I guess, because some of the stuff has been there for like, a year. There's a Minecraft strategy guide, an air freshener… I wish I could remember everything! People just leave shit under there but, like, cool shit. It's fun."
Lately, it feels like the band have been doing 'cool shit' wherever they go. Dylan recently took time to hop on production duties for Charli XCX's lockdown album 'how i'm feeling now', and has also lent his production chops to Dorian Electra's latest single 'Sorry Bro (I Love You)', Hannah Diamond's remix album of 'Reflections' and Nasty Cherry's newest bop 'I Am King'. Meanwhile 100 gecs themselves are gearing up to share a remix album of their debut, '1000 gecs and the Tree of Clues'. Releasing a handful of singles from the record already, they've recruited huge names to participate so far, with features and remixes from the likes of Danny L Harle, AG Cook, Rico Nasty, Kero Kero Bonito and new BFF Charli.
Anyone they wish they had grabbed for a feature but didn't quite get? "Taylor Swift, Playboi Carti, Bieber, Adele," Dylan states. "Actually maybe not Adele, but I do love her." "You wouldn't want Adele on the album?!" Laura gasps. "Yeah, all those people I agree with. Oh, and then get Eddie Van Halen to rip a solo on that shit. He'd play a sick riff and I'd be like, 'That's all you need to do.'"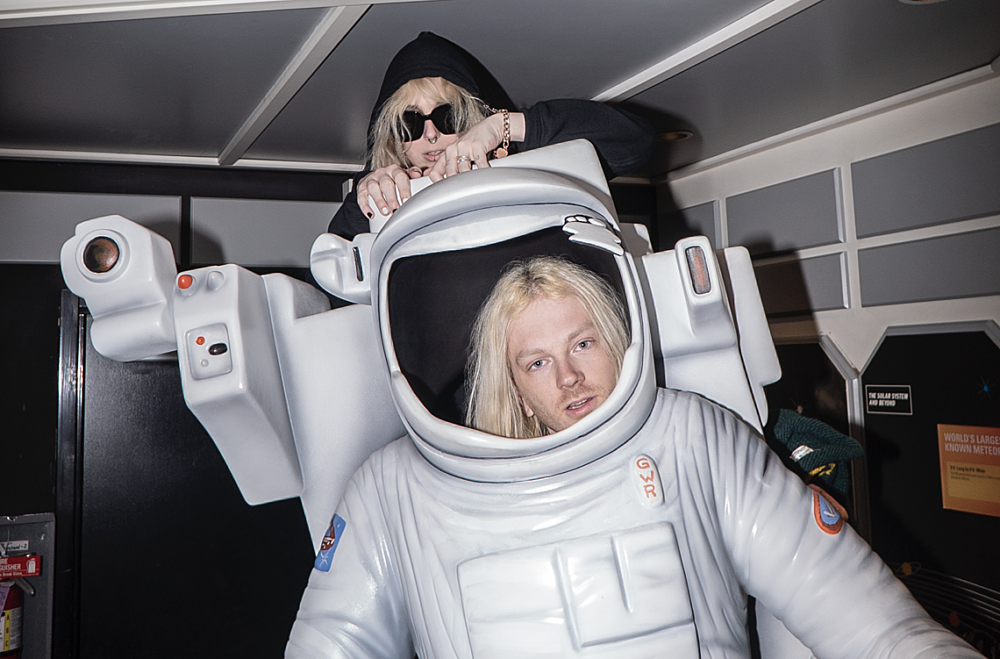 "They held Dylan down and were like 'Come here, come here. You fucking SUCK!'"
— Laura Les
With plans to tour cancelled for obvious reasons, Laura and Dylan recently hosted their own festival, Square Garden, on Minecraft - a site they've been using for a long time to host events with fans across the globe. The rest of the music world may have been forced in recent months to wise up to non-traditional online gig opportunities, but gecs have been at this shit for ages, wowing virtual crowds across this internet for time, including the second ever Minecraft Fire Festival last year. "It was really dope," Dylan says of the recent event, which saw streamed sets from album features GFOTY, Count Baldor and Tommy Ca$h. "Dylan had made this really elaborate stage show for our Tree of Clues tour and we had so many elements that specifically aligned with that tour," Laura nods, "so we really wanted to use as [much of that] as we could. We had this really big rat. Did you see the rat? It was this colossal rat menacing over a colossal tree."
Having worked remotely from their homes across the US for the majority of their career, they even whipped up some brand new tunes for the Minecraft show. "My voice was completely gone by the time I finished recording that shit," Laura laughs. "There's these YouTube videos of this 14-year-old kid like, 'Today I'm going to cover' - I don't know - 'some fucking band that screams', and then they do it into their webcam and they're like, 'Wow, that was awful'. That's how I felt when I was done screaming. But then you throw some sweet vocal effects on it and ooft. It all comes together, baby. It's that sweet glue, that sweet, sweet glue."
Set to take their virtual world domination offline as soon as they can, Dylan and Laura have big goals for the future of gecs. "We want to be Beatles-type level," Dylan smiles. "Big like Bieber!" Laura enthuses. "Massive!"
Already well on their way to achieving that, you get the feeling that the duo have more up their sleeves than they're letting on, coyly hinting that as soon as they've let the remix album "breathe", they'll be right back with even more game-changing bangers.
If you don't know who the fuck 100 gecs are yet, it's time to wise up.
Read More