Out of a period of personal and professional turmoil, The Xcerts have emerged closer and more united than ever; fifth album 'Learning How to Live and Let Go' finds a band relaxing into themselves and reaping the benefits.
Rewind the clock back to 2019 and life, for The Xcerts, was looking a bit different. Following the release of fourth album 'Hold On To Your Heart' in 2018 - their biggest to date - the band then wrapped up a celebratory tenth anniversary tour of cult debut 'In The Cold Wind We Smile'; a run that saw them pack out rooms across the country, with fans bellowing back the lyrics to their tales of youthful introspection. But, as 2020 crept in, things began to come undone. "We'd just done this tour and then all of a sudden, it felt like things were unravelling," nods bassist Jordan Smith. "It was scary, we had no control anymore."
For once, the ensuing pandemic wasn't even fully to blame. Having spent the better part of 18 months prepping demos, the Brighton trio soon found themselves parting ways with their management. "It was time for us to move on. We got to the point where both parties felt we'd achieved all we could together," frontman Murray Macleod explains over a pint in an East London pub, more than three years later. Then, their offer of a new label contract was rescinded. "That was a carpet pulled out from under our feet," Murray nods. "We had an offer on the table and, in between lockdowns, we all went celebrating - socially distanced in a park. Then about five months later when we said we were good to go, they retracted their offer. That was pretty heavy; then it felt like we were really lost, especially without management as we didn't have anybody holding the reins. It just felt a little stranded at sea."
For a band who had spent the better part of their adult lives making music together, the about-turn felt jarring, leaving them pondering their place in the world. "We just found ourselves adrift," confirms Jordan. "There was that feeling of, 'Oh shit, are we even in a band? We still feel like one but we don't really have the means to be a band'." But rather than let themselves be taken out with the tide, they accepted an offer from longtime friend - and Blood Red Shoes drummer - Steven Ansell to head into his studio, where they began work on what would become their fifth full-length, 'Learning How To Live and Let Go'.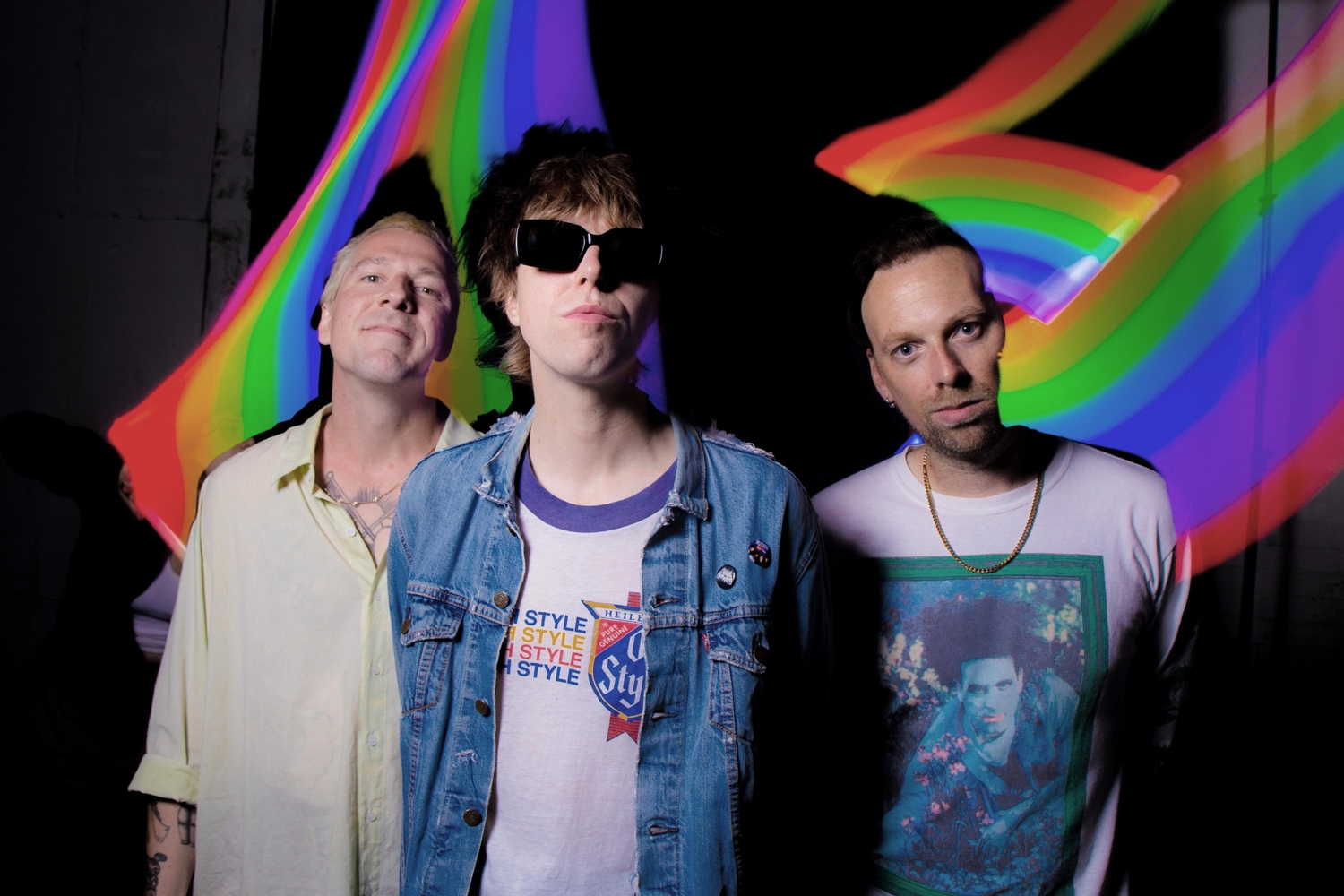 "All of a sudden, it felt like things were unravelling."
— Jordan Smith
It will come as little surprise to learn that the album's weighty title is indicative of a record loaded with stories tangled up in life's more complex moments. Written largely ahead of the pandemic, it wasn't isolation that was fuelling Murray's thoughts but a time before - one that was far more chaotic, but just as unstable. "Life just got really, really messy," Murray begins. "I can't lie; [being that messy] was so much fun, I had a riot, but everything became a volume thing; even when it was quiet, the room was always too loud, and I needed to deafen it out by being out and preoccupied.
"It seemed like a lot of my friends were going through a hard time, and everyone was a bit…" He pauses. "I don't know why, but a lot of my friends were having [moments of] quiet self-sabotage, and I had it with them." Stemming from a "really awful toxic relationship I'd entered into - and I take full accountability for it as well", the tumultuous period soon found the singer struggling, trying to reconcile himself with his strengths and flaws, successes and failings.
"A lot of [the album], in a very twisted way, is an ode to a lot of my loved ones - including the guys - who were there and saw it in real time," he explains. "If it sounds like the narrator on the record is struggling, there's always someone else there who is leaning on them with love." These ideas burst through on 'Ache', with its lyrics on the "beauty in the darkness waving", or the mates we're told to cherish in 'My Friends Forever'.
"Then, a lot of what I'm talking about is also just rooted in ego," Murray admits. "We'd had some problems in the band in the past as well because of, more often than not, my behaviour, which was just pure ego and pride. And it just had to go, all of it: fear, ego, pride, it all just had to go and be shed because it was just this fucking horrible waltz between the three of [those ideas] that wouldn't end.
"It's about shedding that and realising that you're enough, and the people that you love so much love you for a reason, and it's not this bravado, it's not because you play music," he continues. "It's because they think you have a good heart and are a good person, fundamentally. And I had fucked that up numerous times by acting like a fucking asshole. It was shit, we had some awful times." "But the fact that we're all still here is testament to that," Tom adds, in support. "Shout out for being vulnerable," Jordan nods. "We've never wanted to be vulnerable before, we didn't think it was cool," Murray laughs, "but actually being vulnerable is the most fucking punk rock thing."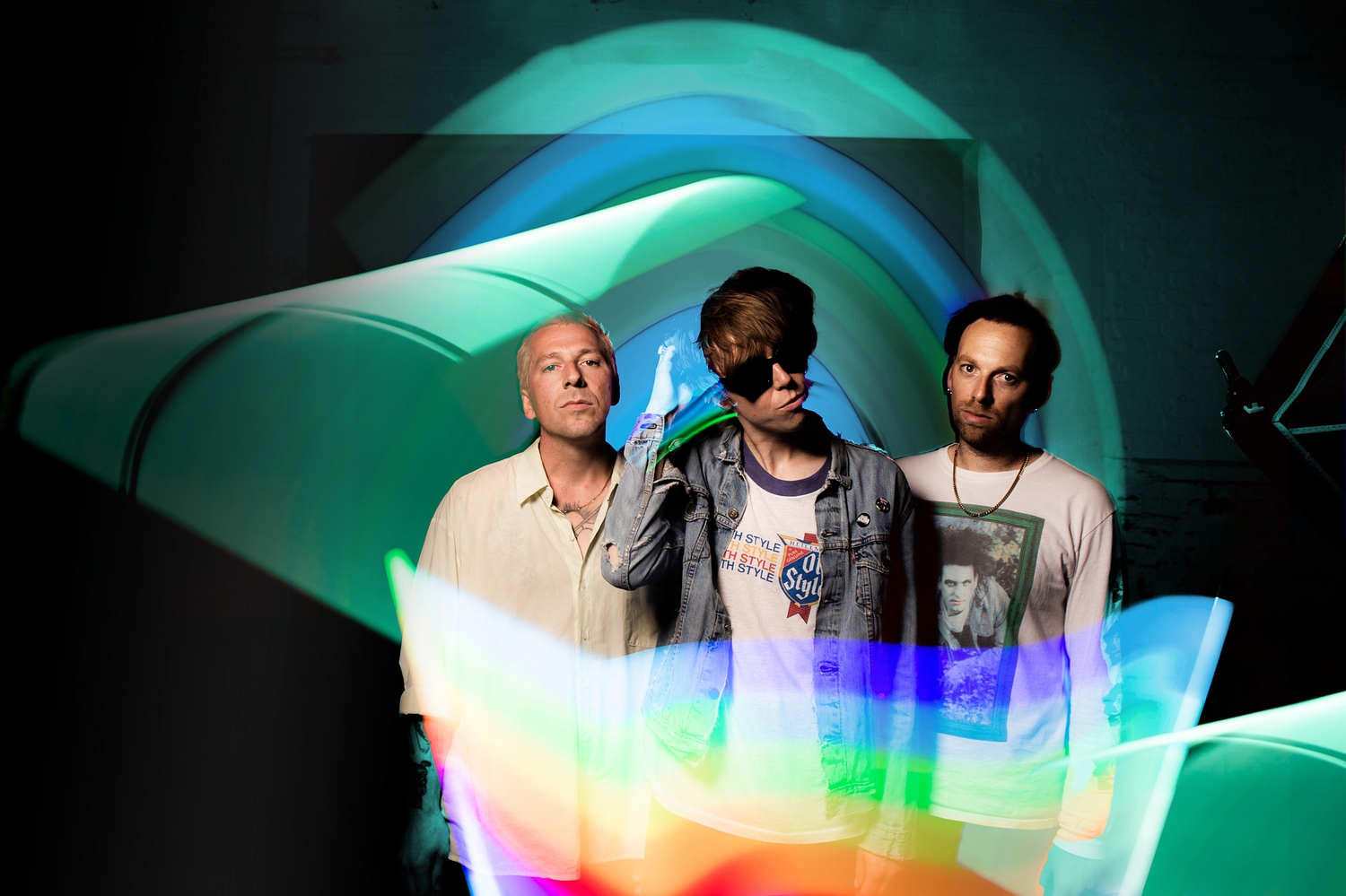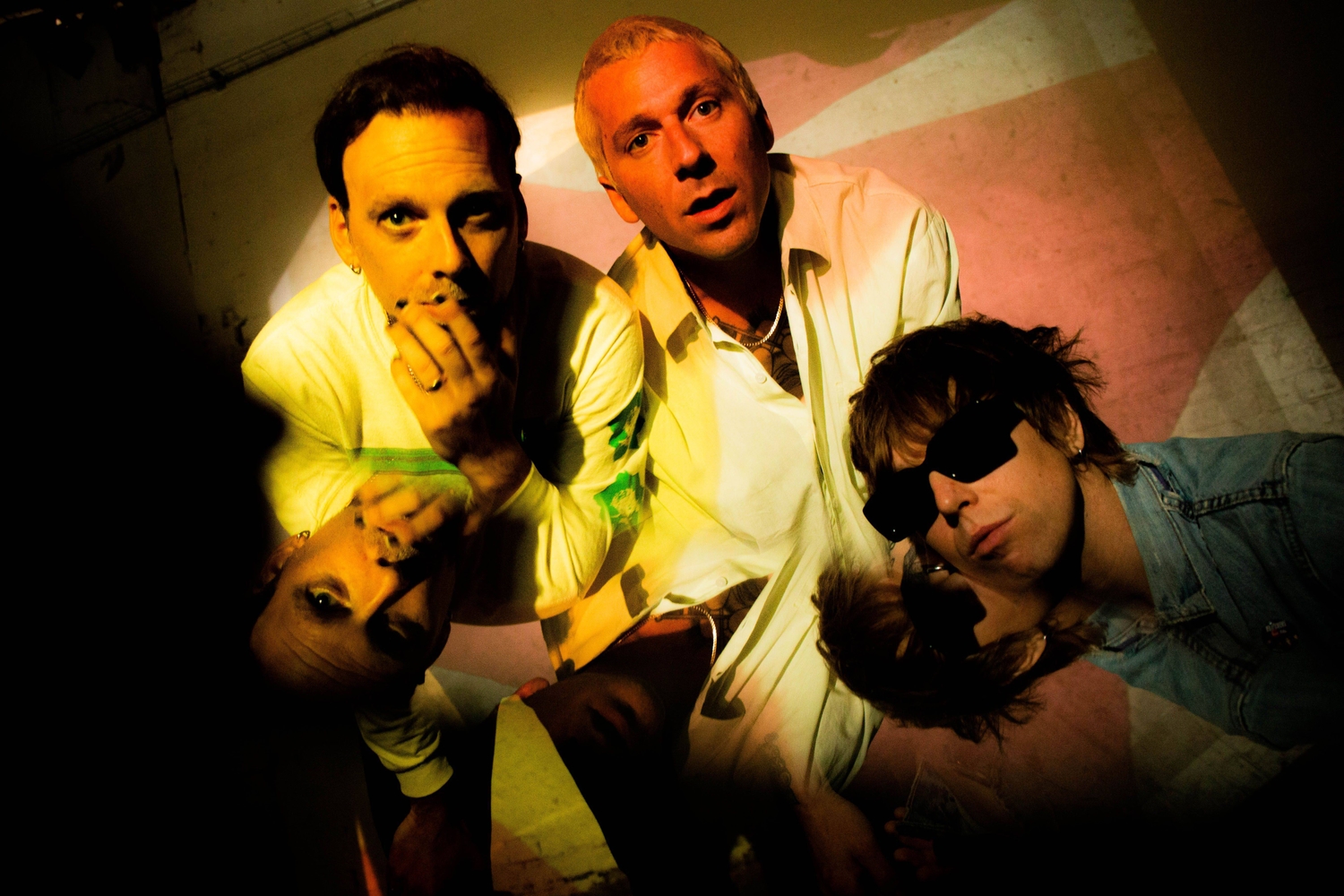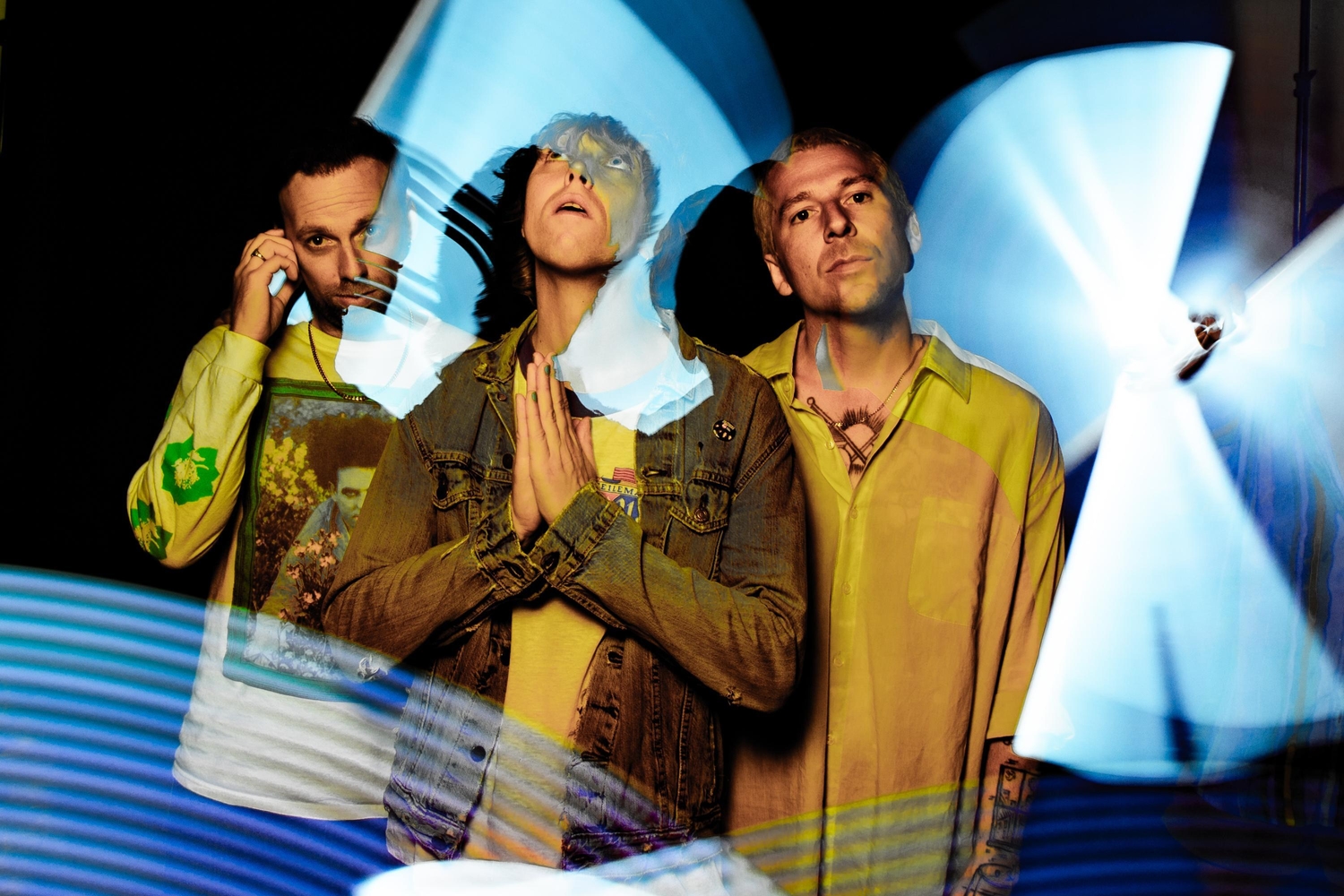 "We've never wanted to be vulnerable before, but actually being vulnerable is the most fucking punk rock thing."
— Murray Macleod
In line with the band's newfound open-book policy came a shift in their sonic outlook. Having always managed to dwell on the peripheries, but with a fiercely loyal fanbase, The Xcerts' knack for creating intriguing but ambitious pop-imbued alt-rock had seen them support the likes of Manchester Orchestra, Biffy Clyro, The Get Up Kids and more, all while maintaining their status as fan and peer favourites. Now, it was time for a drastic change. "Steve said that he wanted people to hate us!" laughs Jordan of their producer's unusual input. "He said, 'You've been loved for too long, I want people to hate this'."
On first listen, the endorphin rush of opening track 'GIMME' is a shock to the system. After the soaring, classic songwriting of 2018 LP 'Hold On To Your Heart', their new album's scuzzy, breakneck first offering - one that packs in vocal effects, sirens, and hyperpop sounds into its 100-second playing time - marks a total change of pace.
"We all agreed we had to shake things up," Murray begins. "I had a conversation with the guys, as I had presented them with a couple of songs and they were awful. I was taking too much of the influence of other people; it wasn't us. Very quickly, the guys were really good and said, 'This ain't it'. We're close enough to say that, and so we completely restarted.
"I remember having this idea of where I thought I could take our sound, this space that we wanted to fill in alternative music, which drew sonically from hip hop but had really noisy and shoegazey guitars, but still mad pop sensibilities, and incorporate more of our punk and emo leanings, but also our love of glitchy stuff," he continues. "Because we had all this time, we finally felt free, completely free. It's the most freeing record we've made because there was no pressure."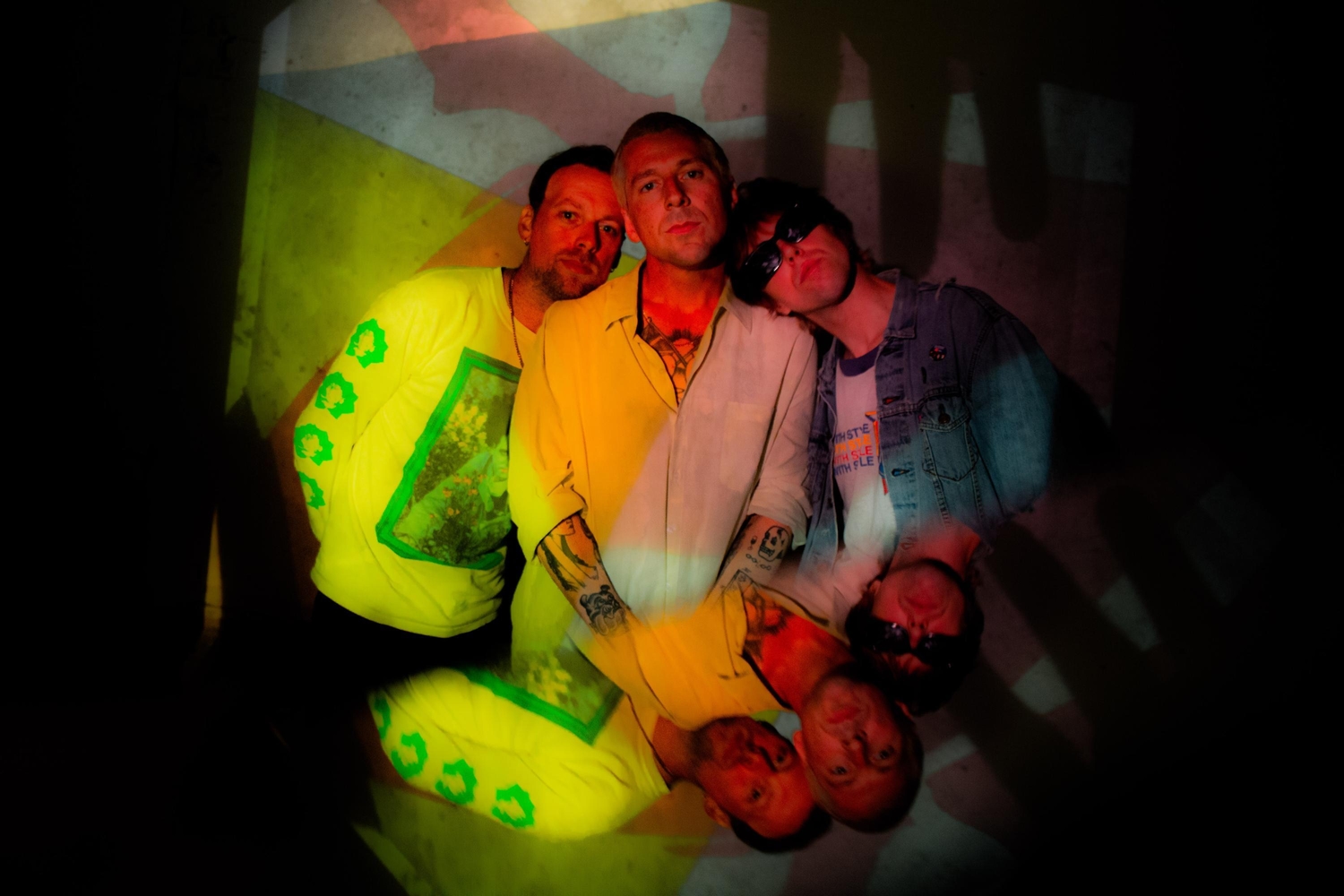 "It's the purest Xcerts album we've ever made because you can hear all of [our history]."
— Murray Macleod
Instead of a more traditional writing set-up ("Usually in the past, we've been a band who writes songs in a room together with instruments," Tom explains), they began to mess with the format and, as the drummer puts it, "do whatever we wanted". "You don't realise at the time, but it's actually very easy to paint yourself into a corner," Jordan agrees. "We realised, 'Oh, we've actually just put up all these walls and constraints about who has to be on bass, and who has to be on guitar, because we had been doing it for so long. We just shed all of those."
Less of a reinvention, and more a "rejuvenation", as Murray puts it, their new record paints a more multifaceted picture of The Xcerts. Granted, some of their past rules may have been put to bed, but the fingerprints of their discography so far are all over the record. "It's not like with 'Hold On To Your Heart', 'There Is Only You', 'Scatterbrain' and 'Cold Wind'…", Murray starts, "we're not embarrassed of those records or [acting] like they're not our DNA. Personally, I feel like on this record, you can hear every album." "You can hear all those records distilled into one," agrees Jordan. "On 'GIMME', you can see the thread from 'Scatterbrain'," Murray adds. "'Drag Me Out' has got a bit of a 'Hold On To Your Heart' thing; 'Blame''s quintessentially us. That's why I keep saying it's the purest Xcerts album we've ever made because you can hear all of it."
Even after being dealt a series of tough blows, the sense that The Xcerts are in their best state so far is palpable. Whether that be down to growth, uncertainty or just the fact that all bets were firmly off for a while, their fifth album sees the band entirely content with themselves. "Maybe at times, we were like, 'This is the first time the band has stopped since we were 14' and at one point I did think, 'This is awful, I've lost a limb'," Murray ponders. "But I realised, 'I am still here, I'm still breathing and smiling' so it was like, 'OK, if this was to go, I'm OK…' That was maybe in the back of our heads, where we were like, 'Fuck it, if this is our swan song, this is our swan song…" before he grins: "But it's fucking not."
'Learning How To Live and Let Go' is out 18th August via UNFD.
Read More
Featuring James Blake, Romy, Marika Hackman, yeule and more.