An artist continuously evolving and shapeshifting, the next move from multi-hyphenate yeule marks another bold chapter in the story so far.
Just when you think you've got yeule all figured out, they throw out a curveball. The very epitome of indefinable, the artist - also known as Singaporean-born Nat Ćmiel - has spent the better part of a decade carving out their own distinct, multi-faceted sonic world, continually shifting the boundaries of what's expected within experimental music.
Named after the constantly-reborn character Yeul of Final Fantasy XIII-2, it should perhaps come as little surprise to learn that the musician themselves is one for shape-shifting. But it's with new album 'softscars' - their debut for their new label home of Ninja Tune - that yeule pulls off their boldest transformation to date.
Following on from the release of last year's 'Glitch Princess', their third album marks a significant sonic departure from what came before. An album defined by glacial electronics and distorted soundscapes, 'Glitch Princess' was inspired by an eclectic range of influences spanning from the likes of Japanese noise titans Boris, through to film score composer Tôru Takemitsu. Ask yeule today if they had a clear vision in mind for 'softscars', however, and their answer couldn't be more different: "It was very, very meant to be a '90s emo throwback."

Zooming in from their current home in Los Angeles, yeule is a continually surprising delight. "Wait, are you Northern?" they quip, just a few minutes in, before opening up about the friendship circles they formed during their time studying at Central Saint Martins, and the subtle slips of accent they've picked up along the way. "Some people think I have an Australian twang…" they laugh.
While they might be in LA right now ("Loads of my friends were moving out from London, so it was getting really lonely and I just wanted to be surrounded by IRL people again," they note), it was their time spent in the UK that arguably shaped their latest album most significantly. Born in the darkest days of the pandemic, the foundations of 'softscars' were first laid because they were "spending unholy amounts of time with people. People who I love, but there was nothing we could do, so we were just at home and wrote music." Working alongside friend and collaborator Kin Leonn - who, also from Singapore, couldn't head home either - the pair would "have music-making benders" that began to shape the more guitar-driven nature of the record. "For four days straight we would just write over this stuff I'd give him," they recall.
It was also the unpredictable nature of the pandemic - and the desire for comfort in the face of it - that saw yeule, like many, turn towards the more nostalgic musical influences of their past. "I think when you feel very desperate and in need of something safe, you go back to what's familiar. We have so many references from the '90s and '00s, like Radiohead, My Chemical Romance… Honestly, Gerard Way changed my fucking life," they enthuse giddily. "I was nine years old when I found 'Three Cheers for Sweet Revenge' and did not understand what that was all about until later on, but the emotional lyricism and the musical aspect of it punched me when I was a kid.
"Then we were listening to a lot of Avril Lavigne, the stuff that we grew up on with our iPods. Like, 'Oh we should totally do some Pixies shit, or Smashing Pumpkins!' We were listening to all this music that's very sentimental to us, because we're '90s kids."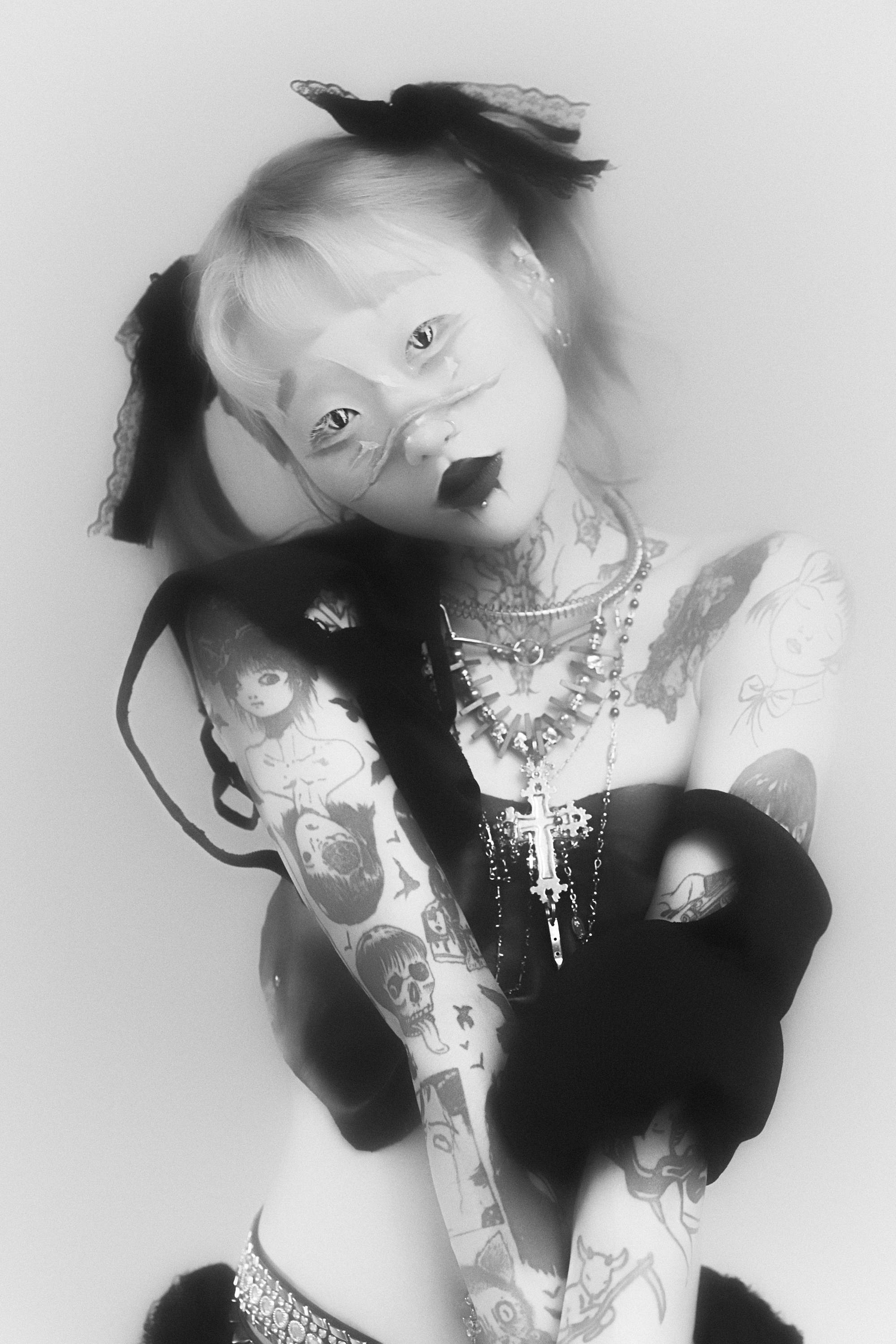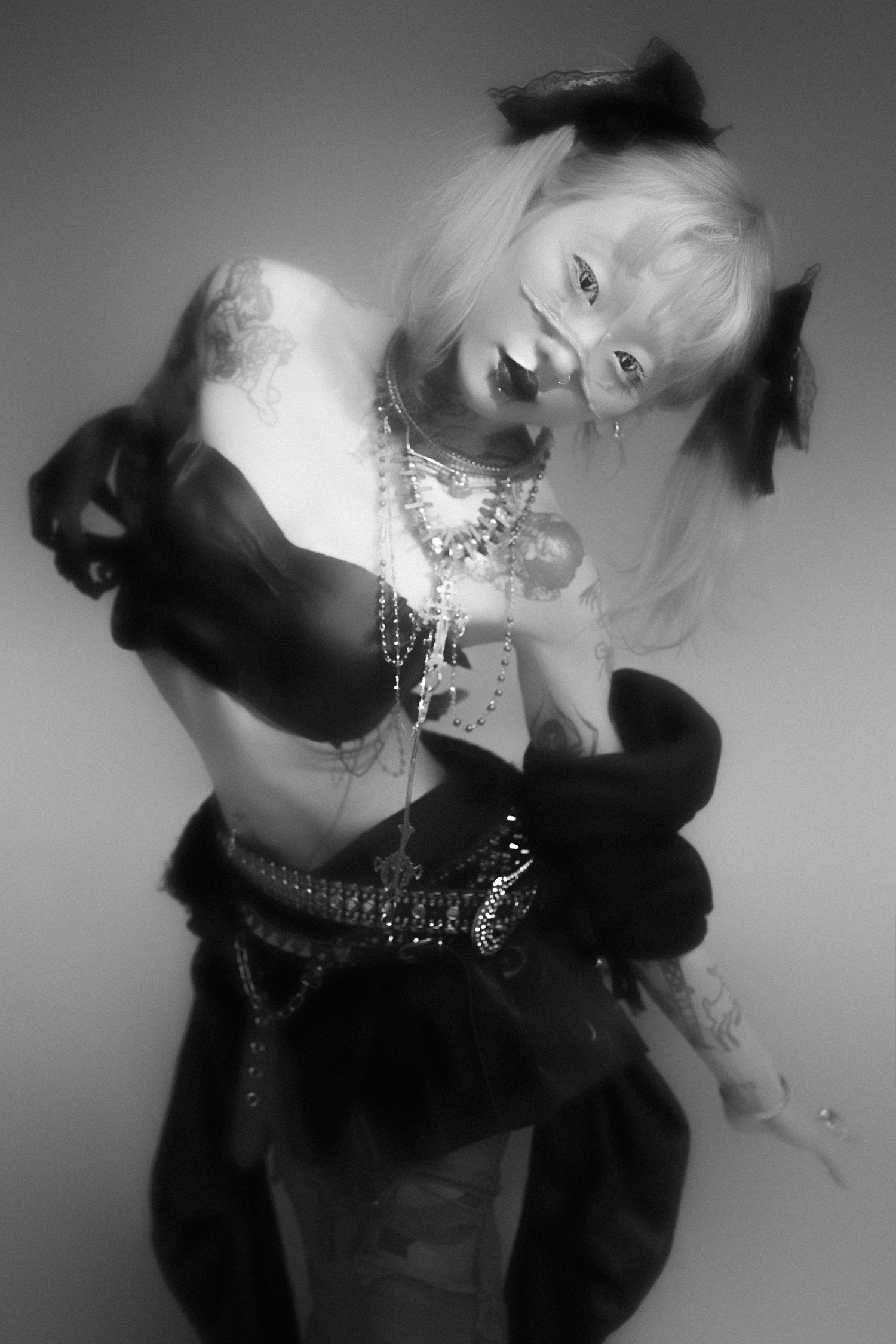 "I think when you feel very desperate and in need of something safe, you go back to what's familiar."
Building on from 'Glitch Princess'' 'Don't Be So Hard On Your Own Beauty' - the album's most organic-sounding centrepiece - 'softscars' sees yeule revel in a new sonic territory, stretching the expectations of their electronica to feel more grungy and lo-fi. Elsewhere, meanwhile, it also sees their focus turn to a decidedly more human experience than ones they've explored before.
"I'm so focussed on pockets of the internet, and pockets of niche culture, that 'softscars' was more confessional; I was looking into me," they explain. Despite previously referencing the human form in their art, their reputation as a "digital native" - and a self-proclaimed "non-binary cyborg entity" - has unsurprisingly had them pinned as a more otherworldly creature, not entirely of this earth. 'softscars', and its reflection on such a physical and human act as scarring, in a way sees them beginning to consolidate those two halves.
"It was like, 'What is something that I'm afraid to talk about?' Music does this thing where you can talk about these things and you can be fearless with it. When you're releasing music, some people look at the lyrics, some people look at the visuals; everyone takes it differently. But with most of my fans, I've noticed a lot of them pay attention to the lyrics and the poetry," they explain. "I really wanted to take from that imagery of scars, because every time I wrote in my journal, it felt like it was transferring or imprinting that metaphorical scar in me onto paper. The songs are those scars. I feel like scars are a beautiful thing; it shows that you've lived and that you've experienced, and survived. It's a beautiful thing to observe; it's not a flaw, it's part of my identity."
That is, we suggest, going to be incredibly reassuring to those out there who struggle with their own scars. "In 2020, one of my friends had surgery on her back," they explain, "and she had this long scar down the back of her spine and she was crying about how ugly she felt and how she couldn't wear the clothes she wanted to wear anymore, and I was like, 'Dude, you should embrace it'," they say. "Another of my friends has had top surgery, and they look so beautiful; they take topless pictures, embracing it and it's just part of them. Same with me; I've got surgery scars and old self-harm scars, but I think it's really important to not be shamed. Shame is something that clouds a lot of people's self-worth, and there's a lot of beautiful imagery that comes with scars. That's why I was so obsessed with them, making that the whole album."

"Scars are a beautiful thing; it shows that you've lived and that you've experienced, and survived."
It's moments like this that showcase just how astute and empathetic yeule really is; even at 25 years old, they speak with a wisdom far beyond their years and it's little wonder as to why their vision of the world is so magnetic. But, you sense, it's perhaps the product of a life spent on the fringes of societal norms that's allowed them to have such clarity.
"I get discriminated [against] all the time, in Singapore, or especially in Asian countries," they nod, "because of my tattoos or the way I look. I get stopped at the border because they think I'm some sort of delinquent. Then they talk to people like us - who look different - and they're like, 'Oh you're normal and friendly, and you have a personality'. It's all about slowly encouraging that. There are some bad days I have too, but because of this path that I've chosen, being in the music industry and being an artist, I'm so free, I'm non-conforming.
"I'm always trying to challenge things, which makes it quite problematic going back home and being in that conservative environment, things like that. But it speaks to a lot of people when you speak up for marginalised groups, or anything to do with people who've survived injury or suicide attempts," they add, harking back to the core of the record. "I think it's a very beautiful thing to embrace physical form in such a digital world, and to be very aware of that."
'softscars' is out now via Ninja Tune.
Read More
Featuring King Gizzard & The Lizard Wizard, IDLES, Tkay Maidza, Sleater-Kinney and more.