Album Review
Father John Misty - I Love You, Honeybear
4 Stars
Josh Tillman's on track to age with grace.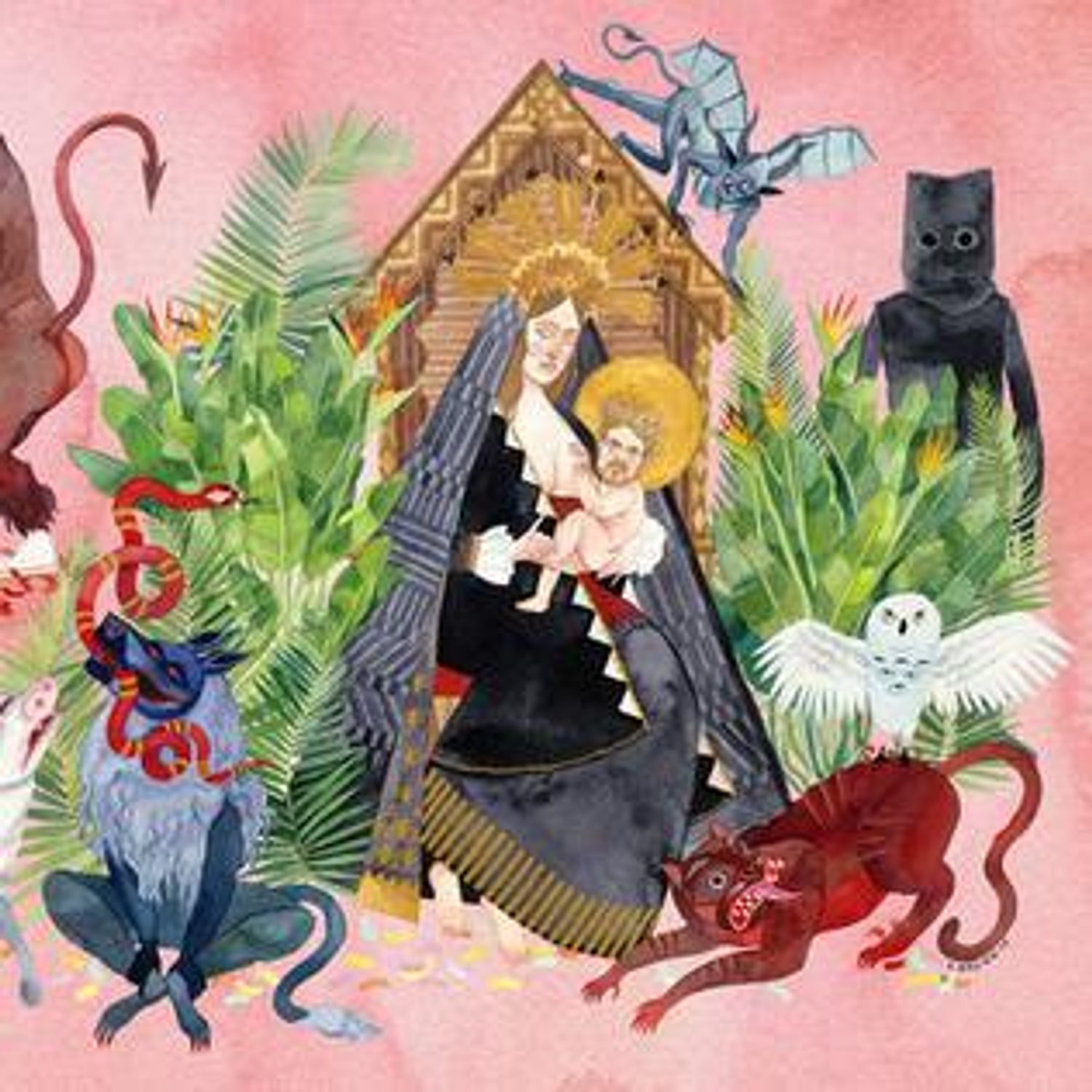 'Fear Fun', Josh Tillman's first album under the Father John Misty moniker, was a folk pop romp aimed at airing the wry sensibilities he kept pent up during his years with Fleet Foxes. An opportunity for emotional exorcism, Tillman was clearly having fun, even if the combination of shaking hip refrains and snarky lyrical quips often cast him as the guy you wish you hadn't started a conversation with at a party.
One could never accuse Tillman of hiding behind his characters, all which have only served as the thinnest of alter egos for the freewheeling troubadour. But 'I Love You, Honeybear' serves as a proper coming out party, where ostensibly we hear directly from the man himself. Perhaps it's because he's unabashedly in love (and married to filmmaker Emma Elizabeth Tillman). It's a fact that's celebrated across the album's eleven guitar-driven tracks, lines such as "You left a note in your perfect script / Stay as long as you want / and I haven't left your bed since," embellished by Spanish horns and Tillman sensuous vocal slurs.
So he's got a sweetheart… now what? The album's highlights all stems from Tillman extrapolating on what happens next - how do you entertain original thoughts after ceding to societal norms like love and marriage? For Tillman it means throwing barbs at those who trade knowledge for comfort, be it the girl with an inflated sense of self-worth on the twinkling bells and strings-heavy ballad 'The Night Josh Tillman Came To Our Apt' ("The malapropos make me want to fucking scream / I wonder if she even knows what that word means."), or the whole damn system on Springsteen-referencing, laugh-track dotted centrepiece, 'Bored in the U.S.A' ("They gave me a useless education/ a subprime loan / A craftsman home / Keep my prescriptions filled / Now I can't get off, but I can kinda deal.")
Still, for all his determination to thumb his nose at convention, 'I Love You, Honeybear' finds Tillman falling face first into perhaps the most expected of musical tropes: the "mature" sophomore release. Thankfully, he's on track to age with grace.
Read More
Featuring King Gizzard & The Lizard Wizard, IDLES, Tkay Maidza, Sleater-Kinney and more.