Festivals
Bilbao BBK Live 2016: Day Two
8th July 2016
Grimes, Slaves and INHEAVEN also got things going on Day Two of the festival.
The sun is shining on the mountains as INHEAVEN step up to open Bilbao BBK Live's Main Stage on the second day of the festival. While the four-piece may still be a new concern for a lot of today's attendees, they fill the huge stage like it's their true home. The likes of 'Baby's Alright' and 'Meat Somebody' sound massive, all swirling guitars and punching choruses.
The fact that there's a also a string of fans lining the barrier - one of which holding up a sign that says 'You make me feel like I'm INHEAVEN' - proves just how far they've come in the last twelve months. Destined for stages this big at every festival they play, the future really is bright for this London bunch.
HANA, meanwhile, is whipping up a storm elsewhere on the site. Also doubling as Grimes' bff and backing singer, the Montana producer wastes little time in making her own mark. Woozy electronics take the driving seat during her set, but back up with her angelic harmonies, her offerings are truly gorgeous.
The anticipation surrounding Grimes' set is tangible. Fans arrive at the Heineken Stage thick and fast ahead of her arrival, all covered in glitter and ready for the time of their lives. Unsurprisingly, she delivers everything and more. No one longer stuck behind her decks, Claire Boucher has grown into a true popstar. Backed by dance routines and high octane energy, hers is a set it's hard to draw your eyes from; the likes of 'Venus Fly' and 'Kill vs Maim' are electrifying, but it's during the full-throttle 'Go' that things take a turn.
A power cut at a festival is never something an artist wants to deal with, but Boucher's approach to the situation is admirable. After the stage gets plunged into darkness - and stays that way for fifteen minutes or so - Grimes simply heads back out on stage when things seems to be back on course, tests a few pieces of her equipment and throws herself right back into the mix. Undeniably brilliant throughout.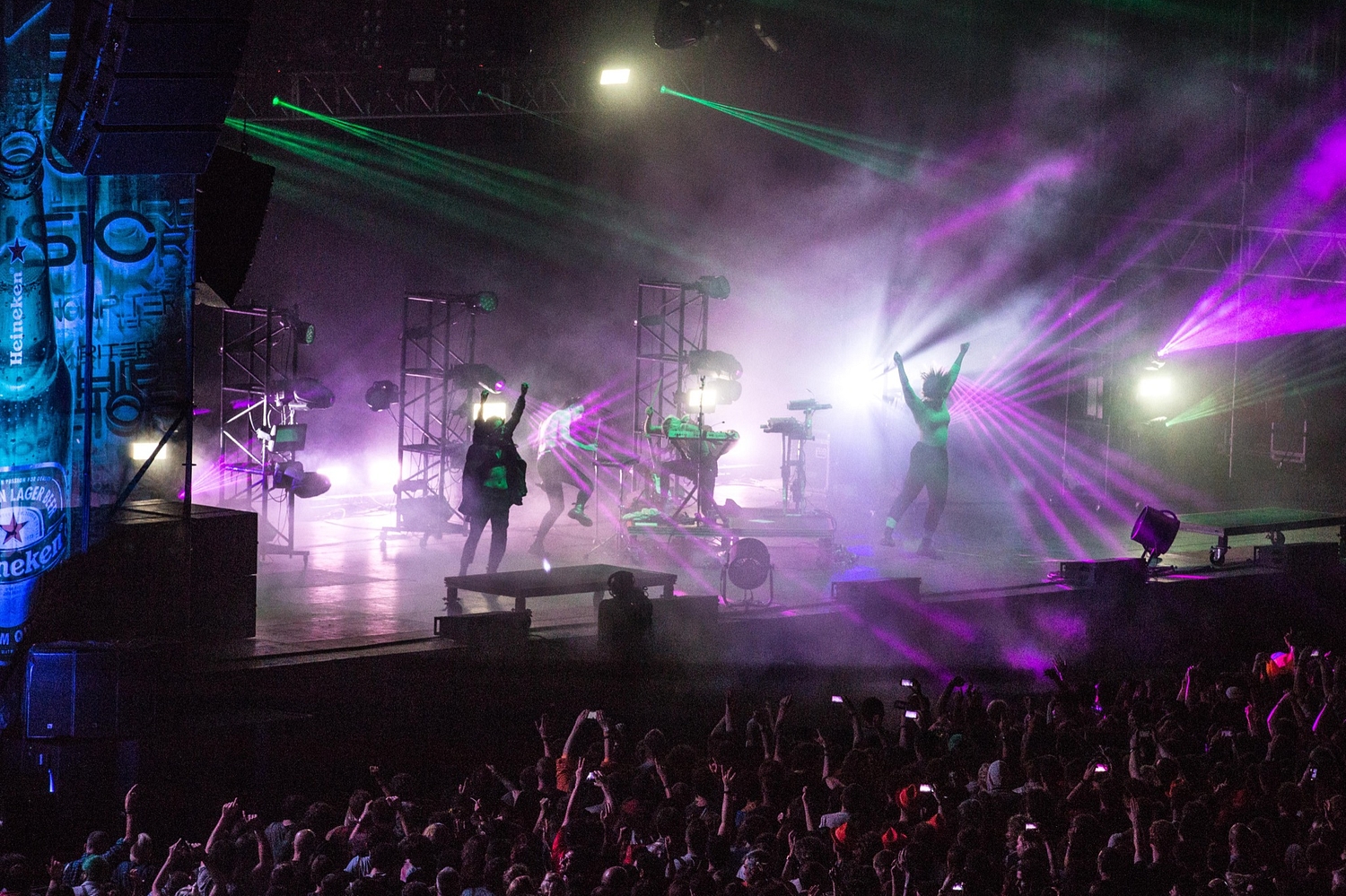 The adoration rippling through the crowd as Pixies take to the stage is as clear as the mountain air up here in Kobetamendi. The band - whose last appearance in Spain was back in 2014 at Barcelona's Primavera Sound - clearly mean business: beginning proceedings with their crunching 'Bone Machine' before storming into their rendition of The Jesus and Mary Chain's 'Head On', their opening gambit is strong tonight.
It's easy to see just how profound an effect this band have had on their audience. From their anthemic 'Debaser' to those forever-recognisable chords that kick off 'Where Is My Mind?', the quartet seem to just go from strength-to-strength, with each song that gets aired receiving rapturous applause and cheers of nostalgic recognition. Even the new material which gets aired tonight - from 'Head Carrier', their first record with new bassist Paz Lenchantin - sounds right at home within their epic setlist. Thirty-two songs - and a rare outing for 'Velvety' - later and they've really stolen the show.
There's no doubting that Slaves' musical style is quintessentially British, so it's no wonder that even they themselves seem unsure as to how tonight's set will go. By the time that their 2am slot rolls around, however, it's clear that 'Are You Satisfied?' has translated perfectly, and the tent is packed out.
Early airings from the likes of 'Ninety Nine' and 'Sockets', with ther erratic fury, go down a storm, and get the Bilbao crowd causing chaos from the get-go. Blitzing through the rest of their set at breakneck speed - whilst being pelted with shoes, apparently for their lighting guy Francis, at their own request - the duo are on fire tonight. They may be the final act of the night, but the Bilbao crowd don't let them down.
Read More
Featuring James Blake, Romy, Marika Hackman, yeule and more.