Live Review
Gorillaz, Song Machine: Live from Kong
All in, it's classic Gorillaz: a mixed bag mostly stuffed with delights, that fares extremely favourably on the banger to clanger ratio.
Imagine reaching a level of success where you can basically do whatever you want, just for the sheer hell of it. For Damon Albarn that means dipping into his phonebook, placing bets with Jamie Hewlett on which megastar he can coax out of retirement… then pairing them up with the most unlikely collaborator he can find. In a year of cancelled tour plans and collective captivity, all bets are off with 'Song Machine: Season One'.
Each of the three sittings is a unique performance featuring a different combination of special guests, performed and aired live as it happens. That's all the more impressive at 11am on a Saturday morning (though too early for The Cure's Robert Smith, apparently, who brings his magic to later performances).
It's been a good 10 years since the musicians first unmasked themselves on stage, but come 2020 ironically it's now only the backstage crew who are obliged to cover their faces. Damon, on the other hand, is positively basking in it the limelight, flagrantly disregarding the two-metre rule as he spars with his guests. His supertight band do much of the legwork, giving him the freedom to goof around. Dressed like Dexy's Kevin Rowland wearing Elton's pineapple shades, he looks like he's having the most fun in the world as he rants through a tinny Tannoy speaker. But, of course, the musical visionary plays his talent lightly, at various points hopping from keytar to guitar to omnichord as befits the song.
As is customary with Gorillaz, absentee guests have their performances beamed in on the big screens or, in Beck's case, as a glitchy dad-dancing hologram that zips across the stage between the performers. Schoolboy Q pops up on screen for 'Pac-Man', which skulks along on an irresistible Dr Dre style groove. For every person who has played their own real-life version of Pac-Man this year - running the gauntlet the wrong way up the Tesco one-way system to grab the last pack of toilet rolls - it's a perfect commentary on contemporary life; 'Ghost Town' reimagined for 2020. Later, as Elton John arrives in cartoon form on 'The Pink Phantom', playing a comically over-sized grand piano, one wonders how long it'll be until Mr Albarn gets his own 'One-Man-and-a-Piano' Las Vegas residency.
Testament to their prowess, the band play slickly and seamlessly along to the string of virtual stars in an elaborate game of Guitar Hero. But, impressive as the feat is, when real-life guests do make essential travel to appear in the flesh, it's a welcome reprieve. First up today is soul man Leee John, whose glides across the floor in a shiny suit, adding shimmering falsetto to 'The Lost Chord'. Hooky lends his signature melodic bass to the New Order-inflected 'Aries'. Devoid of any trickery, it's an understated highlight of the show - particularly watching the joy on Damon's face playing along with a hero. Later slowthai and Slaves bring the chaos in the punked-up 'Momentary Bliss', another stand-out track from 'Song Machine'. Sonically, it's a million miles away from the slick soul delivered elsewhere in the set, but both sit comfortably within the 'anything goes' universe of Gorillaz. Damon is joined by old friend Kano on 'Dead Butterflies', showcasing a grittier, soulful sound to his vocals that suits him rather well.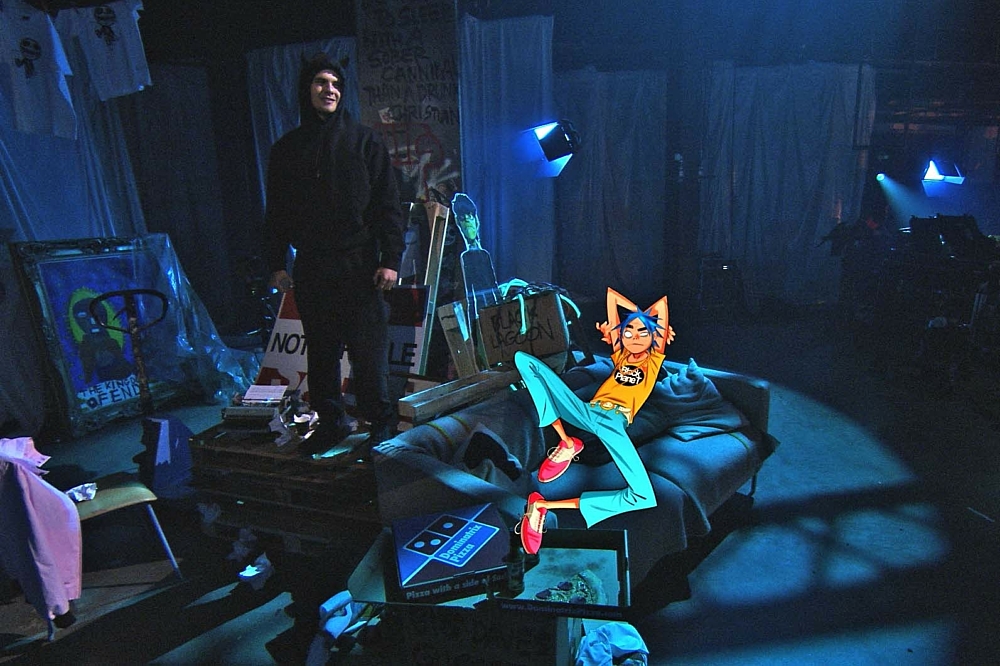 As the main set draws to an end, a hooded figure at a lectern is revealed to be actor Matt Berry, who recites the spoken-word 'Fire Coming Out of the Monkey's Head' monologue (originally performed by Dennis Hopper on 'Demon Days') in lofty Shakespearian tones.
It's a celebratory, largely upbeat set, but for all the glitz and technological wizardry throughout, the most affecting moments are often when Damon leads at the piano. The point is accentuated as the band briefly decamp to a smaller, cosier stage decked out in Christmas trees for stripped-back, gospel-fuelled renditions of a few golden oldies - a surprising phrase in itself when applied to Gorillaz, who have now been going for over 20 years. Finally, it's back to main stage to close with the Ed Case remix of 'Clint Eastwood' featuring Sweetie Irie.
All in, it's classic Gorillaz: a mixed bag mostly stuffed with delights, that fares extremely favourably on the banger to clanger ratio. Of course, it's also utterly bonkers (in a good way) while making its own bizarre kind of sense. These are indeed 'Strange Timez', but thankfully we have Gorillaz to guide us through them.

Get your copy of the latest issue
Read More