Festivals
Green Man 2016
18th - 21st August 2016
'New Song' hurls the Mountain Stage into a frenzy.
It's a packed tent for Wild Beasts on Thursday night, but a shame they're restricted to the (smaller) Far Out stage for their headline slot; while it's songs from 2014's 'Present Tense' that get the best reaction tonight, the neighbouring (outdoor) Mountain Stage could've given new baby 'Boy King' the celebration it deserves.
Friday begins with Meilyr Jones in front of a home crowd. Closer 'Featured Artist' is gigantic, and although his main stage set is the biggest step the Welshman has taken so far, it feels like the start of something more rather than a conclusion.
Floating Points' live show has become an intimidating beast in the last year. Tracks from new EP 'Kuiper' add yet more textures to an already accomplished sound, and see the show getting louder, heavier and more intricate as it continues to travel and expand.
Opening with 'Always' into 'Life Round Here', rain illuminated by lights careers towards James Blake's stage, and a moody sheen is cast, one that lasts for the whole performance. Whispers travel through the crowd that a repeat of Bon Iver's guest slot for 'I Need A Forest Fire' is coming, but nothing materialises. 'Retrograde' and 'The Wilhelm Scream' close out the set with precision, and while immersive and glorious for existing converts, as a festival headliner he's got a bit of work to do. Charlotte Church's lauded late-night pop dungeon then fills the Walled Garden with absolute ecstasy before Vessels and Factory Floor send day one off into the night with something more punchy.
Cate Le Bon's Mountain Stage set sees the festival continue their fervent support of Welsh artists, giving them their biggest stages yet. She provides an odd and wildly variable set, drawing largely from last year's 'Crab Day'.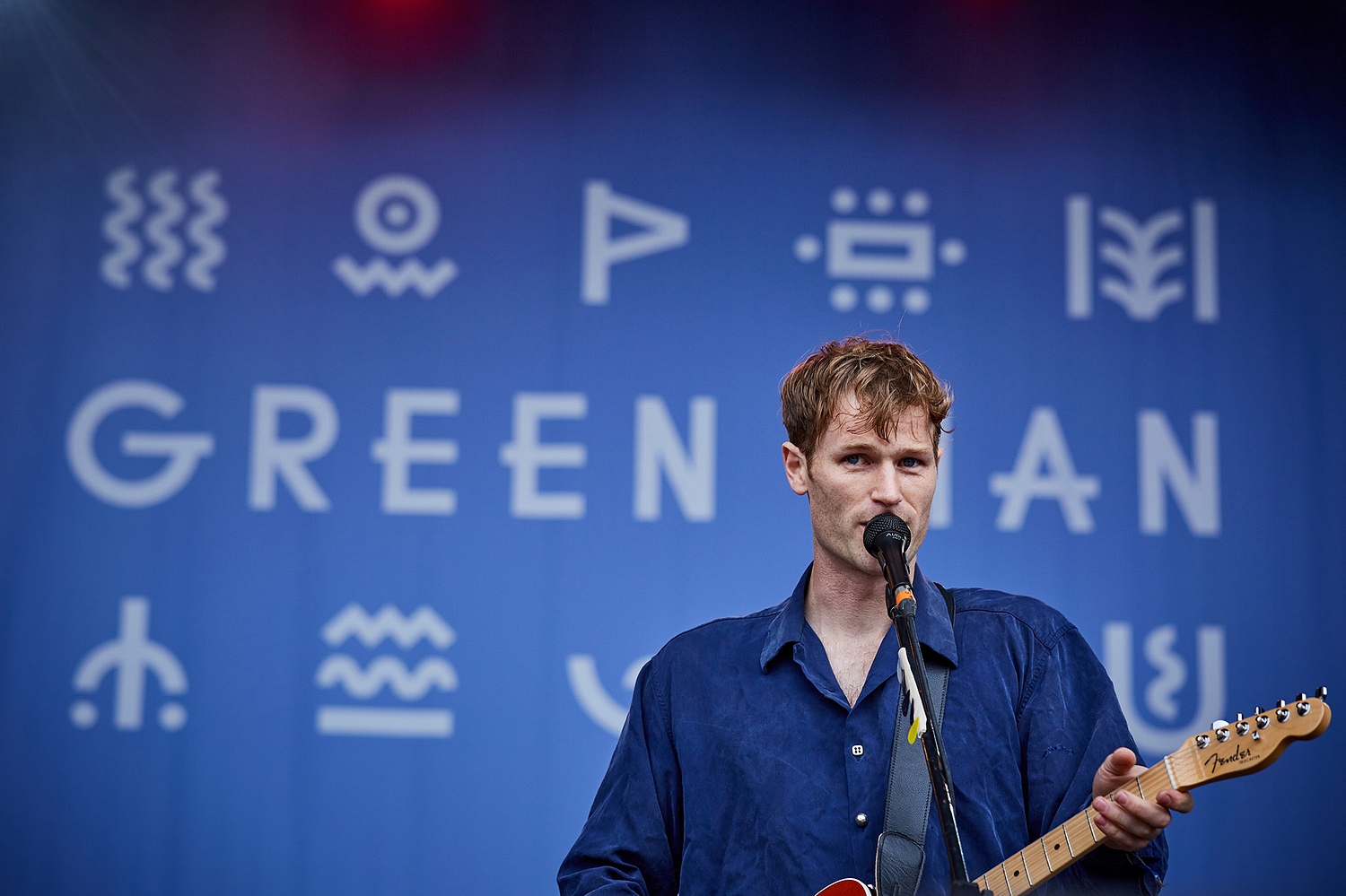 After Edward Sharpe & The Magnetic Zeros entertain one of the weekend's biggest crowds on the Mountain Stage, Jagwar Ma are celebrating the announcement of their new album with wide-eyed smiles. 'Every Now And Then' is announced mere hours before their Far Out tent performance, and the excitement is palpable. The Aussies have steadily crept their way up festival bills in the three years since 'Howlin' was released, and tonight sees them hurl themselves into a completely new league.
It's such a hit to the senses that it takes a good few songs of Laura Marling's headline set to settle in, thanks to the ever-changing styles that Green Man holds, but once the transition's made, she shines brighter than ever. Her set leans heavily on 2010's 'I Speak Because I Can', with only one song aired from last year's 'Short Movie', and tonight's biggest revelation is the pair of backing singers that join Marling on stage, taking the likes of 'Goodbye England (Covered In Snow)' and closer 'Sophia' to new heights. Any Laura Marling could have turned up tonight - only a few glimpses of her new penchant for Americana are seen - and Green Man gets the delicate, nostalgic, soaring one. Her set last just an hour, but it's another spellbinding showing from a singer that can change as many times as she likes and still remain fantastic.
Margaret Glaspy's debut album 'Emotions and Math' is an extremely promising beast, and she replicates every bit of excitement the record brings to open the festival's final day. her set ushers in a hugely strong Mountain Stage line-up, with Gengahr following. Green Man isn't the band's natural comfort zone, but numbers including new song 'Where Wildness Grows' show the band just as capable of captivating a crowd of mid-afternoon camping chair dwellers as they are a sweaty room with a crowd in their palm.
Last year's Green Man saw Songhoy Blues draw the biggest crowd of the weekend in the Far Out tent, and they're not far off matching it here on the Mountain Stage. Frontman Aliou Touré is a never-ending source of energy, chicken dancing his way through easily the most fun set of the weekend.
Another band with an exciting future is Whitney, who play the Walled Garden at the same time drummer Julian Ehrlich's former band Unknown Mortal Orchestra are in the tent. It's one of the biggest crowds the stage sees all weekend, and the band successfully eke out the last dregs of summer with highlights from 'Light Upon The Lake'.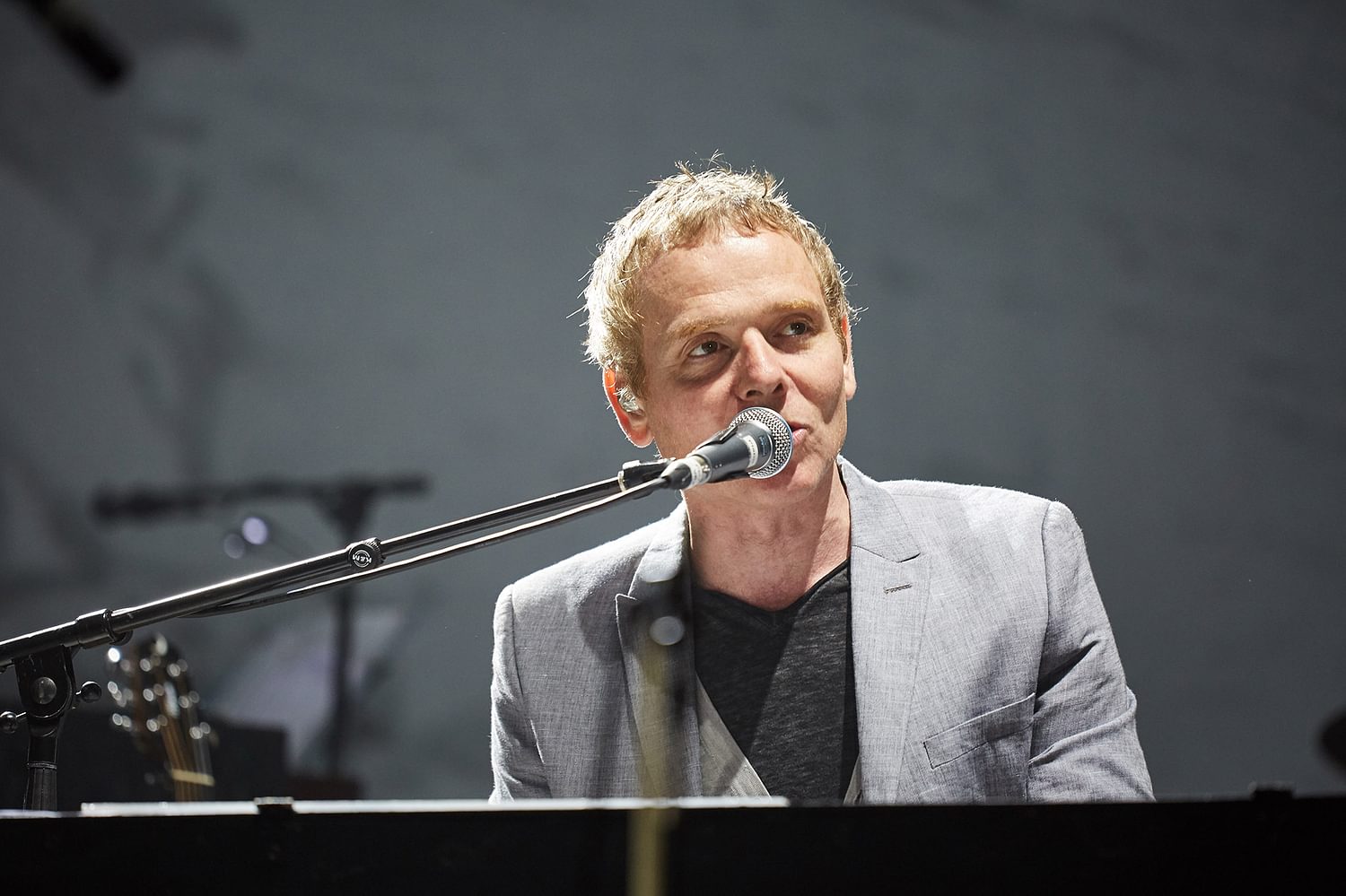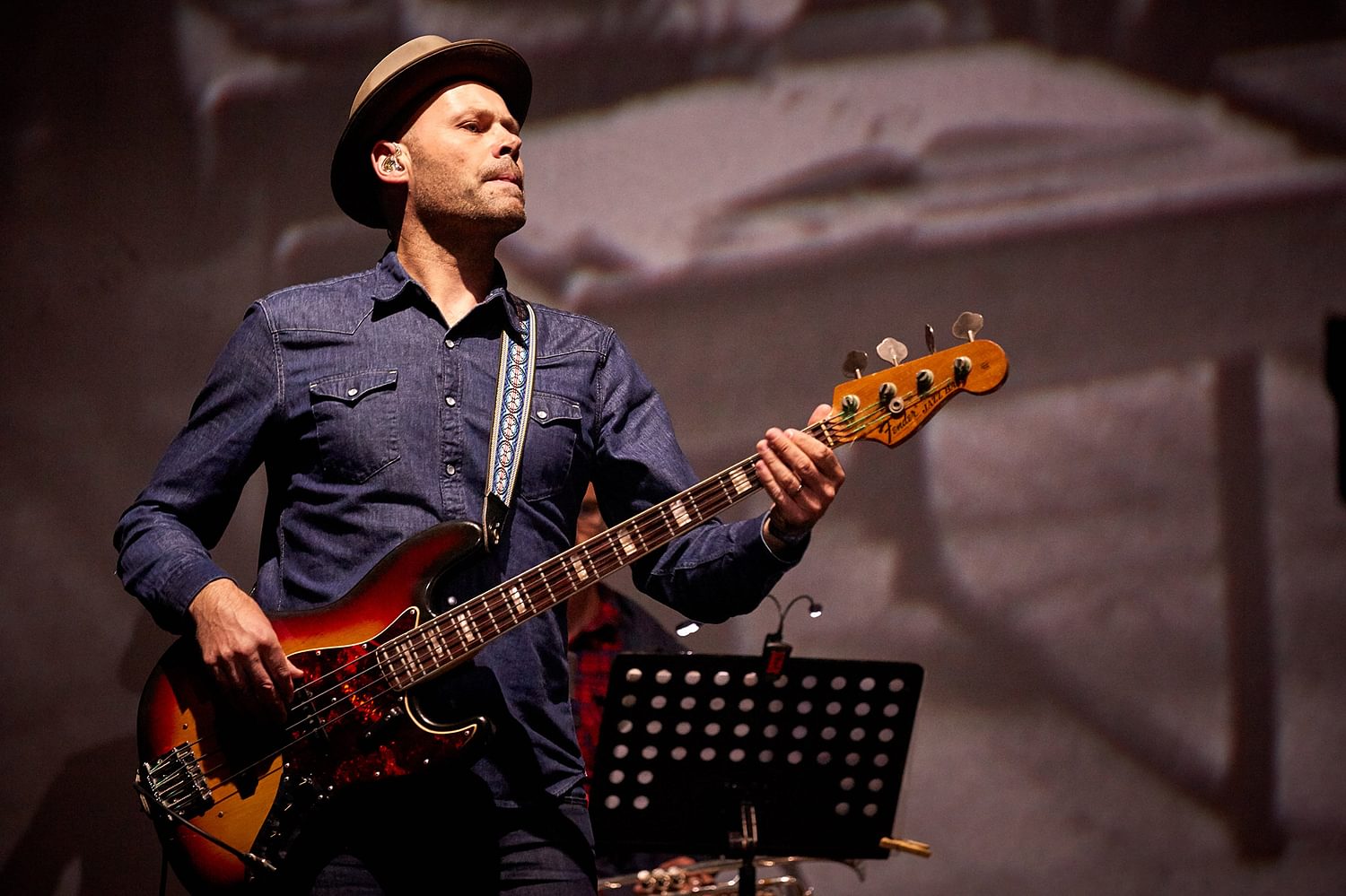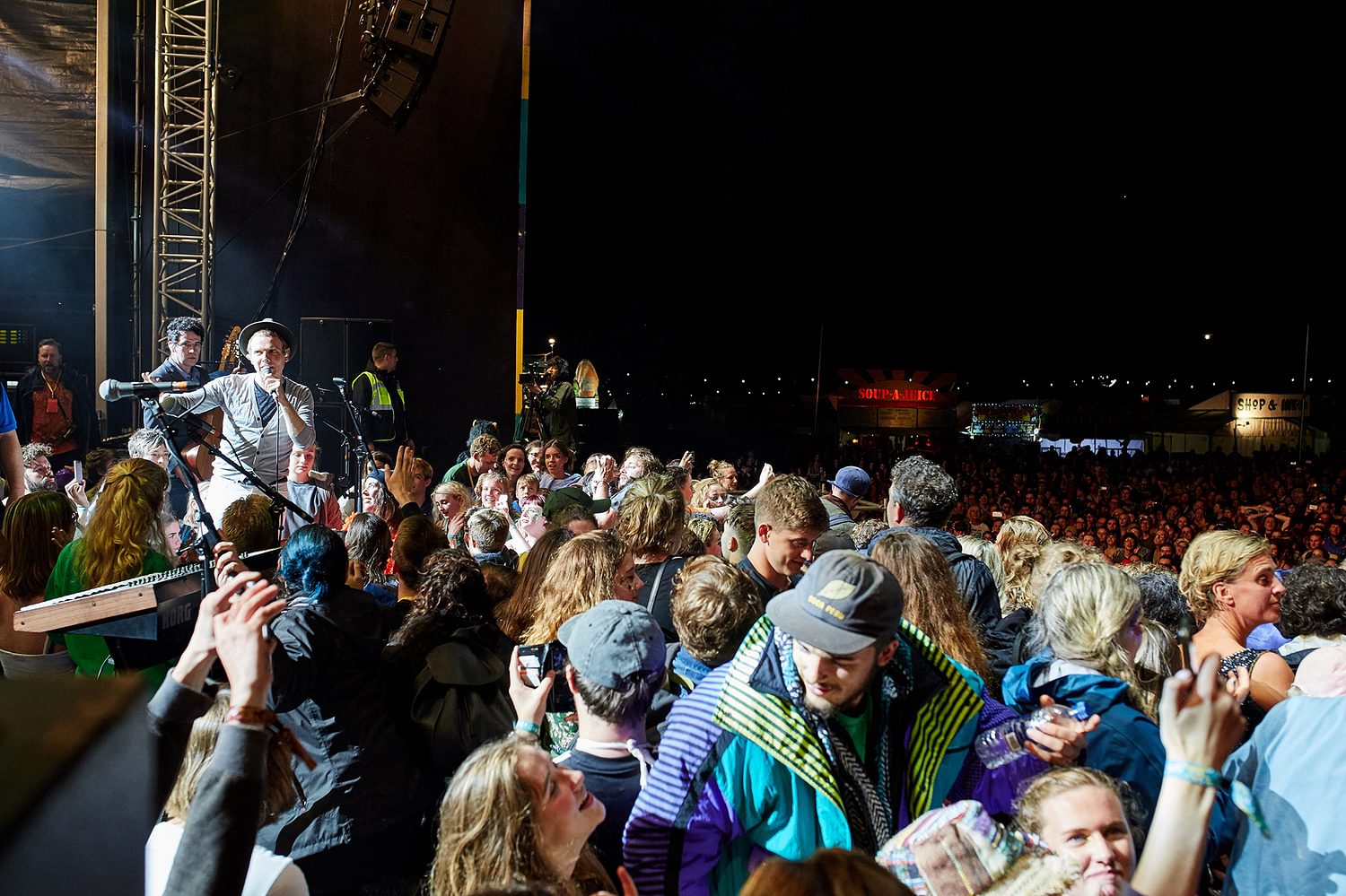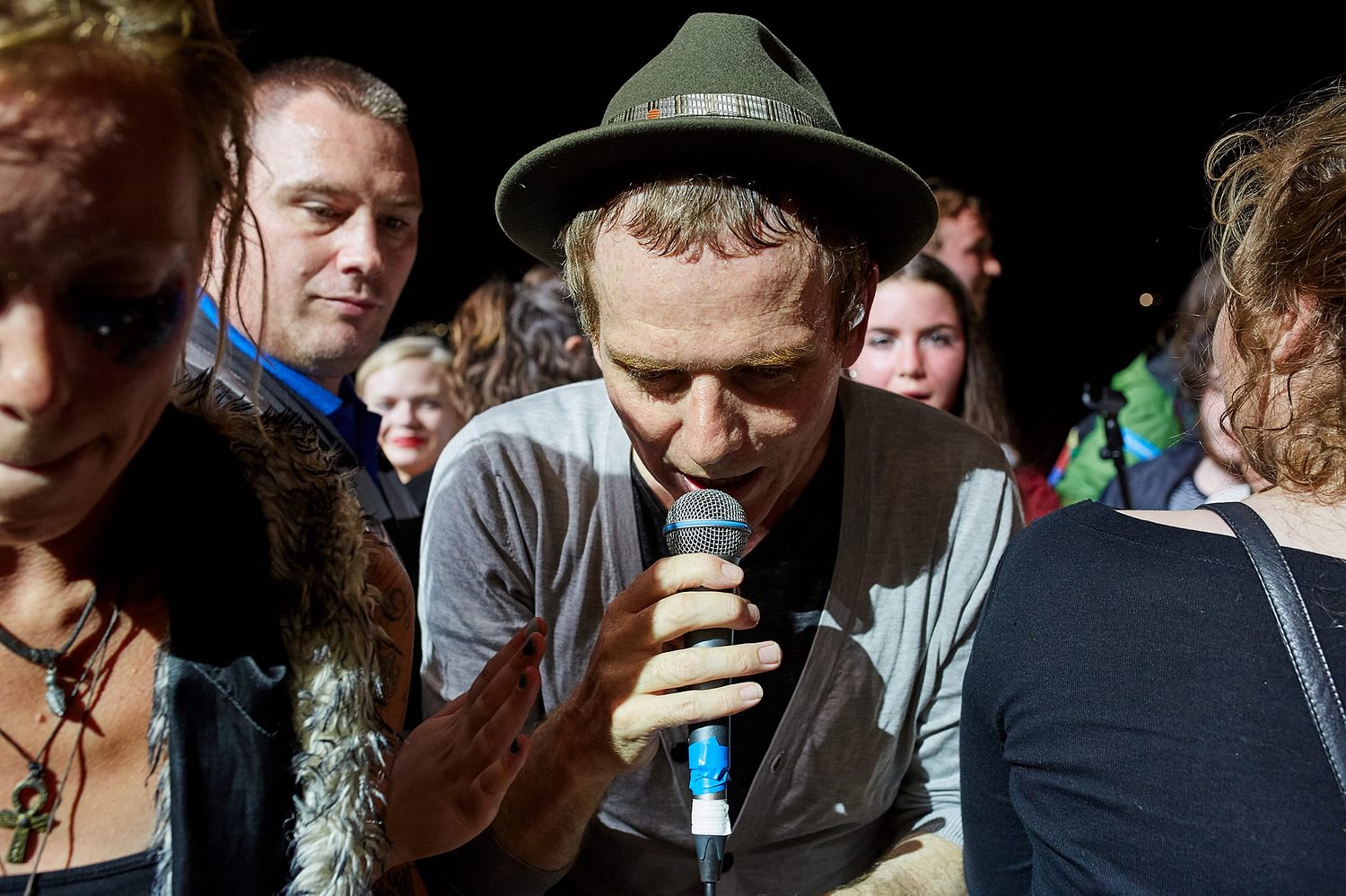 After a Julia Holter set that falls completely flat in the circumstances, it falls to Warpaint to provide the performance of the festival, a month ahead of 'Heads Up'. While the band have previously felt detached during festival slots, tonight's show is drenched in darkness and the same buckets of rain that hit during James Blake, and the atmosphere it creates sees the band absolutely nail it. Hits - if Warpaint ever had them - are packed in early, with 'Undertow' and 'Bees' arriving in the first ten minutes, and the last year has seen Emily Kokal transform into a beast of a band leader, scaling the edge of the stage, scanning her prey.
With 'New Song', Warpaint have a true smash in their pockets now, and its arrival hurls the Mountain Stage into a frenzy. Finally, Belle & Sebastian give Green Man 2016 its send-off with an enjoyable performance - 'The Boy With The Arab Strap' seeing over a hundred crowd members rush the stage - but it's Warpaint's penultimate set that sticks.
Read More