Live Review
IDLES, Alexandra Palace, London
7th December 2019
Sweaty, celebratory and utterly triumphant.
When IDLES turned up on Later… with Jools Holland in the autumn of 2018 to smash out pro-immigration anthem 'Danny Nedelko' and 'Samaritans' - a fiery tirade against toxic masculinity - there was the sense that these five big-hearted Bristolian punks were infiltrating from the inside. In amongst the polite clapping of the famous studio, here was a band on the cusp of absolute chaos - stomping around in a scrum of sweat and hair, hopping onto Jools' legendary piano for an impromptu tinkle and generally behaving in a way that would make Gladys from Chipping Norton splutter into her mug of herbal tea. But of course, the punchline was that under the noise and the show, IDLES have always been saying something more direct and vital than anyone; on the outside, they may be on the brink of a wonderful shambles, but on the inside they've wholly got their shit together.
Tonight, as they round off not only a glorious 2019, but a glorious 24 months and counting - a run that's seen them go from exciting newcomers to a band that stand as an emblem for something much larger than themselves - there's the same sense. London's Alexandra Palace is, much like the Beeb, a British icon. It's a place where a pre-gig posh hotdog and a craft beer will set you back a solid 15 quid and where, at varying times of the year, you can go ice skating or to a wedding fair. So to see it heaving (and honestly, we've never seen the venue quite as busy as this) with 10,000 people yelling every word to a catalogue filled with songs about humanity, equality, loving your neighbours and all the other good shit feels like an act of solidarity. The fact that all 10,000 of tonight's tickets got snapped up in less than 24 hours only proves how much people care. That the show falls less than a week before the most defining General Election of our time only makes the atmosphere even more charged.
It's a timeline that, of course, has not escaped IDLES' pink-haired mouthpiece Joe Talbot. "Get low," he encourages the crowd during an early outing of 'I'm Scum'. "Get lower than the Tory manifesto". At varying points throughout the set he pleads with the crowd to vote Labour; at others, he precedes tracks with rallying cries about the importance of the NHS and other pillars of our community currently under threat. Even when he's separating the crowd during a riotous 'Love Song', he's encouraging people to reunite with "beautiful hugs".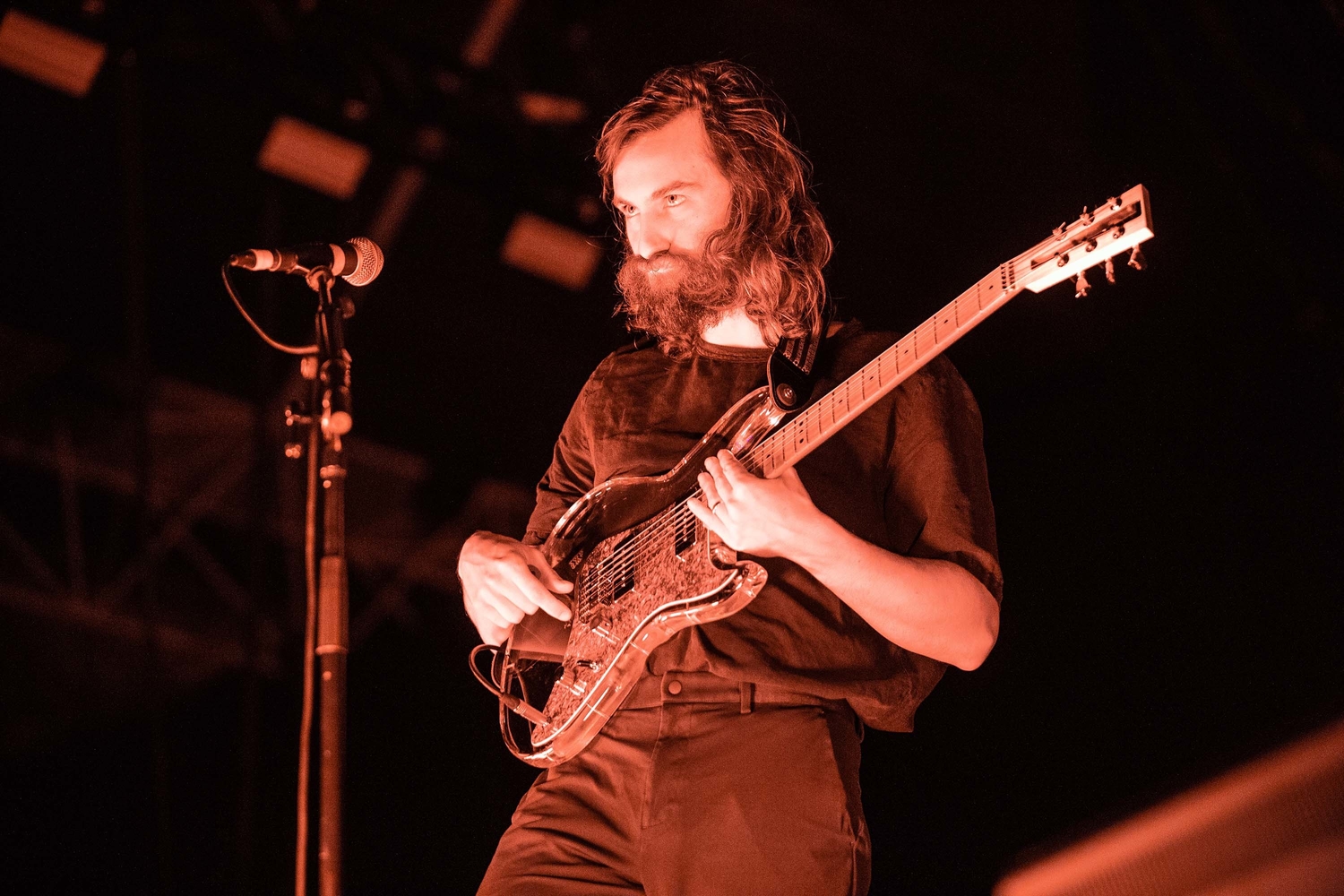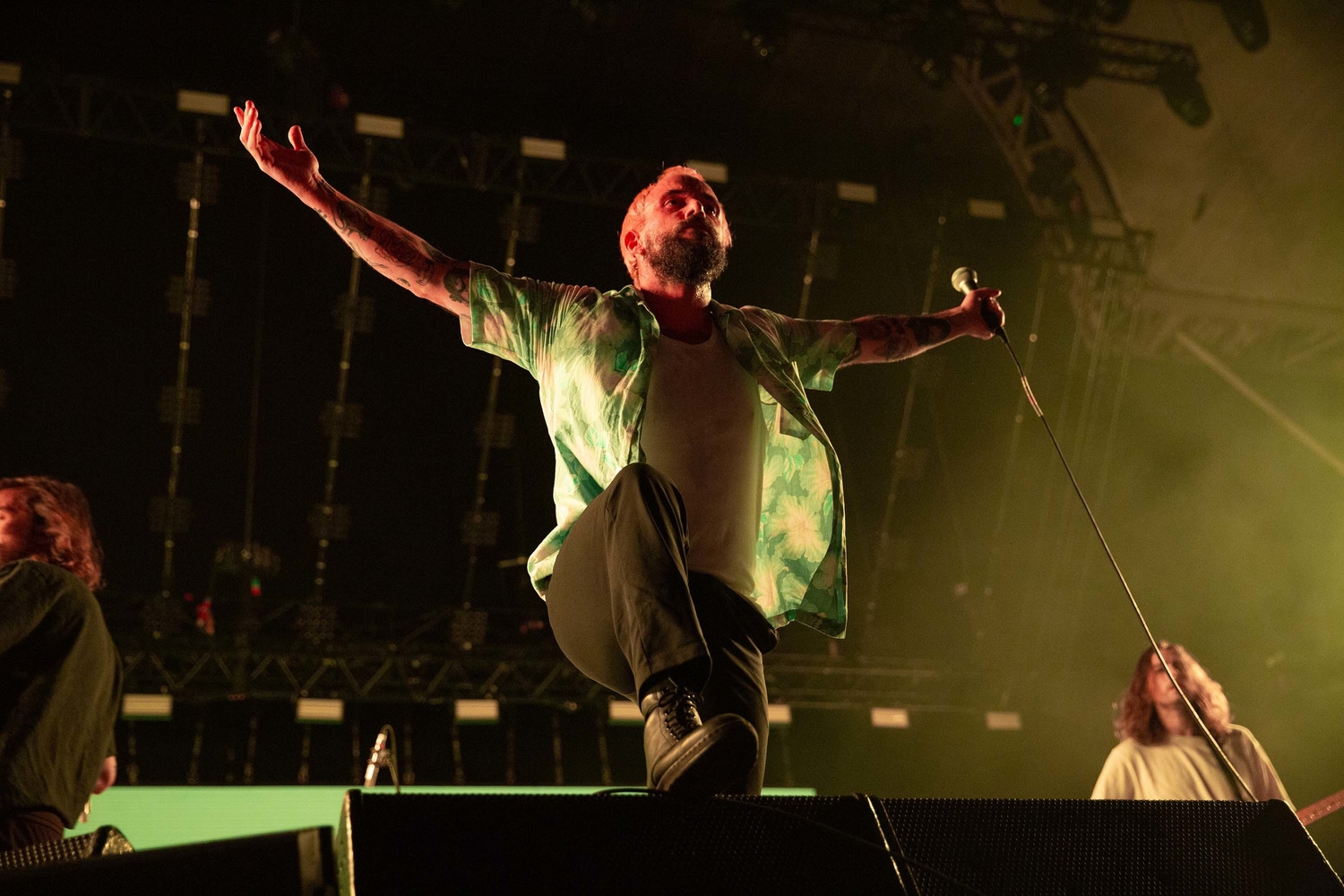 Having toured relentlessly for the last two years, tonight the set gets a fit-for-the-occasion revamp. Split into two, it's a mammoth, two-hour thing parted by a emotive reading of Dylan Thomas' 'Do Not Go Gentle Into That Good Night'. Massive crowd-pleasers ('Never Fight A Man With A Perm', 'Mother') are dispensed with early, while standard set-finisher 'Rottweiler' is demoted to merely closing out the first half. Instead, the opening and closing slots tonight are given to two of three new tracks taken from the band's imminent third LP. 'Grounds' sees Joe's knack for quotable couplets on fine form ("Do you hear that thunder? It's the sound of strength in numbers"), but it's a final 'Danke' – a tense, propulsive thing that finds guitarists Mark Bowen and Adam 'Dev' Devonshire call-and-responding over the kind of drums that sound like the start of a war – that truly makes you tingle. There are chants. There's a lyrical nod to the late, great Daniel Johnston. It's everything that makes IDLES best musical moments great, rolled into one.
To say that tonight is the culmination of something would be true to a point; what IDLES have created over these past years feels unlike anything else in recent memory in terms of cultural impact, crossover and general timely importance. But, whereas 18 months ago every bigger show felt dangerous and risky, now their trajectory seems limitless. The O2? The Pyramid Stage? You wouldn't vote against it.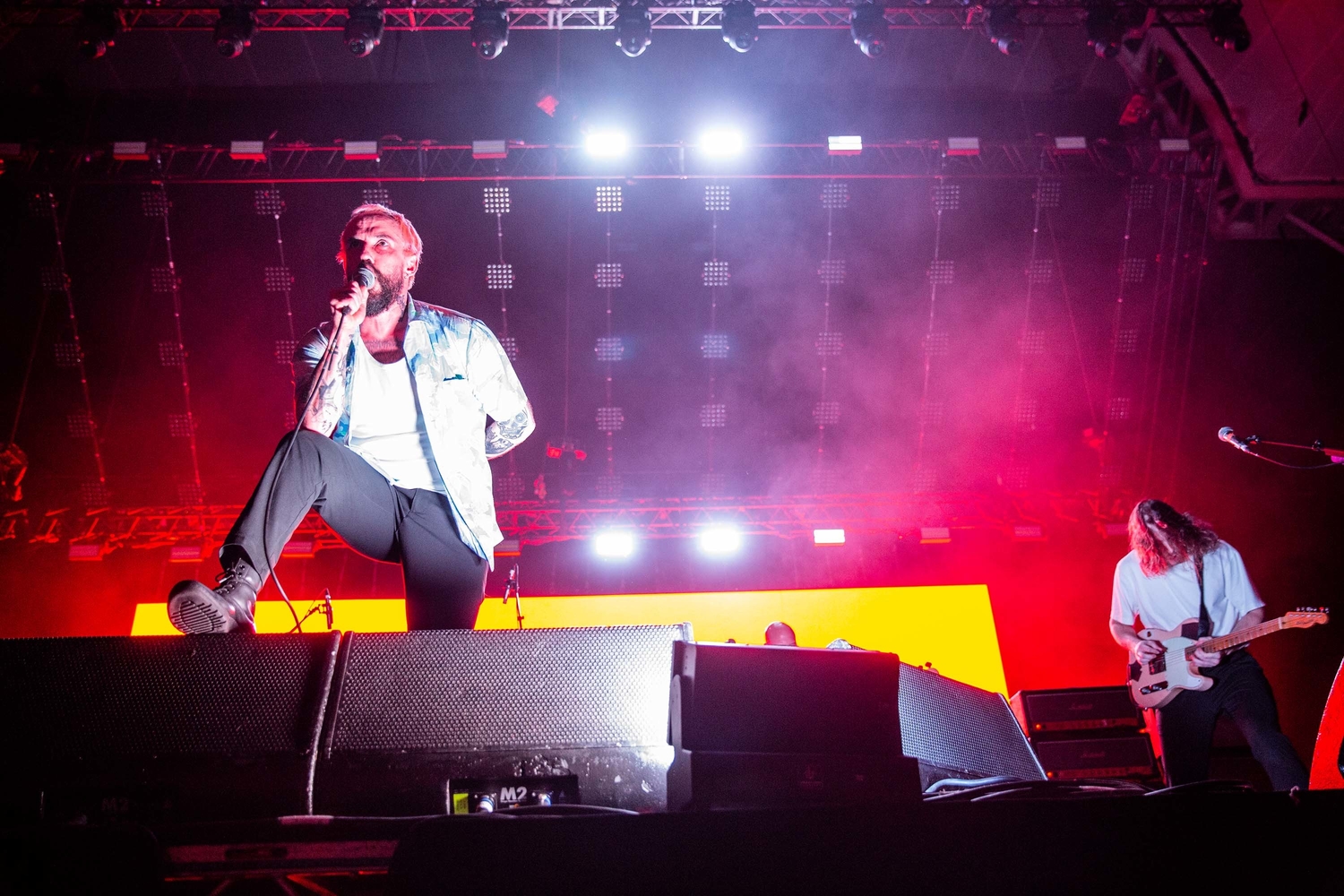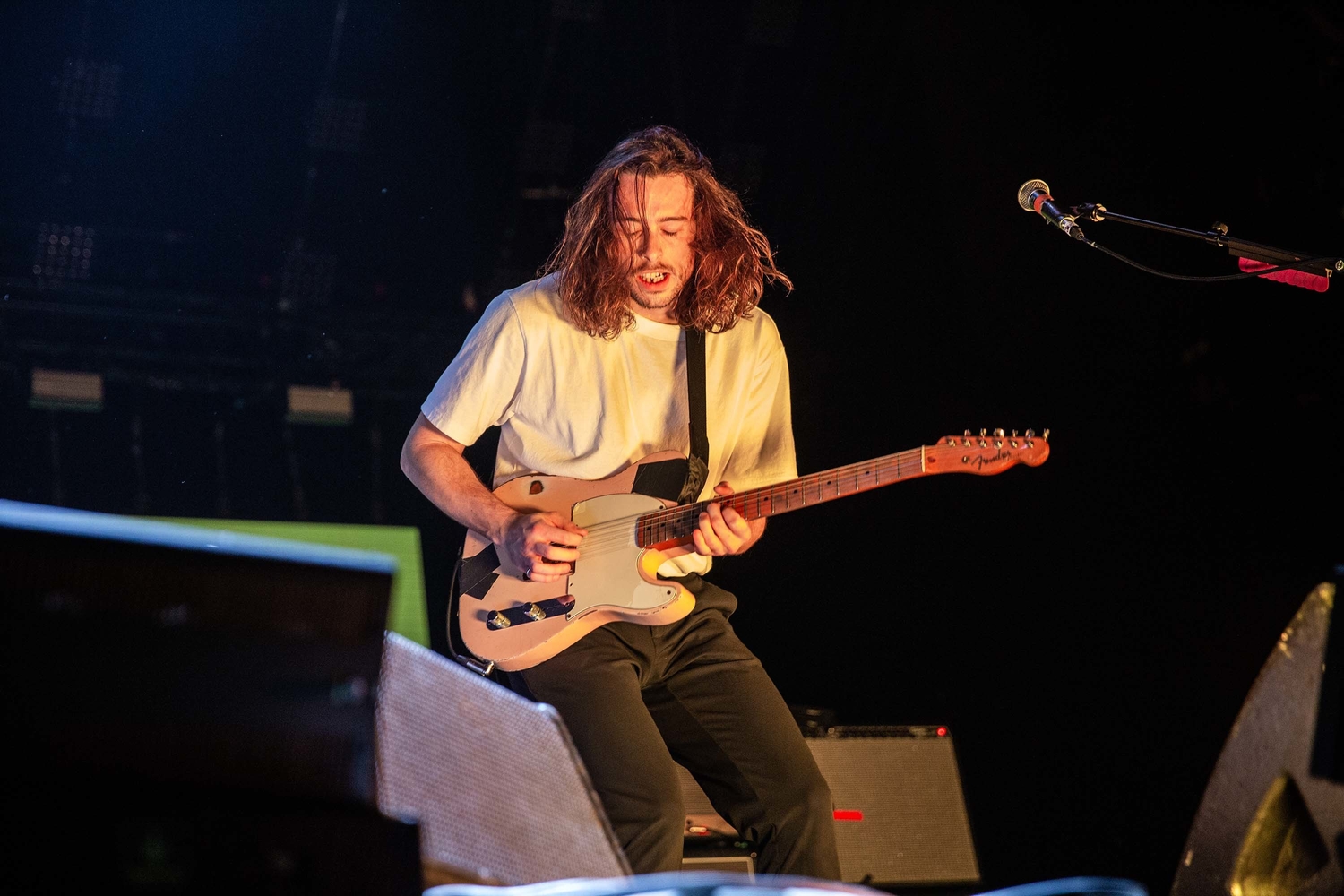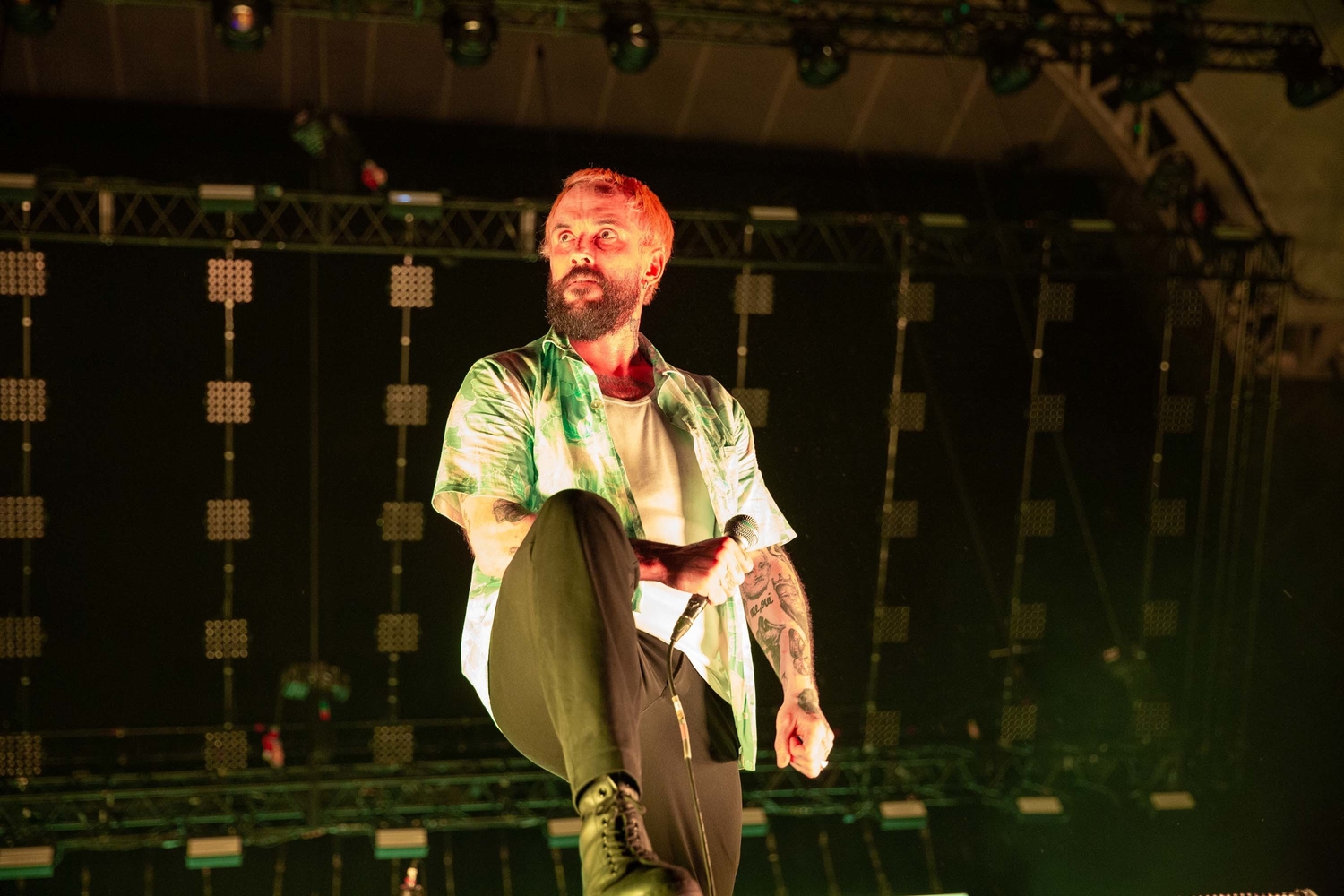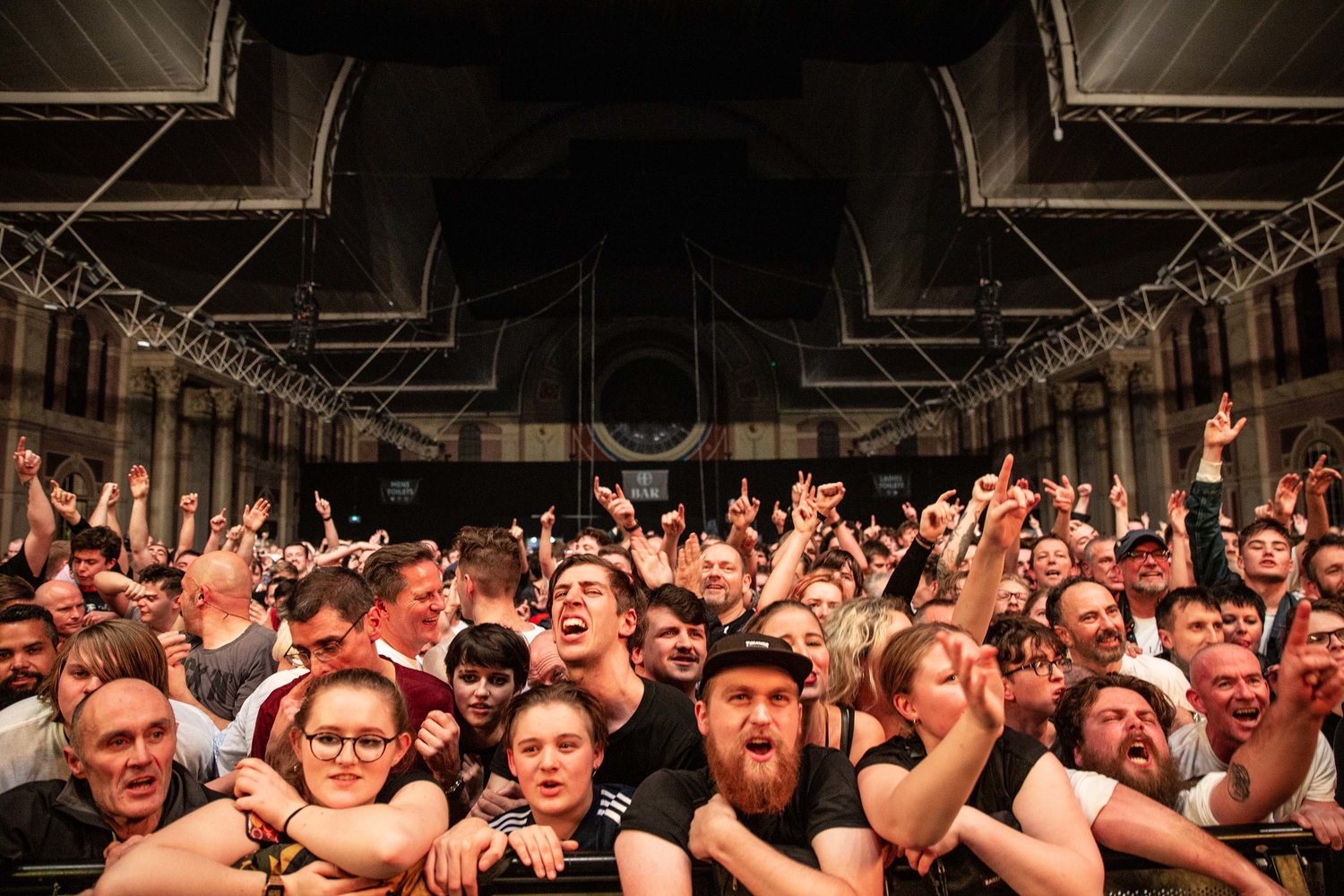 Read More
Popular right now
Featuring King Gizzard & The Lizard Wizard, IDLES, Tkay Maidza, Sleater-Kinney and more.