Festivals
Deftones & Red Hot Chili Peppers impress at Super Bock Super Rock 2017
Kevin Morby and Future also made their mark on the Lisbon bash.
Set amongst the white concrete blocks of Parque das Nações, perched on Lisbon's riverside and overlooked by a never-ending procession of cable-cars, Super Bock Super Rock - sponsored by Portugal's primary cerveja - opts for eclectic names further down the bill. One night, Brazilian Seu Jorge, who is most famous for covering David Bowie songs in Portuguese in Wes Anderson's film The Life Aquatic draws a massive sing-along by the water's edge. Elsewhere, a glitter-spangled Throes + The Shine (plus about a gazillion sequined costume changes) turn a corner of the festival site into a makeshift samba club. Kevin Morby, meanwhile, takes things international with his heady brand of introspective rock. Truly kicking off Super Bock, though, is a task best left to Red Hot Chili Peppers, who cram the festival's central arena full to capacity with their ridiculous, over the top, and stupidly fun headline set. There's no doubt everyone knows all the words, here.
Few other bands would have the sheer brazenness to play a song as ubiquitous as 'Can't Stop' as their opener, but then again, few bands are Thursday's headliners the Red Hot Chili Peppers. "This one's for all the Portuguese dogs!" yells Flea for no particular reason, catching his breath between all those slap-bass solos while Will Ferrell's long-lost twin brother Chad Smith pounds the drums. They're received with the sort of screams usually reserved for the likes of One Direction (R.I.P) and while newies don't connect with quite the same velocity as 'By The Way' and 'Californication,' it's everything you'd expect from RHCP, really. Acid-visuals, a million and one references to variations of Califonia, and a stacked room going wild for the lot of it.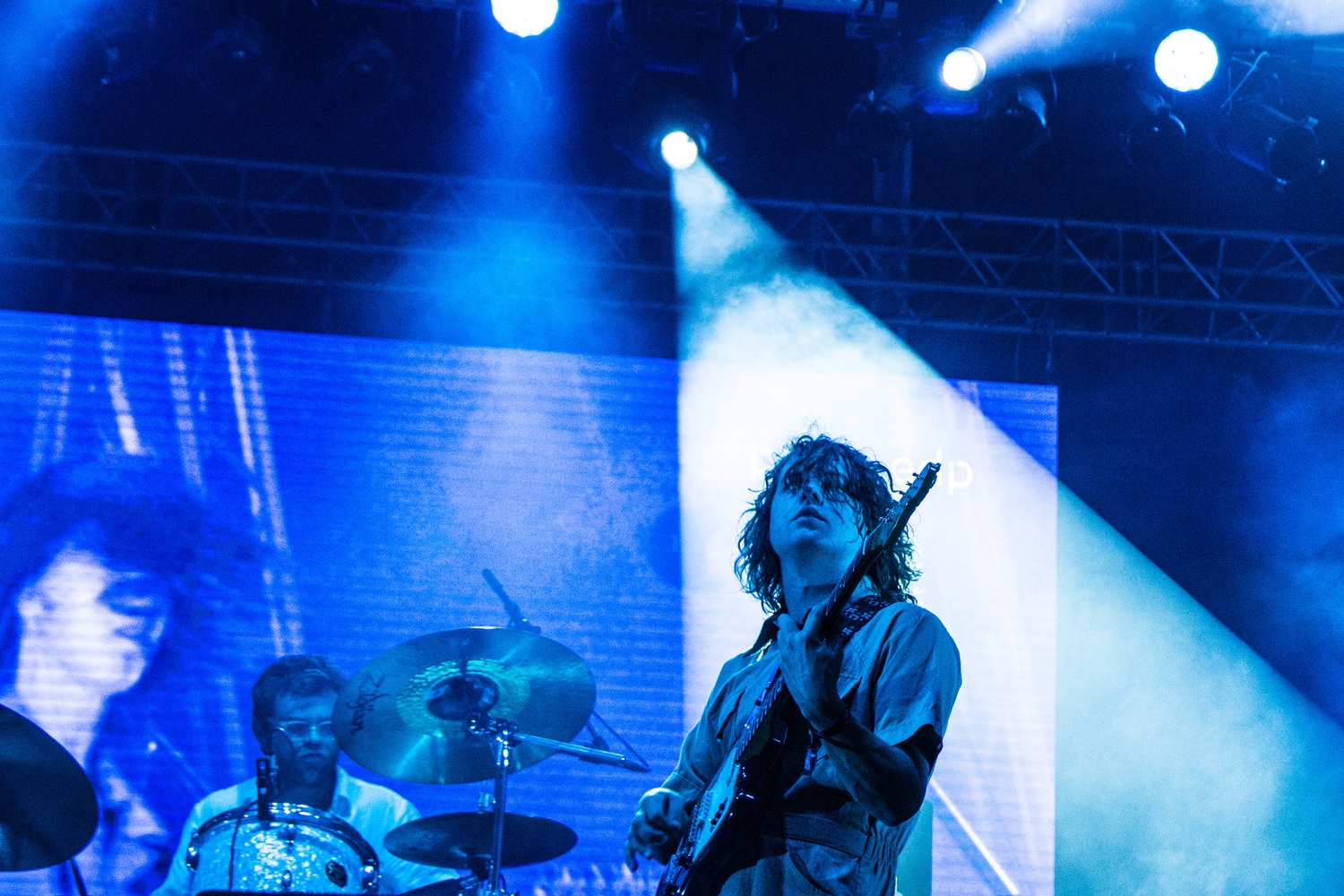 London trio London Grammar don't quite cause the same ruckus the following day; their slow-pop somewhat failing to command the gigantic orb at the centre of Super Bock Super Rock. Future, on the other hand, cranks all dials up to 11, his earth-shattering bass flying across the air, pre-noughties blue computer error screens flashing briefly on the screens. Trap-influenced beats, viciously-applied chop and screw, and heavy auto-tune manipulation dominate Future's headlining onslaught, hiding just a few heavily problematic lyrics, and that Chris Brown collaboration we all wish had never happened.
Saturday night sees another onslaught of a different variety, courtesy of Sacramento racket-lovers Deftones. Dominated by their 2000 album 'White Pony', with choice cuts from across the band's 19 year heft of material, there's plenty of light and shade hidden beneath the snarling noise; Chino Moreno pulling a cheeky bit of falsetto out for 'Be Quiet and Drive (Far Away)', and verging on the prowling menace of Nine Inch Nails during 'My Own Summer (Shove It)'. Closing things out, and probably sending brutal sonic waves across the Rio Tejo, it's 'Engine No. 9' in all its unforgiving glory. Somebody fetch Chino a lozenge.
Switching gears abruptly, in swaggers a hawaiian shirt-clad Fatboy Slim to close up the festival with his usual super-smoothie of massive samples ranging from 'Uptown Funk' to Ramones' 'Blitzkrieg Bop', goofy deck antics (at one point he climbs underneath them, because of course) and a lot of screens featuring a lot of fast-rotating naughty sweeties in various shades of blue. Super Bock Super Rock attendees clearly got the memo; long after Norman Cook whizzes off-stage, the party carries on all night, spilling out into the streets of Lisbon.
Photos: Louise Mason / DIY
Read More