Live Review
The Kills, Village Underground, London

4th May 2016
Playing a titchy gig, and airing huge chunks of 'Ash & Ice', Jamie Hince and Alison Mosshart hold all the cards.
The Kills burst back into clattering, ear-wrenching life earlier this year - after five years away - with a bold promise. Opening gambit 'Doing It To Death' talked of "double sixing it night after night" without a single loaded dice or sneaky sleight-of-hand in sight. Defying the usual laws of chance, Alison Mosshart and Jamie Hince don't believe in half measures or safe bets. Befitting The Kills' new album title 'Ash & Ice,' the titchy-by-their-standards Village Underground is crammed to the brim, and fizzing with fiery anticipation. And shaking the entire arch with almighty rip-roaring guitars, and snarling, pummelling chants, The Kills double six it, alright.
Any notion of gently easing into proceedings is defiantly thrown out the window in a split second. The surging crowd finish every line of 'No Wow' with raised fists, and that's just during the first song. Darting in hyperactive dot-to-dot between records - from the snaggy-sharp corners of 'Midnight Boom' cut 'U.R.A Fever,' to the veering runaway chants of 'Heart is a Beating Drum' - The Kills don't piss about. Ducking slyly about like a bomber-jacket clad Artful Dodger armed with a possessed fretboard, Jamie constantly trades smirks and riff-blows with the front row. Alison, meanwhile, is volatile and fast-combusting. One minute she's standing stock still; hair-twirling, feigning faux-nonchalance while her bandmate shakes every ear drum in the room. The next, she's letting loose vicious, smoke-stained chants, miming puppeteer hands, and yelling 'Sour Cherry' straight at a particularly enterprising fan up on their mate's shoulders.
The stage is second nature for The Kills; in the same way as many people might consider their trusty sofa, microwave popcorn and Netflix account to be home. It seems like the only logical place that Jamie and Alison would ever unleash 'Ash & Ice' for the first time, and with Village Underground at fever-pitch, that's just what they do. Brand new and unreleased 'Hard Habit to Break' leads the sudden onslaught of new material; tenacious, vice-addicted, and spiky. 'Heart of a Dog' - just a few weeks old - sounds fully embedded, too. Boldly reactive, soaring with gigantic, unshakable hooks, the packed-out audience step up as unofficial backing singers, howling and roaring along like life depends on it.
Even a fast-approaching curfew and a few technical hitches don't throw The Kills off their tracks. After a quick exchange with the sound desk - "we're having a meeting," quips Alison - the pair dive headlong into a triumphant encore. As the band take graceful curtseys, bowing low to the room and cheerfully holding hands like they're closing out a pantomime, their parting statement is 'Tape Song'. "Honey, time don't give a shit," they snarl, "You've got to go straight ahead." Effortlessly evading the old, constantly shunning nostalgia, and rolling a fresh pair of sixes every single time, it's The Kills all over.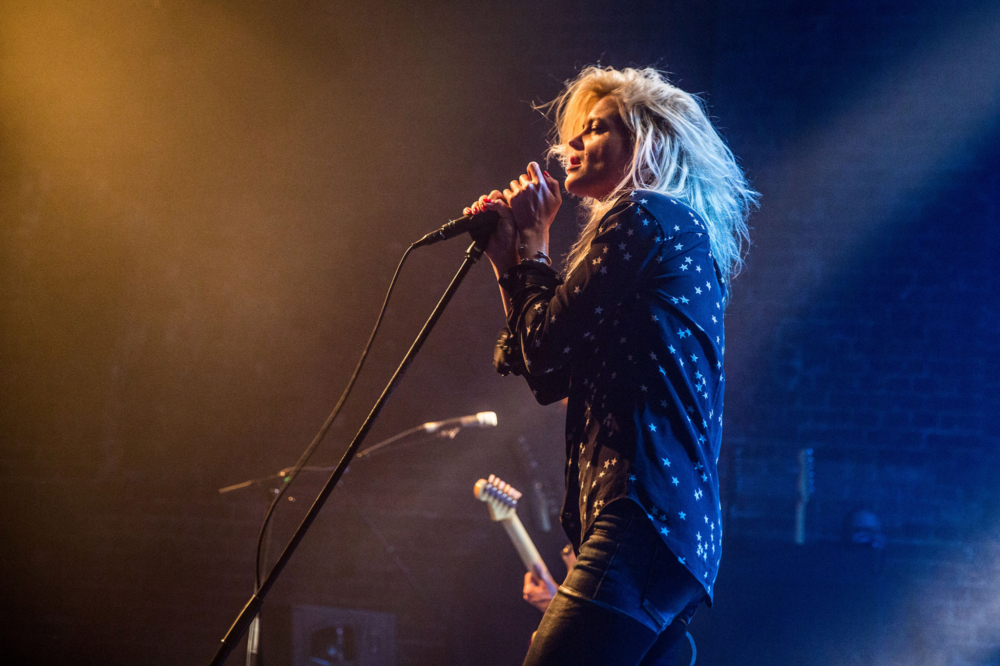 Photos: Emma Swann

Get your copy of the latest issue
Read More