Two halves of a raw rock'n'roll whole, on The Kills' sixth album 'God Games', Alison Mosshart and Jamie Hince's symbiotic spirit is out in full force.
If, as the saying goes, familiarity sometimes breeds contempt, then there's a second, altogether more fruitful way of working that The Kills have honed to a fine art over the last 23 years; one where the nth degree of familiarity can coexist with a particular combination of excitement, enthusiasm and maybe just a smidge of healthy nerves.

"I'll send something over and then I'll be looking at my phone, waiting, like…" Jamie Hince finishes his sentence with some comically over-exaggerated nail-biting at odds with the designer shades and midday mimosa sitting in front of him. He's not talking about a reply from a potential beau, however, but the way that he and bff Alison Mosshart's sixth album 'God Games' came to being as the pair batted ideas back and forth from their respective pandemic-locked homes.
"I'm very good at letting things go. If I write a song and you're not into it I'll be like, 'Fuck it, I'll write another one'," Alison continues, addressing her bandmate. "I'm a bit more precious," Jamie replies, "because you'll throw 20 songs at me and maybe two of them will work. Whereas I'll give you two and be like, 'Pleeeease!!! Like me!!!'"
As both participants crease over into giggles, it's an endearing window into a rock-steady friendship that's seen The Kills outlast many of their early '00s peers and head into the third decade of their band, as dedicated to their partnership as the first moments that sealed it. Mosshart and Hince might be stalwarts embedded on the frontline of prowling, powerful rock'n'roll but as Alison guffaws when we suggest their elder statesmen status: "But we're so silly, though!"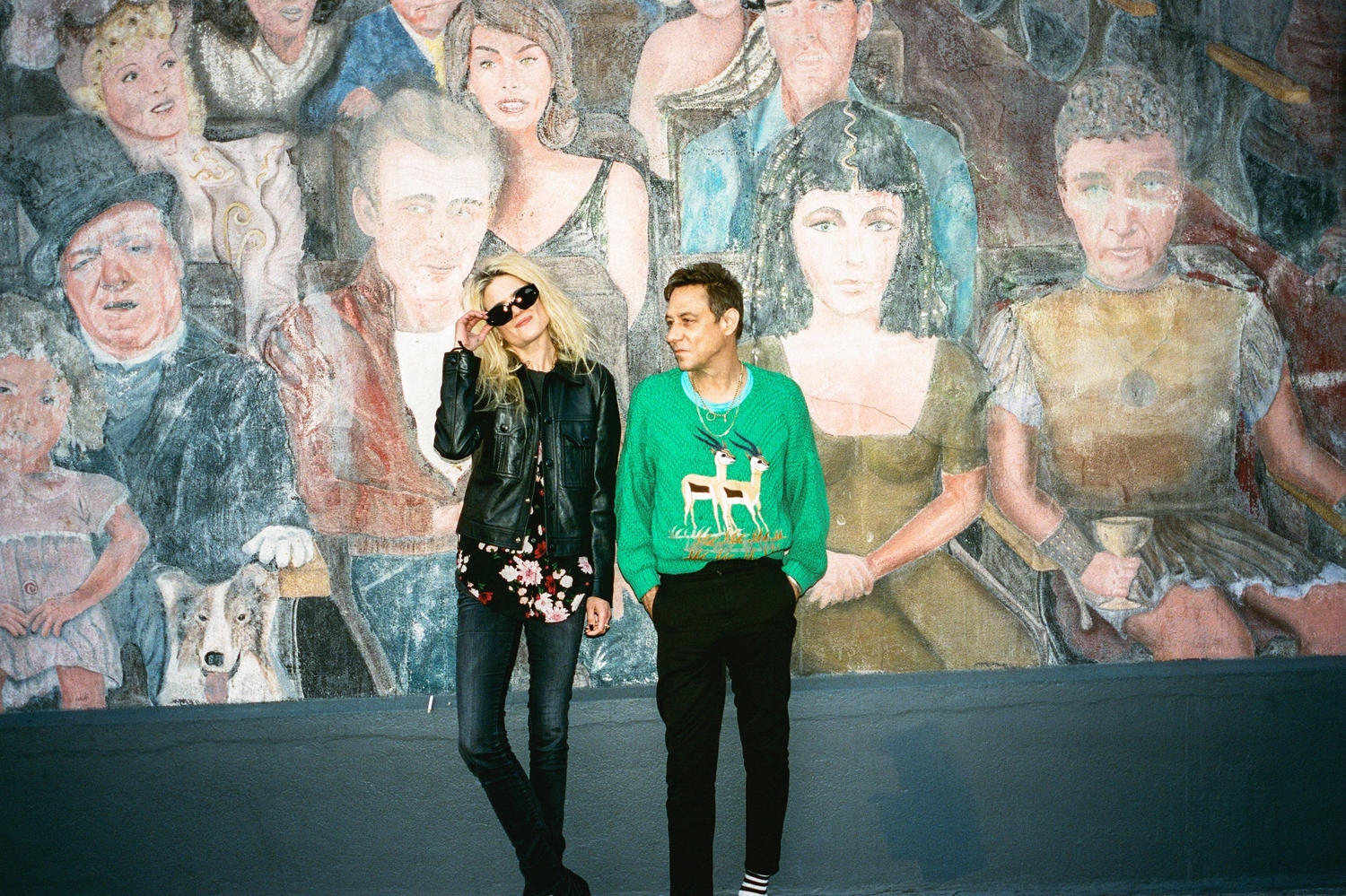 "I kept feeling like we were making our first record - that beautiful freedom in an impossible-to-describe way." - Alison Mosshart
Laughter and light-heartedness sits at the band's core behind the scenes, however from its weighty, apocalyptic title outwards, The Kills' newest is playing with far more fiery elements. In the video gaming world, a 'god game', explains Jamie, is a subgenre where you can create and manipulate your surroundings. "It wasn't lost on me that it's a bit like the creative world where you make your own little subuniverse," he continues. "I find myself manufacturing a god so I can move some of my problems and issues around."
In a state of creative crankiness following the end of touring for previous album 'Ash & Ice', Jamie had originally started writing music for a side-project called LA Hex as a way to free himself up. "Every time I picked up the guitar, it was like muscle memory that wasn't exciting to me," he explains of the issue. But when he played Alison the demos - distinctly un-guitary ideas that pulled from everywhere, and were supposed to be "absolutely not like The Kills" - she swiftly decided otherwise. "I was like, 'I'm taking that'," she chuckles. And so, having reminded themselves that a Kills record could be anything that they want it to be, the parameters for their next material were blown wide open.
For the first time, Jamie worked on his lyrics first, pulling from the more "philosophical, internalised" mindset that came as part and parcel of 2020; sonically, meanwhile, they leaned into the 'anything goes' mentality that had been a founding tenet way back when. "When we started this band, we did it as a two piece because we didn't want to have these restrictions," says Alison. "I felt like for the first time I could throw all the things I love about music at it, which isn't just rock music," continues Jamie, "it's actually rarely rock music. It's Dean Blunt, it's MF DOOM, [and so we were] trying all these things."

A Cock and Bull Story
The painting on 'God Games'' cover, it transpires, has a particular place in The Kills' hearts. 
Jamie: It's a picture of a bull fight painted by a terrible artist that was left on my fireplace when I moved into my house. I used to look at it every day during the pandemic and it made me laugh - this struggle of culture and nature, and how cruel humans are, and how they wrap it up in tradition and embroider it in homoerotic little outfits and call it sport. And then at the same time there's this amateur painting struggle on getting the shading right on the cape - it really hits all my sense of humour. 
Alison: My favourite thing is on the original on Jamie's mantelpiece, the bull has five legs. Jamie: I think he painted a leg in a different position and he didn't cover the original one up well enough; he lost count of the legs.

Simultaneously as work started on LP6, the pair had begun to trawl their archives for the first time in a long, long time for what would become 'Little Bastards' - a B-sides and rarities collection complete with archival photos and a brief foray into some rare nostalgia. Initially, they were reluctant to indulge - "I never want to look back, especially when I'm in my studio, setting-things-on-fire mode," notes Jamie - but as they began to trace a line from the pair of young agitators that united in 2001 to the established unit they stand as now, the direction of what would come next started to reveal itself.
"We were working on a song like 'Bullet Sound' which had no guitar on it - most of the songs had no guitar on at the beginning because I felt like it was a bit of an albatross," explains Jamie. "But then listening back to those early songs, I just thought: that's the THING. We could make a trap song but as soon as I put that slightly out-of-tune guitar on it, as soon as Alison sings on it, we're going somewhere else."
"The best feeling I had, and I kept saying it in the studio, was that I kept feeling like we were making our first record - that beautiful freedom in an impossible-to-describe way," picks up Alison. "It felt like the possibilities were endless. For some reason, making Album Six was like making Album One and I just thought, what an incredible feeling to discover 20 years in, and I think that's the thing that shows me the power of us. I wasn't searching for that place, it just happened, and that's testament to how strong this is."

"There's no wondering how it's gonna go anymore; we're just like an old married couple really." - Jamie Hince
In some ways, 'God Games' is the duo's biggest departure from what people would think of as 'classic Kills' to date. 'LA Hex' is morphed into a grand, dream sequence where the dusty heatwaves of the city are practically visible; 'Love and Tenderness' has a trip-hop lining, while 'My Girls My Girls' is built around a warped synth motif and scattershot drum beats. But really, it's the same complete trust in each other that's steered the band on since Day One that's allowed them to keep on experimenting.
"No one puts the brakes on in this band. 'LA Hex' started out as a fucking New Orleans chopped-and-screwed thing and there's never a point when she's like, 'Pfft, I don't know about that'," Jamie says of Alison. "She's always like, 'Bring it on', and we both do that. It's such a fantastic thing that you can really explore the wildest corners of your imagination and you're never gonna get an, 'Errr, mate?'" "I get so excited," Alison nods. "He'll send me a piece of music or a drumbeat, and I'll immediately put my mic on and just see what comes out. It's like a gift, every time he sends me something."
23 years ago, Hince picked Mosshart up from the airport and the pair made an agreement as they drove to London's Gipsy Hill. "We made this pact to be two people together, us against the world, which sounded a little bit silly in my head back then but I definitely felt like that's what I wanted to be and what I wanted to do," he nods. "20 years later, I know her like the back of my hand. I know all her strengths. I know she's got me in certain ways and I know I need to have her back in other ways. There's no wondering how it's gonna go anymore; we're just like an old married couple really."
The world might have changed immeasurably since then ("I booked a tour totally through the post," Alison recalls with a laugh of their early days. "I wrote to venues from here to America, and we did a two week tour from responses of, 'Can we play your club?'"), but there's a creative romance to The Kills that's remained throughout. Brimming with both style and substance, they're the sort of band that make people start bands; that are the dictionary definition of very fucking cool, but that also wear their hearts openly, unabashedly on their sleeves. "We've been through so much life together in so many different circumstances. We've had every kind of trouble you can think of and we've made it through," Alison nods.
When Jamie Hince and Alison Mosshart were on that inaugural drive, they decided they were in this game for life and, 23 years later, no acts of god or otherwise have changed their minds. "The whole conversation from the airport was: 'We're in this forever. Are you in?" grins Jamie. "Yes."
'God Games' is out 27th October via Domino.
The Kills recommend…
Book
Alison: I want everyone to read Don't Call Me Home by Alexandra Auder - she's the daughter of [Warhol muse] Viva Superstar, and it's about growing up in the Chelsea Hotel and it's absolutely hysterical and brilliant.
Jamie: I'm in the middle of this book called When We Cease to Understand the World and that's blowing my mind. It sounds really daunting because there's a lot of mathematics and astrophysics but it's actually an easy read.
Record
Jamie: People will know MF Doom and Madlib, but the Four Tet remix of 'Madvillainy' is fucking stunning - it's got loads of instrumentals on it and it's amazing. He's basically rewritten it.
Artist
Jamie: Always Jake Chapman, always Tim Noble, always Nadia Lee Cohen.
Alison: I really love what my friend Brad Kahlhamer is doing at the moment. He's Native American and he does all these incredible drawings and paintings, and makes these big metal sculptures that take up entire rooms and they're the most incredible things.
Film
Alison: Triangle of Sadness is one of the best things I've seen!
Jamie: I was on an aeroplane and I just wanted to watch something that would make me fall asleep and I thought, Woody Harrelson's in this, this'll be good, and then I finished it and I started again. I did not want it to leave my life.
Read More
Featuring King Gizzard & The Lizard Wizard, IDLES, Tkay Maidza, Sleater-Kinney and more.