Festivals Gengahr and Another Sky shine at socially-distant Wild Fields festival
12th September 2020
Indoor Pets and Lauran Hibberd also played the Norfolk event.
A festival? In 2020? Sounds unlikely, but against all odds Wild Fields (an open-air alternative to Wild Paths, a multi-venue bash which began last year in Norwich) brings a host of brilliant names to the Norfolk Showground for a much-needed reminder of why live music is, let's be honest, literally the best thing in the world, full stop.
It's not all back to normal, obvs, and rolling through the gates on Saturday the anticipation as to how COVID-compliance can work at an event of this scale is almost nerve-racking. But after settling in to one of the many roped-off 'pods' which hold groups of up to six, the whole affair has the cool, comfortable energy of one enormous beer garden. Screens and extra speakers ensure everybody gets a proper sight and sound experience, and the sunshine beaming down is a plump glacé cherry on the escapism cake that today is serving up.
Local boys Pin Ups are a brilliant first band back, dishing out woozy psychedelia with a Britpoppy edge and looking pleased as punch to be back performing, an energy shared by Lauran Hibberd and her band. "This reminds me of my Dad's fiftieth birthday party," the Isle of Wight native quips, "only with a distinct lack of my Mum". Her breezy bubblegum-pop is a breath of fresh air - any other year 'Call Shotgun' would rouse a moshpit for sure.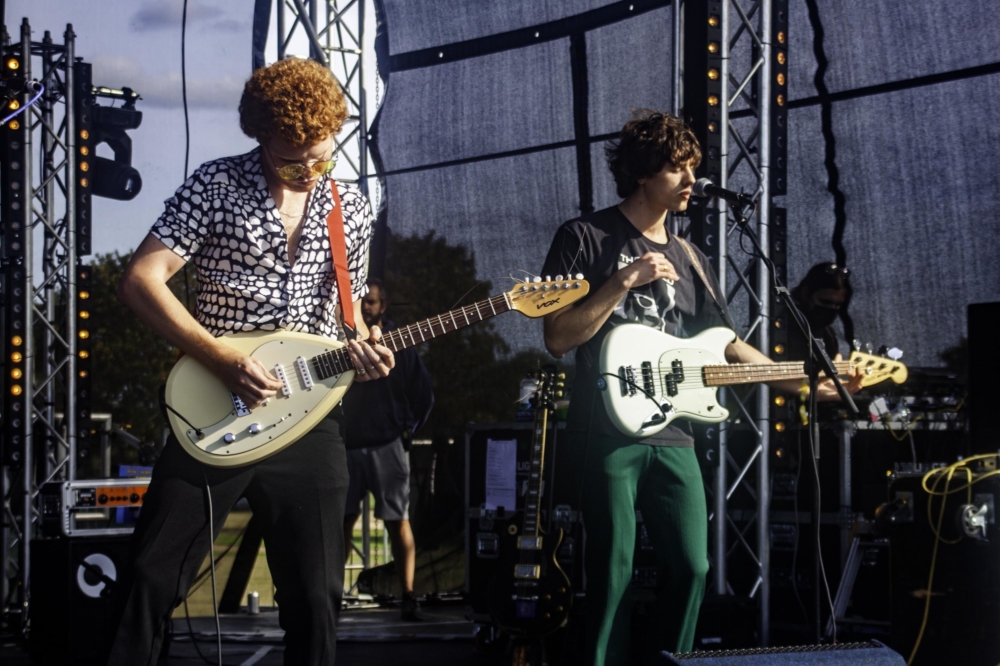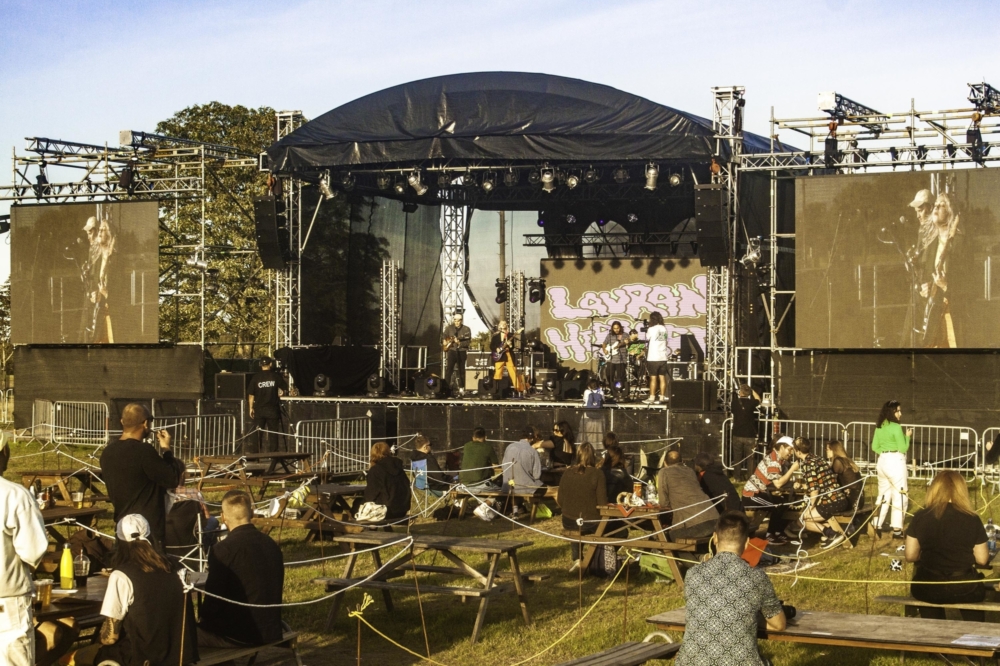 On to the big guns - the sun's going down and it's time to rock. Any rustiness Indoor Pets might be feeling is promptly obliterated as they plunge into their scuzz-rock anthem 'Pro Procrastinator', bounding round the stage with the joyful demeanour (and matching shaggy 'dos) of puppies let out to play. Jamie Glass swiftly finds his mojo and provides entertainment a-plenty as he stomps and screams his way through such earworms as 'Teriyaki' and 'Barbiturates' from last spring's 'Be Content'. An unreleased song titled 'London' closes their frenetic set with the promise that there's new stuff to look forward to from these boys, just as soon as 'all this' has blown over.
Night descends and Another Sky usher in an intense and captivating aura as they showcase 'I Slept On the Floor', their stunning debut released only weeks ago. It's a spine-tingling moment when 'Fell in Love With the City' ricochets around the huge outdoor arena, its almost staccato opening riffs channelling out pure enthusiasm. 'Riverbed' and 'The Cracks' swiftly win over the audience, and the more trip-hoppy 'Forget Yourself' mirrors the foursome's shifting stage presence in its slow building majesty. Never understated are Catrin Vincent's vocals - she moves with ease through delicate whispers to belting out massive choruses in an awe inspiring display. "These days have no up or down", she sings on 'Avalanche', a line which feels more than a little poignant.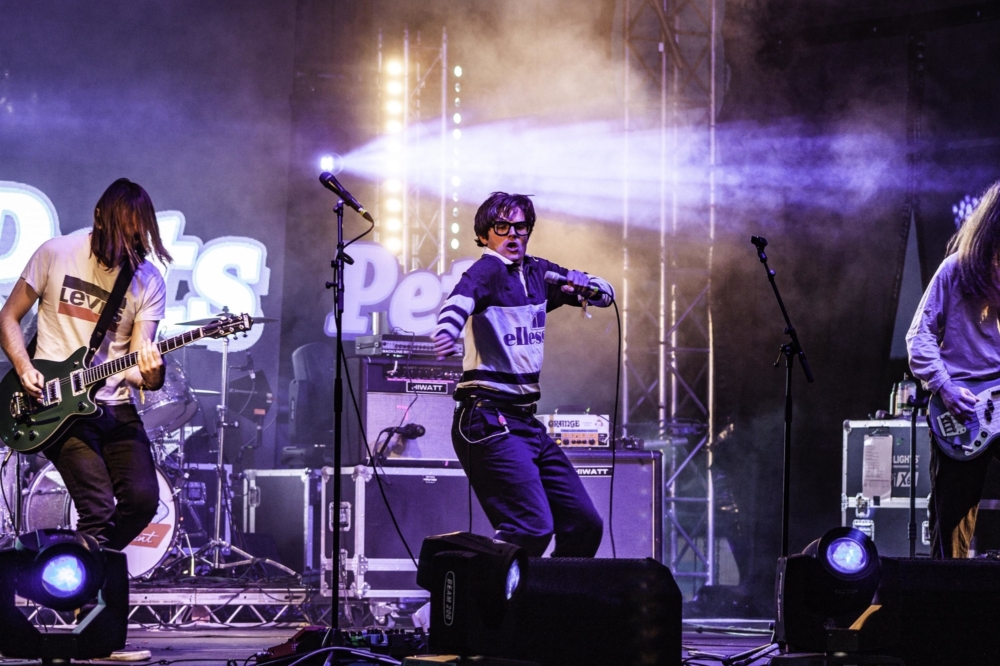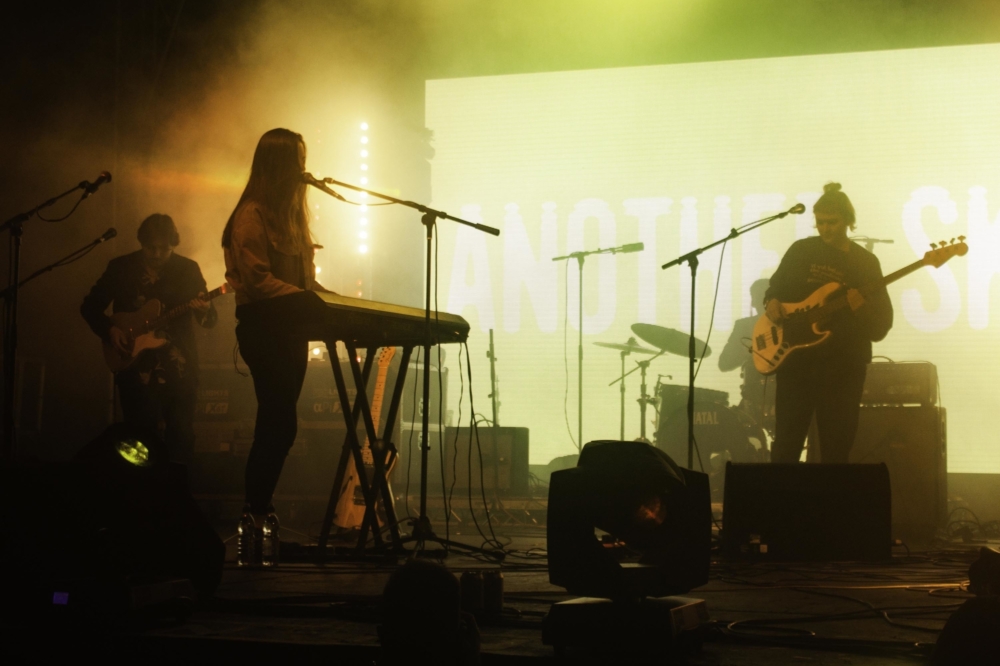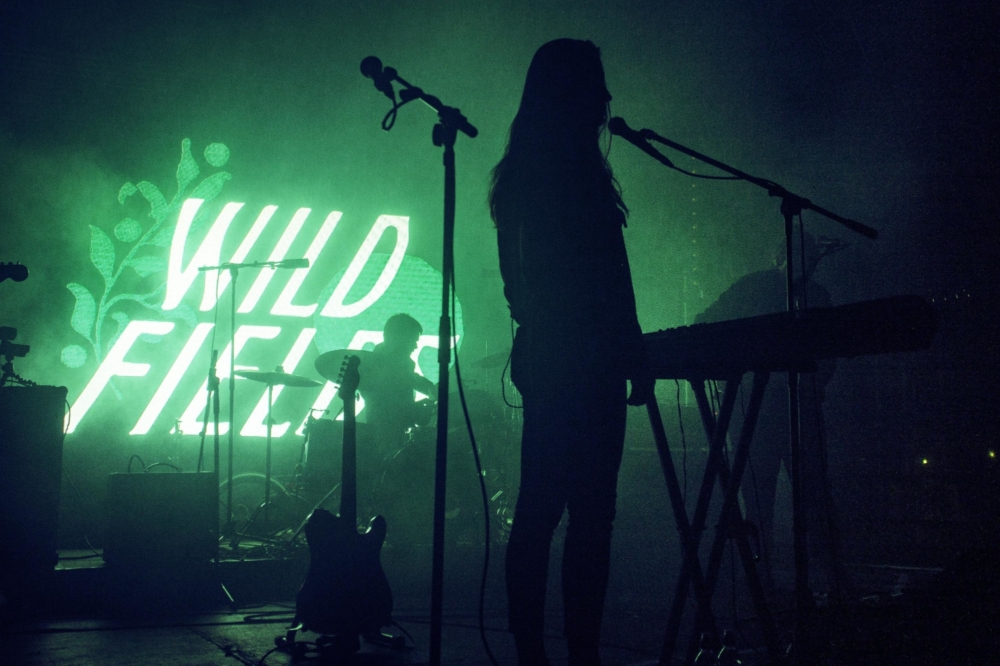 Heading up the main stage, Gengahr fall victim to technical difficulties (festivals, eh?) but even when dealt a shorter set than planned they give the people what they want. 'Sanctuary', the quartet's third record, dropped at the start of the year and its sleeker, groovier production is reflected in the tightness of their performance. The noise from John Victor's guitar punches is immense, and they meld gorgeously with Felix Bushe's dulcet tones as the hits are rattled through - 'She's A Witch', 'Bathed in Light', and even a wistful cover of Kendrick Lamar's 'Love.' Ultimately, time runs dry but the sultry, hypnotic bassline of 'Heavenly Maybe' is enough of a sweetener to end a beautiful day on a high.

It's impossible to say when normality will return to the entertainment industry, but the work of folks like the Wild Fields team finding ways to bring music back to the people cannot be bigged up enough. The first and last festival of 2020 is a roaring - and more importantly, a safe - success.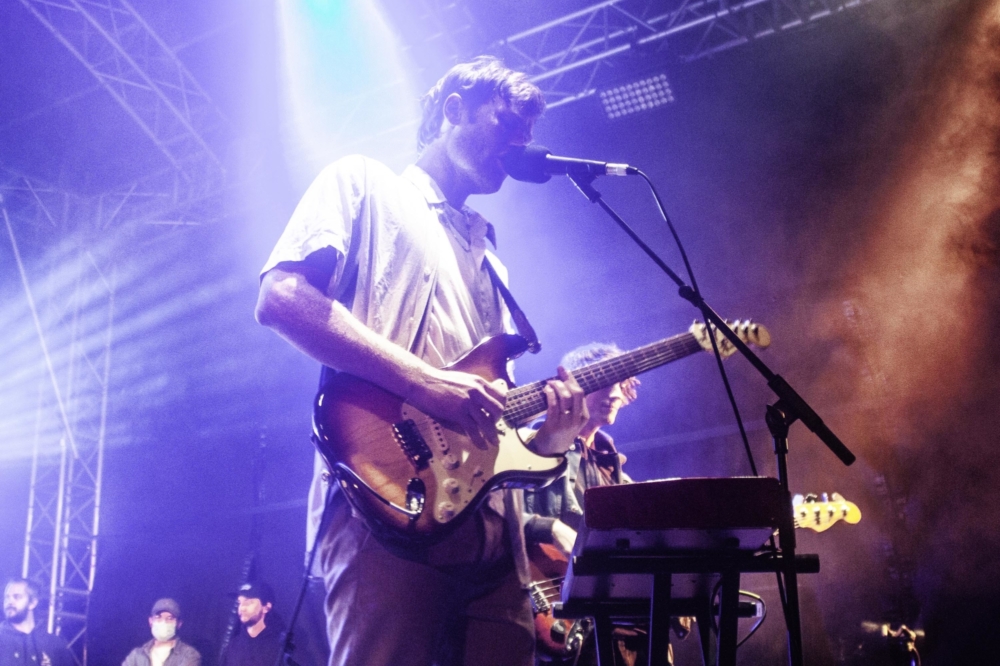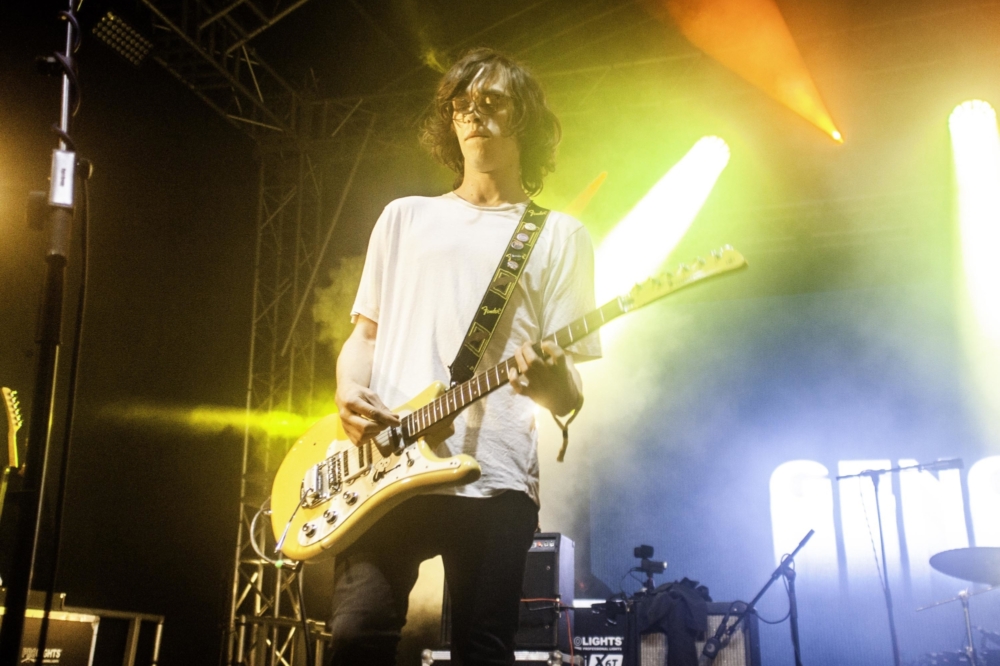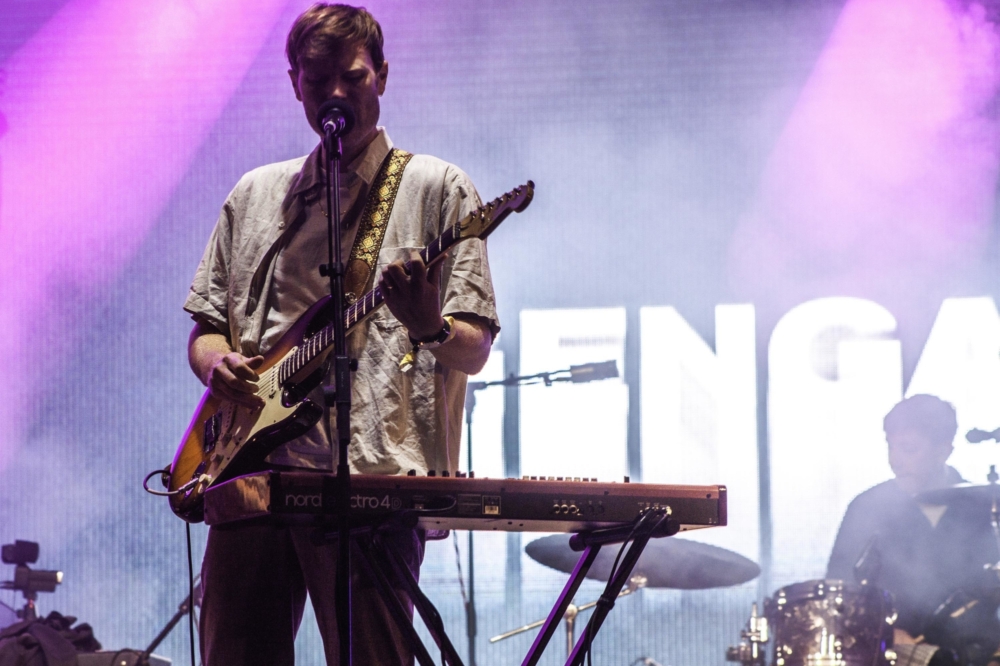 Read More