Album Review
The Pains Of Being Pure At Heart - Days Of Abandon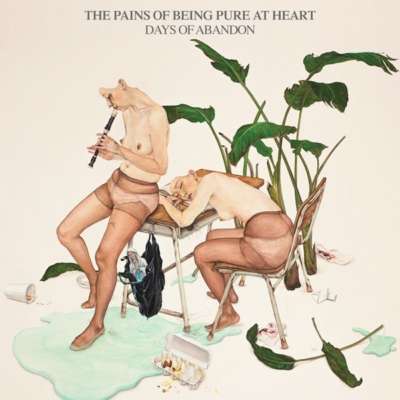 They're revisiting their bedroom pop roots and letting them soar to dizzying new heights.
Label: Fierce Panda
Released: 2nd June 2014
The Pains of Being Pure at Heart have always found positive ways to deal with, well - pain. Whether that be through lo-fi bedroom pop earworms as they did on 2009's self-titled debut, or via heavier, hypnagogic shoegaze as found on 2011's 'Belong', they've never strayed too far from their influences. Everything they've provided us with so far has been universal and timeless; an ode to every sad piece of pop melancholy that's ever graced their ears over the years. On 'Days of Abandon', the band explore luscious chamber pop, and the results are as delightful as expected.
Kip Berman's songwriting has always been youthful and poignant, but with the extraordinarily widescreen quality that the expansive musicality brings on 'Days of Abandon', he sounds more heartfelt than ever before. Tracks like 'Eurydice' pack a heavier emotional punch when Berman solemnly sighs the "losing you" part of the chorus - his lyrics have in the past been washed out by fuzzy production or crunchy riffs, but now they're elevated by angelical euphoria, glorious keys and shimmering guitar lines. It's the Pains of Being Pure at Heart we all fell in love with five years ago, but on 'Days of Abandon', they're revisiting their bedroom pop roots and letting those songs soar to dizzying new heights.
Always a band to be comfortable no matter where their sound leans, the band find themselves exploring 80s new wave elements on 'Days of Abandon' as much as they refine and entangle their brand of washed-out shoegaze and indie pop. The twee, youthful nostalgia bands like Aztec Camera and Belle & Sebastian once pioneered shine through beautifully on tracks like the sprawling centrepiece 'Beautiful You', and unlimited sweetness of 90s darlings Saint Etienne break through like heavenly sunshine on the foot-tapper 'Simple and Sure'.
Those seeking a fresh batch of astute observations on complicated relationships; those seeking comfort for their pain in the most painless ways, and those who're just a sucker for a simple melody done right will find a lot to love in 'Days of Abandon'. The Pains of Being Pure at Heart aren't reinventing the wheel here, but they've never had to - this is another record that has seemingly come to them as effortlessly as ever, the final goal in a hat-trick of wonderful records that reiterates their righteous position as the kings and queens of heartache.