Album Review
Joyce Manor - Never Hungover Again
4 Stars
A short, sharp record that is as emotionally pummelling as it is incessantly catchy.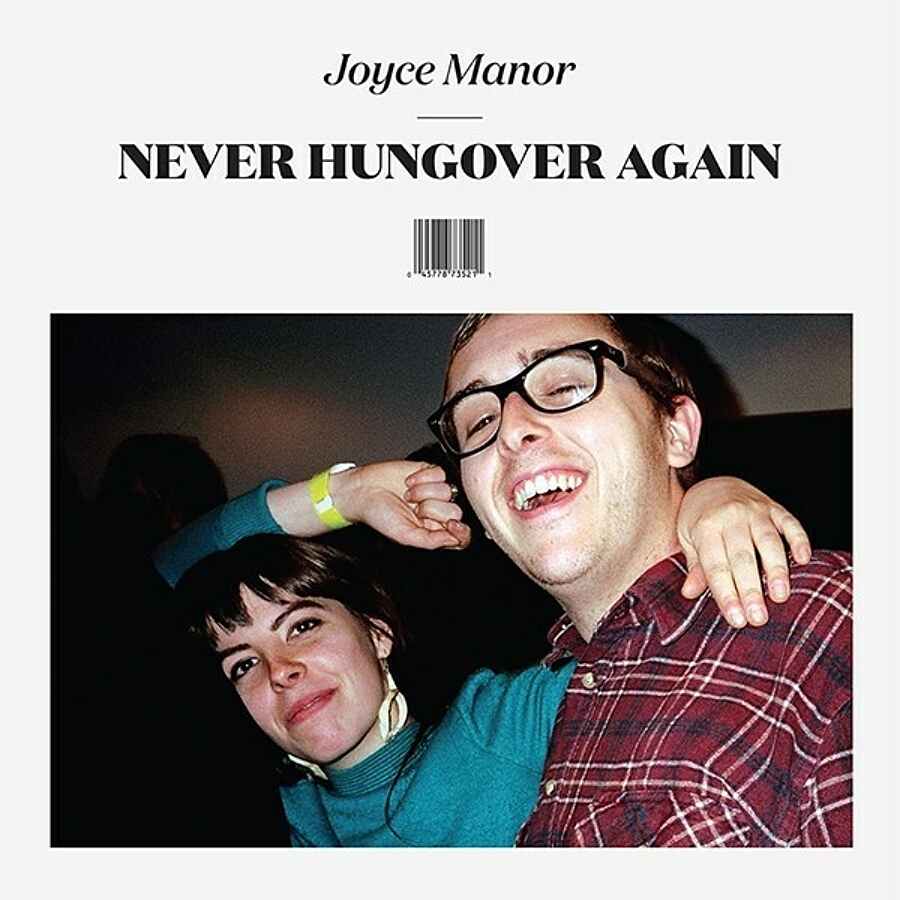 Joyce Manor's debut self-titled album was always destined to become a cult classic. Oozing with effortlessly cool, incessantly catchy pop punk, its wispy melodies and deadbeat lyricism undeniably played a huge part in spearheading the so-called emo revival that since followed its release in 2011. Appetites for a follow-up were left desirably wet after that - 'Joyce Manor' was a record of refreshingly vital punk rock, and when 'Of All Things I Will Soon Grow Tired' emerged later in 2012, it was hard to believe they'd topped it with a collection of songs that totalled just thirteen minutes.
Sure, the longest track was an ever-so-cheesy cover of 'Video Killed The Radio Star' and most tracks felt like lo-fi snippets of a bigger picture - but in a way, that just lends a hand to their Epitaph debut 'Never Hungover Again'. By stripping back and frustratingly teasing us on 'Of All Things…', 'Never Hungover Again' feels like the ultimate payoff - the ultimate reward for fans relentlessly loving and endlessly playing their first two records in the form of ten more songs that they can yell along to over-enthusiastically at shows.
This time around though, their jangly racket has become much clearer and widescreen. Opener 'Christmas Card' kicks off like an epilogue that immediately follows their debut's closer 'Constant Headache' - progressive, crunchy guitars swell and burst into a soaring, fist-punching vocal. The clarity that was lacking on Of All Things… is back with a vengeance, and the band are all the better for it. They sound cohesive and focused again - focused on churning out jam after jam.
Taking firm hold of their pop obsessions and improving the formula that turns them into skate-punk hits, Joyce Manor have once again created a short, sharp record that is as emotionally pummelling as it is incessantly catchy. 'Falling In Love Again' is a clumsy, nostalgic love song, oozing with youthful whim and rosy-cheeked clumsiness that flows throughout the rest of the record. 'Never Hungover Again' is ironically drunk on its own charm; songs such as 'End of the Summer' and closer 'Heated Swimming Pool' are like hazy memories of sun-kissed days spent hanging out with best friends and new love interests.
Even those who find sugar-dosed punk nauseous won't be able to resist the full-throttle pop-punk of 'Victoria', its drunken demeanour as infectious as the happiest person at the party. Throughout Never Hungover Again, Joyce Manor aren't afraid to simply let loose and get a bit silly - "what do you want me to say / it's never going away" frontman Barry Johnson nonchalantly bellows on the aptly named 'Heart Tattoo', a simply stupid song with an addictive melody that, like every other song on this record, will more than likely leave a shit-eating grin on the face of everyone that listens. Joyce Manor are more than comfortable with their own sound now - they're effortlessly confident with it, and Never Hungover Again is a stark reminder of just how much fun you can actually have without alcohol pumping through your veins.