Dammit
Tom DeLonge is out of Blink-182, Mark Hoppus and Travis Barker confirm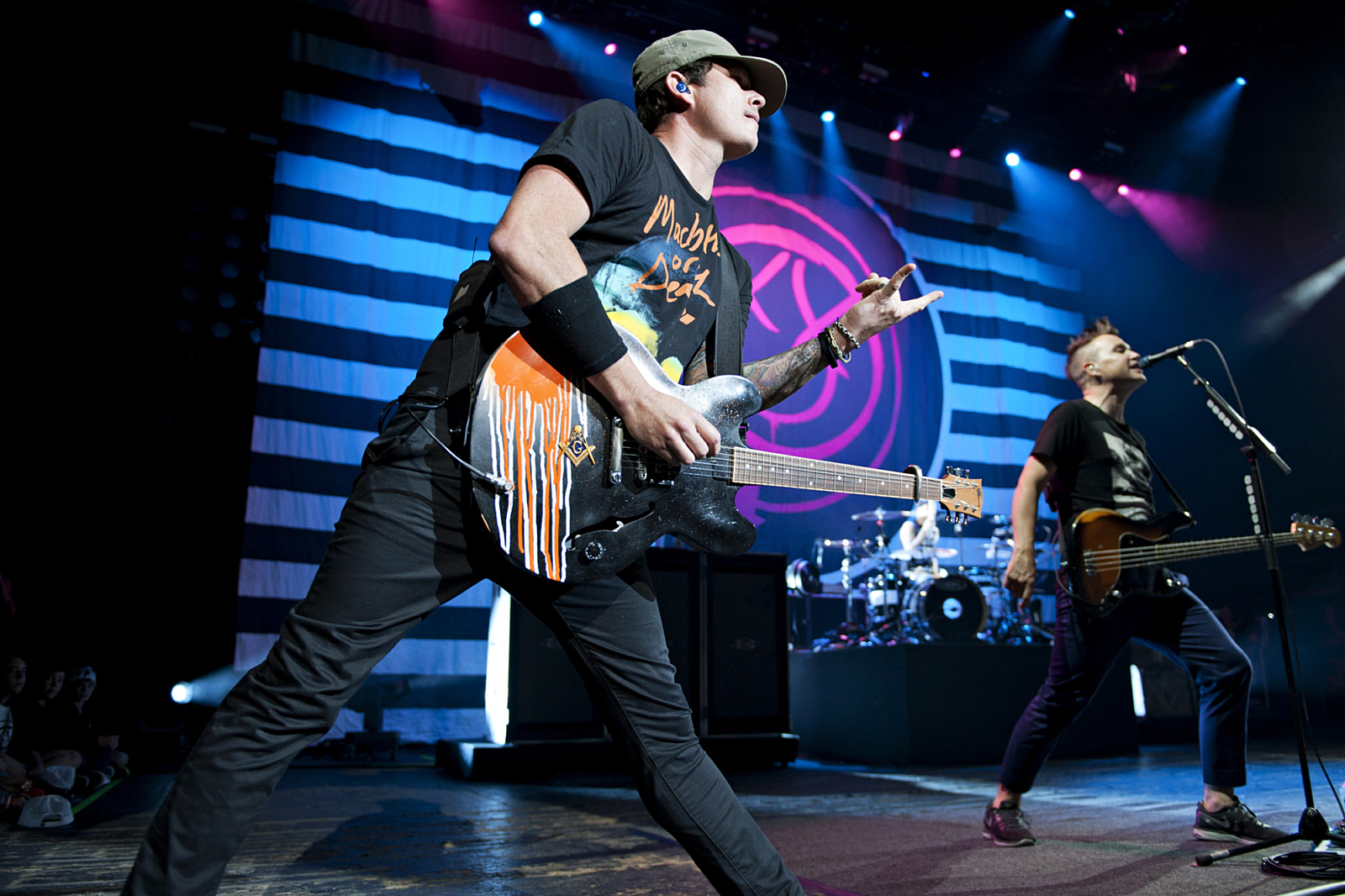 After hours of confusion, it finally seems clear that Tom DeLonge is out of Blink-182 - but don't expect this one to be over quite yet.
After hours of is he/isn't he back and forth, statements, denials, phantom press releases and Instagram posts; it seems pretty certain - Tom DeLonge is out of Blink-182.
In an exclusive interview with Rolling Stone, the other two thirds of the band confirm the original statement is real, and detail what they claim has actually been happening behind the scenes over the last few years of the Blink-182 reunion.
Spoiler alert - for fans, it's not pretty reading.
OK, this seems a mess. What's been going on?
You're not kidding. To re-cap the time line - yesterday the Travis Barker programmed Musink festival announced Blink-182 would play this year's event. But not the Blink-182 we know. As the poster stated, this was Blink-182 with Matt Skiba of Alkaline Trio. Tom wouldn't be taking part.
At this point, the rumours start. Then, Monday evening UK time, a story appears on radio.com, syndicated to what appear to be affiliates taking their feed, including KROQ. In it is a reported statement from the band. It reads:
"We were all set to play this festival and record a new album and Tom kept putting it off without reason. A week before we were scheduled to go in to the studio we got an email from his manager explaining that he didn't want to participate in any Blink-182 projects indefinitely, but would rather work on his other non-musical endeavors."
"Travis Barker and Mark Hoppus plan to honor all Blink-182 commitments including the Musink Festival and are excited to have singer/guitarist Matt Skiba join them for this project. No hard feelings, but the show must go on for our fans. Additionally, Skiba will continue to make new music and tour with the Alkaline Trio."
Later, that release is confirmed by other US sites to have been circulated by the band's publicist - though at least initially all reports were credited to the original radio.com article.
Right. What did Tom have to say about that?
Mostly "I didn't quit."
Actually, it's "I never quit", but - y'know, 2005 Tom. Regardless - taking to Instagram, DeLonge posted:
And that's when things start to get confusing. There are tweets from people close to the band suggesting it's all nonsense, but counter claims from journalists saying they've definitely had the statement from a primary source. Everyone gets confused.
Blimey. So what do Mark and Travis say?
Tom not quitting is a bit of a red herring.
"For the past two years," Hoppus explains, "we've been working with a bunch of different labels to try and get a record deal because the three of us collectively decided that we wanted to make a record with a partner. A few months ago, Travis has this festival that he is co-owner of and presenting and he asked Tom and I if we would play and we said, "No problem." At the end of December, we were finalizing our record deal and on Christmas Eve, all three of us signed the deal. We had been talking about where we wanted to record, what producers we want to use, what day we want to start. This is all through e-mail. I don't think either of us have spoken to Tom in person in months, but everything's been moving positively."
"We booked January 5th to go into the studio," he continues. "On December 30th, we get an e-mail from Tom's manager saying that he has no interest in recording and that he wants to do his other, non-musical stuff and that he's out indefinitely. There's a flurry of e-mails going back and forth for clarification about the recording and the show and his manager sends [an e-mail] back saying, "Tom. Is. Out." Direct quote. This is the exact same e-mail we got back in 2004 when Tom went on indefinite hiatus before."
It wasn't a surprise to the rest of the band.
Mark: "To be honest, I wasn't that surprised because his attitude leading up to that had been not excited and not interested. Even though we'd been talking about recording and dates, things kept getting pushed back. Blink was supposed to start recording [a new album] two years ago."
"He didn't even listen to mixes or masterings from that record. He didn't even care about it. Why Blink even got back together in the first place is questionable."
— Travis Barker
Travis doesn't sound especially happy about the whole reunion to date.
"Everyone should know what the story is with him and it's been years with it," Barker states. "When we did get back together after my plane crash, we only got back together, I don't know, maybe because I almost died. But he didn't even listen to mixes or masterings from that record. He didn't even care about it. Why Blink even got back together in the first place is questionable."
Mark expands: "My guess is that Tom was embarrassed because he doesn't want to do Blink. I think that the fans know. Look at each of our social media accounts and look who talks and promotes Blink-182 or is excited about Blink-182. Travis and I were ready to walk into a studio January 5th. That speaks louder than anything."
This might not be over yet.
Mark: "There are legalities involved with this. As Tom pointed out, he technically didn't quit the band. Then it gets all lawyer-y, which I will leave to the attorneys and managers."
"When Tom finally said, "I'm not going to go into the studio or play this show," it was kind of a gigantic relief because at least he finally said it."
— Mark Hoppus
What next?
Mark: "When Tom finally said, "I'm not going to go into the studio or play this show," it was kind of a gigantic relief because at least he finally said it. But to then say, "I didn't quit the band," it's just not true. It's disingenuous. I just wish Tom does whatever makes him happy and stops holding Blink-182 back from what we all agree that we're going to do: play shows, record music, continue this legacy and have a good time doing it."
So what did Tom say about that?
Well, this is awkward.... (so awkward, it was quickly deleted)
What's has actually happened, then? What now?
Tom DeLonge is out of Blink-182 - though he may not share that view, that's the way the rest of the band see it. Though as Tom himself states, they've always been dysfunctional, this feels like those not-that-nice interviews which came out of the last hiatus. You'd not expect Tom to quickly return to the fold. Indeed, after what Travis said about the reunion as a whole, you'd be forgiven for struggling to see them sharing a stage at any point soon.
You'd imagine Tom will want his say (properly, that is - not in a tweet-and-delete) - that may follow soon, or he may take his time - and there's this Musink festival show to come. Clearly the remaining members of Blink-182 want to make an album, but as Hoppus states, there are legalities involved. +44 ride again? Stranger things have happened.